Disclosure:
Just to be open and honest the buttons and links you click on in the website will in most cases take you to another website where you can purchase the products I am reviewing. As an Amazon Associate I earn from qualifying purchases.
February 8, 2022
Fiberglass Fly Fishing Rods – Delicate Presenters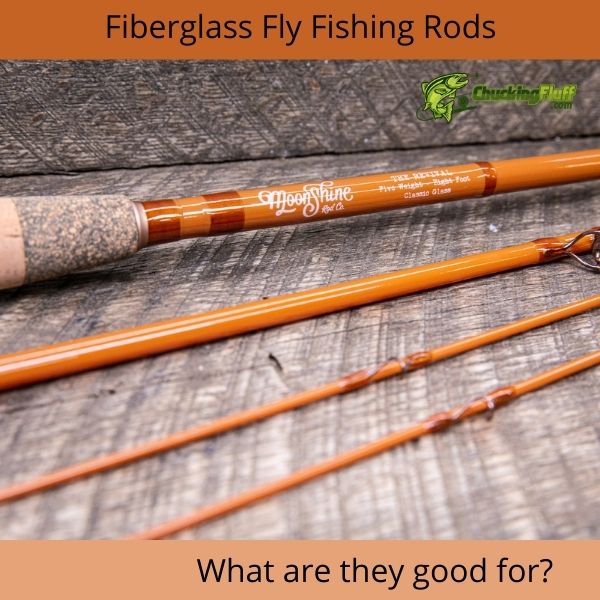 The recent years have seen fiberglass fly rod manufacturers revive these poles.
They have been a thing for fly angling enthusiasts and specialists for a long time.
You can build your fiberglass fly rods using kits like those from Epic or buy a ready-made one and experience a new yet delicate way of fly angling.
And if you didn't know, yes, they are worth the hype.
Please keep reading to find out why most anglers are shifting to them from the traditional bamboo rods and others preferring them to graphite fly rods.
---
History of Fiberglass Fly Fishing Rods
---
Manufacturers began building fiberglass fly rods in the 1940s.
Initially, the standard ones were bamboo fly rods.
Anyone who claimed to make fiberglass rods before then used cheap alternative materials to do this.
The new fiberglass fly rods boast durability and are more lightweight than wooden options.
Back then, some anglers referred to the fiberglass rods as having a whippy action.
These rods were standard until the 1970s when manufacturers began building graphite rods.
It doesn't mean that they have been faced out; if anything, they are becoming more popular again.
---
Why should you Choose Fiberglass Fly Fishing Rods?
---
Fiberglass fly rods feel differently and cast exceptionally when compared to today's gold standard fast-action graphite options.
You will instantly feel the high response and flexibility if you are a first-timer at casting fiberglass rods. The action is slower on these rods, and they load deeper into their blanks.
On the positive side of this action, an angler feels the cast more and will make as many delicate presentations as they can.
More advanced modern fiberglass fly rods allow you to chase big fish species like musky and redfish.
A good caster using these rods can cast 30 to 50 feet in tighter quarters and when short and precise casts are needed.
Fiberglass fly rods have a deep flexing that works as a shock absorber permitting you to fish 6x or 7x delicate tippets.
Sometimes back, these fly rods were virtually extinct but gradually have made a comeback.
And if manufacturers don't flip their innovation pages too fast, they are here to stay longer.
More anglers love the vibes of these retro rods, thanks to their versatility.
---
When to Use Fibreglass
---
Fiberglass rods are ideal for times when feel and presentation are paramount.
It would be of great function to carry them when fishing small or large dry flies.
Anglers who love casting small streamers and nymphs or light dry dropper rigs will appreciate these fly rods more.
Bring them is adventuring in small to medium creeks and streams.
You can distance cast with these rods, but they aren't ideal.
You can fish with fiberglass rods the whole day.
There is nothing like using these rods to battle monsters; fishers using them enjoy the feel and give of these rods above everything else.
---
Pros of Fibreglass Fly Rods
---
Let us dive deeper into the advantages of these rods and see why a group of anglers prefer them to others.
---
Durability
---
Fiberglass is more durable than graphite and bamboo.
Remember, its only primary counterpart in the 1950s was bamboo.
If you move around more often, grab some of these rods.
They are the best because they have less sensitivity to pressure.
It is more sensible to bring along a rod that will serve you faithfully through your whole trip without snapping into two.
Also, fiberglass fly rods are perhaps the only ones that can take the brutality novice anglers dish out when honing their skills.
If you are an advanced or pro angler, you vividly remember the beating your rods underwent.
For fiberglass options, they hardly complain.
If you are a determined novice looking for an entry-level fly rod that can stand the test, go fiberglass before advancing to bamboo or graphite.
---
Slower and More Relaxing Action
---
Fiberglass fly rods are agreeably softer than graphite rods.
If you enjoy casting with a medium to medium-fast graphite fly rod, settle on a fiberglass one as it will be an excellent fit for you.
Even if your casting stokes favor faster rods, adjusting to fiberglass will not be as daunting.
You will need a short time to adapt to them.
Some fiberglass fly rods are marketed as fast-action rods; Echo Glass Fast Rod is an example.
If you have fished this or similar rods, you will notice a distinct difference in responsiveness and flex compared to fast action graphite fly rods.
But, some fiberglass fly rods can shock you even when casting larger flies.
---
Perfect for Delicate Times
---
If you live near smaller trout streams and don't own any fiberglass rods, you are letting yourself down.
Such spots are the delicate I am talking for and call for one or two good fiberglass rods.
These are buttery soft and often bend deeper into their butt sections with a good catch on, making them excellent for casting small flies and lightweight tippets.
The soft blanks offer ample cushion to prevent lighter flies from breaking and keep small hooks from falling.
---
An Exclusively Different Feel
---
Catching fish on different rod types provides different measures of fun.
Fiberglass rods amplify the fun aspect even if you keep catching the same species, the rod bending and the feel it gives offers a new experience to the angler.
It is hard to understand until you feel the glass rod bending then bouncing with fish on.
If you fish small fish most of the time, you will notice that they feel better on fiberglass rods.
---
Load
---
Because of how flexible these rods are and the exact weight of their material, most fiberglass rods load themselves.
They make nice loops with little to no line from the tip-top, making them great for smaller streams.
---
Affordability
---
Excellent rods aren't cheap, but fiberglass fly rods, even in all their glory and how manufacturers clothe them, don't exceed the cost of graphite ones since the materials are cheaper.
It is easier and more fun to relax and cast when confident in your gear.
Many have had mini heart attacks because their expensive gear has crashed on a rock.
---
Shorter Lengths
---
Most manufacturers now understand that for an angler to enjoy these rods better, they should be below 8 feet.
You will spot some brands offering rods longer than these, but most stick to that limit.
This length makes them perfect for small streams and creeks with stealthy trout.
The extra flex in fiberglass rods means it might not work for fly fishing all big game.
---
The Concerns
---
Having seen the advantages of using fiberglass fly rods and their suitability for sure anglers, you should know some of its downsides and perhaps why they were initially faced out.
---
Unnecessarily Heavy
---
Even though these fly rods are considered more durable than their counterparts, their increased weight doesn't help when fly angling.
There is only a lot of fish weight that most of these rods can hold; hence they are better for small water bodies.
---
Shorter for Large Water Bodies
---
Even if your fascination as a rookie was small creeks and streams, I am sure you don't aspire to fish only them all your life.
Even if you have quick access to them, you will wish to cast in large waters.
You will have to leave your fiberglass fly rods behind when going out to try larger streams, rivers and lakes.
Instead, graphite fly rods will work well to cast longer distances and cover more water.
---
Slower Acting Material
---
Excellent fly angling depends, to a large extent, on how your rod is built.
A rod that reacts quickly to any single command is better.
Unfortunately, most fiberglass fly rods are slow-action rods, except a few.
---
Examples of Excellent Fibreglass Fly Rods in the Market
---
The growth of glass in the fly-angling department has been remarkable over the years, with more companies producing good fiberglass poles.
Scott Fly Rods was among the first to reintroduce the Fibertouch in the F2 Series some years back, and in 2014, companies like Echo, Orvis and Redington joined the group.
Other manufacturers like Thomas and Thomas and Hardy are offering these rods, and rumours have it that refreshes of their lineups are looming.
Hopefully, other established fly tackle brands, especially those previously known for manufacturing glass rods, will design future rods giving anglers more options.
Below is a list of some of the best and most recommended fiberglass fly rods:
---
---
Wrap Up
---
From my experience, I will warn you about using fibreglass fly rods; you might never return to casting with graphite rods if you make them a thing for delicate dry fly fishing.
You will go crazy over the feel and feedback besides their delicate presentations.
Modern-day glass rods keep up with good old bamboo and advanced graphite rods.
It all trickles down to taste and personal preference.