Disclosure:
Just to be open and honest the buttons and links you click on in the website will in most cases take you to another website where you can purchase the products I am reviewing. As an Amazon Associate I earn from qualifying purchases.
May 31, 2023
What Are the Dangers of Waders?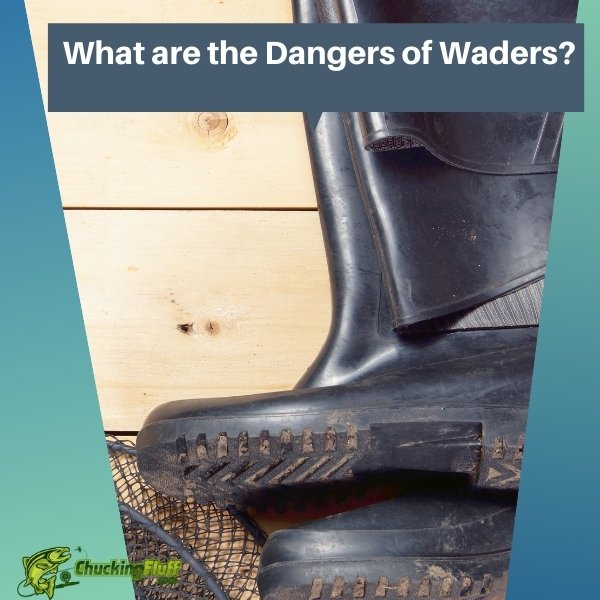 Waders are a vital part of an angler's fishing gear – I am talking about the avid fly fisher who tests different waters and depths.
Hence, a fly caster can own more than one pair.
These are anglers often on the go.
Some guides can attest to this because having this as a full-time profession needs you to have several spare waders for when things turn messy after a day's activities.
With anglers investing in more pairs, what are the dangers of waders before we take a step back?
Waders aren't directly linked to any dangers unless they are mishandled, misused or wrongly disposed of.
Waders are like archery equipment; they help you enjoy a sport but if you don't show common sense and be careful, tables could quickly turn.
You want to be very cautious and safe when using waders.
NOTE: This isn't a scare because our forefathers have been using waders since the 1850s even though so much has changed in current versions.
---
What Are the Dangers of Waders?
---
Anyone who wears waders is involved in a water sport and if you've been around such sportsmen/women you'll hear them telling you how vital it is to respect the water.
Well, that is part of the cautious steps to start practicing.
Waders can be dangerous if the wearer is unskilled, ill, or unprepared and dares to go on the water.
Let's see some dangers of waders and how we can mitigate them.
---
Drowning in Case You Fall in Deep Water
---
Now, don't get me wrong here: Not all waders are linked to this.
The old-fashioned rubber waders are common culprits but breathable and neoprene options can help you float and find balance.
Rubber waders on their own are heavy, so imagine adding the weight of water when they are flooded.
Even the best swimmer will tell you that this is the worst test of a lifetime.
Because the heaviness pulls you down when wearing such gear, it is easy to panic, lose focus, and drown.
The exhaustion from trying to find footing or swim is enough to weaken your limbs and drag you to the bottom.
Well, your skills might be a savior this time and if you happen to wade out of the water safely, you are at a higher risk of suffering from hypothermia and other cold-related illnesses.
River bottoms are unpredictable when standing on the shores or on a boat.
Some waterways have rocky bottoms or logs and tree stumps that could obstruct movement when trying to wade to safety.
Falling on such surfaces can be health compromising as you risk hurting yourself or breaking a bone.
Here, waders become dangerous because of the material you choose when wading in deeper waters.
---
Cold-Related Illnesses Because of Damaged Waders
---
Here's the secret: Assess all waders and fly fishing apparel before the season starts and set aside those in good condition.
Repair any punctured waders (if repairable) before using them.
Fishing in leaking waders can cause them to fill up which is a health risk, especially when casting in cold temperatures.
Hypothermia isn't fun and the worst is risking drowning.
Let's agree that leaking waders are the focus here since hardly happens if yours are in perfect condition and you have the right underneath layers.
---
Environmental Risks
---
As of 2019, the estimated number of recreational anglers worldwide was 220 million.
Let's not even talk about commercial fishermen/women.
If we were to collect old waders from this population, we'd fill several trucks.
What are the dangers of waders to the environment?
Environmental conservationists and conscious anglers can agree that full and wader pieces have at least crossed their eyes at some point.
Their material isn't biodegradable and if disposed anyhow, doesn't compose and injures water life.
Fish can be entangled in such gear and die slow deaths from starvation or asphyxiation.
Waders can emit and carry other toxins which affect the overall health of the water ecosystem.
There are other sustainable ways to use overly damaged or old waders.
You can repurpose them into pouches, totes, fishing gear holders etc.
Or, reach out to companies like Patagonia, Recycled Waders, DRYFT Waders, and Maine Fly to organize collection.
Such companies have wader recycling programs that can help reclaim some and repurpose the rest.
---
Dangers of Waders FAQs
---
You can agree that waders can be dangerous because of human action and not on their own.
See some questions and answers to help with wader safety.
---
Q) Is There Anything I Can Use Instead of Waders?
A) If you mean a substitute of waders as an individual piece of gear, then fishing bibs come close.
But for alternative fishing apparel, there are options like quick dry pants and approach shorts like those designed by Orvis.
---
Q) Are Waders Necessary for a Fly Angler?
A) Yes, Waders are a necessity whether you are fishing from the shores, wading, or from a boat.
You need them for skin cover-up and protection from cold water that is known to cause related illnesses
With prolonged exposure.
There are other fishing apparel for hot weather but this highly depends on the waters you are casting.
Some are colder even in summer and those in mountainous or forest areas will force you to bring waders and underneath layers for more comfort.
---
Q) Do Waders Cause Drowning?
A) Waders don't cause drowning.
You risk drowning if your waders fill up with waders, you lose focus, panic and get exhausted from trying to swim.
If they were a direct cause of drowning, they wouldn't be allowed on the water.
Have a PFD always in case you are drifting or wading in deeper waters.
---
Conclusion
---
What Are the Dangers of Waders?
The dangers of waders are human-assisted and the biggest one is the risk of drowning in case they flood and you panic.
So much is involved in wading out of water safely in case you fall in waders.
Hypothermia is the most typical cold illness affecting anglers and it can be disastrous if you fish in leaking waders when the temperatures are extremely low.
Any serious angler would love to fish again tomorrow and perhaps pass down the skill to the next generation.
For this to be successful, proper wader disposal is key, otherwise the environmental impacts are detrimental to water life and the sport at large.