Disclosure:
Just to be open and honest the buttons and links you click on in the website will in most cases take you to another website where you can purchase the products I am reviewing. As an Amazon Associate I earn from qualifying purchases.
December 18, 2021
Best Fly Fishing in Minnesota – Trout Heaven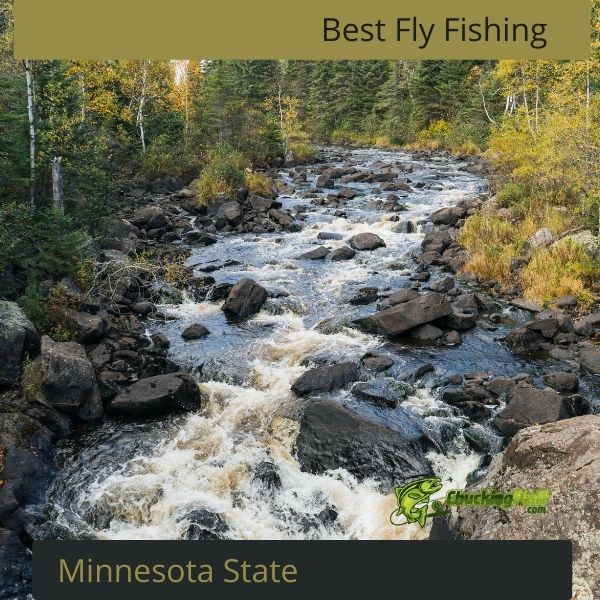 We can't compare fly fishing in Minnesota now to what it was four or five decades back. Despite not having gained popularity rapidly, we can still witness a greater increase in the numbers.
The North Star state brags about 10,000 and more streams, rivers, reservoirs, and lakes.
Let's say it is an all-rounded place to visit if you are an enthusiastic fisherman.
You can catch any fish species in almost any waterway.
It mightn't look like a sport for regular folks (to us that's a whole load of nonsense), but fly fishing can be done by anyone and everyone.
You will be surprised by the numbers of gamefish in these waters.
We haven't put our mathematics together yet-which will probably still be a problem because we are yet to explore ALL the waterways in this state.
Minnesota residents love to wet their lines and the Department of Natural Resource took this sport to a higher level.
DNR has a workshop targeting women only.
In fact, there is a solely women's fly fishing organization.
This state deserves a standing ovation for recognizing the efforts of the feminine gender in fly fishing.
You can read more here on how female anglers are changing the industry.
The best fly fishing in Minnesota is wholesome.
Virtually any waterway flowing her has populations of fish.
You inherently connect with nature as you reel in your day's catch.
In as much as angling can be from a canoe or boat, most anglers prefer wading through the puddles, alongside the shores and banks, and deeper where huge fish hide in larger pocket waters.
Spinning and ice fishing are also common here for almost six months straight.
After snowmelts begin to run into rivers and streams, fly rod lovers begin to chase walleye, largemouth bass, trout, and more favorites.
There is a wide range of options to choose from if you are looking to visit Minnesota for an angling expedition.
Designated trout streams are more than 3800 miles and these chaps are willing to hit flies anytime.
---
St. Croix River
Could St. Croix Rods be having a soft spot for these waters?
The company does and does all its rod tests for quality, efficiency, durability, and performance on this river.
The river is located in Eastern Minnesota and despite the gorgeousness of the flow and its placement, the waterway is historic.
St. Croix is visited all year round for various reasons.
However, anglers flock to this location because of the impeccable fly fishing offerings.
If you've been here before, you must be thinking of a trip back.
The river homes world-class muskies and largemouth bass.
Other guards here are catfish and sturgeon.
Fish lurking in these waters are extremely cunning and might take you on wild rounds.
You need to be tactful and patient because of this.
Float trips can be done here.
You can hire a boat if you don't have one.
However, open casting is another favorite for novices and other anglers who feel like getting on the banks.
Minneapolis is closer to St. Croix River making accessibility less stressful.
The river is big enough. Even though it gets crowded in the peak seasons, you are never sandwiched between other anglers.
If you are targeting a hotspot on this stretch, the area from Riverside Landing to the Wild River State Park is the best to comb.
Carry TeQueeley streamers, bass poppers, and minnow patterns.
---
Seasons: Summer, fall, spring
Main Species: Lake sturgeon, crappie, bluegill, muskellunge, pike, catfish, sauger, walleye, smallmouth bass, largemouth bass, sunfish
Fly Patterns: TeQueeley streamers, bass poppers, and minnow patterns, weighted baitfish,
Nearest Towns: Prescott, Afton, Lake St. Croix Beach, Lakeland Shores, Lakeland, Hudson, Bayport, Stillwater, Osceola, Marine on St. Croix, St. Croix Falls, Taylors Falls
Nearest Tackle Shop: Wild River Distributing, Hedron Inc., West Marine, SmartJig, Fleet Farm, Lund's Fly Shop
---
Trout Run Creek
From the name of the Creek, you can already conclude what to expect here even before hitting these waters.
Because of the trout runs here, this place is famous among resident and non-resident anglers.
The numbers of trout per mile in the Trout Run Creek are between 2000 and 4000.
The water lies in different landscapes making sightseeing and fly fishing a great combo.
While there are so many fast runs, some areas have slow-flowing waters.
Fish species here are stocked and wild brown and brookie trout.
The creek boasts slightly over 12 miles of waters.
We advise anglers to start off at highly successful spots before sampling other sections of any waterway.
For this one, the area between Bucksnort Dam and Saratoga is the best.
This point gets more stocks of trout.
Trico hatches happen here.
For the choice of leaders, long and light will do.
Midges have proven to be yielding on these waters.
Wading and fishing from the bank are ideal because of the different landscapes.
---
---
Whitewater River
The 16.6-mile Whitewater River is one of the Mississippi River's tributaries that is found in Southeastern Minnesota.
It is in the Driftless Region that can as well be found in Northern Iowa and Western Wisconsin.
It is a crystal clear stream. Stocked brown, brook, and rainbow trout cruise these waters.
You will not have an excuse not to fish these waters since there are so many access points.
This, together with the huge fish population make the place a must-come for any angler.
You will love the beauty surrounding the Whitewater River.
It flows through two state parks and most of it is in a wildlife management zone.
The main stretch is filled with rainbow trout and is the only area of the river with them in huge numbers.
Most of the brook trout guard the middle section of the river.
Waters are slow and free-flowing and you will need strike indicators and nymphs for success.
While canoeing and kayaking are excellent options on this river, you can opt to wade.
---
Seasons: Spring, summer
Main Species: Wild and stocked brook, rainbow, and brown trout
Fly Patterns: Nymphs, strike indicators, dry flies, terrestrials,
Nearest Towns: Elba, Saint Charles, Altura, Rochester
Nearest Tackle Shop: Joanie Jiggs, River Valley Outfitters,
---
French River
The North has the French River which is an exciting place to visit.
On Highway 61 north of Duluth, about 11 miles is where this river is located.
You can use Highway 43 to get access to these waters.
This river is often stocked with lots of fish by the French River Hatchery.
Anglers frequent this river for brown and rainbow trout.
The area between the lake and the hatchery yields more.
Sometimes the water is undisturbed, clear, and flows slower.
Clarity becomes unquestionable and you can use midges or Copper John.
If clarity is an issue, your wooly buggers will do.
Don't rip it through the current as it will spook larger trout.
You will never be certain about the temperatures and water levels of this river.
There are very few of the rivers in the North Shore that are spring-fed.
As you go far from the lake, the trout habitat gets annoying. Sparse so to say.
Fish nearer to the headwaters and keep checking the water temperatures.
You can choose to fish a few days after it has rained as the flow rate of water will be excellent.
---
Seasons: Fall, Winter, Spring
Main Species: Kamloops rainbows, coaster brook, lake trout, salmon species, walleye, northern pike, smallmouth bass, perch, steelhead
Fly Patterns: Nymphs, stoneflies, Prince nymphs, standard trout flies
Nearest Towns: West Virginia, Spina, Little Sawn, Leetonia, Kelly Lake, Fermoy, Elcor, Costin Village, Duluth
Nearest Tackle Shop: Great Lakes Fly Shop, Dam Goods and Gear, Superior Fly Angler, Axels Unusual,
---
Baptism River
Still in the north is the Baptism River which is another tributary of Lake Superior just like the French River is.
Minnesota prides itself in this waterway because Coho salmon and migratory steelhead cruise these waters in their spawning phase.
It is the reason why anglers love this place.
The offerings and entertainment levels are way too high.
Throughout the year, rainbow and brook trout are in plenty.
With the width of this river, it is possible to fish from the shores.
However, waders will be appropriate if you need to fish in the further and deeper parts of the river.
There is the close proximity of the Tetteguche State Park to this river.
Most anglers target yielding spots.
They frequent the stretch between the Cascades and the Highway 1 Bridge.
Others fish in the headwaters and they never regret it.
Prince nymphs and pheasant tails will attract salmon and steelhead.
Some sections have dirty and fast-flowing waters.
Egg patterns in orange or pink will not disappoint.
Carry some wooly buggers in size 8 too.
---
Seasons: Fall, Winter, Spring
Main Species: Kamloops rainbows, coaster brook, lake trout, salmon species, walleye, northern pike, smallmouth bass, perch, steelhead
Fly Patterns: Nymphs, egg patterns, Prince nymphs, standard trout flies, wooly buggers, pheasant tails,
Nearest Towns: High Falls, Tettegouche
Nearest Tackle Shop: Maple Grove Motel & Bait Shop
---
Badger Creek
Badger Creek is located in the Driftless Region in the Minnesota Section.
It is best for wading since it is very tight and compact.
As you wade or fish while standing in its waters, it is easier to get perfect casting lanes.
Native brown and brook trout are in plenty.
Thanks to the forage in this creek that allows for sustainability throughout the year.
Years before 1970, the DNR used to stock this river.
The stocking project yielded as since then, stocking hasn't been done yet the trout population is commendable.
You can access the creek southwards of Houston town where the County Road 10 and Highway 76 intersect.
For gear recommendations on this creek, we advise light leaders and tippets and a 4-weight fly rod.
It is crucial to monitor the hatches happening here.
Trout in the creek will feed on any mayfly. Having little black caddis is a perfect plan.
If you are fishing here before the hatches, beaded nymphs will be your best bet.
Have wooly buggers just in case you come across deep pools that are tempting.
---
Seasons: Trout season only
Main Species: Native brook and brown trout
Fly Patterns: Wooly buggers, beaded nymphs, little black caddis, mayflies,
Nearest Towns: Dakota, Houston, Peterson, Brownsville, La Crescent, Spring Grove, Rushford Village, Hokah, Caledonia
---
Root River
Southeastern Minnesota homes the Root River which is an all-year-round trout fishery.
Rainbow, brown, and brook trout are the guards in these waters.
The South Branch of the Root River boasts great diversity and is an excellent spot for any angler.
Preston town divides the upper and the lower section of this branch.
There is an area near Forestville on the Upper South Branch that homes plenty of wild trout.
You can't compare the population here to that of the lower South Branch.
The waters here are lenient and you can make wading your thing.
Forestville Park has a parking area where you can pull off your machine and wet your lines.
The weekends aren't the best to come here because of the large masses of people throwing their lines and hoping to land a trout.
Weekdays will be your best bet. The lower South Branch is perfect for canoeing.
If you'd love to catch larger trout here, fish in the deep pools.
Streamer fishing is ideal in late fall.
Streamers tend to spook big browns. Caddis, Tricos, and Parachute BWOs will be the best flies for the Root.
---
Seasons: All-year Fishery
Main Species: Brook, brown, and rainbow trout, rock bass, smallmouth bass, crappies, channel catfish, river and shorthead redhorse, golden, silver, black, and greater redhorse
Fly Patterns: Caddis, Streamers, Tricos, and Parachute BWOs
Nearest Towns: Chatfield, La Crosse, Preston, Lanesboro
Nearest Tackle Shop: Root River Rod Co, Root River Hackle, Flowstone Fishing, Driftless fly-fishing company, Hokah Bait Co.,
---
More Prime Fly Fishing Spots in Minnesota
On the 60 miles of the Vermillion River, there are designated trout points.
Most if not all of them are strictly catch and release areas.
You can hook brook and brown trout here.
County Road 66 and Farmington City Park make excellent access points to this river.
The Cloquet River has good fly fishing offerings from the banks or from a canoe.
Access is about 10 miles in the north of Duluth via County Road 48 closer to Fredenburg.
Some of the tributaries of this river home wild brook trout while the main stem homes stocked brownies.
There are plenty of areas you can cast from the bank making it a perfect place for novices to visit and sharpen their skills.
The Cloquet favors nymphs and for smallmouth bass, minnow or popper patterns will work.
Canoeing on the Boundary Waters is the best thing to do.
It is a section with a group of lakes that are residences to lake trout, walleye, pike, and smallmouth bass.
June is the best month to check this location out.
However, be up to date with fishing reports and weather patterns as it could pour.
Rain gear is crucial for any angler hoping to come here during this time.
You are required to have a permit before accessing the Boundary Waters Canoe Area.
You can hire a knowledgeable guide to be of help as you explore these waters.
Cannon River boasts excellent access and you will be surprised by the various fish species that thrive in the river.
The river snakes through the Cannon Falls.
If accessing the area from Minneapolis, it takes an hour.
You can carry as many patterns as possible to this area as you can't be sure of what you will catch.
From woollies, pheasants, to mayflies, stoneflies, and caddis.
You can drift your canoe because the wide yet slower waters allow for it. Wading is possible.
Have you tried the Stony Brook located in Brainerd? It is easier to drive to the area if you are coming from Twin Cities.
Large brook trout lurk in these waters and are naturally reproducing. They thrive to more than 5 pounds.
Towards the mouth of this waterway, you can hook bass and crappies.
As it snakes through the landscapes of Minnesota, it feeds the Upper Gull Lake.
You can access the brook from Fritz Loven Park which is on Ridge Road. Wading this river is the best option to allow for full casting.
This is because the overhanging trees and brush can be a good place for your lines to tangle.
While at the Stony Brook and feel like challenging yourself, head to Gull Lake in the summer during the Hex hatches.
Beaded nymphs and spider imitations will get you some browns.
Cenaiko Lake in the Coon Rapids Dam Regional Park is around the metro area.
The waters are stocked yearly with over 5000 brooks and rainbow trout by the Minnesota Department of Natural Resources.
There is no boat access here meaning fly fishermen and women have more waters to explore. More so, you can fish here only in the trout season.
If still within the Twin Cities metro area, check out the Rum River for walleye and smallmouth bass, Lake Waconia for bluegill and largemouth bass.
Courthouse lake for rainbows, brookie, and browns, valley Lake for bluegill, largemouth bass, and northern pike, Calhoun Lake for muskies, largemouth bass, black crappie, and bluegill, Holland Lake for trout and bluegill, and Eagle Creek for brown trout.
---
Tips for Successful Fly Fishing in Minnesota
Most of the trout streams and rivers in Minnesota are fishable with 4 to 6 weight fly fishing rods.
Take along a 9 feet leader and a 4x tippet.
If you intend to hunt steelhead, carry stronger combos that can battle these champs.
If you are 16 years and more, you will need a valid fishing license before accessing state waters in Minnesota.
This applies to both residents and non-residents.
These licenses can be born from stores across Minnesota or online from Minnesota DNR.
Minnesota discounts day tickets for families or married couples.
You can consider this if you'd like to take your partner or family with you.
Ensure that you purchase a trout stamp regardless of whether you are a resident or non-resident.
It costs $10. There exist separate salmon and walleye stamps.
For these stamps children below 18 years and anyone above 65 is exempted.
Be constantly checking on the Minnesota Department of Natural Resource's website for fishing regulations and stocking reports of the areas you need to visit.
Confirm all the water conditions of places you intend to fish before leaving so that you aren't going there when not suitable.
Bigger streamers in darker waters fancy baitfish, leeches, minnows, and sculpins.
In your assortment, include woolly buggers, pheasant tails, caddis, bass, poppers, nymphs, and foam flies.
---
FAQ's – Questions on Fly Fishing in Minnesota
Q) Which is the largest fish that you can catch in Minnesota?
A) It depends on the waters you choose to fish in. However, the largest that has ever been caught is a 78 inch 120-pound sturgeon.
Q) What is the walleye limit in Minnesota?
A) You can only catch up to 6 walleyes in this state.
Q) How many fishing lines can you use in Minnesota?
A) Minnesota limits anyone to one fishing line only. You can only be allowed two fishing lines if fishing on the Lake Superior and the Mississippi River.
Q) Can you keep largemouth bass in Minnesota?
A) You can only keep one smallmouth or largemouth bass here. Averagely it shouldn't exceed 20 inches.
Q) Which fish species have open seasons in this state?
A) Channel catfish, perch, crappies, sunfish, and other less popular fish species have open seasons in Minnesota.
Q) Must I have a fishing license even if I only want to catch and release fish?
A) As long as you are attempting to take fish out of any Minnesota state waters, you MUST have a valid fishing license regardless of whether you will catch and release or keep the catch.
---
Wrap Up on the Best Fly Fishing in Minnesota
Minnesota is a state that any vibrant and fervent angler would love to visit for a fly fishing expedition.
We are more thrilled about the efforts of the state to support women in angling.
Kudos Minnesota! The MNDR is working effortlessly to stock and improve the delegated stocked trout sections.
It is fantastic that the stocking project is yielding and some rivers and streams now don't need supplementing.
Minnesota DNR offers educational clinics to anglers.
You can learn everything from the basics of fly fishing to its depths like stock breeding and rearing.
The prolific fish species and populations throughout Minnesota makes it a place full of excitement for any angler.
The peaceful farms, gorgeous landscapes, and community make it worth a second and third visit.
As you plan for your Minnesota fly fishing trip, ensure that you are aware of the weather reports and fishing regulations.
Most vital of all is smart packing.
Check our buyer's guide and identify the most appropriate tackle and gear that you can order and carry to avoid missing out on the best moments in this state.
As we keep leaking to you the secrets of the best fly fishing spots to check out, share with us which ones you have visited.
Let us know your experiences and the hardships you encountered.