Disclosure:
Just to be open and honest the buttons and links you click on in the website will in most cases take you to another website where you can purchase the products I am reviewing. As an Amazon Associate I earn from qualifying purchases.
December 27, 2021
Best Fly Fishing in Connecticut – The Constitution State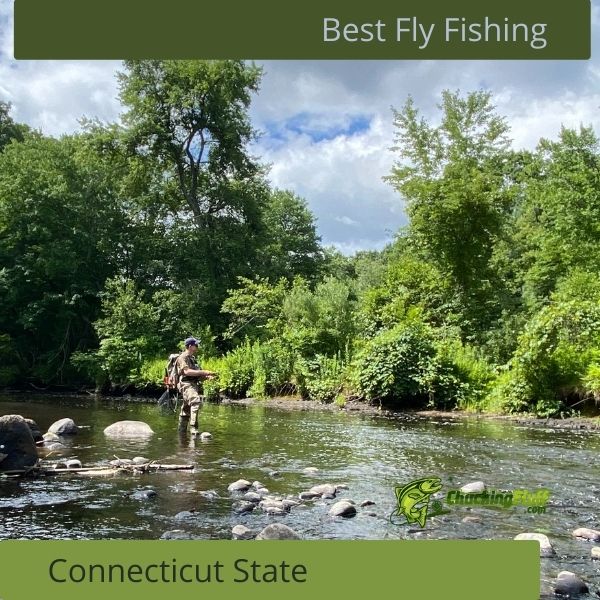 Connecticut is a state that is often underrated by traveling fly fishermen and women.
The place boasts at least a little of everything in angling.
From the small water creeks that are heavily wooded to the open water fishing offerings on the Atlantic Ocean.
Common names among residents are Housatonic and Farmington Rivers.
But there are a plethora of waterways yet to be discovered by many as sure fishing waters.
Maybe because they haven't explored the state more.
While you relax and contemplate with your combo in your hands, nothing bars you from enjoying the gorgeous scenery as you explore the underwater biodiversity.
Digging its history, Connecticut is popular as it is among the original thirteen colonies in the USA.
The tiny state is a residential preference for many influential people, powerful politicians, and the rich echelon in society.
One of the distinctions it offers to fly fishermen worldwide is the incredible fly fishing opportunities and diverse angling experiences.
Connecticut has a fish stocking program that sees over a million trout being deposited in various waterways across the state.
The program isn't limited to trout stocks only.
It stocks other fish species to ensure the increase and maintenance of their population and ensures that fly fishing is kept alive in the state.
Don't equate the fly fishing activities in this state to its size.
There is a unique combination of what Mother Nature offers.
This is a state that is packed with lots of experiences if you are looking to sharpen your fly throwing and presentation skills.
Don't overlook it when next you plan your fly fishing trips.
From the coastline and shores of the Atlantic Ocean to the creeks, streams, reservoirs, rivers, and lakes that make up the waterways in Connecticut, you will not lack variety to choose from.
For the best fly fishing in Connecticut, any angler can choose from the favorites below.
---
Mianus River
River Mianus hails from North Castle in New York and snakes through Fairfield County in Connecticut.
The best time to pack and hit these waters is in the fall and spring.
You have to be up to date with all the weather and fishing reports of this river.
Water levels and rainfall are among the primary considerations to ensure that you can have fantastic fishing experiences.
What will interest any enthusiastic angler who never quits learning is the chapter of Trout Unlimited on this river.
It has more than 500 members and purposes to conserve coldwater fisheries.
The guys here are generous and will help with giving local fly fishing information.
One of the excellent spots where you will not be disappointed is the State Park.
Most anglers love to fish at the Mianus River Park. The recreation activities here are inexhaustible.
This place receives anglers in high numbers during the peak seasons. Stoneflies hatches happen here in February and March and are excellent to fish with early in the year.
Pack mayflies, light cahills, and sulphurs in May.
To take down the summer, nymphs are best.
---
Seasons: Spring, fall
Main Species: Sea-run brown trout, white perch, striped bass,
Fly Patterns: Deer hair caddis and other nymphs, mayflies, stoneflies, light cahills, sulphurs
Nearest Town: Stamford, Greenwich, Port Chester, Darien, Rye Brook, Rye, Harrison, White Plains, Norwalk, Mamaroneck, Mount Kisco
Nearest Tackle Shop: Pete's Place, Angler Capital, Rudy's Tackle Barn, Byram Bait & Tackle, Fisherman's World, Orvis, Momma's Got Worms, Al's Tackle Shop, West Marine
---
Housatonic River
This is a world-class trout fishery. Besides trout, other species that lurk in this river are smallmouth bass and pike. You will not regret testing this river because the fishing prospects are rewarding.
The river allows for water rafting as you fish. Much of the Housy falls under class I and class II waters. Some sections can reach class V.
Housatonic Meadows State Park offers the best public access to this river.
The waters are stocked with over 9000 fish in spring and fall. State Park boasts more fun activities like hiking and camping.
If you are an all-round outdoorsman or woman, you won't have it less here.
Housy homes trout in every mile of the stretch. If you've heard of the Appalachian Trail, then it follows the Housy from Bulls Bridge to Falls Village.
The East Cast prides itself in this fine trout fishery. One of the most amazing recreation offerings of this stretch is the strict catch and release experience.
---
Seasons: Summer, spring, fall
Main Species: Trout, smallmouth bass, pike
Fly Patterns: March Brown, Pheasant Tail, Stoneflies, Pheasant Tails, Black Stoneflies
Nearest Town: New Lebanon Center, Lanesborough, Windsor, Dalton, Hinsdale, Canaan, New Lebanon
Nearest Tackle Shop: Housatonic River Outfitters
---
Farmington River
There is so much about the 46.7 mile Farmington River that most fly fishermen don't know. Just to revisit, this river was used for manufacturing (small-scale).
One of its branches is longer than the main river. It is 80.4-miles long. Farmington gets stocked with over 40000 adult brown trout annually at four different spots.
This means that the fish numbers here aren't any less. It is the reason why the river offers all-year-round fishing in the Upper Trout Management Area.
The Lower Trout Area has an active catch and release policy. However, fishing here is seasonal.
You can commence your fishing session from the Upper Trout Management Area so that you can familiarize yourself with the Farmington River.
This section is about 3.5 miles and homes large brown trout in plenty.
Thanks to this tailwater stretch and the perfect fishing conditions, the fish thrive more than the rest in other places.
The place has a strict catch and release policy throughout the year making the fish population here huge.
You can only fish with barbless hooks here. Some trout grow to over 20 inches. You can also hook native wild trout in these waters.
The season peaks in summer. While it is still hot on this river, you will spot so many boats, kayaks, and canoes.
A point where you can be sure of more success is the stretch between New Hartford and Riverton right beneath the 200-feet Hogback dam.
This section also has good access to Farmington. Ensure to follow all the fishing regulations here
---
Seasons: Summer, spring
Main Species: Native wild brown trout, stocked brown trout, Atlantic Salmon, white perch, striped bass, northern pike, smallmouth bass
Fly Patterns: Blue wing olive, stoneflies, caddis
Nearest Town: New Hartford, Farmington, Otis, Windsor, Becket
Nearest Tackle Shop: UpCountry Sportfishing, Orvis, Still River Outfitters, Tags Tackle, Northwest Sporting Goods, My Rod
---
Salmon River
Two separate come together and the resulting flow is what makes the Salmon River. The separate rivers are Blackledge and Jeremy.
Manmade and natural determinants make the water maintain pristineness and coldness throughout.
The riversides are surrounded by large and tall trees creating more shade that covers the river.
The Wopowog Wildlife Management does so much in conserving these waters so that they remain clean and with lots of trout.
Salmon too cruise these waters. You can use the Salmon River State Park as a possible access point.
Trout stocked in these waters are brought in when almost mature. Therefore, catching these buddies is pretty easier.
The river is open throughout the year. Pack your trout attracting flies like caddis and Adams if you are looking to have trout sessions.
Have a 5 to a 6-weight fly rod. Sometimes salmon and larger trout cruising these waters can get hooked.
However, the chances of breaking lines because of this are very high. Carrying accessories for fly rod repair will be crucial.
---
Seasons: Spring, fall
Main Species: Brook, rainbow, brown trout
Fly Patterns: Pheasant tails, Adams, minnows, stimulators, blue wing olive dry, royal Wulff, caddis, duns
Nearest Town: Hebron, East Hampton, East Haddam, Colchester, Marlborough
Nearest Tackle Shop: Mre Marine & Fishing, Fishin' Factory III, Reel Colors, Lakeside Dan's, Frank's Live Bait and Tackle, UpCountry Sportfishing, Wild Edge Inc,
---
Naugatuck River
Naugatuck River is an excellent spot for anyone looking for variety. Atlantic salmon cruise these waters.
As a tributary of the Housatonic River, most fish you find in the Housy are in the Naugatuck.
Most parts of the stretch follow along Route 8. The river ends up in the Housatonic.
October and November are when the state stocks these waters with salmon.
On Route 8 between exit 23 and exit 26, as well as exit 40 and exit 41 are the best spots to consider combing for more successes.
Between exit 23 and exit 26 is deeper and has fast-flowing water. These make wading here a little bit tricky.
Start off from the area near the bridge pool which is at Pines Bridge Road.
The place gets crowded in the peak season, on holidays, and on weekends. As the stretch reaches its narrowest point about 20 to 40 feet, it begins to have larger pools where fish hide.
Be careful to read and follow all the fishing regulations here to avoid being banned from the area.
The area is strictly a catch and release section from 1st October to the end of November.
As from 1st December to 31st March, you are allowed to bag 1 salmon daily. Only artificial single-hook flies are allowed here.
Fish in this river grow into huge sizes. Having a 7 to a 9-weight fly rod and enough backing will be ideal if you hook onto a monster that wants to dash off.
Salmon here love leeches and other salmon flies while weighted nymphs will get you Naugatuck trout.
---
Seasons: Spring, fall, warm winter days
Main Species: Brook, rainbow, brown trout, Atlantic salmon
Fly Patterns: Pheasant tails, Adams, minnows, stimulators, blue wing olive dry, royal wulffs, caddis, duns, shrimps, tube flies, snaelda, sunray shadows, leech, weighted nymphs
Nearest Town: Derby, Ansonia, Seymour, Beacon Falls, Naugatuck, Waterbury, Watertown, Thomaston, Harwinton, Litchfield, Torrington
Nearest Tackle Shop: Brookside Rod Co., Ken's Bait & Tackle, Sanzeri's Bait & Tackle, Torrington Fish & Game Inc, Still River Outfitters, UpCountry Sportfishing, Housatonic River Outfitters, Fishin Factory
---
Moosup River
You can only fly fish in the lower section of the Moosup River. It is heavily stocked with rainbow and brown trout.
The section set aside for fly fishing is strictly for catch and release only. For access, use the East Main St, Water St. Bridge, Barber Hill or River Street Road.
There is a dam in the middle of the upper and lower section to separate the two parts of the river.
However, it has been marked for removal to allow free migration of fish to and from either of the sides.
Pack any common trout flies because this river is heavily stocked with trout.
If you are unsure of the kind of tackle to bring here, anything mid-weight will handle most fish in this river.
Before heading out, ensure that you know and purpose to follow all the regulations in the Moosup River.
---
Seasons: Open all-year-round
Main Species: Brown, rainbow trout,
Fly Patterns: Pheasant tails, Adams, minnows, stimulators, blue wing olive dry, royal wulfs, caddis, duns,
Nearest Town: Sterling, Oneco, Plainfield, Central Village, Wauregan, Danielson, Greene, Canterbury, Brooklyn, Voluntown, Foster, Jewett, Dayville, West Greenwich, Coventry, Clayville, Hampton, Baltic, Scotland
Nearest Tackle Shop: B & J's Bait & Tackle Shop, Bob's Place Bait and Tackle, Mike's Bait & Tackle Inc
---
Kent Falls Brook Trout Falls
The Connecticut Department of Environmental Protection created the Kent Falls Brook Trout Falls and it is stocked with about 1300 trout annually.
There are public access points at the first large pools at the foot of the falls, the covered bridge, the pool above this covered bridge, the footbridge, the corner pool, and the pool in the middle of the footbridge and the corner.
The pools have calm waters and dry flies will not disappoint.
Caddisflies and other trout nymphs will also outperform. Carry a lightweight 3 to a 4-weight fly rod. Novices can find an easier time here.
---
Seasons: Open all-year-round
Main Species: Brown, brook trout, smallmouth bass
Fly Patterns: Dry flies, caddis, trout nymphs
Nearest Town: Plymouth, Arlington, Southbury, Watertown, Torrington, Woodbury, Litchfield, New Milford
Nearest Tackle Shop: J. Stockard Fly Fishing, Rip Lips Fishing, Housatonic River Outfitters
---
More Fly Fishing Areas in Connecticut
If the Nutmeg state is still your primary target for fly fishing experience and love to try out angling in the park, here are a few to check out for some fantastic experiences.
Black Rock State Park in Watertown, Chatfield Hollow State Park in Killingworth, Pasture Pond in Plainfield, Southford Falls State Park in Oxford, Spaulding Pond in Norwich, Stratton Brook State Park in Simsbury, Valley Falls Pond in Vernon, Wharton Brook State Park in Wallingford, Wolfe Park in Monroe, Day Pond in Colchester, Natchaug River in Eastford.
The 90-square-mile Pomperaug River also called the trophy trout stream is highly dependable in Connecticut's agricultural sector.
You can confuse it for the Connecticut River Valley because of the gorgeous and fertile landscape.
Its pristineness is because of the glacially placed segments creating an aquifer that is responsible for the river's purified water. It drains in the Housatonic River.
You can access it from Hollow Park, Three River's Park, and near Judson Road Bridge. It is stocked with about 9600 trout annually.
Carry mid-weight tackle to this place for more yields.
Quinnipiac River has suffered from the effects of pollution because of a heavy industry that deposited waste into it in the 19th and 20th centuries.
The effects are evident to date. If you plan to catch fish for food here, talk to the local guides and wildlife agencies.
They will recommend safer places. The river is stocked with over 2500 fish yearly and you can catch fish in every mile of this stretch.
Access points to the river are at the Old Abutments under Cheshire Bridge, below and above the pipe that crosses before the pump-house, and the park that has a red bridge.
Bring standard lightweight tackle because of the calm water and medium-size trout. If fishing near the Hanover Pond or where the waters are deeper, use nymphs.
Saltwater fly anglers will enjoy casting in the Long Island South.
There are so many public access points between Greenwich and Fairfield.
Sea bass, bluefish, flounder, striped bass, and albacore are some of the fish species guarding these waters.
Shore fishing is possible but you are likely to gain more if fishing from a boat.
Carry an 8 to a 9-weight saltwater rod, a strong leader, an intermediate sinking line, and crown your combo with big flies.
Shetucket River is in eastern Connecticut and is 18 miles. Fly fishermen are likely to hook Atlantic salmon, big browns, rainbows, and brook trout.
The 4-mile stretch below the Scotland dam is the best place to target salmon while the Little River which is a Shetucket tributary homes trout in huge sizes.
The area has riffles, pools, deep pockets, and other structures beneath that fish like to hide in.
The area below Hanover Reservoir is also a good yielding spot.
Saugatuck River is home for bluefish, Atlantic salmon, striped bass, walleye, and trout.
It is stocked with thousands of trout for sustainable fishing. Bluefish fishing is however seasonal here.
Depending on the season, there are strict rules on this river that you should follow.
Visit the Penfield Reef which is graced with jetties and sandy beaches.
It is a public area and perfect for waders only when the tide is pushing towards the outside carrying along larger fish.
Fishing during the low tide isn't advisable as a larger part of the reef is left bare.
You are allowed to catch baitfish here for catching stripers and larger game.
Norwalk River is mostly open to the public. However, a few miles are n private property.
Be on the lookout for signs when fishing here for stocked trout.
Fort Trumbull is an all-year-round fishery that is open 24-hours.
The waters here are home to hickory shad, summer flounder, bass, bluefish, weakfish, and other species.
---
Tips on Successful Fly Fishing in Connecticut
You require a valid fishing license before attempting to fish any waters in this state.
Depending on where you want to fish whether on the coastline or inland.
You must be 16 years or above to get this. There is a 50% discount for persons between 16 and 17 years.
Fishing regulations in Connecticut differ from one area to another.
Ensure you know all the fishing regulations of your chosen fishing spots before heading there.
Some are strictly fly fishing zones, others only for catch and release, while bag limits, hook and lure types vary from location to location as well.
Ensure that you know all the conditions of the rivers, lakes, streams, and other waterways that you intend to fish in.
Do this by checking the fishing report of each area on the DEEP website or confirm with the local fly shops and fly fishing guides.
If intending to go after larger salmon or trophy-size trout, you have to pack an 8-weight fly rod which is heavier to keep up a fight with angry and dashing monsters.
A 4 to 6-weight rod will be perfect for small to medium size fish in almost all places in Connecticut.
---
FAQ's – Questions on Fly Fishing in Connecticut
Q) When does the trout season here run?
A) The trout season begins on the second Saturday of April and continues through the end of February,
Q) When can you fish tidal waters?
A) You can fish tidal waters in this state all-year-round.
Q) What is the creel limit for common carp?
A) The creel limit for common carp in Connecticut is 5.
Q) What is the cost of a season inland fishing license for a non-resident?
A) This, for persons of 18 years and above goes for $55. Those between 16 and 17 years get a 50% discount.
Q) What is the daily creel limit for largemouth bass and smallmouth bass in Connecticut?
A) The creel limit of the two is 6 for each angler each day.
Q) How many trout fish can you bag in a day here?
A) Connecticut has a trout bag limit of 5 trout in a day. However, you will need s trout stamp and this only applies to areas where the regulations permit since some are strictly catch and release fisheries.
---
Conclusion on Fly Fishing in Connecticut State
What do you expect from the third smallest state in the USA? Almost nothing beneficial with regards to recreation and entertainment-some may think. It is the reverse of things in Connecticut.
There are diverse fishing opportunities that you can't explore and exhaust in one visit.
From the inland fishing opportunities to the beautiful coastline, you must find a spot to wet your line each time you come here regardless of the season.
Connecticut shouldn't be overlooked when picking angling destinations.
While it has them in plenty, the balance between the fishing offerings, beautiful nature, stunning landscapes, top-notch amenities, and accessibility makes it one of the best places to visit when in the states.
As you plan your trip to the constitution state, ensure you pack smart to avoid blaming the weather even when you could beat and turn things around with proper gear and tackle.
Check our best buyer's guide for the best of items you can order for a successful fly fishing expedition in Connecticut.
We haven't exhausted all the spots to fly fish in when in Connecticut.
Give us a heads up of any that we've left behind in the comment section. Also, share with us the areas you have sampled and your experiences there.
We might just put up a part 2 post on the same sooner.
About Author
admin