Disclosure:
Just to be open and honest the buttons and links you click on in the website will in most cases take you to another website where you can purchase the products I am reviewing. As an Amazon Associate I earn from qualifying purchases.
June 22, 2020
Best Fly Rods for Boat Fishing – Afloat with Accuracy and Power
What would make you not fish afloat? Maybe equilibrioception (seasickness)? Is it not owning a boat?
A good number of anglers are preferring float fishing to wade fishing or casting from the banks. What makes the style more fun and fulfilling is the different tactics and techniques. You will be casting downstream as you enjoy the long drift. Novices will often cast behind their boat or perpendicularly giving shorter drifts. For you to ace it, you need to practice fishing upcoming waters more.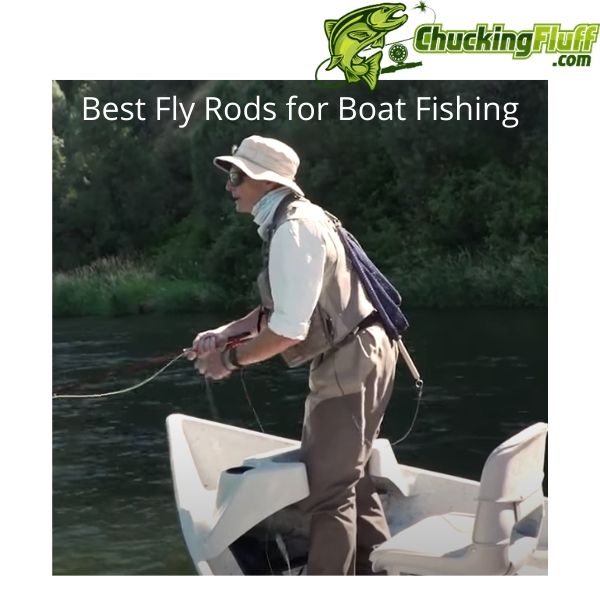 Will you be catching these chaps with your favorite fly overhead? Certainly not. The fly has to be in the water. I know the anxiety and zeal that a rookie has to make a perfect glory cast and hit a dense small pocket. Forget it! You can do that in the ponds as you practice. But when drifting, cast straight off the rod tip. It will shock you how many buddies will get hooked under the rod tip.
While any fly rod can fish, not all of them will be excellent for fishing from a boat. We want you to focus downstream as you enjoy longer drifts. One of the highest wins of float fishing is the ability to have enough coverage. For you to effectively cover a lot of water, you need to make quick casts. This will need you to look for a magic stick with fast action as it is ideal for vast coverage, especially from moving boats. By now you already know or have experienced some of the other upsides of a fast-action rod. It can be an unforgiving master but in this case, it is a faithful servant.
A few aspects of a rod put together gives an ideal boat fishing rod. We are attached to our 9ft 5weight 4-piece fly rods but will they strike it in a river's middle section? You need better presentations even as you dead drift the nymphs and dries or strip your streamers. So, what's in the best fly rod for fly fishing from a boat?
Features To Look For When Selecting the Best Fly Rods for Boat Fishing
---
Rod Length
Here, the general rule of thumb is: the longer, the better. However, this doesn't have to be extremely long to cause discomfort as you cast. The techniques and tactics are different from wade fishing hence the variations in equipment. Why then a longer fly rod while boat fishing?
First, you will achieve more water coverage. When nymphing and using other tight-line fly fishing techniques like Euro-nymphing, you are in full control of the drift and depth of the flies. A longer rod will give more water under the fly rod to ensure that you fish effectively. It will feel more successful if you can cast out an extra foot and cover the small pocket water ahead of you as you maintain better fly control.
As you negotiate moving water, you need a fly rod with a higher line mending ability. The flues will drift properly with very minimal drag and help with controlling the position of the fly when in water. A longer rod will allow an angler to lift more line off water and manage the drift better.
The commonest upside of longer rod lengths is casting for distance. Even if you will slow your casting stroke, the rod will carry more line, it will keep it off water, and aid in giving you extra distance.
A fly rod that is about 9.5ft and longer to 10ft will be the best fly rod for boat fishing. You are guaranteed excellent control, great mending abilities, hook setting, and punching your casts easily.
Rod Action
Despite water coverage being dependent on the rod length, the rod action adds to how far you can go afloat. You will need quicker casts if you are to cover more water effectively. And when you are on moving water, the fast action will be the best for more success.
Why not a medium-fast or medium action? If you can try your luck with the two rods, you will discover that they don't give much potential.
Fast action fly rods give more power to allow for casting for distance. As you cast, tighter loops will help with casting further and there is greater power in these casts. If you are new to these fast rods, you will be surprised at how stiff they are allowing you to battle monster fish. They are the most ideal rods for more strength and larger fish.
When it gets windy, you can cast your line and it punches through the wind. We call them wind-cutters. These fly rods make it easier for an angler to get more fly line out of their rod tips faster and allow for quick casting. If you are targeting small pocket water full of snug around it, this fast action rod is excellent for precise and pinpoint casting to the targets.
Rod Sections
Boats aren't that long and spacious. Even if you get one that is, you will be having fishermen/women and other necessary boating equipment and gear in the boat. You will want a fly fishing rod that you can disassemble into its sections and store it in your rod tube. This is to secure your stick and ensure it takes minimal storage space. Having it longer and in the boat risks breakage. You don't want to imagine how it feels losing a masterpiece because of having a single-piece fly rod.
Note: How you place your rods in the boat will determine if you will fish it and return while whole or it will 'RIP'. This happens often than you think it does. Novices and amateurs on the boats are yet to gain momentum and stability when afloat. However, to prevent losing our rod to breakage from boat bumping, ensure that all the rods and their tips are INSIDE the boat.
In this case, we advise that you carry a spare fly rod and reel combo. If you are with a guide, they will have their fishing gear but have two combos than one.
Rod Weight
If you can test the weight of your rod, the better. However, manufacturers indicate the rod weights in the product description. You will be carrying a longer rod. The issue is, is it long and heavy or long but light? You want a rod that you can comfortably reel and cast with. It should be lightweight. This goes down to the fly rod's material. You can make several practice casts minus the fly line and judge how the rod feels. Check the type of material that the manufacturer uses on this fly rod. Anglers expect these fly rod to be from graphite or fiberglass.
For the lightest fly rod for boat fishing, you should choose a graphite fly rod. Another pro of this material is higher sensitivity levels that allow you to feel the fish movement once it gets hooked. This is ideally what you want when drifting. From our review section, you will see that most if not all the brands use high-modulus graphite materials on the fly rods. This is to drastically reduce the rod's overall weight while highly improving performance.
Fiberglass rods are heavier but boast more flexibility. They are cheaper than graphite rods and durable. For a novice, they can start with this because of the flexibility. There are newly upgraded rods with a combination of materials. If you are a fisherman/woman out to adventure various locations and waters for all kinds of water life, these will be perfect.
What about the respective line weight? For boat fishing, a 6 weight will be perfect. Unless you are going for tight-line styles like Czech nymphing, a 3 to 4 weight will do. You can read about this in an article on our site. Why a 6 weight? This is an all-around weight perfect for trout fishing. Large bass fishing too will be such a fun thing to do. For tiny panfish and trout, it will be overkill because of stouter rigs for the heavy line that will kill the enthusiasm of catching tiny fish.
Lighter rods will ensure that you can angle your arms for a long time without feeling fatigued. As you hold the rod in one hand, you can easily work with the other one on line management.
The other rod features like the real seat, guides, and handles aren't subsidiary. Their importance will ensure reeling success. The reel seats are mostly anodized for more strength and durability. Guides are for line alignment and passage as you battle that chap. Of course, the handle has to be of the right size, well knurled for durability and comfort regardless of whether you are fishing for an hour or ten.
Some manufacturers like Redington, Orvis, Scotts, Temple Fork, Sage, G.Loomis, and others are generous enough to include rod tubes in the purchase. This is to ensure that rod safety during transit and storage isn't an issue. Anglers will gladly appreciate a functional warranty on fly rods for boat fishing. If you land on one with a customer reward program like this one, grab it. Below are a few of the best fly rods for fishing from a boat that you can choose form.
---
Redington VICE Fly Fishing Rod
Redington has been in the fly fishing manufacturing business for over two decades now. So far, the company has witnessed tremendous growth through great innovations and excellent customer service. The company's prowess is evident in this 9.6ft 6 weight VICE fly rod that is among the best sticks for boat fly fishing. The manufacturer describes it as a rod built for indicator fishing and does well in drift boat fishing, casting from the beach, rigging streamers, and working with bigger flies.
Like we said earlier, a lighter rod will be excellent for fly fishing from a boat. This one weighs 3.6oz and is less burdensome to handle even if fishing for a long time.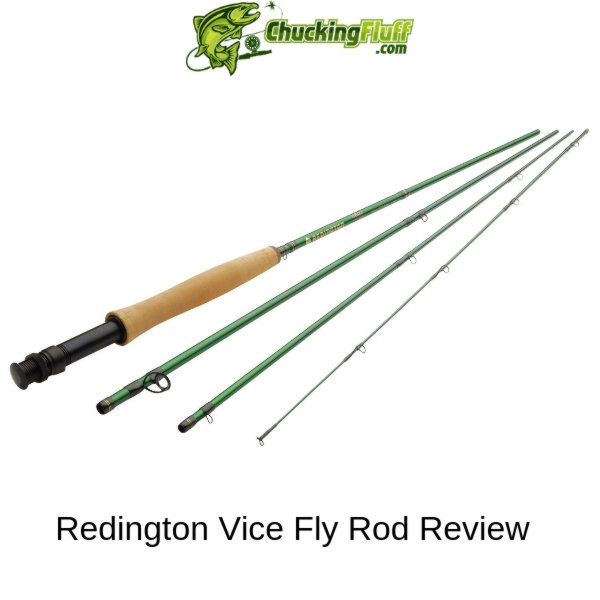 At 9.6ft, it might not be as long as the other 10 feet rods in the review. This, however, doesn't make it any lesser. The road boasts a fast action which to a novice angler might be unforgiving but the just right for covering more water. It is an excellent wind cutter and as you drift down the river or across the lake, it can fish excellently without pushing your line in the wrong direction.
The majority of the fly rods for boat fishing come in four pieces for easy storage in the rod tube. Redington includes a durable Cordura rod tube to allow for proper and secure storage to and from the fishing hole. Most importantly, the interior is divided to give space to each rod section. As you jump in your boat, ensure that the rod is in the boat without any side hanging over.
Fishing afloat doesn't limit you to freshwater areas. For this reason, the manufacturer designs the fly rod with a machined aluminum reel seat that is fully anodized to allow you to explore saline areas without fear of rod damage through rust or corrosion.
The rod is from multi-modulus carbon fiber. This results in a fly rod with excellent control, reduced weight, and high stiffness. All these are what we are looking for in a fly rod for boat fishing.
Redington backs this fly rod with a lifetime warranty. We find it awesome in case of the need for rod repairs or replacement.
Check Our Vice Full Review
Check Availability at Amazon
Check Availability at Trouts
---
Orvis Recon 2 103-4 Fly Rod
Why do you think a company founded in 1856 still does exemplarily to date? Orvis is a household name and its award-winning products speak more of the brand's attention to detail. By now, you must have come across our review on the Orvis Recon 2 nymphing rod. It falls in the list of favorite fly rods for Euro-nymphing and other tight-line fly fishing techniques.
Orvis does much by introducing a fly rod with a blend of two materials to make adventurous anglers more anticipated to comb any type of water. Combining resins and modulus graphite, the rod is lighter, finer, and more efficient than the traditionally made fly rods for boat fishing.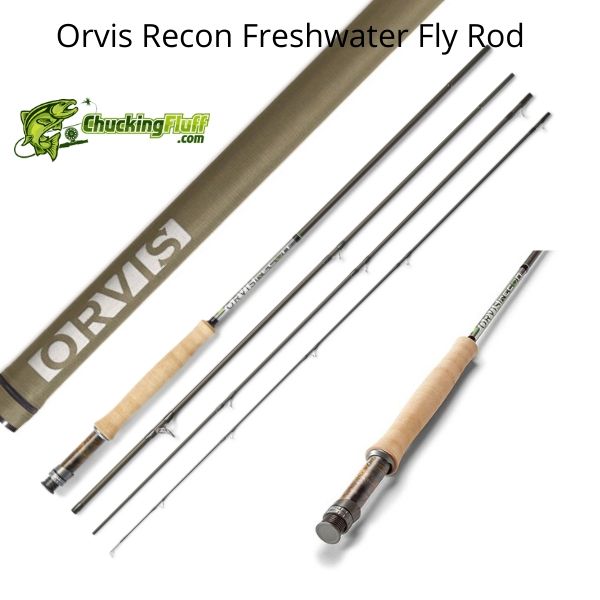 The line weight is different from the rest of the fly rods in this review. This doesn't render it useless when it comes to boat fishing. It is an ideal rod with inspiration from the Orvis Helios 3 fly rod. The reel seat boasts the type III Pewter anodization specifications to increase functionality and durability. This adds to a lighter rod. W focus more on a functional rather than an aesthetically pleasing real when we go for boat fishing. It can't be looking awesome and be useless in performance.
Its fast action gives more power and sensitivity as the angler throws the fly and feels a catch get hooked. It has all the benefits of a fast action rod and you can switch techniques at will. It can be a reliable rod if the fishery you are going doesn't allow for entry with more than one fly rod.
There is a 25-year guarantee on the Orvis Recon fly rod in case of any defects in material or malfunctions during this period. Also, if you'd like to purchase the fly rod outfit, it comes with the Recon 103-4 rod, a Hydros II fly reel, a Hydros Tactical Nymphing fly line, 20lbs Dacron backing, and a durable rod tube.
Check Our Recon Full Review
Check Availability at Trident
---
Temple Fork Outfitters BVK Series Fly Fishing Rod
Nymphing is becoming a favorite for most anglers. The technique though very unique from the rest, is fun to indulge in. Most anglers will agree that nymphing from a boat is the best style of fishing you can ever want after a bad day. Temple Fork Outfitters fine-tunes this fly rod to suit your nymphing needs and ensure that it renders service to its best level.
The length is ideal for boat fishing. At 10 feet, you can cast for distance and enjoy more water coverage than when fishing from the beach or river banks. You can aim at small pocket waters from afar without having to spook fish.
You will be on the boat for quite long especially if you are out to perfect your skills or pass the day. This will need you to have a fly rod with the best handle to ensure more comfort regardless of the duration you take on water. The fly rod has Flor grade grips that are among the best for fly rods for longer use.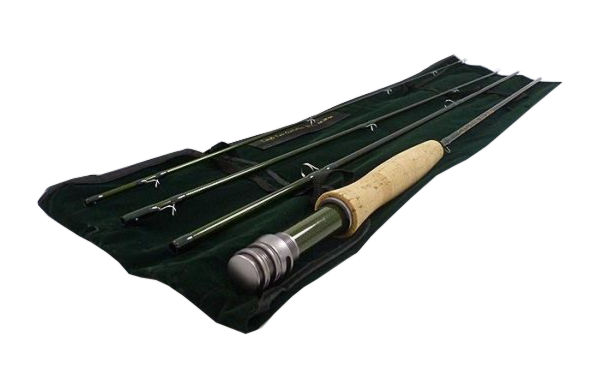 Carbon fiber is another material that manufacturers use for higher flexibility levels and durability. Fly fishing from a boat can have you with broken rod tips because of the intensity of the action or boat bumping. The manufacturer counters this by building a stronger rod that can withstand brutality while offering the best performance.
Other features like the reel seat, guides, and other hardware blends in well with the rod to ensure that it can work well in both fresh and saltwater environs. From customer thoughts, reviews, and consumer reports, the satisfaction levels are incomparable. Most anglers describe it as a versatile master stick as it is used almost everywhere. It is also a promising rod for surf fishing.
This is another fast action rod that is worth the purchase. In fact, it offers the angler way more than you spend on it. It comes with a lifetime warranty which is one of the reasons why most anglers choose it over other well-known brands. Getting more almost for free is one reason why we recommend TFO products.
Check our BVK Full Review
Check Availability at Riverbum]
---
Scott Radian R 1006/4 Fly Rod
If technology wasn't a consideration in designing and building fly fishing equipment, the sport wouldn't be as fun as it is now. Scott Radian is embracing new ideas and incorporating new technologies in its fly rods. You can see this in the R 905/4 fly rod with the REACT and X-CORE technologies to boost the recovery speed, increase the feel, improve stability, and the functionality of the fly rod. The ARC technology boosts the rod's strength.
You will find everything you expect from a fast action rod in this 1006 fly rod. For distance, excellent mending abilities, and guaranteed tippet protection, the fly rod is unmatched. The artistry and components explain why it is gaining favor in the eyes of many anglers.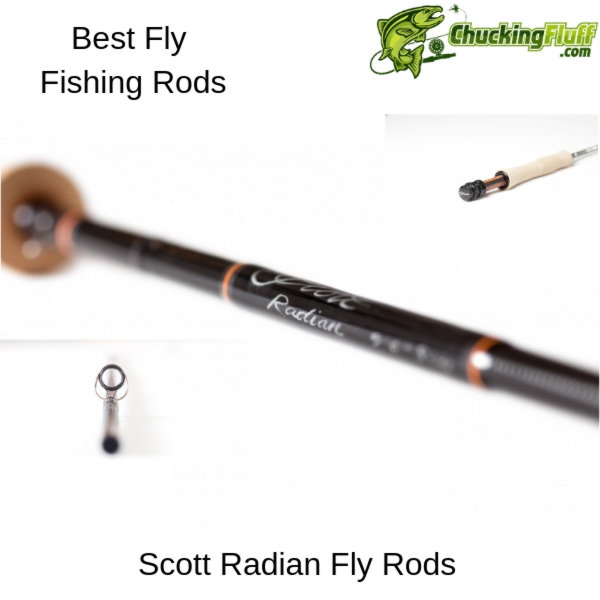 The Portuguese cork strikes us a great innovation that most reputable companies haven't considered yet. The feel is incredible and how well it performs needs you to put it to the test and give your judgment. Otherwise, for us, it is perfect. Combined with the patented universal snake guides, custom-made reel seats with well-burled box elder spacers, and SiC stripping guides with titanium frames, you don't have a reason to ignore it if you find it on the rod rack.
This fast fishing fly rod is handcrafted in Montrose, Colorado. The team of artists consists of die-hard anglers who know what their fellows would love. For credibility reasons, the guides put it to functionality and durability tests on the waters of Colorado to ensure that the quality and performance are unmatched.
Scott includes a lifetime warranty once you purchase this fly rod in case yours develops a fault. If you are keen on customer rewards, you will notice that all the manufacturers in this review are doing their best to ensure customer satisfaction.
Check Our Radian Full Review
Check Availability at Amazon
Check Availability at River Edge
---
G Loomis NRX Trout Fly Fishing Rod
Your fly needs to be in the water as you fish from the boat. In this case, you need a fly rod with excellent sensitivity to ensure that you feel the rod and the happenings underwater. G.Loomis makes this possible by blending GL7 Nano Silica Super resin with high modulus graphite. The combination results in a fine-tuned fly rod that is extremely light yet very strong. You will enjoy quicker recovery times each time you make casts.
Half Wells cork handles are superb for an angler who is looking to enjoy comfort as you fish. The filling treatment that G.Loomis includes during manufacture ensures rigidity in the handle boosting functionality and durability.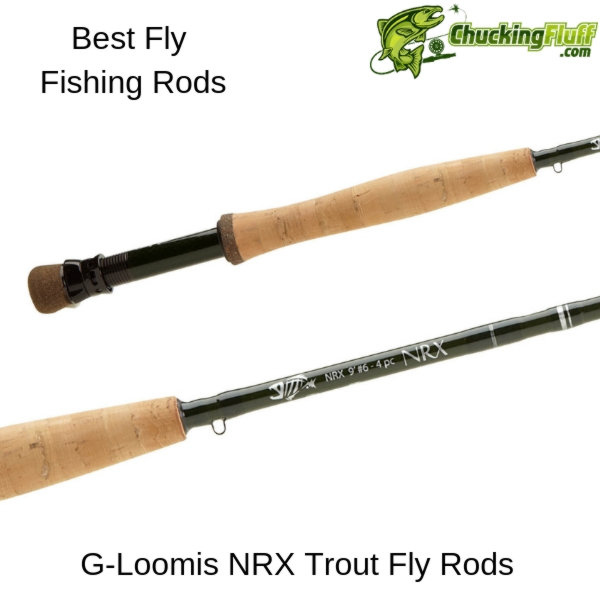 Other rod specifications like the 10 feet length, 6weight line, and four sections are all relevant for the best fly fishing rod for boat fishing. The length is for farther casting for distance and more water coverage. The line weight is to ensure you can battle big fish without breakage and the four pieces for easy storage while afloat and during transit to or from the fishing hole.
G.Loomis is generous enough to back this fly rod with a lifetime warranty in case of the need for repairs or replacements. However, ensure that you are following the terms and conditions to avoid voiding the warranty.
Check Our NRX Full Review
Check Availability at Trouts
Check Amazon Availability
---
Verdict of the Best Fly Fishing Rods for Boat Fishing
Most rookies will ask if they need special equipment for fly fishing from boats. We wouldn't say special as such. But, a few of their features are slightly different from what you are used to when wading or bank fishing. We can't insist enough that you carry an extra combo. Even pros break their weight fly rods on a one and half pound crappie. If you don't have an extra stick, you will be idling until the day ends.
You will be casting in limited space and need to monitor the anchor lines and the motors. The two aspects bring us down to the rod control factor. Each situation will be different but there are vital things to have in mind. As you fish from the boat, your position is at about one to two feet above the surface of the water. The angle of the fly line as you fight the fish will drastically increase and that isn't what we are looking to achieve. Your rod tip should be lower in the water to reduce that angle. The same position will keep the right tension on a fish. This will improve the catch rate.
More so, the bottom of some of the hulls of jet sleds often gets banged and scuffed up. This causes the edges to be sharp and eat the fly line. If your fish decides to bolt right under the drift boat, you need to stick the rod in water as far as possible to ensure that your fly line is far enough from the bottom of your boat. A single rub on the hull will create a major difference between a toss and a time-out.
Note that you have a longer rod of about 9.4 to 11 or 14 feet with you. You can reach out further and deal with obstacles if you have to. Just do it!
Of all the things that you shouldn't leave behind is a net. Fish are anglers' friends, coworkers, and the core reason you are drawn to their homes. You need to respect them. Avoid lifting a fish out of water and straight into your boat. Your guide will help with netting the fish. They can choose to move the boat farther to the shore for a few snaps then release. Ensure that the buddy is in water.
As you jump in to advance the deepest and unreachable areas of the waters you are fishing in, stay very calm, enjoy your casts, and fights. It is crucial to listen and follow your guide's instructions. Respects our water friends and remember that you are in a boat-safety is key. Fun and success will follow.