Disclosure:
Just to be open and honest the buttons and links you click on in the website will in most cases take you to another website where you can purchase the products I am reviewing. As an Amazon Associate I earn from qualifying purchases.
August 4, 2020
Best Places to Fly Fish in Indiana – The Hoosier State
Boasting over 21,000 miles of potential streams and rivers, any angler can tell that Indiana is among the new destinations for any adventurous fly fisher. However, for non-residents, fishing can't come to mind when anyone asks of activities that are fun to do in this state.
The Hoosier State is famous for college games, farmland, and racing. Added to the streams and rivers are 580 impoundments and 45 natural-forming lakes.
The waterways have access areas owned by the Indiana Department of Natural Resources. You will at least find spots where you can bank or boat fish. Considerate enough, the state has created special access areas for individuals with disabilities.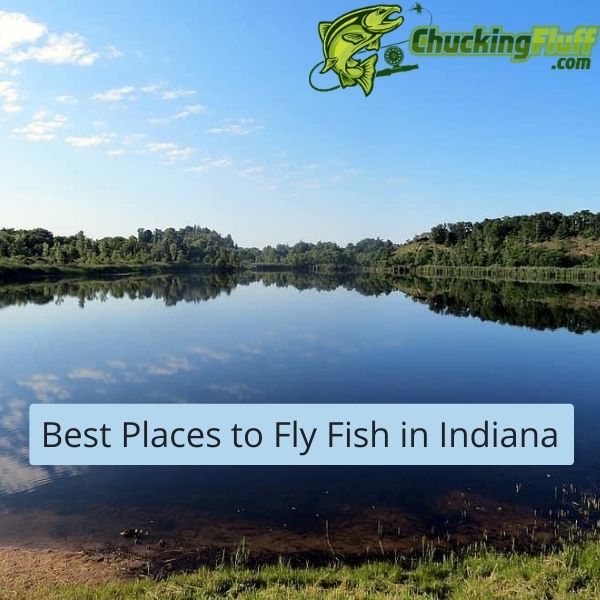 It will take you by surprise that the state has a good number of watersheds that offer all-year-round fly fishing opportunities. Some of the popular species that anglers chase here are largemouth bass, salmon, crappie, muskies, steelhead trout, Coho Salmon, walleye, northern pike, and stripers.
Anglers love to explore different states during different seasons. The majority love to go out in wild weather because there usually are very few to no crowds. However, if you intend to come to Indiana in the warm weather, visit in the spring.
Check out other destination in the USA
So Where are the Best Places to Fly Fish in Indiana
Sugar Creek
Sugar Creek is near Crawfordsville and snakes more than 100 miles through the heart of Indiana. Resident anglers will always associate it to smallmouth bass fishing but it has 70 more fish species.
The Midwest acknowledges its presence as the bass here are healthy and in huge numbers. It has its source in the farmlands of Boone County.
It continues to flow southwest from there snaking through the high rock cliffs and dense forests of the Shades State Park, Turkey Run State Park, and Pine Hills Natural Preserve until where it feeds the Wabash River at the border of Indiana and Illinois.
If you are a keen angler who takes interest in knowing the life cycle of aqua life and their sustenance, you will agree that this stream has a few excellent features that favor the growth of fish to trophy sizes.
First, the cover is impeccable and offered by rock ledges, wood downfalls, and large boulders that are perfect ambush and cover points for bass.
The forage base is epic as the happening hatches are minnows, crayfish, and terrestrials to ensure that the smallies have what to feed on. Spawning gravel are in abundance.
Sugar Creek homes these trophy fish with lengths of more than 20 inches. We attribute this to the efforts put in by the Indiana Department of Natural Resources in setting and reinforcing the catch and bag limits of smallies.
An angler fishing this creek is limited to keeping one smallmouth bass that is more than 20 inches per day. And in the past few years, the sizes and numbers of these fish have skyrocketed.
The fishing season here commences in April. During this month, you have to brace yourself for cold water temperatures, rapid currents, and uncomfortable angling conditions.
Despite the three downsides in these months, the chase will be a good one. Most anglers catch the best annual proceeds at this time.
We encourage anglers to fish large streamers with plenty of action on full sinking lines or sinking tips. Ensure that you dredge the bottom section.
May comes with overly active and swift fishing and this goes on for a few more months. Smallies hit aggressively in the pre-spawn and spawning periods.
If you love to use topwater flies, the two seasons will be the best times. Otherwise, during other seasons, most anglers fish bass bugs, terrestrials, mayflies, and crayfish.
The best stretch is downstream and at the covered bridge around Darlington. Even though the water is stained, the catches are pure gold. We recommend fishing from mid-morning to late afternoon.
For the best access point get to Thorntown or Darlington. A larger section of the bank area is on private land. This forces you to be cautious and courteous enough when fishing near private property.
The warmer months see more anglers with canoes hence the traffic.
Seasons: April to November
Main Species: Smallmouth bass, bluegill, carp, suckers, rock bass
Fly Patterns: Crawfish, baitfish, poppers, leeches, frogs, hellgrammites, bass bugs, mayflies
Recommended Tackle: 9 foot 6 inches fly rod with a 3x tippet and a 9-foot leader
Nearest Towns: Wilkinson, Carrolton, Spring Lake, Philadelphia, Eden, New Palestine, Nashville, Maxwell, Mohawk, Greenfield
Nearest Tackle Shops: Orvis, Adams Outdoors Bait, Tackle, & More!, Moving Water Outfitters, Flymasters of Indiana, Honey Creek Tackle, Pro Tournament Scales, Gator Grip Inc, Haleys 11011 Lakes, Last Cast Bait Co.
Guide Services:
---
---
Lake Michigan and its tributaries
Lake Michigan flows in four states and its share in Indiana is the smallest at only 43 miles of the shoreline and about 224 square miles of the lake's waters.
Fly fishing opportunities are available throughout the year with anglers capable of catching Coho Salmon, chinook salmon, steelhead/Skamania, winter-run steelhead, lake trout, yellow perch, sunfish species, and smallmouth bass.
Anglers catch salmon at the pier or from a boat. The season is at its best from mid-February to May, September, and October. The average sizes caught when fishing in the streams is 3 to 4lbs and 2 to 3lbs for boat or pier fishing.
Chinook salmon can be fished from the streams, boat or some piers in May, Mid–July to September. Stream fishing is excellent in September and October.
With chinooks averaging at 7 to 12lbs. steelhead can be fished in a similar way to the Chinook salmon. Their season runs from Mid-July to August with prospects between 7 and 10lbs. winter-run steelhead from the streams or pier from October to March and anglers often catch steelies weighing between 7 and 10lbs. lake trout is best fished from a boat from June to November and these chaps weigh between 8 and 1lbs.
June to September are the best months for fishing smallmouth bass, yellow perch, and sunfish species from a boat or in the pier. Yellow perch weights average at 8 to 10 inches while smallies and sunfish between 10 to 16 and 6 to 8 inches respectively.
Where can you fish the Lake? There is a public fishing spot for anglers to fish from the shore. You can find it near the Michigan City DNR building and another Port of Indiana.
The two public fishing spots for shoreline anglers have handicap access. There are several private marinas near Burns Waterway that offer boat launching services. A municipal ramp is found upstream on the Tail Creek Marina.
You can fish the Michigan City basin, piers, and adjoining ramps under the management of the City of Michigan. Both boat and shoreline anglers can fish here. Stream fishing is possible in the tributaries of Lake Michigan.
Public Fishing Sites on Lake Michigan include Creek Ridge Park, Johnson Road, Trail Creek Forks, U.S. 35, Karwick Nature Park, Robert Peo Public Access, Fire Station number 2, Winding Creek Cove, and the site closer to the Department of Natural Resources Building.
It is vital to have in mind that most of the tributaries of Lake Michigan flow through private land. You are advised to courteously seek permission from the owners.
Seasons: All-year-round
Main Species: Smallmouth bass, sunfish species, Coho salmon, chinook salmon, steelhead, winter-run steelhead, yellow perch, lake trout and carp
Fly Patterns: Coho comets, midnight riders, pink squirrel steelhead, stonefly chartreuse, leeches, skunks, Chernobyl, shrimps, caddisflies, stoneflies, Bjorn's, Umpqua Specials, Skykomish,
Nearest Towns: Michigan City
Nearest Tackle Shops: Tony's Outboard Motors & Chief's Bait Shop, Bass Pro Shops, Academy Sports + Outdoors, Slez's Bait and Tackle
---
---
Brookville Tailwater
The main river feeding the Brookville Reservoir is the East Fork of Whitewater River. Its name is a hoax. You will not spot white water on this river on any day. It has a very steep gradient hence the numerous rapids.
According to research done, the Whitewater River is the fastest-flowing river in the USA with a fall averaging at 6' per mile. The stretch in Indiana hails from Wayne and Southern Randolph and flows into two branches separated from each other by 10 miles.
The two flow southerly into Brookville. It continues flowing into Ohio and feeds Miami River. The river in Indiana is surrounded by farming land and natural forests.
One the river enters the dam in Brookville, it forms the Brookville Tailwater. The tailwater snakes for 2 miles then meets the West Fork. There is good trout fishing in the state in the two miles as it has healthy populations of rainbow and brown trout.
The tailwater offers fishing opportunities throughout the year and if the conditions are favorable wading is a great thing to do. The dam is operated by the US Army Corps of Engineers.
They control flooding. Before heading here, ensure that you confirm the gauge. Do not come here to wade when the flow is more than 4 feet. Wading will be tricky and more treacherous.
Refrain from any fishing activities on the river when water temperatures are rising to 70 degrees. The rise occurs from July to August when it is very hot.
During the hotter days, largemouth and smallmouth bass are overly active. It creates an inconvenience for trout fishing because of the warm waters that trout escape. Use wet flies and small nymphs for the best proceeds.
There are also prolific caddis, midge, and small mayfly hatches that happen here and using them will help in raising the fish to the water surface. Small streamers will also do.
Pack more lightly dressed clousers, wooly buggers, large sculpins, leeches, and baitfish. Sometimes, the catch to expect is unpredictable because the tailwater feeds a warm water river and fish often love to adventure too.
However, many anglers have landed sauger, walleye, catfish, carp, sheepshead, smallmouth, and largemouth bass as they fish for trout.
For fishing Brookville, have an all-round fly fishing rig of 10 feet 4 weight or 5 weight fly fishing rod. More length is for minimal drag and line control. You will cast properly because the watershed isn't overgrown.
It is a perfect rig for dry fly and wet fly fishing, nymphing, throwing trout streamers (small to medium).
Seasons: April to November
Main Species: Sauger, walleye, rainbows, brown trout, catfish, carp, sheepshead, smallmouth, and largemouth
Fly Patterns: Brookville clousers, conehead wooly buggers, caddis, wet flies, tiger midge nymphs, midge nymphs, eggs, red copper John, psycho prince, pheasant tails-unweighted flashback, beaded pheasant tails, Beadhead hare's ear, Beadhead prince
Recommended Rig: 10 feet 4 or 5 weight fly rod
Nearest Towns: New Trenton, Metamora, West Harrison, Okeana, Laurel, West College Corner, Sunman, Guilford, Batesville, Oxford, Oldenburg, Liberty, Harrison, College Corner, Lawrenceburg, Ross, Cleves, Hooven, Brownsville
Nearest Tackle Shops: Parkside Marine & More C-Store, Jays Midlake Bait.Tackle.Restaurant, Fishing Shack, Triangle Guns-Bait & Storage, A C Shiners Inc,
---
Tippecanoe River
Engaging in a fly rod will not be futile in the Tippecanoe River. It harbors warmwater fish species in huge sizes.
The river gets its water from the Oakdale Dam and flows downstream for about 18 miles until where it meets the Wabash River which is another spectacular warm water fishery.
It boasts a wide variety of fish species among them white bass, striped bass, freshwater drum, sauger, walleye, buffalo, suckers, carp, catfish, rock bass, spotted bass, largemouth bass, and smallmouth bass.
Floating the river is the only means to get the best out of the Tippecanoe River. The flow of the river fluctuates drastically throughout.
Wading access is very limited because of this and the numerous private property along the river banks.
When the flows drop below 700cfs, waders have a good time combing the bridges at Pretty Prairie Road, W. Bicycle Bridge Road, SR-18, and CR-725 N.
Luckily, you can float the river when the flows are as low as 500 CFS or as high as 2400 CFS. When the flow falls below 500cfs, fishing from a boat will be tricky and tiresome because of the rocks on the beds.
When the flows exceed 2500 CFS, you can only fish using a fly rod paired with sinking lines. You also have to employ deep water fishing tactics.
There is a stretch of 18 miles from the dam down to where the river meets the Wabash River. The stretch is equally divided into two floats.
The first 9 miles are from Oakdale Dam down to SR-18 while the remaining 9 are from SR-18 to the rivers' meeting point. Beneath the dam at CR-725N is an upgraded boat ramp and an old one at SR-18 Bridge.
The Tippi has deep waters, steeper banks, and boulders. Often, there are operations ongoing at the dam. These highly affect flow levels. When the weather is cooler, you will have to fish deeper.
So, sinking lines or lines with sinking tips will be applicable. Some of the flies that you should carry to the Tippi are poppers, streamers, crayfish, wooly buggers, sliders, deer hair, sneaky petes, Dahlberg divers, minnows, clousers, sculpins, and half and half.
Seasons: April to November
Main Species: White bass, striped bass, freshwater drum, sauger, walleye, buffalo, suckers, carp, catfish, rock bass, spotted bass, largemouth bass, and smallmouth bass
Fly Patterns: Poppers, streamers, crayfish, wooly bugger, sliders, deer hair, sneaky petes, Dahlberg divers, minnows, clousers, sculpins, and half and half.
Must-have Tackle: Sinking lines or fly lines with sink tips
Nearest Towns: Americus, Buck Creek, Battle Ground, Colburn, Brookston, Delphi, Lafayette, West Lafayette, Dayton, Yeoman
Nearest Tackle Shops: bite me tackle, Fletcher's Bait & Tackle, Twin Lakes Fish & Game, Cy's Tackle Shop, Breezy Hill Bait Shop, Poor Boys Baits, BS Kustom Lures, Albertsons Sport Shop, Geneo's Hunting And Fishing, Treasures in the Woods Bait Shop, Tackle Shack, Woody's Spillway Camp & Bait, ButchBait,
---
More Fly Fishing Spots in Indiana
Saint Joseph River flows through South Bend and boasts steelhead trout fishing opportunities all-year-round. Winter season when the temperatures are at their lowest is when anglers hit the jackpot here. However, there is a steelhead run in the summer and stay throughout and leave in fall.
There is plenty of huge female northern pike in the Yellow River. They begin to spawn in early spring and catching a 30'' pike isn't miraculous are they reside here in healthy numbers. Your 8-weight fly rod and big sucker streamers will have them striking as fast.
The Eel River snakes through Logansport and is famous for its carp and smallmouth bass fishing opportunities. It might sound uncommon because most anglers focus on the Whitewater River. Waders will have fun here.
The Trail Creek joins Lake Michigan and has numerous king salmon runs in fall and steelhead runs in summer and winter that attract very many anglers. You will have to be up early and hit the waters before anglers come in mid-morning.
Burns Ditch Lake is near the Port of Indiana and links Lake Michigan and Little Calumet River. It is popular for big catfish and numerous Coho salmon, walleye, and largemouth bass. Boat launching is possible at Portage Marina.
Willow Slough is also known as J.C. Murphey Lake and is in Morocco. Its waters are shallow and hold bass, crappie, bluegill, northern pike, and catfish. The wildlife in the reserve is your companion as you catch panfish.
Closer to this lake are many creeks, ditches, and streams near DeMotte and its surroundings. They, however, are on private land and you need to do the rightful before accessing them.
Beauty lies in the Cedar Lake and anglers come here in numbers to fish as they enjoy the gorgeous scenery.
Summer is the busiest season on this lake as many residents and non-residents come to take part and enjoy the Cedar Lake Summerfest. You can fish for wiper, perch, crappies, bluegill, and bass.
Little Calumet has seen its troubles from the 40s to 50s and wasn't a fishing spot. It has undergone cleanup and restoration to what it is today. Species here are dogfish, trout, salmon, smallmouth, and largemouth bass.
Southwards of Valparaiso is the Salt Creek which is a fun spot to come late in the afternoon or very early in the morning. Small stream trout, Skamania, salmon, and steelhead cruise these waters and its vast length give anglers plenty of access points.
Try the Kankakee River in the northwestern parts of Indiana. The 90 miles have enough access points for anglers to fish from on the bridges and riverbeds for northern pike, walleye, smallmouth bass, and more. It is a treasure as it homes trophy size fish.
Central Munster homes the Centennial Park with a fishing pond for kids and teens to sharpen their skills in catching largemouth bass.
Lake George is in Hobart and is favorable for anglers of all skill levels. The water levels are variable and hold catfish, largemouth bass, bluegill, bream, and carp in good numbers.
Wolf Lake is another option for family fishing with the kids for lake sturgeon, walleye, herring, and pike.
Sundance Lake in the Hoosier National Forest sits on 5.3 acres and is a manmade reservoir put up in 1992 mainly for fishing channel catfish, bluegill, bass, and redear sunfish.
Horse Reservoir sits on 1500 acres and has 35 miles worth of shoreline and another 7 miles of navigable water from Little Chicago Road to State Road.
Catfish, smallmouth bass, largemouth bass, and other species reside in Patoka Lake that takes up over 9000 acres. Its freshwaters are among the best in the entire Midwest region.
As you fish, osprey, river otter, screech owls, and red-tailed oak keep you company.
Head to the Potato Creek State Park for crappie, catfish, and bass.
Other locations that you can check out are Lake Shafer, Lake Maxinkuckee, Geist Reservoir, Summit Lake State Park, Lake Monroe, Driftwood River, Clear Creek, Lakes in Hoosier National Forest, Ferdinand Lake, Eel River, Owen Bend Park in Bartholomew County, Downing Lake, Cooked Creek Lake, Island Pit, Black Cat Lake, Shelter Lake and many more.
---
Tips for Successful Fly Fishing in Indiana
The largemouth bass is the state fish of Indiana. So if you intend to fish a native species, pack your tackle well. There are strict regulations for fishing stream trout. Ensure that you are aware of all of them before heading to the state.
From 1st January to 14th April, all trout streams only allow for catch and release fishing. The bag limit for inland trout is 5 fish per person, per day with the minimum catch being 7 inches and shouldn't bag brown trout exceeding one.
Be cautious about water flow rates when fishing in any tailwater in the state. Some have warning sirens to alert fishermen when the water levels are rapidly rising but some like the Brookville Tailwater don't.
Pay attention to the happening hatches on the watersheds that you intend to comb so that you match your flies well. The commonest hatches in Indiana are sowbugs, sulphurs, terrestrials, tricos, caddis, and blue-winged olives.
Pack the standard wading gear if you are heading out when the weather conditions aren't adverse. Adjust your to your needs when heading out in winter to ensure that you protect yourself from the cold and wind.
Tackle and equipment will depend on the type of fish you intend to catch and the size of the stream or lake. Pack gear with more heft if you are going to fish watersheds with larger fish.
---
FAQ's – Questions on Fly Fishing in Indiana
Q) Can I fish Lake Michigan using a canoe or a rowboat?
A) Rowboats and canoes are discouraged because Lake Michigan has volatile tendencies most of the time.
Q) What age must one be to acquire a fishing license in Indiana?
A) Whether you are a resident or a non-resident and need to access the state waters for fishing and are 18 years or more, you need a valid fishing license.
Q) Can senior citizens purchase a fishing license to fish in the state?
A) Any Indiana resident born before 31st March 1943 doesn't have to purchase a fishing license or a trout and salmon stamp.
Q) Is there a limit on bluegill fishing in Indiana?
A) There was a proposal to make a daily limit of 25 bluegills per person. The possession limit was to allow anglers to have about 75 per person.
---
Wrap Up to the Best Places to fly Fish in Indiana
What is left is for you to identify the areas to go and fly fish in Indiana on your next fishing travel.
Once this is done and the necessary permits and licenses acquired, you have to ensure that the tackle gear, equipment, and apparel that you pack suit four fishing needs and you have no regrets while in this state.
We have a detailed buyer's guide section with information on the best equipment, gear, and accessories for anglers of all budget levels. Pass by and see what you can purchase for a memorable time in the state.
We are very generous and love to share with our readers the best things in fly fishing and where they can find them. We also would like to hear from you on your fly fishing experiences here. What tackle and gear did you pack?
Were they efficient? What fish did you catch? What of their lengths and sizes? Which rivers, streams, or lakes did you fish in? Are there any that we haven't described that deserve a mention? Let's keep it going in the comment section.
Check out other destination in the USA