Disclosure:
Just to be open and honest the buttons and links you click on in the website will in most cases take you to another website where you can purchase the products I am reviewing. As an Amazon Associate I earn from qualifying purchases.
January 28, 2020
Best Fly Fishing in Michigan – Some of the Hot Locations
The endowments of Mother Nature in Michigan are innumerable. In the whole of the US, Michigan flaunts the most miles of waters to fly fish in with over 11,000 lakes and hundreds of rivers. It makes sense since the state is bordered by 3 of the great lakes, Michigan, Superior and Huron. With all that water you know it's got to be good.
A decent number of magazines and publications have voted it as the best fly fishing state in the continent. Even if you spent a lifetime angling, you'll never fish it exhaustively here.
Digging out the depths of fly fishing history, it has been a frequented fly fishing destination for over centuries now. It birthed the famous Trout Unlimited conservation program, the ADAMS dry fly, and many reputable tackle companies.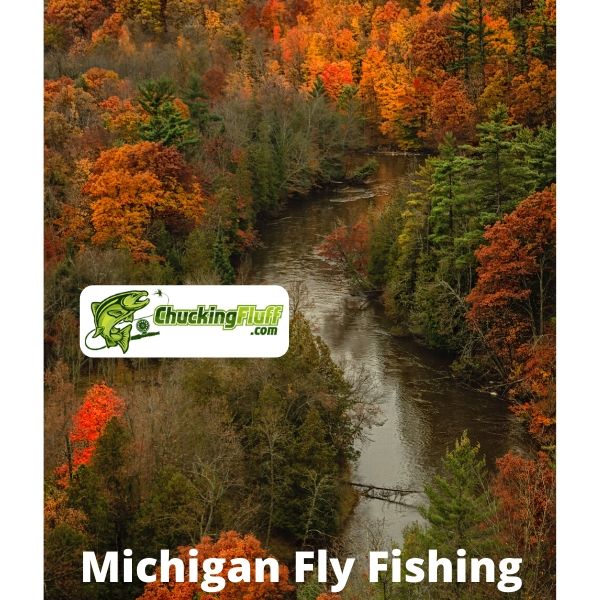 Exploring the ample opportunities in Michigan will have you reaching the many flowing trout rivers and streams. On estimation, there exist over 150 fish species in this state.
If you get bored in Michigan, you must have gone there for the wrong reason-not fly fishing. It is stress-free to find public access spots. Since angling is a popular and highly cherished sport here, be sure to be among the best company each time you hit the waters.
Feel unbounded when in Michigan. You can chase trout, about four types of salmon, and steelhead. It is always exhilarating to try out new adventures when on fly fishing excursions. Besides cold trout waters, wrack your nerves in the warmer lakes for muskies, smallmouth bass, largemouth bass, carp, and pike.
Traveling to Michigan to do some fly fishing? Why not combine it with a 1-2 day fly fishing course at Traverse City with the Orvis Fly School?
We have done in-depth research on the best places to explore, more pointers you need to have in mind, and frequently asked questions about the best fly fishing in Michigan. Browse below to learn more about some of the rivers but as mentioned the lake fly fishing scene is also huge.
---
So Where is the Best Fly Fishing in Michigan?
Fox River – Alger, Schoolcraft and Luce Counties
Trout fishermen and women will find it pleasurable to explore the water of the Fox River. With a length of 18 miles, this is sufficient to have time with your fly fishing outfit. As an upper Peninsula River, it is a blue ribbon stream for trout.
From County Road 450, walkthrough State Forest to the easily accessible Seney M-28 Highway Bridge. Wild trout thrive in dense numbers because of the perennially clear, cold waters.
The river where Ernest Hemingway fished after returning from war has to be an interest to bookworms and historians alike.
We advise that you have a canoe or a reasonably-sized pontoon boat and oars since the Fox can be somewhat narrow and deep. Wading here can be daunting. If you are looking for combo suggestions, an 8 feet 6 inches 4W rod will do justice to these waters especially in the upper reaches.
Brook and brown trout are bountiful in the Fox River. All factors considered constant, brookie mature to trophy size. For such offerings, we agree that it is a place to visit.
---
---
A Tributary of the Manistique river the Fox is a river with clear water and a sandy bottom. Known as a prime trout river with high levels of dissolved oxygen and bankside vegetation providing food for the fish.
The Brook trout in the east branch of the Fox River provides some of the best sport anywhere in the county.
Invertebrate life includes caddisfly, stonefly, mayfly, cranefly and crayfish. The upper Fox river is generally easy to wade with the occasional deep pool. Lower stretches require a boat as it gets to 8ft plus in places.
Species – Brook and Brown Trout, Yellow Perch and Rock Bass
Patterns – Caddisfly and Stonefly nymph and dries
Nearest Towns – Newberry, Munising, Manistique
Nearest Tackle Shops – Marks Rod and Reel Newberry, R & M Sports and Bait Helmer
---
---
Manistee River – From Antrim County to Lake Michigan
Among the biggest rivers in the state, the Manistee poses as an excellent and eye-catching point to try your hand at fly fishing in the northwestern lower peninsula. Late July is a good time to catch landlocked salmon.
You can enjoy the major salmon fishing season which apparently is the earliest here than anywhere in Michigan. The guys at Betts Guides service can see to your needs if you want to try the river out around Tippy dam.
Manistee waters are a mix of run-offs and natural springs. The area is hardly affected by short rains. Unlike the Fox, this one is an all-rounder with rock-strewn bottoms, log-chocked banks and is favorable for both boat fishing and wading.
The river starts in the sandhills of Antrim County dropping about 200m before ending Lake Michigan at Manistee. Like it's sister river in Michigan the Au Sable the Manistee is thought to be one of the best trout fisheries in the state.
Access is a non-issue as it runs 190 miles through miles of the National and State forests. In the fall and late summer months, any fervent angler can fish Chinook salmon, King salmon, Atlantic salmon, pink salmon, and steelhead.
You can fish trout all year since these buddies thrive in cold waters. There is plenty to go after on this River. As one of the longest rivers, finding a tranquil spot to focus and throw your favorites is easy.
We can't seem to describe exact points to fish on this river since it is versatile. However, many anglers recommend the CCC Bridge because of the campgrounds if you are looking to burn the nights on this river.
Flies for a sure bet on the Manistee are streamers, zonkers, and Michigan Skunk. For some reason, you can use a good number of fishing techniques without the fear of not landing a catch.
Check out the water levels over the recent weeks to get a better feel for conditions. If you want a guide for advice or to take you out for the day then the guys at West Michigan are worth a call.
---
---
Species – Brook and Brown Trout, Steelhead, Salmon
Patterns – Woolly Buggers, wet flies and egg patterns all work well on steelhead and salmon. Lake trout flies are good for the local trout population.
Nearest Towns – Manistee, Irons, Wellston, Brethren, Mesick
Nearest Tackle Shops – Midway Outdoor Supply, Andy's Tackle Box, D-Loop Outfitters, Tangled Tackle Co.
---
Au Sable River – Crawford County to Lake Huron Oscado
If you are just flipping the first page of your angling journey, this river mightn't be an excellent spot for you. Small and wily trout populate this river and you might have a difficult time catching even one-you wouldn't want this on day one.
However, if you are up for a new challenge, it might turn out more fun and such a learning experience. Amateurs and advanced anglers who have brushed up their presentation and casting skills are ready for a chase here.
This river is a teacher of patience, determination, and technique. Once you are successful severally on the 138 mile Au Sable, you have bagged skills that can make you hook a catch almost anywhere. Never underestimate these tiny stocked buddies.
If you'd like a spot to favor you if you aren't up for a wild game, the upper section is tamer. Here you can land steelhead, brown and brooks, and salmon. Check out the river levels before making a trip.
You can choose to fish from the boat, shore or wade. An easily accessible spot to fish along the Au Sable is the Comins Flats found in Mentor Township. Size 12 Dun flies favor the early morning hours while Spinners in size 14 for hours past midday. A full list of flies that work well on the Au Sable river can be found here.
---
---
Species – Brook and Brown Trout, Steelhead, Salmon, Bass, Pike
Patterns – Zonkers, nymphs, parachutes
Nearest Towns – Grayling, Mio, Oscoda, Glennie
Nearest Tackle Shops – Au Sable Anglers, Old Au Sable Fly Shop, J Smith Custom Rods
138 miles of blue-ribbon watershed traveling from Clayton County to Oscado emptying into Lake Huron. Au Sable in french means "at the sands"
---
White River – Newaygo, Oceana and Muskegon Counties
Any brook and brown trout chaser mustn't come without a catch from the White River. The waters are in Newaygo County and are fed by natural cold-watered springs. It isn't common to most people yet a hidden treasure. In its headwaters is where you find these buddies making it a gem for any fly angler.
A good number of prolific anglers confirm that Elk Hair Caddis, Adams, and other small dry flies are potential traps. You, however, need to be tactful when matching the color and size of these flies since they can be too playful.
As you head towards the downer ends to areas near the White Cloud Town, brown trout are in abundance here. In fact, it hosts brown trout hatcheries. The widths are approximately 12 to 40 feet. And the brownies go grow up to 2 pounds or thereabout. They streamer flies bait these species.
Its shallowness makes it spectacular for rafting, wading, or shore fishing. Don't gamble with a boat on the White. It is an all-year-round fishing spot. Steelhead will run in the winter while early summer and late spring bring out the best trout fishing moments. Fall months are for salmon.
---
Species – Rainbows, Brown Trout, Steelhead, Salmon, Walleye.
Patterns – Mayflies, emergers, nymphs, streamers.
Nearest Towns – Whitehall and Montague.
Nearest Tackle Shops – Au Sable Anglers, Old Au Sable Fly Shop, J Smith Custom Rods
26 miles of fine river fed by 20 lakes makes for great fly water. Sandy bottoms are easily waded and trophy trout in abundance make the White River a place to visit in West Michigan.
---
Black River – Charlton County to Lake Huron
Otsego County hosts the Black River which homes brook trout. Being about 20 feet wide on average and 78 miles long, you can easily throw your flies on a larger section whether above or below the Tin Shanty Road Bridge.
The Black river flows into the Cheboygan River before ending in Lake Huron, the main branch runs through Charlton County. It rambles tightly with one dam at Ransey.
Fishing is good on sizeable Elk Hair Cadis flies, probably from 12 to 16 will fetch you a decent brookie. You can try size 14 floating parachute Adams as they are a favorite too.
---
---
Species – Brook and Brown Trout, Yellow Perch, Largemouth Bass, Steelhead
Patterns – Sedges, nymphs and Dries for Trout, Eggs for Steelhead
Nearest Towns – Atlanta, Gaylord
Nearest Tackle Shops – Walt crawlers, Parrotts Outpost
The Black river hosts a good run of Steelhead both in Spring and Fall. Switch fly rods are a good tool to have when fishing for them.
---
Pere Marquette River – Lake, Mason, Newaygo and Oceana Counties
Fishing prospects on the Marquette are trout and salmon. The river attracts various species of aquatic insects. To say the least, local fish thrive here because of the forage diversification.
You can't be surprised to bag trophy-sized fish here. History has it that the Pere was the first stocking point for brown trout in the US.
It also boasts an all-season destination for fly fishermen and women. You can catch steelhead and salmon too here. Fall and spring are times when steelhead thrive in the Pere while Salmon in the late summer to early fall.
Peak fishing months are strategically for trout. Besides being a hot spot for fish species, it is striking, serene, and endowed with soothing aspects of nature as it runs through primeval forests and the open meadows.
The Baldwin area of the Pere Marquette has excellent access points. There is also the specified fly only 8-mile stretch if you don't want to be interrupted by spinner anglers.
Fish here easily get hooked on size 14 to 16 egg flies and size 10 and 12 Beadhead Pheasant Tail Nymphs.
---
Species – Brook and Brown Trout, Steelhead, Salmon
Patterns – Sedges, nymphs and Dries for Trout, Eggs zonkers for Steelhead
Nearest Towns – Ludington, Scottville, Baldwin
Nearest Tackle Shops – Baldwin Bait and tackle, Pere Marquette Expeditions
If you are up for a cabin based fishing trip the River Lodge is perfect for a family or group trip. With Orvis endorsement you know you will be looked after.
You need a bit more local knowledge then the trout river map is a good place to look.
---
Rifle River – From Ogemaw, Arenac to Saginaw Bay
The Rifle is one of the cold water fisheries above M55. It gives various fishing options like fishing from a pontoon boat with oars or canoe or wade in the pools. It isn't such a deep river.
However, the cobblestones (stones bigger than pebbles yet smaller than boulders) pose a challenge to waders. South of Rose City is the Sage Lake Road which is an excellent access point.
It will be less burdensome if you carry with you a versatile reel and rod combo. One that you can use with streamers or dry flies instead of separate rods for each. Streamers will be effective for fast waters while dries will work well in the woodies.
The Rifle River has a decent trout run which is mainly caught in the Spring and Fall, Summer seems to raise the water temp and fishing can be sporadic although the huge run of White Suckerfish may play a part in that too as they do their spawning run in late Spring and summer.
---
Species – Brook and Brown Trout
Patterns – Streamers, sedges, dries
Nearest Towns – West Branch, Rose City, and Omer
Nearest Tackle Shops – Brother's Bait & Tackle, Dean's Bait & Tackle Inc
Its always a good idea to check the water flow and temperature before heading on a trip the state watershed website has got you covered.
---
Jordan River – Antrim County to Lake Charlevoix
Just like the Fox, this is another Blue Ribbon river with the beauty that will marvel your soul. It predominantly is a cold water river fed by many springs as it runs through canopies in the cedar forests.
A closer look at it describes its balance in nature with swarms of insects and flies unsuspectingly resting on the water surface. These are niceties for Rainbow Trout which you find here occasionally, brook and brown trout being the main stem.
Flowing 30 miles, many fly fishing guides recommend this river. The upper sections harbor brook trout. Beaver dams are chill spots for those looking to reconnect with Mother Nature.
One of the excellent spots to commence your fly rod and reel game is the Webster Bridge Access. To succeed here, an Adams dry fly of size 14 will work in your favor for a brookie.
---
Species – Brook and Brown Trout, Rainbows
Patterns – Dries, nymphs, streamers
Nearest Towns – East Jordan, Boyne
Nearest Tackle Shops – Tom's Bait & Tackle, Bellaire Bait and Tackle, Advanced Tackle
---
Huron River – Oakland to Monroe Counties
Millions of people, both fly fishers and not have greater access to the Huron. The River is found in the Oakland and Livingston Counties. You can spot so many parks along the riverbanks if you look at the map of the two counties along with Universities and colleges. You will have to compete with boating and canoeing in the lower stretches but the headwaters are good for fly fishing in quiet.
It hasn't been explored to the maximum though. What should draw any avid angler are the moderate temperatures and superb gradient. Thriving species in this river are seasonal trout, pike, and smallmouth bass.
Areas you should purpose to check out along this river are in the north of Wixom. This should be in early spring to land yourself 8-25 inches breeding stock trout since they are out.
You can chase large and smallmouth bass, sunfish, and salmon downstream from the Barton Pond to the Ann Arbor. If you'd like less-frequented spots, the Huron River is a valid choice.
---
Species – Brook and Brown Trout
Patterns – Streamers, sedges, dries
Nearest Towns – Ann Arbor
Nearest Tackle Shops – Bass-N-Sport, The Painted Trout, Rick's Bait Shack
---
Dowagiac River
The Dawg is what many locals refer to it as. Dowagiac feeds the St Joseph River located in Van Buren County. It has one of its best fly fishing spots outside the Niles MI town.
The river boasts an excellent gradient which is a bonus to fly fishing chaps who prefer wading to fishing on boats or kayaks.
Access could be the only major hindrance to fly fishermen and women. Streamers will hook in your favor if you are looking to bag Steelhead in spring or local brown trout.
The gravel bottoms home crayfish. You will have to consider such factors as you make your fly selection.
---
Species –
Patterns –
Nearest Towns –
Nearest Tackle Shops –
---
Boardman River
Have you heard or seen a river with class? Yes! This one located in the Grand Traverse County takes the crown in Michigan. The river drains its waters into the Grand Traverse Bay in Traverse City.
Riverbanks are lined with cedar and gravel from the uppers of the river downstream.
Brown trout dominate this area as they don't need stocking. They naturally reproduce making it a gem for anglers to hit this spot. Feeder creeks harbor plenty of brook trout. Several miles of the river are above the Brown Bridge Dam.
---
Species –
Patterns –
Nearest Towns –
Nearest Tackle Shops –
---
Are Fishing Reports Worth Your Time?
Don't brush these reports. They are as important as your fishing rod and reel. It will be on the better end if you looked up how Michigan has been performing with regards to fishing before setting on a journey.
The reports describe the recent and current water conditions and fish behavior. This aids in selecting the right gear you will need for an excursion. Don't fail to plan as failure could be the next visitor.
---
Fly Fishing Regulations
There are rules and regulations set to preserve the local waters and protect the fish population in Michigan by the Michigan Department of Natural Resources. We wouldn't want you to be the first in history to wipe out an entire fishery or hatchery.
You are required to adhere to the daily bag limits and minimum fish size laws in the state. The least size of smallmouth and largemouth bass is 14''. You are limited to catching a maximum of 5 in a day.
Different locations in Michigan have specific rules that you have to read about before heading to your chosen point. Some waters are closed in some seasons while others are open throughout the year. On some, you will need to use only artificial lures.
---
Surest Flies to hook in Michigan
For a fly fisherman or woman, the fly box is the closest thing to your heart. It is right in the chest pocket waiting to serve its purpose. Stocking up rightfully is a major step towards your angling success. We have a few selections to share so that you can return to Michigan soon.
Flies for Trout
From our River descriptions, you will notice that most of them harbor trout. Luckily, so many flies favor the cold waters. There are dodgy trout in some reverse which deserve good hooking from a Soft Hackle Nymph for underwater presentations.
Hawkin's Nutcracker will land you a good one in spring since they imitate sculpins and baitfish. One good dry fly pattern that lures these guys into your trap is classic Parachute Adams. Elk Hair Caddis too shouldn't miss out in your collection. Other options to try are Isonychia, J. J Special, and the Robert's Yellow Drake.
Steelhead and Salmon Flies
We aren't giving an exclusive list of flies but recommending the commonly used and recommended flies. You can build on the list once you land several good ones that deserve Michigan. The pretty Umpqua's steelhead bugger is a bomber.
Salmon are crazy over Clown Egg Fly Patterns and will fall for any you use. You won't miss spotting a caddisflies pattern on the river banks in Michigan and the surest picks for us are the Disco Caddis and Boogie Woogie Caddis from size 6 to 12. To ensure that you land a catch, select the green and dark red flies.
---
Areas to stay away from due to congestion
The Rifle River can be crowded during busy seasons especially days like Labour and Memorial Days since besides being a hot spot for anglers, paddlers frequent the River.
Spring and summers have the Manistee River experiencing a huge number of water lovers. However, not all of the backcountry campsites experience a larger turn-up.
If you set your mind on exploring the Au Sable and crowds are a turn-off, please avoid the Main Stream as it isn't different. The East Branch of this river that flows through the Hartwick Pines State Park is a more tranquil spot with fewer backpacking buddies.
---
FAQ's –Frequently Asked Questions on Fly Fishing in Michigan
Q) Must I have a fishing license to catch and release in Michigan?
A) All anglers aged 17 and above MUST have a fishing license. It MUST be valid so as to access any waters in Michigan. Residents are charged $26 and non-residents $76 for the license.
Anyone older than 65 pays $11. If you want to fish for only one, two, or three days, there are 24 and 72-hour licenses. If you are a visitor to Michigan from a different state, you require a sports card that goes for $1 and is a necessary requirement. You can purchase a license from stores in the state or online.
Q) When in the year do bass spawn in the Michigan Rivers?
A) Early summer or late spring for largemouth bass.
Q) When does the annual fishing license in this state expire?
A) The license becomes invalid on March 31.
Q) What is the penalty for fly fishing minus a license in Michigan?
A) Such a violation attracts a fine from $50 to $500 and up to 90 days in prison.
Q) Can you still use treble hooks in Michigan?
A) On one condition that you should attach them to artificial lures only.
Q) What is the maximum number of rods you can use in Michigan?
A) Michigan fly fishermen and women are only allowed a maximum of three rods for every licensed person.
---
Conclusion for the best fly fishing in Michigan
World-class fly fishing waters grace Michigan and no angler would drop an offer to visit this state. Fly fishing as a unique style and differing from the other conventional tackle presentations can have you exploring the world just to see what the waters harbor.
Michigan, boasting over 200,000 miles of potential waters should be top on the list of your tour areas. There are sections of Michigan Rivers with hatcheries and fisheries.
Often, you will find guides for hire to explore various sections on boats. Regardless of your level of skills or professionalism, when testing new spots, you need a guide.
Michigan homes some of the world's finest steelhead and salmon fishing. The iconic fall spawning migrations are great offerings to memorable angling adventures that can stiffly rival the rest. Fish are in plenty and access is pretty easy. Trout too are bountiful.
This offers great diversification for an angler to use their favorite techniques and spend more time exploring Mother Nature's bestowments.
This guide is an excellent way to ready you for a breath-taking time in this state. It mightn't be exclusive but is relevant for fly fishermen who'd like to explore highly recommended spots in Michigan.
All you need is to have your travel arrangements then pack up exclusively for the best fly fishing in Michigan. Alongside your license, locations, and personals, having the right tackle gear will crown it all.
We have you sorted through our buyers guide section where you can select the best fly fishing gear, apparel, and equipment that match your locations without violating any location rules and regulations. Don't pay a fine. Pay for more rods and reels.