Disclosure:
Just to be open and honest the buttons and links you click on in the website will in most cases take you to another website where you can purchase the products I am reviewing. As an Amazon Associate I earn from qualifying purchases.
February 3, 2023
Where are the Best Areas to Fly Fish in Hawaii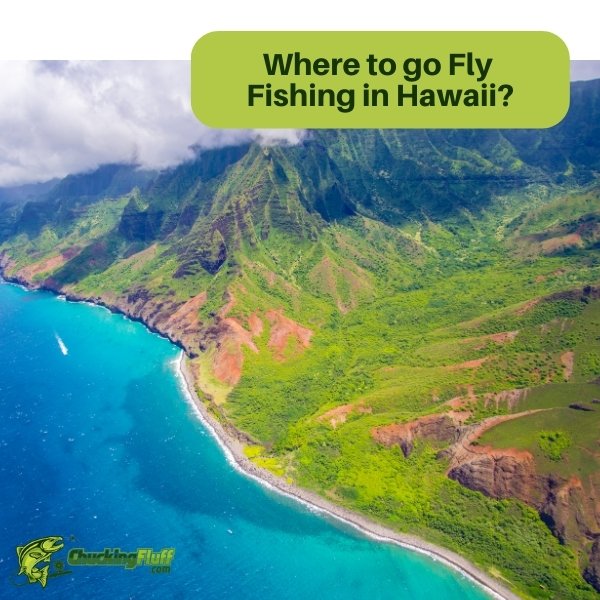 Of strategic geographical locations blending scenery and bragging a unique formation, Hawaii has managed to fit in the description.
The state is in the central Pacific Ocean and is a gorgeous and rich volcanic archipelago.
It brags a chain of islands which makes it one of the best destinations for anyone looking to leave their locality for another.
The islands boast eclectic cliffs, beautiful waterfalls, serene tropical forests and nature aspects that deserve views from everyone.
This laid-back state has beautiful beaches of colorful sands that attract visitors from all walks of life. From red to golden and black sands.
It is a small paradise for anglers though with immense offerings that might take any fly fisher a lifetime to exhaust.
What surrounds the islands is the Pacific Ocean increasing the opportunities for saltwater anglers.
The state has five counties: Honolulu, Maui, Kauai, Kalawao, and Hawai'i.
Until now Hawaii State has officially recognized 137 islands only. However, there are more than 152.
Is trout fishing a thing in this state?
This is a common question asked by many anglers who have never been to Hawaii or have heard no information on fly fishing in the state.
You can find trout in Hawaii. Many wonder how this is possible considering the surroundings of the state-the ocean-isn't it saline?
We don't dispute this but remember that the state has numerous islands that have freshwater bodies whose conditions are favorable for a few trout species to thrive.
However, anglers come here to fish more species besides trout.
It will be fun to test your combos while chasing bonefish, trevally, Olua, barracuda, largemouth bass, smallmouth bass, panfish, and many more.
Hawaii though a small state, has hundreds of rivers and streams, reservoirs, and only five naturally-forming lakes.
The State of Hawaii Division of Aquatic Resources introduced rainbow trout, largemouth bass, panfish, smallmouth bass, and other species into the inland waters to ensure that its anglers have diversity to explore.
A county like Kauai is popular for its legendary trout.
Very few anglers are aware that Kauai supports and has a thriving population of wild rainbow trout.
Head to the wet mountainous jungles of this region and hit a jackpot there.
Just like other wildlife here like wild boars, mountain goats, blacktail deer and many more, the rainbow trout that anglers enjoy reeling nowadays were planted here over 130 years ago.
Fly fishing for trout in Kauai and other regions on the archipelago is arguably the most difficult.
The best prospects are in areas that need long hours of hiking and consistent bushwhacking.
You really need to be in excellent physical shape as the journey to the trout waters is demanding.
Lava based rocks are very slippery making it treacherous for any angler in poor health.
There might be very few predators but the blackberry bushes grow on every place with freshwater.
Their thorns are needle-sharp and the journey needs a tougher pair of waders.
What fascinates any angler with the determination of a termite is the trout awaiting a play session.
The hurdles are quite a number but an angler's satisfaction is in being able to deal with them one after the other.
Upon reaching the trout streams, the next challenge becomes casting since the rivers, streams, and creeks, are very overgrown.
The water buddies you are after are also very alert, often get spooked easily, and are extremely skittish.
We wonder why the rainbows don't rise and our question goes back to what and how they feed.
The temperatures on the island might seem obviously temperate but this is a blindfold to many anglers.
Areas like Kauai are dynamic as it can get extremely cold and rainy closer to 5000 feet or quickly shift to intense sunshine that will leave you sweltering and dehydrated.
Pack tactfully!
Many streams in Hawaii, even the smallest of them all have numerous big pools and excellent pocket water.
These are the trout residences when summer sets in. Now that these chaps hardly rise to the surface of the water, the next problem is what to throw to fool them.
Many anglers have been successful with rainbow warriors that have been trailed behind a tiny streamer.
Fishing in the Hawaii grand canyon is a privilege since it is the only location in the USA where fishermen and women can chase bonefish off it's the state beaches and hook trout in the mountainous streams on the same day.
Most Hawaii residents don't have a thing for wild trout and opt to fish the local reservoirs for put and take rainbow trout.
Anglers who want to catch wild trout will have to adhere to the state's regulations which are similar for both wild and stocked rainbows.
The trout season in Hawaii goes on for several months in summer. Catch and release for trout is forbidden.
Let us see how to counter the challenges of spotting ideal locations and the feeding so that we can make your experiences less hectic and frustrating.
---
Hawaii Guides Here
---
Lake Wilson
---
Anglers in Oahu and Hawaii have always kept Wilson Lake a secret because it is actually a gem.
It is in the heart of the island and sits on 400 acres with cold freshwater.
The lake lining is full of vegetation and water clarity isn't at its best.
It is a fun spot to comb by fly fishers of all ages and experience levels.
The best time to come here is from April to October.
However, if you are adventurous and would want to experience the wild weather in Hawaii, challenge yourself and come here in winter.
It is only the freshwater body in Oahu.
It is also called the Wahiawa Reservoir and boasts more than 17 fish species.
A few are peacock bass, Tunacare, red devil, tilapia, Oscar, snakehead, channel catfish, bluegill, smallmouth bass, largemouth bass.
Sight fishing is enjoyable in the reservoir. Anglers who target bass should visit in the warmer months.
Peacock bass will be overly active in the warmest months which in Hawaii will be October and November.
You can come from December to March.
Some anglers who have combed the reservoir during these months say that the prospects are admirable but very unpredictable.
Winter and spring months are very wet with scary thunders and lightning.
Winds are extremely fast at 50mph and more.
Winter and spring fishing can be tricky because of visibility problems since what is majorly done here is sight fishing.
At these times, it is affected by the mud runs that turn the already unclear waters reddish-brown and this can last for months.
---
---
Seasons: April to October
Main Species: Peacock bass, Tunacare, red devil, tilapia, Oscar, snakehead, channel catfish, bluegill, smallmouth bass, largemouth bass, koi, pacu, comets, cichlids
Fly Patterns: Baitfish patterns, Tequeely, Clouser deep minnows, meat whistles, soft shell crayfish, deer hair bass bugs, peck's poppers, deceivers, Dahlberg diver frogs
Nearest Towns: Wahiawa, Mililani, Honolulu
Nearest Tackle Shops: Sawada Store, Aikane Sportfishing, Roy's Fishing Supply, J & E Fishing Supplies Inc3″netting, POP Fishing & Marine, Brian's Fishing Supply
---
Kokee Public Fishing Area
---
Kokee Public Fishing Area is in Kauai in the northwestern part of the island and has a few reservoirs, ditches, and streams with healthy populations of trout.
The trout season here is opened in June for anglers to catch rainbows.
The Hawaii Division of Aquatic Resources demands that all anglers fishing the Kokee waters have valid fishing licenses and only one line and fishing rod are allowed.
You can bag the trout caught here during the season.
The season mostly ends in late September.
And during the trout season, anglers can only fish from 6 am to 6 pm.
Records from the Hawaii Division of Aquatic Resources indicate that in 2016, there were over 5000 fishermen who fished in the Kokee Public Fishing Area and more than 22,874 rainbows reeled.
You can agree that it is not a joke when the trout fishing season in the area commences.
In 2018, the number of anglers reduced and about 3500 anglers turned up for trout fishing with 20129 trout being caught.
The largest trout that year was 18.5 inches and weighed 3 pounds and 4 ounces.
This was in the Puu Lua Reservoir within the public fishing area.
From our prediction, trout fishing in Kokee might get better as stocking of the streams and reservoirs has resumed with over 40,000 juvenile rainbows being stocked in 2019.
---
---
Seasons: June to September
Main Species: Rainbow trout
Fly Patterns: San Juan worms, pheasant tail nymphs, crayfish, gold ribbed hare's ears, bunny leech, elk hair caddis, wooly bugger, parachute Adams, muddler minnows, soft hackles,
Nearest Towns: Hanapepe, Lihue
Nearest Tackle Shops: Lihue Fishing Supply,
---
Kiholo Bay
---
Kiholo Bay is an impressive spot for anyone who is looking to enjoy time on the Big Island's Kohala Coast which homes numerous gorgeous beaches and the shoreline.
It is famed for its history, marine life, and coastal elegance, black sandy beaches, fishponds, and the historical lave flows.
Kiholo Bay was put up in 1820 during the reign of King Kamehameha I.
it was to be an engineered fishpond for royal use. It occupies two miles and has a lava rock wall of about 20 feet in width and 6 feet high.
The walling was to counter ocean currents from affecting the bay.
There was a lava flow in 1859 from Mauna Loa Volcano that flowed to the bay and destroyed the southern section of what was the old fishpond.
Later in October 2006, the area experienced an earthquake with a 6.7 magnitude and another of 6.0 magnitude.
Since then, the Kiholo Bay is under the regulated areas of Hawaii by the government for protection.
The bay has a little bit of what a fly angler would wish for in a one-stop angling destination.
The shoreline in this area is public and as you fish, you can enjoy the magnificent views.
However, the properties that you see closer to the coastline are private.
So as you maneuver in the area, be courteous. From Highway 19, you can walk for a mile and reach the bay.
Follow the trail near mile marker 82. The bay is turquoise color and very easy to discover.
You can fish huge milkfish of about 20 to 30lbs. however, they are tricky and rarely attracted to flies.
Other species that you can go after are large and small trevally, barracuda, and bonefish.
---
Seasons: 1st April to 31st March
Main Species: Large and small trevally, barracuda, milkfish, and bonefish
Fly Patterns: Hot Butt pseudo shrimps, Borski bonefish sliders, Ververka mantis shrimps, Sili legs, Clouser foxxee-red bonefish minnows, long strip bonefish flies, gotcha
Nearest Towns: Kealakehe, Kona, Hilo,
Nearest Tackle Shops: Pacific Rim Fishing, Pili Lures, Kona Sports Center, Cherry Sportfishing Kona, S. Tokunaga Store
---
Big Island
---
Big island is a saltwater fishing destination for anglers who love to challenge themselves and take time to appreciate the aquatic life of an area.
Most fish caught here are for bragging rights and very few for meals because of the existence of the Ciguatera toxin which near some of the shore areas in Hawaii.
Ciguatera is a poisonous micro-organism growing in marine algae linked to reefs and keeps accumulating up the sustenance chain.
Avoid eating trevally, jacks, and larger barracuda.
There are several places to fish in the Big Island like H-harbor, Hualalai, Kekaha Kai, Fish Pond, Kona Natural Energy Lab, A-bay, Puako Reefs, Hapuna Beach, Mauna Kea Beach, Spencer's Beach State Park, and Kawaihae Area.
Access to most of the areas on the Big Island are excellent and will need walking or short drives to the water bodies.
However, an area like Fish Pond has limited access for over a decade now to offer protection to the flats at the point the ocean feeds the pond.
Ensure you are cautious when fishing areas like the Kona Natural Energy Lab because of the big water and the strong waves that slam it.
Some locations on the Big Island need you to be tact for more success.
For instance, fishing the Kona Coast State Park or the Kekaha Kai Beach requires you to commence from rocks at the bay's mouth and fish heading to the beach.
An area like the Four Season's Resort or Hualalai can be waded.
Ensure that you consider packing a high-quality pair of waders that will be suitable for wading in this area.
---
Seasons: Year-round
Main Species: Large and small trevally, barracuda, milkfish, bonefish, peacock flounder, goatfish species, boxfish, trumpet fish, hawkfish, aha, spotted roi, awa-awa, misc, Ulua,
Fly Patterns: Deceivers, sempers, poppers, pillow talks with tungsten eyes, milky dream, Wayne's milky magic black brush flies, shrimp-like fly patterns
Nearest Towns: Honomu, Honokaa, Captain Cook, Hakalau, Hawi, Hilo, Holualoa, Honaunau, Honomu, Kainaliu, Kailua-Kona, Kalapana, Kapaau, Kapoho, Kawaihae, Keaau, Kealakekua, Kurtistown, Laupahoehoe, Mountain View, Naalehu, Ocean View, Ookala, Paauhau, Paauilo, Pahala, Pahoa, Papaaloa, Papaikou, Pepeekeo, Puako, Volcano, Waikola Village, Waimea, Waiohinu,
Nearest Tackle Shops: Pili Lures, Pacific Rim Fishing, S. Tokunaga Store, J Hara Store, Da Fishing Store, Kona Sports Center, Naito H Store, Big Game Lures Hawaii, Cherry Sportfishing Kona,
---
More Prime Areas to Fly Fish in Hawaii
---
Pearl Harbor on Oahu has excellent offerings.
Apart from fishing, you can also enjoy sightseeing in historic sites, museums, and visitor center.
Carry sunglasses here if you intend to fish.
You can fish off the pier for ladyfish, goldfish, Samoan crabs, and green jack which are in the rocks under the structures.
Gamefish here are swordfish, tuna, Mahi-mahi, and marlin.
Kahului Harbor Pier is in Kahului town on Maui.
The area near the airport is a buzz of activities.
Most anglers come here to fish from the pier.
Speak to the locals to give you pointers of the best spots to comb when here.
They will also share the tricks to catch bonefish and Crevalle.
More species here are mahi-mahi and tuna which are well targeted in summer.
South Point is far south of the USA hence its name.
It is on the Big Island of the state.
Most locals refer to it as Ka Lae and is a haven of tuna, mahi-mahi, ulua, and red snapper.
Head to the rugged cliff tops to cast. However, be cautious when fishing in winter because of the stronger sea runs.
Anglers who love fishing piers can try the Waialua Bay Pier in Halawei Alli Beach Park.
You can use live bait to catch goatfish and papio. Other species that are in plenty here are giant sea bass, barracuda, and ulua. Accessibility to the park is great.
Kayak anglers frequent the Makena Landing.
If you would like to move less, stick to fishing from the shore when here.
Access is excellent and it is fun to challenge yourself on the landing by going after feisty mahi-mahi and marlin.
Kayak anglers need to tread carefully because it is a potential area for shark attacks.
Have you been to Waiakea Pond in Wailoa River State Park?
Accessibility is superb as it is an urban fishing destination near Hilo town.
It sits on more than 25 acres and this makes the biggest natural lake in Big Island.
It gets its water from numerous freshwater springs.
There is a section of the pond that has a mixture of fresh and saltwater because of its strategic location closer to the ocean.
Anglers come here for Ulua, mullet, and aholehole.
The maximum catch limit for this area is 20 fish.
There is a boat ramp southwards of the footbridge for anglers who'd like to float while fishing.
Kaena Point is in Oahu and where saltwater enthusiasts will find more fun to fish.
The steep ocean drop-offs are responsible for the increased number of visitors recently.
Barracuda, swordfish, sharks, and ulua are the commonest fish species here.
You can hike or drive to this location.
You will have it rough journeying here but the prospects are worth every struggle.
Nawiliwili Harbor is frequented by anglers as it features a sportfishing fleet and yacht club.
There are numerous opportunities for pier fishing.
We recommend that you hire a charter to fish the ocean in Nawiliwili.
Water levels here rise pretty fast but you can enjoy catching ono, ahi, mahi-mahi, and marlin.
---
Tips for Successful Fly Fishing in Hawaii
---
Anyone booking a charter to go fly fishing in Hawaii should check the fish policy of the boat.
There are captains who keep every species that you catch.
A few are generous to allow to take what will be enough for your or family meal and help in cleaning these tasties.
For shared charters, ensure that you confirm the maximum passenger number and the fishing rotation. Basically, charters run for 4, 6, or 8 hours.
Be very cautious if you land unfamiliar fish species when here. Some of them have very sharp teeth which are strong enough to crush coral. Imagine if it cut your toe or finger.
Some areas have rogue waves. Be keen when rock pooling or fishing in the night as might waves can blow unawares.
Fishing is part and parcel of the Hawaiian culture and this allows you to fish the ocean without a license.
Some areas will need you to make a perfect overhand cast straight into the wind and this will have to be more than 40 feet away.
Have sun protection and clothes that are well-ventilated and quick-drying.
Waters here are warm in most of the watersheds and you might have to carry good-quality reef shoes or water shoes that are unbothered by slippery rocks and sharp lava.
Pack an 8 weight fast action fly rod to be able to cast into the wind effectively.
The weight will be for reasonable wind-cutting and battling feisty fish.
Carry a trout reel if heading to Kokee public fishing area but a saltwater reel that is durable for salty environs.
Floating lines will be the real deal as they are easy to cast.
Have leaders and tippets of 4 to 10 feet and 20lbs or 30lbs fluorocarbon.
You will be stripping pretty fast and fancy tapered leaders and light tippets will not do.
Baitfish patterns anytime!
---
FAQ's – Questions on Fly Fishing in Hawaii
---
Q) Is a fishing license necessary to fish in Hawaii?
A) Yes and No. Yes because if you need to fish in the freshwater bodies of Hawaii, you need a Freshwater Game Fishing License. However, for recreational marine fishing, you don't need to have any license or permit.
Q) Are there fishing areas that are restricted in Hawaii?
A) Yes. You are advised to fish on legal spots only and respect the sacred waters called Kapu and private property. Avoid all sorts of trespass. Though there are regulated areas like the Kokee Public Fishing Area and Lake Wilson.
Q) Are there brown trout in Hawaii?
A) No. The commonest trout species in Hawaii is rainbow trout.
Q) Which island in Hawaii has the best prospects and fly fishing opportunities?
A) If you are looking for a wide diversity of spots and fish species in one location, visit the Big Island.
Q) What is the cost of a freshwater game fishing license in the state?
A) Hawaii residents pay $6 and $26 for non-residents. However, there are variations depending on how long you intend to fish the freshwater sheds.
---
Parting Shot
---
Hawaii is a historical and an excellent destination for an adventurous and enthusiastic fly angler.
The culture is vibrant and Mother Nature's offerings are in abundance.
The island geography of the state makes the inland watersheds fantastic places to chase bass, catfish, tuna, and rainbow trout.
With the statistics of recent populations of trout anglers in the state and the efforts of the state department of aquatic life, we are hoping to see the numbers rise very soon.
We are yet to know if the state plans on stocking more freshwater bodies with rainbows to boost trout fishing in the region.
Saltwater fly fishing opportunities are inexhaustible.
An angler who is eager to try new things will have the best of time in Big Island which boasts a wide diversity of saltwater fishing spots in close proximity, and numerous fish species.
While you can wade or shore fish, you can try fishing from a boat to deeper parts where more prospects await you.
As you go about fly fishing in the ocean, stay alert and carry the necessary safety accessories.
Packing for a fly fishing expedition in Hawaii can be challenging.
However, after identifying the locations that you intend to visit, ensure that you acquire a license if going to trout fishing spots.
Otherwise, we make it easier for you through the vast information on our buyer's guide section that has the basic tackle gear, equipment, apparel, and accessories that you need.
You need not worry as there are products of all price categories from budget-friendly items to high-end options.
You need to work with the finances you have. If you plan for a trip in a few more months to come, save, save, save!
Get products that are of very high-quality, high-performing, and durable.
There are spots that we haven't mentioned.
Give us a heads up in the comment section.
Share with us your fishing experiences in this state and let us help where need be.