Disclosure:
Just to be open and honest the buttons and links you click on in the website will in most cases take you to another website where you can purchase the products I am reviewing. As an Amazon Associate I earn from qualifying purchases.
November 23, 2022
Where is the Best Fly Fishing in California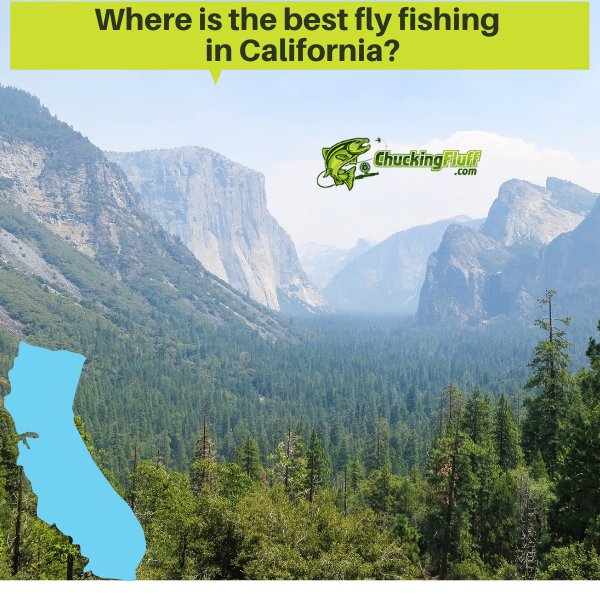 Of populous states in the USA, California is topping the list.
It is the Golden State with a beautiful landscape, with a desert, a Pacific coastline, mountains, rivers, streams, and lakes.
Among the common outdoor activities to indulge in when here is fly fishing which is rapidly growing.
While the state is diverse and very interesting, so is the fishing. There are offerings for all fly anglers.
Whether a saltwater lover who finds pleasure in chasing smelt, surfperch, and halibut or a freshwater fisher who goes for catfish, trout, and bass, you have more to explore.
Anglers priding in the ocean waters can take time to catch ling, cod, barracuda, and salmon.
In 1947, the golden trout was made California's official state fish.
You can catch these elusive species in the high country spots.
The oceans in the state seem to be graced more by fly anglers in almost all seasons.
California has a diverse geographical approach and this makes fishing possible in almost all its waterways.
From our analysis, we have deduced that the best fly fishing offerings are in Northern California.
However, there are other gems in southern and central California.
The trout fishing outlook of California is very promising as it has some of the best trout destinations that the USA recognizes.
They have been offering excellent angling action. Some years back, there was a disaster that befell the state and almost gloomed trout fishing here.
We don't know if it would have been history or the fish and game department would have done its best to revive trout fishing through restocking.
A four-year drought struck the nation and the waterways were running very low.
Some even dried up. You can imagine your state lacking any freshwater body with fish and water.
Maybe only depressions with rocks, sand, and dried algae.
California witnessed a soaking winter and luckily, the next trout season in 2017 has all waterways in excellent shape and condition.
It was heavy that despite raising the hopes of fishermen for yet another chance to enjoy the sport, some rivers had brisk flows making it difficult to fish.
Because of this, anglers had to wait until May when the conditions had become better.
The Golden State has an organization-The California Trout– that has over 3000 members and whose sole purpose is to restore the vibrancy of all the freshwater waterways in the state to ensure that trout fishing doesn't go to extinction.
The organization is affiliated with over 60 gun and rod clubs and fishing clubs across California.
They are doing an excellent job of managing steelhead and wild trout resources in the state.
Fly fishing opportunities in this state are magnificent because of the beautiful scenery and healthy fish species waiting to be caught by any avid angler.
California spans different climates and covers a vast stretch of land. This makes it challenging for anglers to dedicate time to the few he'd like to sample.
The terrain is diverse and appeals to anglers of levels. There are a few watersheds that challenge the pros and others that are favorable for novices and amateurs looking to hone their skills.
Most anglers divide the state into two regions to make exploration easier and to reduce the anxiety of having to fish everywhere.
These are the northern and southern regions. Each region has its uniqueness and offerings and you will not regret going either side.
---
Sacramento River
---
The Sacramento River stretches over a long distance and both its upper and lower sections offer awesome fly fishing opportunities.
The lower section commences at the Shasta Dam all the way to the town.
The direction it takes makes it an urban fishery.
For this reason, it is mostly crowded during the peak seasons as resident anglers with busy schedules prefer fishing nearer and save the traveling time.
You can catch wild rainbows, seasonal steelhead, and salmon.
Rainbow fishing is possible throughout the year while steelhead and salmon make their runs in the fall and summer.
The lower section of the Sacramento River is wider, deeper, and meandering with a perfect structure full of smaller pools and numerous riffles.
Its upper portion can be described as freestone. You will marvel at the spectacular scenery in this section.
It homes very prolific trout that are always ready to feed at any time. So, pack many flies as fishing will always get better here.
Fishing in the Sacramento's uppers is allowed throughout the year.
There are a few catch and release points that keep changing with the seasons.
Ensure that you are aware of all the regulations in the upper river before heading there.
It is easier to access this portion of the river. It is parallel to Interstate 5 which has many off-ramps.
---
---
Seasons: Year-round
Main Species: American Shad, rainbow trout, steelhead trout, white sturgeon, striped bass, King Salmon
Fly Patterns: Caddis, golden stonefly, salmon fly, ants, beetles, blue-winged olives, midges, little yellow stonefly, grasshoppers
Nearest Towns: Igo, Anderson, Redding, Sacramento, West Sacramento, Dunsmuir
Nearest Tackle Shops: The Fly Shop, Freeport Bait, Penny Rod & Bait Shop, Ted Fay Fly Shop, Delta Bait & Tackle, Sacramento Pro Tackle, New Romeo's Bait & Tackle Shop
---
Lake Almanor
---
4500 feet in a beautiful valley full of conifers, the Almanor Lake harbors monster trout and anglers who come here often boat brownies that are between 4 to 9 pounds.
The rainbow trout caught on average range between 3 and 6 pounds.
Fishing here is tough compared to the other trout lakes in northern California in lakes like Eagle and Shasta.
The lake is rich in trout but you will not expect to fish out pan-sized bows.
If you are after a few big rainbows and browns, this is the best place to come to.
What makes the lake favorable for the healthy trout populations is the same which makes it tricky to fish.
It sounds tricky but is the truth. The core of the lake is where you find the coldest waters rich in forage.
The Lake's major tributaries are the Hamilton Branch of Feather River and the North Fork.
The waters on the lake are consistently cold and this makes trout bubbly and pacing up and down and not settle in one place like they do in other fisheries.
The forage here is incredible and the lake is filled with pond smelt.
Aquatic insects are in plenty because of the nutrient-rich and shallow waters.
Almanor trout anglers will have a task when it comes to finding fish and convincing these chaps to feed on your flies.
They are used to the healthy forage on the lake and yours might not be a choice of meal.
These guys enjoy a buffet like lifestyle. Once you solve the two problems, reeling in a few pounds will not be a hurdle.
If looking for rainbows, head offshore and target the bottom sections in water.
This should be about 15 to 35 feet deep. May and April are the best months to enjoy shore fishing.
---
---
Seasons: Spring, Fall, Summer
Main Species: Catfish, smallmouth bass, king salmon, brown trout, rainbow trout
Fly Patterns: Marabou Leech, mohair leech, TS BH bugger, wooly bugger, lightning bug, prince nymph, bird's nest, Carey special, Denny's Stillwater nymph, hex flies
Nearest Towns: Chester, Almanor, Prattville, Big Cove, Big Springs Cove
Nearest Tackle Shops: Sierra's Fly & Tackle
---
Pyramid Lake
---
California trout anglers frequent the southeastern part of the state to have time on the Pyramid Lake.
It sits on 125000 acres and among the largest naturally forming lakes in Nevada.
It boasts magnificent scenery and its color changes from blue to gray depending on the sky.
It is famous for Lahontan cutthroat trout that grow to over 30 pounds.
You can often catch double-digit trout in this lake.
You will enjoy fishing the river from the bank if you come here in spring.
Fishing is going to be slow but with time, big fish get caught.
---
---
Seasons: October to June for trout and all-year-round for perch
Main Species: Cutthroat trout, smallmouth bass, bluegill, striped bass, largemouth bass
Fly Patterns: Mahalo nymphs, ice cream cone midges, tinsel midges, Estaz wooly buggers, Pyramid Lake beetle, minnows, wooly buggers, leeches
Nearest Towns: Val Verde, Frazier Park, Castaic, Lebec, Hasley Canyon CDP, Lake of the Woods, Piru, Lake Hughes, Fillmore
Nearest Tackle Shops: Pyramid Lake Store, Tackle Express, Action Fishing Tackle, Amaysing Fishing,
---
New Melones Reservoir
---
Right outside Angel's Camp is the New Melones Reservoir.
Many anglers who have made this place a frequent destination consider it the state's prime fishery for trout.
The primary species here is rainbow trout. However, the brown trout population is also healthy.
On average, the rainbows run over 2 pounds but it is common to catch those in the 5 to 6 pounds class.
Spring welcomes healthy 8 to 10-pound brownies. So far, the heaviest brownie caught here is 13 pounds.
Brown trout are the most difficult trout species to hook.
Head to Carson, Coyote, Angels, and Mormon Creeks because of the numerous standing trees you see in the waters or try the spillway.
---

Not strictly Fly Fishing but gives locations and tactics
---
Seasons: Spring, Fall, Summer
Main Species: Smallmouth bass, rainbow trout, brown trout, kokanee, channel catfish, largemouth bass, bluegill, black crappie
Fly Patterns: Shad imitating spoons, crawlers, power bait, Krocodiles, kastmasters, Rapala,
Nearest Towns:: Murphys, Chinese Camp, East Sonora, Copperopolis, Vallecito, Sonora, Columbia, Angeles City, Jamestown, Tuttletown
Nearest Tackle Shops: Glory Hole Sports, California Reservoir Lures, The Trout Spot, Galvan Fly Reels, Ebbetts Pass Sporting Goods, The Sportsman, High Sierra Rod Co.,
---
Other Prime Fly Fishing Hotspots in California
---
Crowley Lake is among the best fishery for holding rainbows, browns, and cutthroat trout in California.
Most anglers land trophies and those who troll are successful with needlefish, Rapala, Tasmanian devils, and Thomas buoyant.
Other fishermen use sting king, apex, or kokanee killer.
The reason why trout are prevalent in the watershed is because of the beautiful chironomid population and the forage that is all-year-round.
Float tubing is a common thing here and when the season peaks, it is crowded.
From New Melones, head westerly to the Los Vaqueros Reservoir which officially opened fishing late in 2001.
The trout plants here are variable and mostly it receives between 12000 and 24000 planter rainbows.
It is a Coldwater fishery and trout planting is possible throughout the year.
If fishing from the shores, target the areas at South Cove especially near the marina, along the wall, off piers, and Oak Point.
Lake Don Pedro is an all-year-round fishery that receives annual stocks of rainbow trout and the Florida-strain black bass.
It also has chinook and kokanees that you can chase.
Central California homes Lake Chabot which is stocked with trout, bass, catfish, bluegill, and crappie.
Have you been to Echo Park Lake?
It is in the heart of Los Angeles and has numerous bluegill, catfish, and crayfish.
Trout anglers can catch the occasionally introduced rainbows.
Bodega Bay is in Doran Regional Park. It has two miles of a beautiful beach that is favorable for shore fishing.
There is a boat launch here that gives access for those who'd love to sport fish for halibut, salmon, and rock cod that lurk in these waters.
Check out Bridge Bay which is at Lake Shasta and is home to a wide variety of fish.
However, most anglers come here for spotted bass. More species that you can nab here are catfish, trout, king salmon, sturgeon, and many more.
The fish population is high throughout the year. Winter fishermen will always enjoy the breathtaking view of the Shasta Mountains.
Fly fishing enthusiasts can entertain themselves at Don Edwards San Francisco Bay National Wildlife Refuge.
You can choose to float on the bay or fish in the public pier where you don't need to have a fishing license. Go after striped bass, white sturgeon, rays, and leopard sharks.
Yosemite National Park is lovable because of its gorgeous scenery, wildlife and fishing opportunities for rainbows and the recently introduced bluegill, brown trout, and smallmouth bass.
Find Santa Monica Bay which is at Dockweiler State Beach and enjoy shore fishing. Your possible scores will be perch and halibut.
Northern Califonia has the Clear Lake State Park with the best bass fishing.
It is not surprising that out of the 25 largest ever recorded bass, 19 have been reeled out of the California waters.
You should be sure of good odds when at the largest natural freshwater lake. Novices heading to the Kelsey and Berger Bay always etch out numerous fish that are more than 10 pounds.
In Kernville is the Kern River and its tributaries which harbor three of the Heritage Native trout of California.
These are the golden trout, the Kern River rainbow, and little Kern golden trout. The river is within Sequoia National Forest.
San Diego Saltwater Fly Fishing Charter offers excellent angling opportunities for fly anglers looking to hook Mako Sharks and others residing here.
The regulations here encourage catch and release fishing for the Mako shark.
Siskiyou is home to Shasta Mountains which is a fantastic fly fishing spot. The fish hatcher here stocks trout in the nearby waters to allow for fly fishing in the summer and winter.
The Coronado Ferry Landing Pier is a secret gem where you can fish saltwater fish like bonito, mackerel, spotted bass, and sand bass.
You will appreciate the water clarity and its shallowness. Carry lighter tackle to this place.
The Russian River snakes through the hills in northern California. The temperatures there are higher in summer but anglers easily catch smallies during this time.
Early fall is the best time to hook steelhead while fishing from the bank near Thanksgiving.
Castaic Lake is an hour's drive from Los Angeles and is a popular fishery for bass in trophy sizes.
Try fishing in Lake Cuyamaca which is stocked with over 45000lbs rainbows.
To take a break from the trout, you can target bass that thrive to over 7lbs. it is a less pressured fishery so having a good time is a sure bet.
Hailing from the Shasta mountains, the McCloud River offers some of the best trout fishing opportunities in the state with anglers catching brookies, bows, and, browns.
San Joaquin Delta should be in your bucket list of areas to fly fish in California if you are a fervent angler. It has numerous catfish, bass, sturgeons, and bass.
East Walker Lake is in the eastern Sierra and is home for healthy trout.
Wild trout fishing is fun in the Middle Fork American Lake. It starts from the Granite Chief Wilderness in Sierra and heads westerly.
It has a high flow in spring. Most anglers frequent this spot in summer and spring.
Though a small stream, the Yellow Creek in Plumas County grows large fish. It has 12 miles with wild trout.
These miles are under management to preserve the population and increase growth. You can fish browns and stray rainbows.
Heenan Lake is a fun place to go fly fishing with kids to learn how to catch the cutthroat that lurk in these waters.
There is an option to fish from the shores or from a boat. Carry wet flies in any color.
Most anglers love to fish in the Manzanita Lake in Lassen Volcanic National Park because it is less frequented.
It is very quiet and beautiful. Rainbows are the commonest species here and they grow in large sizes because of the diversity of forage and insect life.
Truckee River is a wilderness stream that is underrated but will always surprise any patient angler who comes here and spends more time.
It has 12 miles of wild trout waters and for you to have the best out of your time, come here from June to August.
The Owen River has plenty of wild rainbow and brown trout in all its sections. Accessibility isn't a problem and anyone fishing here will agree that it is among the few scenic rivers to behold.
Wading in the lower section will be difficult because of the depths.
Yuba River boasts healthy rainbow trout populations in the continent. It has a history of mining which almost led to its depletion.
Thanks to law enforcement, it has risen into one of the best fishing spots any angler would love to try out.
You can also catch salmon and steelhead in the Yuba.
More areas that you can check out are;
Fall River
Trinity River
Klamath River
Mokelumne River
Stanislaus River
Merced River
Kings River
Putah Creek
Feather River
Lake Davis
Consummes River
Tuolumne River
Carson River
Walker River
Rush Creek
Red Lake Creek
Hot Creek
Bishop Creek
McGee Creek
---
Tips for Successful Fly Fishing in California
---
Hatches happen in California waters all-year-round and if you are that angler that loves to do some good matching, you will find it fun collecting and using your flies.
Some of the must-have flies for fly fishing in northern California are mayflies, caddis, green rock worms, stoneflies, and terrestrials.
In the south, march browns, little yellow mays, nymphs, and stoneflies will be the best bets.
The state is diverse in geography and climate with a blend of Mediterranean and subarctic desert climate. Winters are fairly mild though wet.
The summers are always hot and dry. Along the coast, it is often foggy.
As you go further inland, it becomes dryer and warmer in summer.
Still, it isn't winter is mild even inland. Ensure that you have this in mind as you pack your gear and apparel depending on the season you intend to fish.
If you intend to fish in the larger streams, rivers, and lakes here, pack a 9 to 9 ½ feet fly rod.
Take a shorter rod if you are going to fish smaller waterways. The weights need to match the rod lengths.
---
FAQ's – Questions on Fly Fishing in California
---
Q) What age should anyone who wants to fish in California be in order to get a fishing license?
A) Anyone who is 16 years or more should have a valid fly fishing license before accessing any watershed in the state for fishing. This applies to both residents and non-residents.
Q) What is the trout limit per day in California?
A) The limit for trout is 5 fish per day per person
Q) Can a fisherman use corn to fish in this state?
A) Fishing with corn is allowed in the state as bait for catching carp and other fish species in inland waters where the special regulations allow.
Q) Can I use treble hooks to fish in California?
A) You can use treble hooks to fish in the ocean. However, if you intend to fish salmon, you need to use a maximum of two barbless hooks. This means that you can't use these trebles for salmon fishing.
Q) What is the harvest limit of halibut in this state?
A) You can only possess 3 fish per day in the north of the Point Sur Monterey County and 5 in the south. Their size shouldn't be below 22 inches
---
Conclusion
---
Are you lured in just by reading this? We hope so. The Golden State is a beautiful place to explore.
Choosing a region to focus on will be an excellent way to get the best of fly fishing when in this state.
You can adventure in the urban waters or choose to go remote in the wilderness where you can have time alone and more waters to yourself.
You also have a choice to either wet your lines in saltwater or freshwater bodies.
The diversity of waters and opportunities is already overwhelming.
Now that we have done our best to mention and describe a few of the hot spots, you are left with the task of choosing where to start from.
As you make plans to travel and explore these locations, you can have time to check our buyer's guide to select the best apparel and tackle that will be effective for your choices.
There are options from different manufacturers and of various prices. Identify and order what best suits your needs.
As we love to share with you, so should you.
Let us know the locations in California that you have fished, the tackle you packed, fish you caught, and your overall experience.
Let us also know the areas that deserved a mention but we didn't include in the article.
We might just create a part 2 post to give more spots that anglers can adventure.