Disclosure:
Just to be open and honest the buttons and links you click on in the website will in most cases take you to another website where you can purchase the products I am reviewing. As an Amazon Associate I earn from qualifying purchases.
June 4, 2019
Costa Del Mar Blackfin Sunglasses Review – Deflect Glaring Rays
Do you want a pair of mid-priced sunglasses that have a touch of style and incomparable performance regardless of the circumstance? Costa Del Mar Blackfin Sunglasses are not your common type. Their versatility will leave you agape. You can have them while fly fishing and on your casual walk up the mountains. These Costas make you draw admiring looks and no harm comes your way when you wear these protective sunglasses.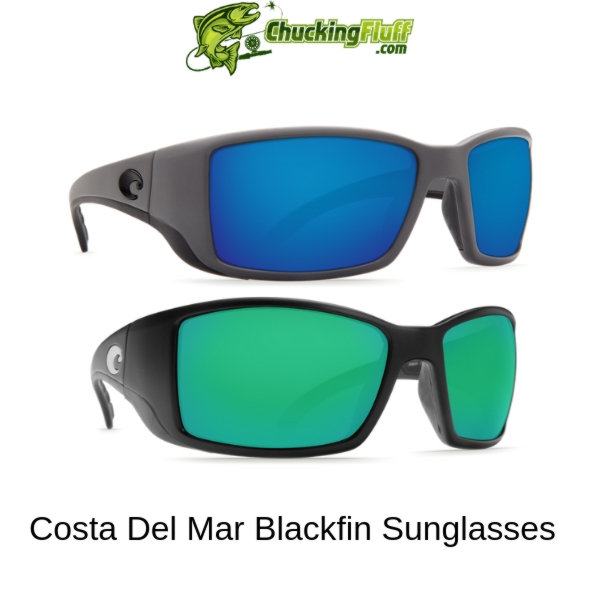 ---
Since 1983, nothing Costa Del Mar hasn't produced anything substandard. The company goes further to classify their sunglasses depending on lifestyle collections – the Angler, Beachcomber, and Voyager. All Costas feature some of the best technologies. They all put performance and functionality above style.
The company brags of being the first manufacturer to have and start using an all-polarized technology that enhances color. This is the 580 Technology that has almost 100% polarizing efficiency. They effectively block out bad HEV blue light from reaching your eyes. A 580 lens will filter extremely bright yellow light and make the greens, blues, and reds pop out resulting in sharper images.
The stylish wraparound frames are durable and block the sun from reaching your eyes through the sides. This prevents distortion of vision. It doesn't matter if you are fishing, taking a rest on the beach, these glasses stay secure when water drips down your face.
Costa Blackfin sunglasses have non-slip materials that ensure the glasses stay put as you fight to reel in a big one. Bio-resin frames are high-quality and add to the lightness of the sunglasses. This attribute is excellent especially if you are staying out in them for long hours. You know how bad a headache because of heavy glasses is.
Costa Del Mar makes the Blackfin in two different types of lenses; glass and plastic. Both materials offer positives. Most importantly, it will depend on what you intend to use them for. If you are going fishing, you can choose either of the two. To know the glass models in Costas, there is a G along the product's code. While plastic lenses are good, glass lenses have better clarity and have a yellow light glare. It has good scratch resistance. Plastic is light and comfortable for wearing all day.
Lens technologies in the Blackfin come in two options. The 580 and 400. 400 offers 100% UV blockage and polarization like the 580 and provides superior clarity. Let us head to sampling the sunglasses by assessing the main features, the upsides, downsides, what users are saying about this masterpiece and clarification on most asked questions.
---
Main Features of the Blackfin Sunglasses
Lens Material – Blackfin by Costa are made from either plastic or glass. Plastic lenses are lightweight and have high impact resistance. Glass, on the other hand, has superb quality and scratch-resistance. However, they need more care because they easily break. Both plastic and glass have a 6-layer lens construction for high performance and durability.
---
Lens Color – Costa Del Mar Blackfin Sunglasses come in any lens color that you might need for outdoor activities. This review is for the Blue Mirror lens color. A different color gives a different result depending on the environment you are in. Blue Mirror gives superior contrast and eliminates glare in open water. The Green Mirror enhances visual acuity and is good for flats, rivers and inshore fishing. Copper cuts glare while enhancing contrast and is good for daily activities. Sunrise is a high contrast lens and is great for night fishing. Gray maintains natural contrast and color saturation and is an all-round lens. Amber a brighter field vision and is good for all activities that need high contrast.
---
Nose and Temple Pads – The endurance line is made from Hydrolite at the temples and nose bridge area. It is a soft rubber that allows the sunglasses to stay put despite your face being wet with sweat or water. They are essential especially when raising your heart rate and going after a catch.
---
Hinges – Costa hinges are corrosion-resistant and very flexible. They keep their shape at all times and ensure the sunglasses fit perfectly fit. Blackfin sunglasses can be used in saline environments because of the anti-rust properties of stainless steel hinges.
---
Polarization – All lenses are polarized regardless of the technology and lens color. 100% polarization is recommended when fly fishing and this is what Costa Del Mar Blackfin offers. The lenses block all glare created by the sun's reflection on water, sand or snow. This protects you from impaired vision and discomfort. Eyestrain reduces your focus and you might not spend longer on water.
---
UV blockage – It is crucial to protect yourself from the harsh UV rays that can cause cataracts. You need lenses with 100% UV protection like the Blackfin. As you pack your hat and sunscreen tube, don't forget your sunglasses.
---
---
Frames – Blackfin's nylon frames are very tough and durable and have a wide range of color options that have been manufactured using a bio-resin process. The TR-90 nylon allows for easy molding into wraparound designs and other shapes. Frame sizing is as follows: Lens Height-39.5mm, Lens Width-62mm, Distance Between Lenses-18mm, Temple to Temple-129mm, and Temple Length-115mm.
---
Accessories – Costa recommends the Halyard wire retainer for the Blackfin sunglasses. Upon purchasing the Blackfin, you get a Costa zippered storage case for use when you aren't wearing the sunglasses and a microfiber cloth for cleaning the lenses.
---
Fit – Blackfins come in large and fits the head securely without being too snug. From users of these sunglasses, the fit is at 87% which is high and gives assurance of getting the right fit if your sizing matches those of the Blackfin.
---
Warranty – Costa Del Mar issues a limited lifetime warranty on the Blackfin to cater for any replacement or repairs. There's a repair policy and terms and conditions that have to be adhered to before Costa takes on servicing your sunglasses. More on this is on the Costa website.
---
Customer Thoughts on the Blackfin Sunglasses
Costa Del Mar Blackfin Sunglasses have a minimalist lightweight design and damn good lenses. The craftsmanship is beautiful and the muscular and thick frames make them durable.
The lenses make color pop when you have them on. You can easily see sandbars in the rough water. Something you can't do with naked eyes. They have X-ray like vision.
Lens choices are great and suit different needs. They block painful run rays and allow you to see comfortably without getting headaches.
The wide range of options is amazing. You can choose either plastic or glass, different frame colors, lens colors, mirrored or non-mirrored lenses. Despite all these, you get to enjoy 100% polarization and UV protection benefits.
The fit is perfect. Their large wraparound design makes them look good and cover a larger area of your eyes. They stay put always and are comfortable.
How well they cut glare is unbelievable. The images are clearer and the lenses do a great job with bright sunlight and they are not too dark.
Costa Blackfin Sunglasses are top-tier in clarity, fit, quality and performance. The limited warranty is a great bonus especially when you need them repaired. It costs less than taking them to the sports store for fixing.
---
Pros

– Things that shine on the Blackfin Sunglasses
Lightweight

Durable construction

A wide range of lens color options

Perfect fit

Incredibly clear lenses

Stainless steel hinges

Hydrolite nose and temple pads

Limited lifetime warranty

Comes with a storage case and a cleaning cloth

Glass and plastic lenses available

Prescription lenses available

Combines style and performance

Wraparound design for greater coverage

100% polarization and UV blockage
Cons

– Things that are not so cool!
A few complaints that it is small in size. It is important to know that your face configuration is key in sizing and fitting. 
---
---
FAQ's – Questions about the Blackfin Sunglasses
Q) Is there a lens color that you can recommend for fly fishing in shallow rivers?
A) While all lenses are good for fly fishing, the green mirror lens will do well in this environment as it is specifically for flats and inshore fishing. Copper too does well in stream fishing.
Q) Does Costa provide prescription lenses?
A) You have to order prescription Costas through an eye care professional authorized by Costa.
Q) Can you have the Costa plastic lenses replaced with the glass ones on the Blackfin?
A) If you had bought them as plastic lenses, the repair reps will be able to replace at a small cost.
Q) Is it possible to purchase the Blackfin frames separately without the lenses?
A) No, Costa sells its Blackfin and most sunglasses as a whole-the frame and lenses.
Q) What color of lenses is suitable for both onshore and offshore fly fishing?
A) Blue mirror lenses will do because they are good for bright full sun offshore and on open water
Q) For Blackfin Plastic lenses that fog and don't respond positively to anti-fog spray, what should be done?
A) Use a hydrophilic spray on a towel and wipe the lenses of the Costa Del Mar Blackfin Sunglasses. Fogging happens in high wrapped frames exposed to hot temperatures.
Q) What makes the 400 glass better than the 580 plastic?
A) 400 Glass is more scratch resistant than 580 plastic lenses
Q) Are these women's or men's sunglasses?
A) They aren't gender biased. They can be worn by men or women.
Q) Is there a difference between plastic and nylon frames?
A) Yes, though the Blackfin is made from TR-90 nylon.
Q) How do you know if they are authentic Costas?
A) These Blackfins are the real deal and have a Camo C on its case as well.
Q) Can they fit a medium face?
A) Not sure, but you can check on the sizing to see if they are close to yours. These ones are a large fit.
---
---
Final Verdict on the Blackfin Sunglasses
You should be more familiar to the Costa Blackfin sunglasses if you spend more time on streams, rivers, lakes and the ocean. Costa has made a name for itself for the 30 years and more that it has been in the Sunglass business. They incorporate polarization in the entire sunglass line and is something you will love. The Blackfin has stayed true to its roots and aims at improving visibility and offering sun and glare protection for all water people.
Costa has these sunglasses in a large fit and the good news is that they are unisex. Both male and female anglers can rock them. The fit is extremely close and you will love the wraparound design more because it provides complete eye protection from UV rays and intense sunlight. To test functionality in this case, if you try to put your pinky finger under the shades, it is unable to pass through. This means that very little wind, reflected light, sand and debris can reach your eyes. If you wear contacts, you will realize that a close fit is important to keep your eyes moist and contacts clean.
To know the best wine, you have to taste it, so are sunglasses. Pre-order the Blackfins for your next water adventure. If you find them out of stock, of course, they sell like hotcake, you can select from our alternative sunglasses. The Flying Fisherman Fowey Polarized Sunglasses, Wiley X P-17 Sunglasses, Wiley X WX Gravity Polarized Sunglasses, Oakley Men's Turbine OO9263 Rectangular Sunglasses, Costa Del Mar Saltbreak Sunglasses, Costa Del Mar Fantail Sunglasses, and Smith Optics Elite Hudson Tactical Sunglasses with Polarized Brown Lens. Costa Del Mar Blackfin Sunglasses will serve you in all conditions.