Disclosure:
Just to be open and honest the buttons and links you click on in the website will in most cases take you to another website where you can purchase the products I am reviewing. As an Amazon Associate I earn from qualifying purchases.
March 14, 2019
Smith Optics Guides Choice Sunglasses Review – Best Freshwater Sunglasses
Hats off to Dr. Bob Smith. Founder and owner of the Smith Optics, the ski bum who hails from Idaho together with his able team have seen the company among the top-rated sunglasses manufacturers and suppliers.
How did he get here?
His love for the outdoors saw him wanting to stay longer on their slopes even when the rest had left for their homes. It didn't matter to him whether or not the weather conditions were ideal. All thrill seekers globally.
Over 50 years of innovating excellent eyewear, Smith is greatly expanding into the realm of superb sunglasses with products like Smith Optics Guides Choice Sunglasses.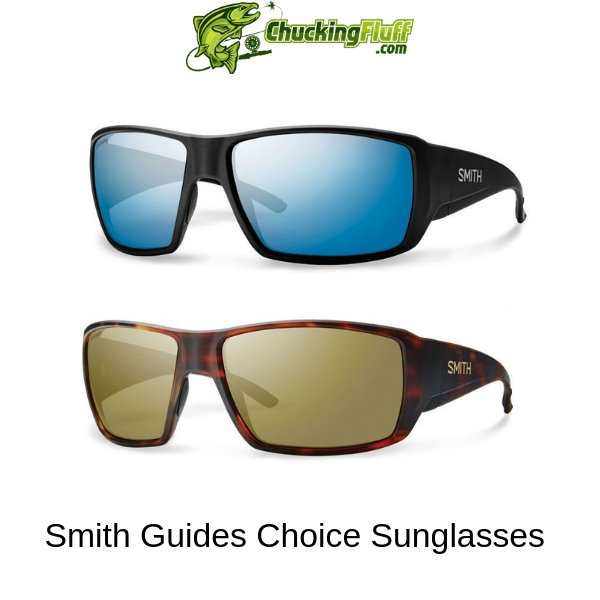 ---
The company manufactures sunglasses for all genders and ages.
Start choosing from the polarized feature. If it looks like the dark glasses we wear for fun while going on a stroll, don't think twice if you are looking for fly fishing sunglasses. Smith has crossed the borders and seemingly is using some of the best and latest technologies here.
The ChromaPop polarization technology ensures effective glare-cutting and new technology that filters two different wavelengths of light.
The clarity is unbelievable and the vision is clearer than other sunglasses. Combining two technologies does away with color confusion allowing you to see better and increasing the possibilities of anything.
---
If it has a coating, it will serve you better.
Smith uses the Techlite anti-reflective coating that is also oil and water-resistant. More benefits are 100% UV protection. With a hat and a tube of high-grade sunscreen, you have nothing to worry about.
Scratch resistance is 12 times more than what is on polymer lenses. You are losing nothing.
Your vision may already have been affected before deciding to take on fly fishing. Do you stop at that? Even if the rocks appear blurry and a mogul appears to be farther than it really is, there is no need to sacrifice your freedom.
Smith stocks prescription sunglasses for your sport. Most of the time shopping online is traumatizing. It doesn't have to. Smith Optics has all details streamlined to give you a best-in-class shopping experience.
---
SMITH Guide's Choice Sunglasses Black/Polarized Low Light Ignitor
TECHLITE GLASS POLARIZED Cut the glare with the clearest glass lenses on the market - our ultimate scratch resistant lenses.
LENS COATINGS: Smudge and moisture resistant couating for easy cleaning and clear optics. Anti-Reflective coating improves clarity and reduces eye strain.
EVOLVE Eco-Material Construction. Our proprietary Evolve material incorporates 53% bio-based material into our injected-polymer sunglasses. Smith sunglasses are the largest eco-friendly sunglass collection in the world.
OUT-OF-SIGHT SPRING HINGES keep the temple snug against your head while smoothly self-adjusting in order to accommodate comfortably a broader range of head shapes and sizes.
Medium-large fit / Large coverage; Hydrophilic megol nose pads and temples for secure all day comfort; 8 base lens curvature for a wraparound fit; Integrated detachable sunglass leash; RX compatible; Lens Width 62mm x Lens Height 42mm x Bridge Width 17mm x Temple Length 120mm
---
Main Features of the Guides Choice Sunglasses
Lens Material – Smith has the Guides Choice in glass lenses. The alignment of the finest polarized filters is precise.
Lenses are later finished with a multi-layer mirror, an Anti-reflective, Hydroleophobic and anti-scratch lens coating. The lenses preserve color perception and have an optimized optical clarity regardless of the condition.
---
Lens Color – This review is of the copper mirror lens color which is versatile and can be used both offshore and onshore.
Other available lens colors are Blue Mirror, Low Light Ignitor, Ignitor, Green Mirror, Gray, Gray Green, Platinum and Brown.
---
Nose and Temple Pads – Hydrophilic Megol nose pads fit the wearer's nose bridge comfortably. Temples are made from the same material as nose pads to give a snug fit behind your ears.
They keep the frames in place. Megol Hydrophilic absorbs moisture easily keeping the frames in their rightful place.
---
Hinges – Premium and durable hinges allow the temples of the Smith Optics Guides Choice Sunglasses to hug your face gently and give a customized yet comfortable fit.
The internal springs are of World-class craftsmanship and carefully define the hinge mechanism which is well concealed in the temple and creates a broader fit range-medium to large. More is a flawless aesthetic feature that the wearer will love.
---
Coating – An anti-reflective coating is vacuum applied on the back of the lens to eliminate irritating sidelight reflections. Hydroleophobic coating repels grease, moisture and grime.
It creates a strong barrier between the lenses and the external aspects of nature. Water beads up and disperses without streaking. It is easy to wipe out smudges from fingerprints.
---
Polarization – Polarization is essential to cut glare off the horizontal surfaces such as water, snow, and asphalt decreasing the depth perception and reducing visual acuity that causes eye fatigue.
Smith aligns the polarized visual layer precisely inside the lenses to filter almost 100% of the visual static to give a finely tuned view of any action.
---
UV blockage – Smith's Polarchromic technology works to cut off glare and greatly advanced polarization features have UV sensitivity.
The self-tint adjustment properties allow the lenses to adapt to dynamic light conditions. You will always get the perfect tint for any amount of light hitting the sunglasses.
---
Frames – Evolve material frames are basically from a bio-renewable polymer and makes it fit the eco-design strategy of Smith Optics. It naturally offers durability, comfort, and classic design.
The frame sizing is as follows: lens width 61mm, bridge 16mm, temple length 120mm, and lens height is 42mm. available frame colors are Black, Havana, Howler Matte Tortoise, Matte Black and Matte Havana.
---
Accessories – Retainers aren't costly but who wouldn't mind a free or one at a subsidized cost? Smith includes a sunglasses leash in the package to secure the sunglasses to your face regardless of your head movements.
A hard carrying case for storage when the sunglasses aren't in use. A soft cloth carrying case serves the same purpose as the hard case.
---
Fit – An 8-base lens curvature ensures that a larger area of your eyes is covered and protected from the effects of extreme sunlight.
These frames fit persons of medium to slightly large heads. You can check on the sizing to be sure if it fits you.
---
Warranty – Smith Optics has built its company on performance and quality and they solely stand behind it. That is the reason for issuing a lifetime warranty on this pair of sunglasses.
In case of defects in workmanship, the manufacturer warrants the glasses and will replace or repair them at no charge. There is more on the repair and replacement policy on their website.
---
Customer Thoughts on the Guides Choice Sunglasses
Guides Choice are awesome. They are lighter, clearer and have an excellent coverage compared to most sunglasses out there that have a big part of the eye area exposed. If you fish on big freshwater lakes and rivers often, you will love the Smith Optics Guides Choice Sunglasses more.
Wearing these sunglasses takes you to another realm. The stock warranty that comes with this pair is by far better and makes most renowned brands that give lesser warranty duration a less attractive option.
It is a perfect lens for low light. The frames are comfortable if you are in the medium-large size range.
Don't think about or look for any other option. The Guides Choice is perfect for offshore fishing and flats.
Awesome sunglasses for cloudy days. The polarized lenses cut glare off the water and provide the wearer with maximum eye protection.
The amount of tint is great. Glass lenses have high-quality optics and makes them perfect as an all-round pair if you live in certain areas. The side shielding is superb.
As an avid fly fisherman and a boater, the sunglasses leash comes in handy to keep them in place always. A combination of Photochromatic and polarization make them ideal for use even on snow.
Most sunglasses don't compare to these ones. Lenses are flawless. You will greatly appreciate the vibrant colors that you see through them and at that price, it is for keeps.
The new style and design are fantastic than the earlier round lenses which didn't have much coverage. Even if it has a great reception back in 2015, this one beats the former.
---
Pros

– Things that Shine on the Guides Choice
Premium Italian spring hinges
Highly polarized Techlite lenses
Durable evolve frames
8-base lens curvature for wide coverage
Medium-large fit
Hydroleophobic and anti-reflective lenses
Hydrophilic temple and nose pads
100% UV protection
13-20% light transmission
Unisex sunglasses
Cons

– Things that are not so cool!
Something about the price makes many anglers stay away. Not a great option if you are shopping on a budget.
---
---
FAQ's – Questions about the Guides Choice Sunglasses
Q) Are the lenses plastic or glass?
A) These ones are glass lenses
Q) Does the Smith Optics warranty still apply?
A) As long as the sunglasses are purchased from a certified dealer or an authorized online store, it will be valid. Keeping your receipt will save you a lot of stress when confirming the authenticity of purchase.
Q) Does this specific pair have low light Ignitor lenses?
A) No, but you can purchase a Guides Choice in Polarchromic Ignitor lenses, polar low-light Ignitor Techlite glass lenses or the Polarchromic Ignitor Techlite glass lenses.
Q) What if you get these sunglasses primarily for freshwater fly fishing, can't the thick side pieces block the peripheral vision?
A) First, it will depend on the shape of your face. The lenses are suitable for freshwater fishing conditions. You will not have any peripheral vision issues if they fit right.
Q) What are the benefits of the Techlite glass over the other glass types?
A) Techlite glasses from Smith are made in Italy and are 20% lighter than traditional sunglasses. They are 6 times better when it comes to scratch resistance.
Q) Which condition is best suited for the Smith Optics Guides Choice Sunglasses?
A) This one is perfect for low light and freshwater fishing.
Q) Does this come in a design with more wrap?
A) Smith has three base curve styles- 6, 8 and 9. The Guides Choice comes in an 8-base lens curvature design to give more wrap around your face.
Q) Is the Evolve material frame better in comfort and durability than the nylon frame?
A) None is better than the other since the material stability of Evolve frames is guaranteed and has no effect on the global food chain.
Q) Is the retainer removable or comes attached permanently?
A) The sunglass leash is detachable and you can choose to use or not to.
---
Guided By Sight from smith optics on Vimeo.
---
Final Verdict on the Smiths Optics Guides Sunglasses
How do guides and pro anglers catch fish?
There is no doubt that most of them are having a pair of high-quality polarized sunglasses when on the water.
While most fly fishermen term it as the best freshwater sunglasses, you might consider it an all-round pair of glasses if you are an outdoor enthusiast.
ChromaPop is an advanced technology that will force you not to turn back.
Highly polarized glasses offer optical clarity at the same time protecting you from harmful UV rays.
Reflections can be a hazard to your eyes and overall health. Fishing can be fun but with headaches from unblocked glare, it isn't something you'd like to experience.
Glare elimination is perfect with the Techlite glass lenses. This makes it possible to see deeper in the water and find fish.
Anglers in the old days without these fancy eye wear and fish finders found it challenging. Despite mastering the art of fly fishing, it wasn't easy to get your first catch of the day.
You will love how well Smith Optics cares for your eyes and the sunglasses you buy. The Guides fall in the high-end category on our buyers' guide but it is worth it.
Free Leash
Inclusive of the sunglass package, you get a high-quality detachable leash that you can use to secure your sunglasses to your face when fishing gets intense and there is more movement than usual.
Two carrying cases – one made of cloth and the other a hard outer case allow for proper and secure storage when you aren't wearing the sunglasses. You know how costly it can get if you buy each accessory separately.
Now take a step and protect one of the most important senses you need when on water. We recommend pre-ordering your eyewear.
Sometimes you might find the Smith Optics Guides Choice Sunglasses out of stock. Alternatives like the Maui Jim Peahi Rectangular Sunglasses, Costa Del Mar Zane Sunglasses, and the Costa Del Mar Brine Sunglasses are good options within the price range of the Guides Choice. Choose the Guides Choice always if available!
Last update on 2023-12-08 / Affiliate links / Images from Amazon Product Advertising API
This product presentation was made with AAWP plugin.