Disclosure:
Just to be open and honest the buttons and links you click on in the website will in most cases take you to another website where you can purchase the products I am reviewing. As an Amazon Associate I earn from qualifying purchases.
January 18, 2020
Costa Del Mar Waterwoman Sunglasses Review – ICAST 2019 Winner
Costa spread the word about its new performance sunglasses for women. The Costa Del Mar Waterwoman Sunglasses. In this pair, the manufacturer ditches the traditional temples and nose pad coating design in favor of the Hydrolite accent temples and nose pads.
A company that isn't partial on matters of gender is what most anglers are looking to flock to. For a long time, Costa has been manufacturing unisex sunglasses and a few for men. This time ardent female anglers have something to have that portrays style, class, and is an epitome of performance.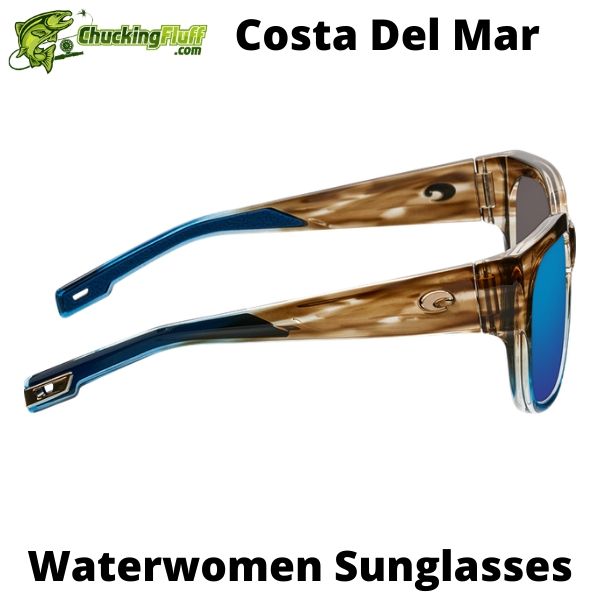 ---
We are speaking of a pair of polarized sunglasses that beat the rest to win the title of Best of Category Eyewear in the ICAST 2019 awards. Costa uses its 580 premium glass on these sunglasses. It is heavier than the 400G counterpart. You will marvel at its extremely lightweight and for a reason, you'd wonder if you actually bought them as originals or imitations.
It turns out that both glass and plastic lenses weigh less. Costa in its description claims that 580 glass lenses on Waterwoman sunglasses offer the highest level of clarity in today's market. After putting them to test, they aren't claims but FACTS. Clarity is superb and we have no complaints so far on this.
Another standout property of the Costa Waterwoman Sunglasses is, without doubt, the genesis of the aforesaid angler-first thinking at the company is the Hydrolite accent on the temple and nose pad. In all places that the sunglasses touch your skin, they stick. Hang yourself upside down, shake them off, they are stubborn and still stick. Anytime you wear them you will ditch your retainers or leash. Regardless of the conditions, these glasses never fall. Remember Megol and Hydrolite are different though almost similar.
Available in polycarbonate plastic lenses, these types are meant to counter the impacts of blue light thereby allowing reds and greens to shine through. You can use them in deep water locations, streams, or rivers. Angled temples aren't common. Boasting of pleasant uniqueness, you can be sure that any lass rocking these sunglasses on the water will receive a wink from jealous boys.
The Del Mar Waterwoman is a classic-style pair of bio-resin framed sunglasses. As a common and general rule, resin frames are most fishermen and women's first choice because they are not delicate, unlike wired-framed sunglasses. They also offer great coverage and have a wrap-around style.
More of the juice is that they are efficient at blocking ambient light. While companies like Smith Optics have more scientific advancements in polarization and term one as the ChromaPop, Costa maintains simple yet detailed polarization procedures. There is no proprietary manufacturing process but polarization is built in the lenses rather than needing an extra film or coating.
The spectrum filtering tech in the lenses is an old one from the Mighty Costa. We can say old is gold because the technology increases optical clarity since they selectively filter light. During filtration, the optically confusing areas are dealt with resulting in more vibrant and brighter popping colors. For the glass lenses, they are more scratch resistant compared to the polycarbonate plastic lenses.
We are buying them all. Whenever the Costa Del Mar Waterwoman Sunglasses and their owners are out, they have unlimited benefits and make a drab day look picturesque. When hunting fish in the rivers characterized by tannin stains, spotting and holding trout isn't a chore. You can easily pick out their profiles and fins. Something than most high-end pairs don't highlight
.
If it weren't for the fact that the sunglasses aren't for a common show like your usual cheap darks or shades, they could be an everyday lens. Meaning that they are extremely versatile and all-round. Now that it prompts you to don the glasses when angling, they still excel in special situations like fishing. They serve you on average sunny days, heavily overcast times, and low-light situations.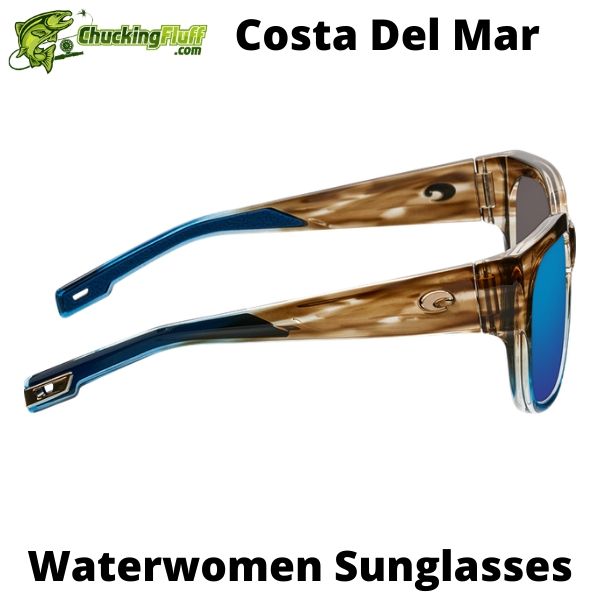 ---
Main Features of the Costa Del Mar Waterwoman Sunglasses
Polarization – To start with ALL Costa sunglasses whether polycarbonate plastic or glass lenses are polarized. Polarization reduces glare on reflective surfaces like water and sand. You enjoy optimal clarity enabling you to see aqua life underwater. There are low risks of migraines and headaches if your lenses are fully polarized.
---
Prescription – Avid anglers with eye problems can have the Costa Waterwoman Sunglasses with prescription-ready lenses to ensure that their sight is maintained and other aspects enhanced without needing contacts or other backup sunglasses.
---
Specifications – This section covers the frame specifications. Ensure that you check this part before making an order to confirm that the sunglasses will be the right fit. The temple arms measure 131m, the lens height is 44.6mm, lens width 54.7mm, the frame width is 138mm, and the bridge width is 18.7mm.
---
Lens Material – All sunglasses from Costa employ the 580 lens technology that blocks the HEV blue light, filters harsh yellow light, and embraced blues, greens, and reds on the spectrum. The Waterwoman comes in glass lenses. However, there is an option for polycarbonate plastic lenses for those who aren't as cautious with glass.
---
Fit – The frame fit is narrow as per the manufacturer's feature highlights on their website. It fits medium-faced ladies and just to be sure that you mightn't need retainers or they won't be smaller, check your measurements with those in the Specification section.
---
Style – They take a wrap-around style that makes them usable for driving. They prevent excessive light rays from hitting your eyes from very weird angles. The style makes them easy to fit and store in their case.
---
Color – There are variations in frame color and lens color. So depending on your location of use and fishing needs, you can pick what suits you. The frame colors are available in shiny wahoo, shiny blonde crystal, matte shadow tortoise, and shiny palm tortoise. Lens colors that are available are a blue mirror, Gray, copper silver mirror, Gray silver mirror, green mirror, sunrise silver mirror, and copper.
---
Frames – Employing the bio-resin process as part of the brand's initiative to kick plastic, the nylon frame is tough and very durable. They are ideal for sports and performance and are resistant to cold and heat. The frames are flexible and it is the reason they can take a wrap-around style. Nylon is saltwater tolerant and resistant to rust and corrosion.
---
Accessories – Costa is very generous and as giveaways, you get a high-quality cleaning cloth, a durable Costa case with a zipper, and a limited lifetime warranty in case of need for any repairs as you continue to use them. The additions save you the extra cost of separately purchasing the cloth and case.
---
Nose Pads and Temples – Sunglasses drop in water and go to be with the rock. Such a bad feeling, right? Especially for those you spent over $100 to buy, it is more painful than a stab in the back. Costa has these sunglasses with Hydrolite accents on the temples and nose pads to ensure that the glasses stay put all the times. We are confident that they are usable without retainers but you can buy them just in case. Temple tips come with icons to ensure keeper compatibility.
---
Hinges – The Costa Del Mar Waterwoman Sunglasses have internal hinges which are not noticeable once worn. They are made from stainless steel and are durable. Forget about rusting, corroding or breaking apart.
---
Warranty – Costa backs these sunglasses with a limited lifetime warranty that caters for defects in material and artistry. Other repairs and replacement of parts are possible at a small fee.
---
Customer Thoughts on the Del Mar Waterwoman Sunglasses
The Waterwoman are pretty and more feminine than what most brands manufacture for women anglers.
Too bad to lose a good and expensive pair of glasses to strong winds and waves. These ones are immovable. In fact, buying retainers is flashing your hard-earned bucks down the drain.
Waterwoman fits perfectly and is fun and fashionable to wear. With the glass lenses, everything is clear on the water.
Frames have great coverage because they are wider. If you dress up for the water, they complement your look besides being fully functional as they should.
They might seem very costly but from the design to the performance of the lenses, they are worth the extra bucks. The case and cloth are also good picks to ensure that you have almost everything you need for eye safety.
Can we say that they can be an addiction and make you a hoarder? The glasses are very comfy and the incomparable clarity is unbelievable even on reflective surfaces.
---
Pros

– Things that shine on the Del Mar Waterwoman Sunglasses​
Available in glass and plastic lenses
Stay put and don't need retainers
For medium fit
Comes with a case and a cleaning cloth
Lightweight
Available in different frame and lens colors
Prescription ready
Non-corrosive construction
Frames have extensive coverage
Cons

– Things that are not so cool!
Will be too costly for anglers who are shopping on an edgy budget
Feminine design and style and most men will find them awkward. Oops!
---
---
FAQ's – Questions about the Waterwomen Sunglasses
Q) Can you return these Costas to the company if they don't fit?
A) Yes. Costa has a 30-day policy for returns for replacement.
Q) Do they come as reader lenses?
A) Prescription ready lenses aren't strictly reader lenses.
Q) Which lenses will work for freshwater fishing?
A) The blue mirror will do for saline environments and copper or green mirror will be perfect for freshwater.
Q) Can they fit over prescription glasses?
A) No, they don't fit over eyeglasses.
Q) Which retainers will be comfortable for use with these sunglasses?
A) The Costa Bowline Silicone Retainer will do the job pretty well.
Q) Are there other sizes of the Del Mar Waterwoman Sunglasses?
A) No, these come in one size only and the frame fit specifications will help you know if you should or shouldn't buy.
Q) Do the lenses darken in the sun?
A) No, they don't have anti-glare coatings. Mirrored lenses will only block light.
Q) Do the frames float?
A) No, the frames don't float. If they drop in water, forget them!
---
Final Verdict on the Waterwomen Sunglasses
As we stated in our Best Fly Fishing Polarized Sunglasses article, sunglasses are among the most underrated must-haves in terms of their functionality and importance as a major addition to your fishing arsenal. Women though overly conscious, will often leave them behind.
But for sure, if you have the Waterwoman, you become a woman who never fears water. What lens to choose is more important than the rod in your hands. It is the reason Costa avails two options for your needs. Remember, you cannot catch what you cannot see.
Costa is reasonably putting angling at the front and center of its product improvement philosophy. Fishermen and women are Costa's main focus of business and not an afterthought like some all-around brands. For any fishing scenario, the lens colors available will come in handy.
Just choose the right color for the right condition. The sunglasses have durable construction and from the exemplary choice of material, you are sure to have them longer than most of your pairs. They boast of rust and corrosion resistance and for anglers who love to visit the oceans and flats, there is not much to worry about cleaning them each time water spills on the lenses or frames.
Costa Del Mar Waterwoman Sunglasses make you a wonder water woman. If you still wear cheap sunnies, make a major investment. If still not sure check our full list of fishing sunglasses out for otjher options.