The north shore in Maui is graced by a legendary surf break called Pe'ahi. This is where this pair of bold polarized sunglasses got its name from. With reference to the great power of the waves, the Maui Jim Peahi Rectangular Sunglasses are made artistically from high-quality and durable material. You feel more powerful and comfortable when wearing them. Maui Jim designed them for retro humans who love to live light and very easy. The other extra bits and pieces of amazement and excellence are displayed in the small features of the frame and lenses.
All Maui Jim sunglasses are made in the USA, Peoria IL to be specific. However, they are designed and have their headquarters in Hawaii. Without exempting any, they are all backed by a two-year warranty. This covers any defects in workmanship or material. Any repairs will be handled by the service reps. After designing, the sunglasses are tested for performance, quality, and durability in Lahania, Hawaii. The reason behind the birth of this company is the need to combat the glare and sun on Maui Island while enhancing color and the beauty of Hawaii.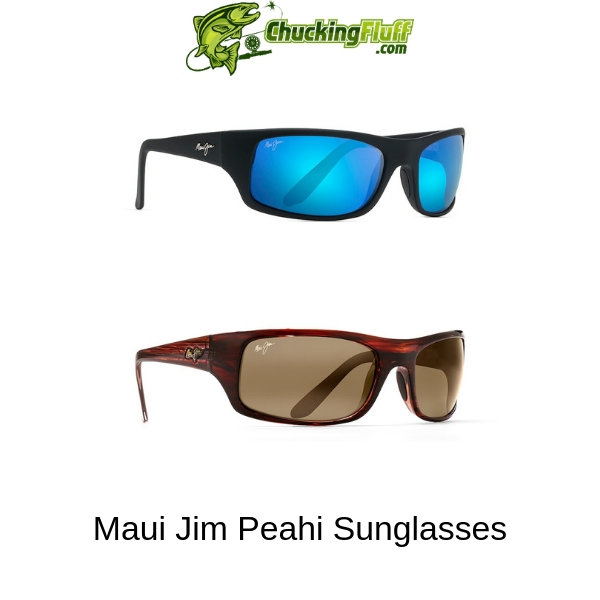 ---
Are Peahis polarized? Yes, all Maui Jim sunglasses including the Peahi Rectangular sunglasses are polarized with the company's PolarizePlus2R technology to ensure the lenses cut off all the glare and enhance clarity of images. The sunglasses have 100% UV protection. This has made them receive the Skin Cancer Seal of recommendation. The seal symbolizes safety and protection from the sun when you have them on. There is no doubt that Maui Jim is among the leaders in completely doing away with UV threats. Peahi Sunglasses protect your eyes from sunburns.
---
Most sunglasses get wet with exposure to water. Fishing makes you spend most of your time in the water. Peahi sunglasses are designed to take up water. Maui Jim sunglasses are safe for use in saline environments because of their high corrosion resistant capabilities. Remember to wash them under filtered tap water. Dry using a microfiber clean cloth. Maui Jim has the Peahis in prescription lenses. They can be customized according to your needs.
Peahi sunglasses can be used for more than just fly fishing. I think this versatility makes it a great choice if you indulge in other outdoor activities like hiking, surfing, and biking. With the lens and frame construction of this pair, it is one of the best from the manufacturer. Maui uses unique material for frame construction. You will love its uniqueness because it guarantees flexibility, UV and heat resistance, and extreme lightness to allow for wearing all day. Let us dig deeper into the craftsmanship of the sunglasses bit by bit and see why you need these sunglasses for your next fly fishing session.
---
Main Features of the Peahi Rectangular Sunglasses
Lens Material – Maui Jim uses SuperThin glass that provides absolute crispy optics. The glass is between 20 and 32% lighter and thinner than the standard glass. It offers the best solvent and scratch resistance. A bi-gradient mirror is placed at the bottom and top of the lens squints so that the eyes can relax.
---
Lens Color – Maui Jim Peahi Rectangular Sunglasses come in three lens types. Neutral gray offers the highest possible light reduction capabilities to give the sharpest contrast and richest color. Blue Hawaii mirror coating gives a stylish and new look which offers great color enhancement and clarity as the rest of the sunglasses from Maui Jim. HCL Bronze has versatility in dynamic conditions with a very warm tint.
---
Coating – Peahi lenses have an oleophobic and waterproof coating to repel all grease and shed water as fast as possible without leaving marks. This makes cleaning and maintenance easy. A simple wipe will do good.
---
Nose and Temple Pads – Hypoallergenic Cellulose Propionate temples have rubber ends to prevent hurting the back of your ears and to give a secure fit. The nose pads are made from embedded non-slip silicone to ensure the sunglasses remain put on your face even when things get tougher on water.
---
Hinges – Anti-corrosive spring hinges provide the utmost flexibility and offer a secure and comfortable fit for different face sizes and shapes. The springs survive in saline water. With proper rinsing after every wear, you enhance the durability of the sunglasses.
---
Polarization – Peahi lenses use the PolarizedPlus2 Technology that eliminates almost 99.9% of glare resulting in superior precision and absolute clarity. More benefits are sharper contrast and great depth perception.
An anti-reflective surface hinders bounce-back glare from passing through the lenses from the back and eliminating eye fatigue. This enhances natural light rather than dimming it for exceptional clarity and color. They enhance the low energy light waves, reds, and greens.
---
UV blockage – Lenses block 100% of all the harmful UV rays that can cause damage to your eyes. They have the ability to reduce 95% of high-energy blue light.
---
Frames – Grilamid frames are made from a very lightweight and durable polymer that has extreme bending strength. The material though foldable, easily retains its shape that is why it is able to be modified into a rectangular wrap style like the Peahi sunglasses.
The frames are finished with a high-gloss or matte finish depending on the frame color you choose. It takes an 8-base curve to ensure to covers a larger area of your eyes. The saddle-style fixed bridge allows for the sunglasses to sit comfortably on your nasal bridge.
---
Accessories – Maui Jim includes a brown storage case in the sunglass package to store your eyewear when not in use. This protects the fro damage from physical impact. A cleaning cloth for cleaning your lenses is part of the package.
---
Fit – To know your fit, check with the sizing measurements. The bridge length is 19mm, the lens height 41mm, lens width 65mm, and the temple length 120mm.
---
Warranty – There is a two-year warranty on the Peahi Rectangular sunglasses to cater for replacement when your sunglasses get defects in workmanship or material. Any other repairs apart from those caused by normal wear, accident breakage and misuse will be handled by the manufacturer.
---
Customer Thoughts on Maui Jim Peahi Rectangular Sunglasses
Sunglasses are impressive as the quality of the full rim rectangular frames is excellent. The spring hinges allow the frames to fit your noggin snugly. Extra details like rubber inserts on the nose pad give more comfort.
Using the polarized super thin glass on the lenses makes viewing clearer at the same time protecting your eyes from UV light.
The coverage is amazing with the 8-base design. It maintains most of the peripheral view. So far, there is a very little light leak from behind the frames.
Views are crystal clear at all times. If you wear them in sunny and windy conditions, you can think that you are seeing HD. The contrast is great and lenses remove glare without darkening everything. The simple polarization but highly reliable.
While they are highly priced because of the exemplary features and performance, the coating on the lenses can be scratched off with ease. This is one downside that you need to be aware of. Just ensure you don't drop them.
Their size is big and if you are a big guy, they fit perfectly. Anyone with a smaller face will get disappointed. The storage case comes in handy when you need them off.
---
Pros

– Things that shine on the Peahi Rectangular Sunglasses
Saltwater resistant
Lenses are prescription ready
Versatile use
Super thin lens construction
100% UV blockage and polarization
Color boosting lens technology
Comfort to wear all day
Grilamid frames
Two-year warranty
Includes a brown case and a clean cloth
Wraparound design for great coverage
Waterproof lenses
Cons

– Things that are not so cool!
Peahis are high-end sunglasses and the price might come as a disadvantage to shoppers on a low budget
Lens coating can easily be scratched
---
FAQ's – Questions about the Peahi Rectangular Sunglasses
Q) Are these glass or plastic lenses?
A) These are glass lenses. Only that Maui Jim us