Disclosure:
Just to be open and honest the buttons and links you click on in the website will in most cases take you to another website where you can purchase the products I am reviewing. As an Amazon Associate I earn from qualifying purchases.
November 22, 2021
Flying Fisherman Fowey 7837 Sunglasses Review – Polarization on a Budget
Most fly fishing sunglasses are rather costly, there are a few cheap pairs that are a great value if you are on a budget. If you fish occasionally, these can be excellent options. It is vital to look for sunglasses with polycarbonate lenses, tinted and are polarized.
Glass lenses make the price shoot so it might not be an option here. Ensure the workmanship is superb, they are durable and lightweight for wearing longer hours.
A good pair that matches our description is the Flying Fisherman Fowey Polarized Sunglasses. Lenses should have UV protection capabilities, cut glare, give good color contrast and generally performing.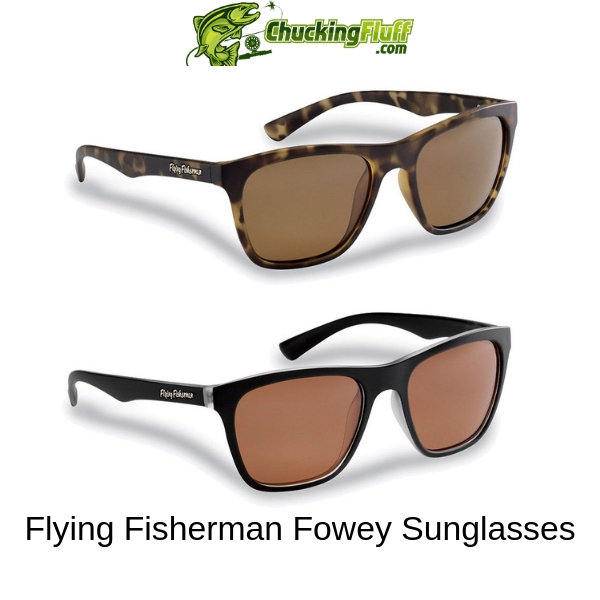 Check Fowey Amazon Availability
---
Flying Fisherman has sunglasses in all price range categories. From low budget, mid-range and high-end sunglasses. Quality and affordability are the forces behind their major sales.
The manufacturer brags of having over 45 styles of Sun lens options. They are further categorized into three collections depending on the level of performance. The lowest isn't crappy like many would think.
You can choose from the Action angler series which is polarized Triacetate, Master angler series made from polarized polycarbonate and the Master angler series ground covering polished polarized glasses.
Fowey falls under the Action angler series-Triacetate lens. Flying Fisherman terms this category as a 'good'. You can't compare its performance to that of the Master Ground though. It still does the job. The Fowey is a mix of function and style.
Its general appearance is striking with the wider frame. This brings a great balance in the needs of fishing and looking dope whether on or off the water. The modern aesthetics shouldn't fool you. This pair is packed with awesome features.
As an economical option, Fowey sunglasses are among the most popular. Coming from a manufacturer that exclusively caters for fly fishermen, you can trust this pair to serve you well.
There are other sunglasses priced lower than the Fowey but we looked for a pair that has almost all the features needed for fly fishing sunglasses.
From a three-color selection, you can choose one or two for a chic look. You can settle for copper if you prefer a subtle tone. The other colors are amber and smoke.
Polarized lenses effectively cut glare. Having them on for more hours doesn't cause stress or fatigue to the eyes. With a one-year warranty, the sunglasses give 100% protection from harmful ultraviolet rays.
The lenses are resistant to fog and scratches. You will love how light they are on your nose bridge. Triacetate lenses add color contrast while maintaining natural colors.
Standard lenses will often distort colors so they are a no! Fowey succeeds in making your vision clearer. Polycarbonate frames are flexible and if you get these sunglasses in the right fit, they don't press on the temples.
Forget about shattering anytime soon. Despite the classic look, they guarantee you durability and high performance.
These sunglasses are a must-have for any avid angler. Well, there is one drawback though it affects those who would like prescription lenses. Flying Fisherman Fowey Polarized Sunglasses aren't available in prescription.
If you insist on having prescription lenses from the Fly Fisherman brand, the master angler collection will have you covered in this area.
---
Main Features of the of the Fowey Sunglasses​
Lens Material – Fowey lenses are made from Triacetate Cellulose material-a multi-layered lens technology to provide complete glare elimination, harmful UV rays and polarized light. TAC lenses are professionally made of more than three layers. A mirror coating made from PC and TAC only, a scratch resistant hard coating, an outer layer made of TAC, an AcuTint polarized filter, an inside lens and another scratch resistant coating.
---
Lens Color – Lenses are available in Smoke, Amber, and Copper. Amber improves depth perception, is good for variable conditions and enhances color contrast. Copper blocks a higher amount of blue color to increase visual acuity and contrast. Excellent for improving contrast against blue skies and waters. Smoke reduces the overall brightness while maintaining normal color recognition.
---
Nose and Temple Pads – These ones don't have pads on the nose and temple. That doesn't mean that they will slip and fall off your face. The nose bridge area has been slightly extended to ensure the sunglasses sit on the bridge comfortably. You only need to get your fit and that is it. If you are unsure about their stability, get a retainer or sunglass leash for reinforcement.
---
Hinges – Stainless steel hinges rarely rust so this one will remain durable even when water spills on them. They secure the temple arms to the box frame and allow for easy folding and opening of the arms.
---
Coating – A scratch-resistant hard coating is applied twice on the lenses. One layer close to the front side and the last layer at the back side of the lenses. This coating makes the lenses impact resistant. It is a plus to the sunglass's durability feature.
---
Polarization – An AcuTint polarized filter cuts off glare caused by the light waves that are reflected off surfaces such as snow, sand, and water. The polarizing filter absorbs horizontal glare ensuring minimal color distortion while enhancing clarity, depth, and reducing eye fatigue.
---
UV blockage – These sunglasses provide the wearer with maximum protection from harmful UV rays. They have been tested and proven to exceed the ANSI, FDA, and European CE standards. They are recommended as general purpose eyewear.
---
Frames – Polycarbonate frames are lightweight and durable. You can wear them all day. They give a comfortable fit without pressing on the temples. Available frame colors are tortoise, matte crystal azure frames, crystal matte black frames, and crystal granite frames. The weight is 0.9 oz. and comes in a medium fit only. For sizing, arms are 144mm, the distance between lenses is 11mm, lens height is 41mm and width is 50mm.
---
Accessories – A microfiber cleaning cloth is necessary to remove smudges from fingerprints, dust, dirt and any other particles. You can get retainers since the nose pads aren't hydrophilic. A hard carrying case will protect your sunglasses from damage when not in use.
---
Fit – Flying Fisherman Fowey Polarized Sunglasses come in a medium fit only. There is more on the sizing and measurements in this review. Check to confirm if they can fit.
---
Warranty – Fly Fisherman issues a 0ne-year manufacturer's warranty to the original owner of the sunglasses. In case of defects in workmanship, you will get a replacement. For any repairs within the said period, reach the company for more details.
---
Customer Thoughts on the Fishermans Fowey Sunglasses
There have been complaints on the nose bridge being narrow and sitting way higher on the face giving a ridiculous look. This is on specific people with a slightly larger sized head. Remember, it is a MEDIUM fit.
Fowey sunglasses are excellent for fishing, they are lightweight and comfortable for wearing long hours. They don't disappoint in low light conditions because of the copper tinting.
So far, they are one of the best reasonably priced polarized sunglasses for the quality. Fly Fisherman is a good brand that majors on affordability without compromising performance.
Lenses are very nice to look through and give a sharper vision and warmer tone. I would give it a five star if told to rate it. Highly recommended.
You can't beat these sunglasses, especially for the cost. They are a modernized version of the wayfarers and rocking them adds style. You don't have to look plain when outdoors.
Fowey sunglasses are the best cheap sunglasses with excellent optics, finish and fit. Although simple, they are well constructed and like any other pair of sunglasses need proper care and maintenance so that you can use them year in year out.
If you live in the tropics, these sunglasses are way better than most high-end options. The lenses give good contrast between stone, sand, water. They last longer than most expensive pairs because of the high impact resistance capabilities.
---
Pros

– Things that shine on the Fowey Sunglasses​
Lightweight and wearable all-day
Sharper vision
Full of aesthetics
Polarized lenses
Scratch and impact resistance
One-year limited warranty
Durable construction
Highly affordable
100% UV protection
Medium Fit
Cons

– Things that are not so cool!
A few issues with the fit at the nose bridge area-too narrow
No prescription option for this model
---
---
FAQ's – Questions about the Fowey Sunglasses
Q) Between the Smoke, Amber and Copper lenses which are the darkest?
A) The darkest is Smoke, then copper and amber is lighter
Q) Are these see-through lenses?
A) Yes, you can see your eyes through them very well
Q) Do these sunglasses have an option for glass lenses?
A) No, the Fowey are plastic lensed hence the low price. There is no glass option for this one.
Q) Can you use prescription lenses with these frames?
A) No, Flying Fisherman doesn't recommend the Fowey for prescription lenses.
Q) Is this a cat-eye or square frame?
A) The frames are square.
Q) Can someone with a narrower face have the Flying Fisherman Fowey Polarized Sunglasses fit comfortably without slipping?
A) Not sure how narrower you mean but this is a medium fit and to confirm your fit, check on the frame sizing in the main features section of this review.
Q) Do the Fowey sunglasses come with a storage case?
A) No, they come with a cloth drawstring bag but you can make separate purchases for the case.
Q) Is it true that you can experience slight blurring as you look through the sunglasses?
A) If you have bad eyesight, maybe. But the vision is crystal clear.
Q) Are they floating Sunglasses?
A) No, you will need a chums sunglass strap.
Q) Do the sunglasses have slip-resistance capabilities especially when things get active and agile on water?
A) If the fit on your face is right, they stay in place throughout. But is they are slightly big, you will need retainers.
---
Final Verdict on the Fowey Sunglasses
Fly Fisherman seems to be quite popular among anglers these days. It is with a very good reason, affordability, great craftsmanship, and durability. The technology put into the lenses is something that you will love.
For instance, the Triacetate Cellulose lenses have six layers- each with a purpose to ensure you are protected from the effects of the sun, your vision is clearer and you generally enjoy your time on the water.
Although most of the sunglasses by this manufacturer are low-priced than other brands, it shouldn't be a turn-off. Many will consider them either fakes or functionless. No, see the customer thoughts section and make up your mind already.
Basically, an angler needs protection from the sun and wayward hooks as they cast. That is what the Fowey sunglasses do. Alongside serving their purpose, they have a classic design and will add to your look.
These few features make investing in these sunglasses a no-brainer. Buy sunglasses that you can afford, go out and enjoy fly fishing like others rocking Costas Wileys, and Oakley.
The one-year limited warranty will come in handy if you experience any issues and malfunctions. As long as all terms and conditions of the repair policy are adhered to, Fly Fisherman will have you sorted.
If you can't preorder these cheap yet high-performing sunglasses, walk into a reputable authorized dealer and select a lens color option that suits your needs. If they are unavailable, the Flying Fisherman Maverick Polarized Sunglasses will be a good option.
Its price is slightly below the Flying Fisherman Fowey Polarized Sunglasses but will still serve you. Foweys don't come with accessories so you should think of separately purchasing those you need. Sometimes cheap is the way to go!
Check Fowey Amazon Availability