Disclosure:
Just to be open and honest the buttons and links you click on in the website will in most cases take you to another website where you can purchase the products I am reviewing. As an Amazon Associate I earn from qualifying purchases.
January 14, 2020
Lady Fly Angler Profiles – Power, Pride and Potential
More and more women are craving water. Either for healing, joy, adventure or as a profession. What was initially a male-dominated sport is now seeing a turn of situations. Straight from the manufacturing department to the actualization of the sport, it is enough to say that soon there is going to be a massive number of the feminine gender on the water than you could expect.
Manufacturers are exhibiting their prowess in the production sector. We now have fly fishing gear with a specific cut and fit for women. If you could pose a question randomly, the majority of lady anglers will attest to greater improvements in the creative areas. We have influential female anglers who have stood out to publicize angling. There is pretty much more on their plates than you can imagine. Having to juggle between their social lives, personal growth and development, family life, and careers, it is unspeakable that they have everything in order.
As they live to fish, they are generous enough to share their adventures with the world through their social accounts. What is more special is their zeal and determination to pull along other females on their posts in the comment section. Some are all-rounders as they love to hike, hunt, explore, and fish. You need to click on the follow button if you haven't.
(all images from ladies instagram feeds)
1) April Vokey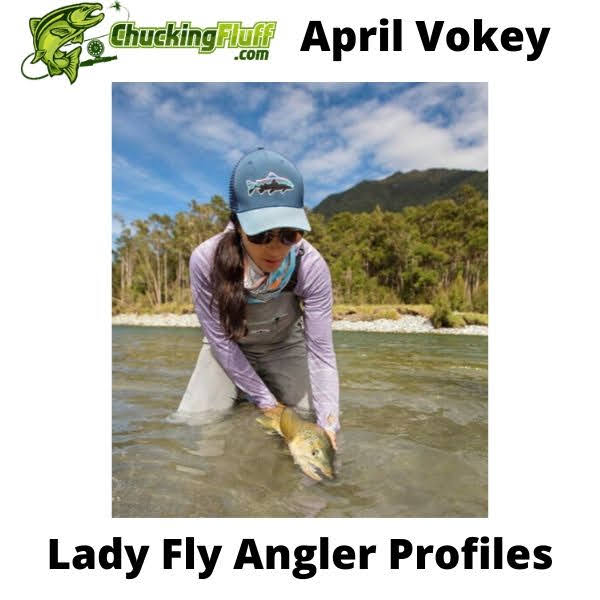 April is a common face and name on our screens. Besides featuring on most of the popular TV shows, she took to the pen and paper direction to write her own series which is exclusive of fly fishing. It didn't start in her twenties or in her thirties. She juggles between being an entrepreneur, a writer, a podcast host, guide, and angler. Let's see at a glance who Vokey is.
Websites
She is the owner of aprilvokey.com. Educative and inspiring is what we can describe the website as. Subscribe and learn from influential anglers, guides, and people in the angling world through the podcasts on her website. Her knowledge and generosity are evident in her blog. She shares techniques, leisure activities, planning for fishing trips, her excursions, and the gears she has tried and recommends.
April travels the country over to do the podcasts face to face believing seeing a person's reaction to her questions gives for better interaction and better dialogue. She has also been signed up with themeateater.com where she contributes to podcasts and writing.
April's first venture flygal.ca is still going although now not her first choice for work. The name came from a car number plate she had when younger and offers guided fishing trips for mostly Steelhead but Salmon. Trout etc can be pursued with an inquiry.
Businesses and Involvements
As a mother, she has a handful to finance. Currently, she is a fly-tying instructor, a casting instructor certified by FFF, and a traveling speaker. Majorly, these are the few known money-making ventures that she indulges in. More are:
Founder of Fly Gal Ventures in 2007 and spearheads, guides, and instructs fisherwomen on steelhead destinations.
Canadian editor for the Chasing Silver Magazine
Steelhead columnist of the Fly Fusion Magazine
Board of director for Steelhead Society of BC and BC FFF-Federation of Fly Fishers
Founder and director of the Flies for Fins-a popular fundraiser
An ambassador of Patagonia since 2011.
The Kick-Off
April Vokey began angling as a little girl. She loved the waters from way before. Spawning salmon caught her eyes often. She admired how they'd swim into the river during this breeding period. Before she knew she could be an excellent fisherwoman, she tossed a hook in the water and made a few catches. One, two, and three led to what she is now.
Source of inspiration to fish
What April derives from her rod and reel is what inspires her to keep dreaming and waking up in the waters. The tranquility, fun, adventure, and the sport's simplicity are the reasons behind her busy angling life. She believes in doing the basics in local rivers, and often trying out tougher excursions in the wild. All these, she shares on her Instagram page and website.
Facing the flimsy and annoying stereotypes
Fly fishing was previously a male-dominated sport and to April this was at the central point in her life where she would hear no crap. Of course, some loved her, some didn't, and the majority didn't care. The gender bias issue is deeper than off waders. As part of countering this, Vokey uses her social media platforms to showcase women's gear and fishing.
Thoughts about fellow angling ladies? She loves the idea that women are holding more rods and reels. However, as she started off professionally they had a name for her and girls like her. Fly-fishing Barbie doll or cupcake in waders. She went on a mission to prove them wrong. That they weren't just cupcakes but the sweetest ever baked on the universe.
Gear 'Offs' and Angling Dynamics
For her, finding the right gear wasn't much of a problem. Buying them was. Her major hurdle was the men working at the fly shops. They often made it difficult for her even after being successful in choosing the right pair. Often, she'd enter a store and they'd think she's lost. The major problem came when she had to use the bushes to reply to Mother Nature's calls right before men, it was humiliating. What we have now is more decent, lady-like, and the fact that the female cuts accentuate your body, the confidence is 10 times 10 years ago.
Fishing and Family
Vokey has a daughter and the main man. The three make up a hearty family. Since she downed all other tools to pick up her combos at 24, she has vowed to die with these sticks. Having a family hasn't really come in her way. She has learned to balance her time and stick to to-do lists and schedules. What she has written down HAS TO BE DONE.
She plans on taking her daughter with her to the rivers more often and has already bought her a PFD. Her time-consciousness is admirable. In short, she describes juggling between angling and family as busy.  April now spends her time split between Canada and Australia with her husband, daughter and dog Colby who she has nursed back from a cancer scare with a new diet and supplements.
How she champions for Angling
We can see that April Vokey is one of the active supporters of the angling sport. Besides the non-charitable organizations she has founded and directed, she actively takes part in inspiring and guiding other anglers to better their skills. Her major area is British Columbia. Through her earnings and donations, she is able to fund some projects dedicated to wild species conservation. Apart from fishing, she actively involves in public awareness.
Favorites 
April Vokey prides in angling with more specifications to steelhead. They are her favorite. Why? She says that they are resilient, wild, and found in most of the gnarly places. Most importantly, these steelheads run in her blood.
Favorite lines: RIO Versatile Scandi
Favorite outdoor gear: Majorly Patagonia for women products
Favorite rafts: Watermaster
Favorite boats: Wooldridge
Favorite sunglasses: Costa
---
2) Barbie on the Fly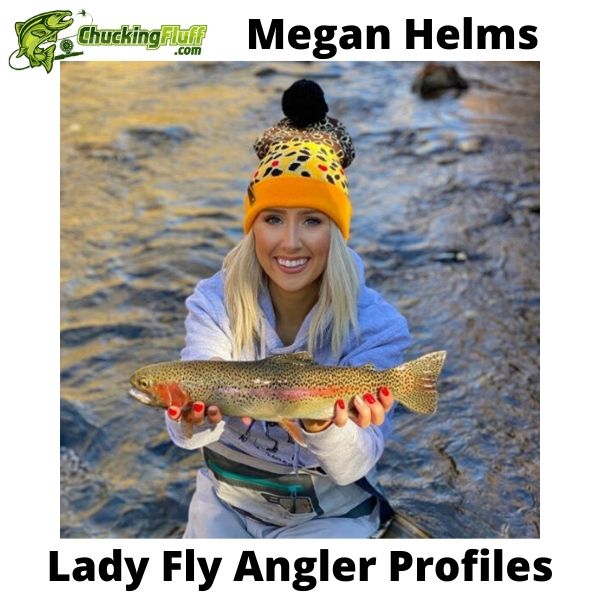 The waters know her as Barbie on the fly. She is Megan Helms. What seemed like a life-shattering period of her life turned into a slight motivation to try on a few flies. Her life was around a wheelchair for 3 years.
The starting Point
October 2015 was the exact time that Barbie on the fly began this adventurous journey. She terms it as a friend-picking time, rewarding, a journey of tests, and above all a therapy. Otherwise, an ex-boyfriend introduced her to it, and her love for angling sprouted from there.
Her inspiration
Questioned abilities in the angling sport have been her greatest motivation. Being able to learn from other anglers and most importantly, immense help from the fly fishingmaster, she also mentions Aprily as a huge influence on her career into fly fishing.
How she brushes off negativity
There is so much hate and bile she faces. Fortunately, she is straightforward and says that she has no time for any kind of negativity in her life. She often goes fishing with disabled folks to prove that no human is limited.
Loves fishing in the mountains where she chases trout with the cold water flowing past and her fly rod in her hand. This makes a contrast from her day job as a freelance makeup artist.  Giving ladies a makeover on their special days is fulfilling but her heart in on the water where looks don't matter.
Fly fishing has taught her to be resilient, patient and above all has been therapeutic. The name Barbie on the fly has by her own confession not been the best choice to choose but its what everyone knew her by. She has had to put up with some distasteful characters online but refuses to indulge them moreover concentrating on what's important improving her casting stroke.
Megan prefers to catch and release instead of taking trout.
Favorites
Favorite reel: Lamson Liquid
Favorite trout: Wild browns
Favorite pack: Orvis Waterproof Sling
Favorite flies: Girdle bugs, mops, CDC pheasant tails, and Walt's worms
Favorite waders: Redington Willow Waders
---
3) Abbie.on.the.fly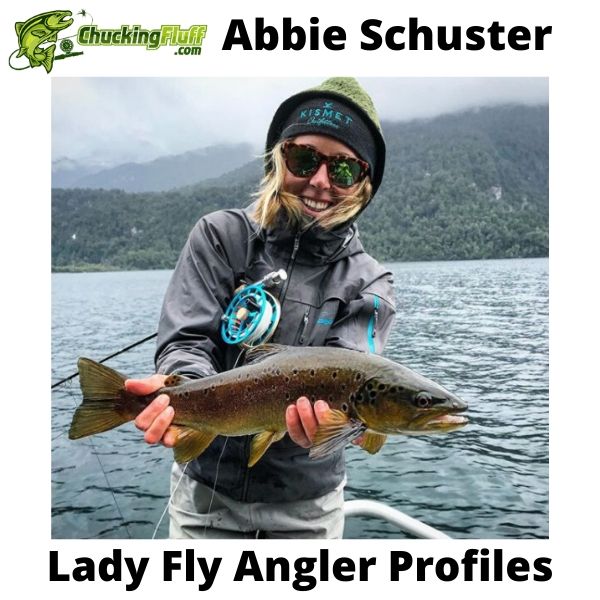 Is she not Barbie on the fly? NO. Abbie, just like Barbie, is a female rod and reel enthusiast. Formally, she is Abbie Schuster. She has fly fished all her life. Born in New England, she grew fishing in these waters. Often she hopped from rivers to small creeks and back.
First Experience
Her dad was her only fishing buddy then. He is the main man who held her hand to the waters of New England as a little girl. After getting to college, she discovered that there was more force towards the waters and decided to take on a fly fishing guide course. She joined guide school and kick-started her business.
Websites
Abbie is the owner of kismetoutfitters.com. The site is about angling to all and sundry. From corporate and team building fishing trips to hosted travels and trips. The packages are wholesome and for any reason, you MUST have fun. ''All activities don't base on skill levels but your ability to learn from the people around you,'' says Abbie.
Businesses
Abbie is a Certified Maine Guide. She has gained certifications from CPR, water rescue, and first aid.  With 20+ years of fishing, there is no doubt that it has been adventurous and a field of lessons.
Inspiration and Championing
What drives her is her passion for the waters. Luckily, her office is outdoors. So, if you are of such love, you definitely understand. She prides in fishing often and champions for environmental conservation as her livelihood comes from the rivers and ocean. She gives back to the waters by taking care of them the same way they do to her.
Major roadblock she has experienced and the pick-up points
Every shop she visited had a macho feel. Most of the anglers she met were male. Some became friends while others dropped on the way. She, however, sought to get more female buddies. Her greater admiration in the angling industry is how well major brands are focusing on women's gear and outfits.
Favorites
Favorite species: Bonefish
Favorite fishing style: Streaming
Favorite reel: Cheeky Limitless reel
Favorite tippet: 20+ lb. test tippet
Favorite rod: Scott Meridian 8wt
Favorite Lines: Intermediate lines
Favorite fishery: Salt
Favorite fly: Green or white deceivers, Deceiver in Chartreuse, olive streamers and her hand-tied Gotchas
---
4) Tessa Shetter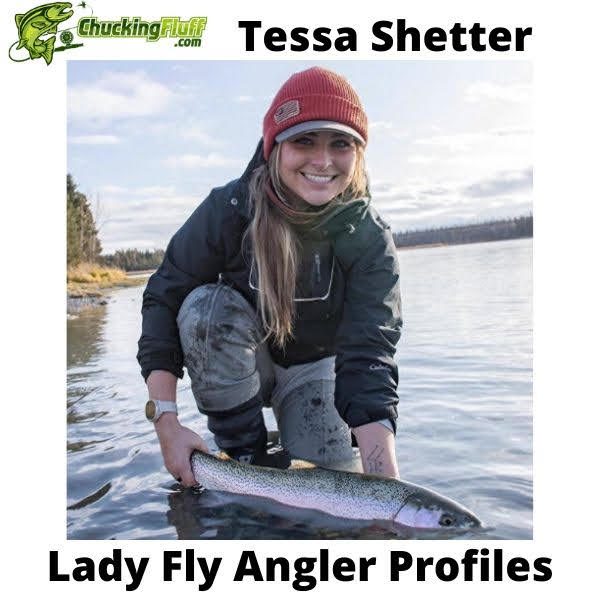 Adventuress, photo adventuress, and angler, Tessa loves to keep memories of all her outings via her camera. For her, fishing is a passion and through this, she shares her escapades on her website and social platforms. So? Tessa has been able to make friends, connections, and link up with fellow ladies who have a liking for fish catching.
The start-Off
Sounds unreal to others but this lens lover caught her first-ever silver salmon when she was three. Despite not taking part in the sport often at that time, she still knew the rods and reels were her companions. At 16, she took to it with a blast. Her dad and boyfriend have been holding her hands and aiding her to learn the ropes in fly fishing.
Websites and Businesses
Owner of tessasheter.com, this fiery lady documents her experiences. Her love for the lense drove her to put up a photography venture that she mainly markets through this website. Her specialties are business, products, outdoor, portraits, and special event photography. For smashing videos, this girl can deliver the unthinkable. She also co-owns the KorVisuals with her boyfriend Kory Robbins. It is a video and photo company.
Why angling for her?
Tess says that it is an escape for her. She loves being around water. Even more, she prides in the success of landing a fish. It is nerve and stress relieving to the photographer.
Her Stumbling blocks
She has faced so much ridicule online. From fake profiles about her, harsh Instagram posts pointing at her, creepy direct messages, nasty comments, and filthy tags. What excites her about their ignorance is the presence of a delete and block button.
Among her sponsors are H & H Outfitters, Postflybox, and Stanley Thermos.
Favorites
Favorite rod: Temple Fork Outfitters 4wt rod, Rod Vault, and Rugged Creek 4wt
Favorite reel: Sage reel Cheeky Limitless reel
Favorite catch: 28'' Steelhead
Favorite waders: Simms Gore-Tex Waders
---
5) Maddie Brenneman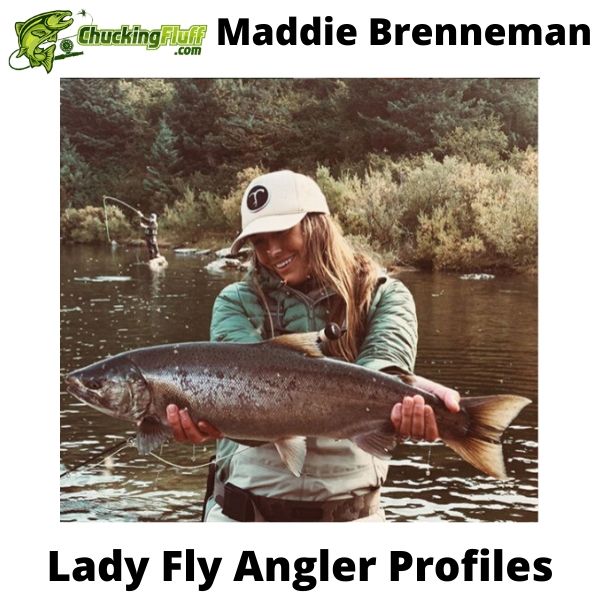 Born of Canadian parents, summers were her best of seasons. She spent most of her time on the docks casting like she never will again, but she still did it day after day. Little bass was her favorite at that time.
What about fly fishing?
This, she learned in her early teens about 15 years she was. Her friends were her major inspiration. Then came Nick, her boyfriend who has been a solid source of inspiration for a long time now. As they share a love life, they share angling interests and still have favorite spots they go fish hunting together.
Is she making money yet?
The girl had an awesomely paying desk job somewhere in Santa Fe. As she worked around a dude ranch, an opening for a head guide came by and whoop! She went in. Maddie has been guiding at C Lazy U. so far, five seasons down, she guides from April through November. When the season is at its peak, she guides thrice a week.
Does she champion for the sport? How? 
Of course, she does. Through her guiding career, she loves to guide novices and teaches them to first protect the rivers and its inhabitants. No funding organizations yet from her but conservation is as great as what money can do.
Any hitches or has it been all smooth?
As she fishes on her own, she says it is pure fun. However, when it comes to her career part, the most challenging thing is the over ambitiousness of some of her learners. Some think it is a day's learning and tomorrow you can catch a 30'' brown trout.
When it comes to gender segregation, she says that she has never been disadvantaged. Lucky her!
Favorites
Favorite species: The challenging browns in freshwater and bones in saltwater. Trout is for her therapy session.
Favorite flies: BWO, Caddis, PMD hatches, Rainbow Warriors, flashback HE, and PT
Favorite rivers: Rough River, Rio Grande, and Blue River
---
6) Meredith McCord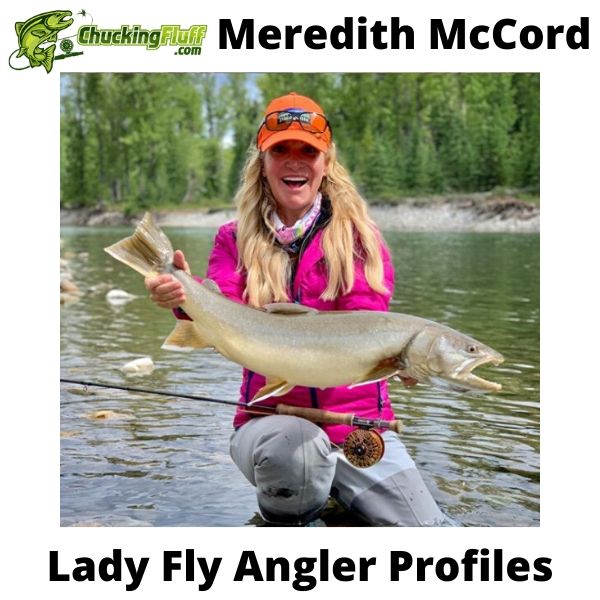 Many view fly fishing as a lifestyle but for McCord, it is rather the ultimate challenge than a sport. Breaking the IGFA world record for the 16-pound tippet, you can agree that women are at it with no hesitation. She landed a 32.6 pound Red Rum. Almost immediately she became a TV celebrity, an adventurer, an iconic angler, and a pursuer for world records. The professional angler cum entrepreneur holds 165 IGFA world records until now which she has taken her 8 years and in 26 countries. She holds the award of the Islamorada's Grand Champion of the Ladies Tarpon Fly Tournament and the Top Female Angler of the Year among others.
The picking point
Meredith started fishing at three. Most of the time she was out with her dad. It ran in her blood as her family line comprised of recreational fishermen. Her paternal grandparents also taught her the basics of angling. She derives joy in a fish eating her fly.
Businesses, Involvements, and Website
Owner and founder of the Mad Potter, a studio of pottery painting, she is an art lover. As the business brings together art lovers and buyers from all walks of life, she believes in the spirit of generosity. Still, on that lane, she has been on mission trips and worked with orphans in South Africa, Russia, Zambia, and Bolivia. She partners with El Salvador's Living Water.
Meredith is an ambitious trip host, an excellent speaker, and an entrepreneur. She owns the meredithmccord.com website that showcases and sells her skills and abilities.
Her role in advocating for angling
It didn't end at the broken world record. She hosts television shows with the famous Brokaw, Huey Lewis, and Kreh. She invites guests and tours them to international destinations. Meredith is an ambassador to reputable angling brands. Her enthusiasm is still at its peak.
Favorites
Favorite species: Bull Reds of Louisiana, Giant Trevally, and Tarpon
Favorite rod: Sage One 8wt Custom rod
---
7) Wading with Whitney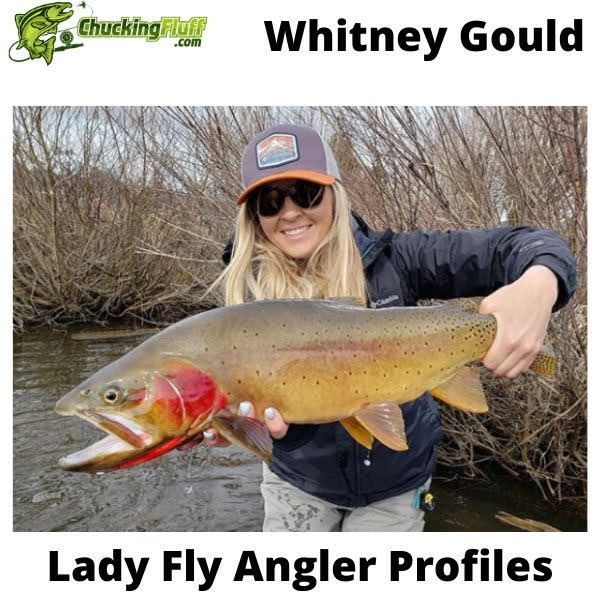 Whitney Gould is currently the Simms Guide ambassador. If you have used Simms products, you know that they fall from the best of hands. She is a determined Spey caster too. Starting as a painting major in Vermont, she didn't know that she would be a world casting champion. She was a visual artist and proceeded to get a degree in landscape architecture. Whitney is a six-time Spey-O-Rama casting winner. She currently holds the world record for the longest cast and the overall score.
How did her journey in casting begin?
It has always been her hobby. She spent lots of summers fishing off her grandparents' dock. She owned a hand-carved drop line and a sinker. However, while at Portland, Oregon where she had gone to practice architecture, she discovered that there was more to casting in her than just a hobby. Whitney got absorbed into the Alaska Rivers.
Her push to casting often
Whitney often stared at the waters as she lay on her stomach. She wholly loved the tranquility and solitude that came with having to catch anything with life under the dock. Another major push was her wanderlust and immense love for life, nature, and adventure. She was getting exhausted by her day job in front of the computer.
Which fisherwoman is she?
Gould focuses on fishing with a two-handed rod. She fishes for any species.
Businesses, Involvements, and Website
Whitney is the owner of whitneygouldspey.com, a website that documents her excursions, sells her skills, inspires, and teaches so many anglers how to advance their casting skills. As a means of earning a living, she has travel agencies in Oregon, Fish Head Expeditions and Fly Water Travel. Besides, she is a certified two-handed casting instructor and leading guide. She doubles as the Simms Guide Ambassador.
Family?
Whitney is in a commitment with a fellow Spey casting guru, Mike McCune.
How Whitney Gould advocates for Casting
Wading with Whitney supports various programs. Among them are Trout Unlimited, Caltrout, Mike Cummins, the Red Shed Shop's 4H, the local children's program, Wounded Warriors, Casting for recovery, Native Fish Society, and Fly Fishing Federation. She has a major concern about healthy fisheries as the future of the casting sport.
Favorites
Favorite species: Trout, steelhead, and salmon
Favorite fishing method: Fly fishing a two-handed fly rod with a swing fly
Favorite lines: RIO Intouch Long Head Spey, RIO Skagit Max, and RIO Scandi
Favorite knot: Basic clinch with riffle hitch or a non-slip mono
---
8) Paula Shearer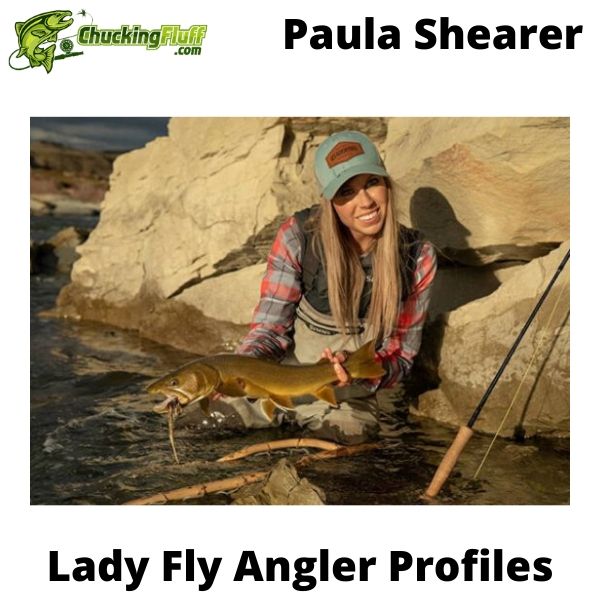 Guiding on the Southern Alberta streams and the Bow River, she has gained experience that has seen her earn certification to be a holding hand to those who intend to ace their skills in casting. She has hosted the Fly Nation, Fly Fusion TV, and In the Loop that air on WFN. She has featured in many fly fishing films and her publications on popular magazines.
Let's take her back to zero
Paula began fly fishing while still very young. In her late teens, she began frequenting the Bow where her love for rods and reels became intense. Her passion took to the light and most of her time, she spent drifting the Bow. Her dad used to take her fishing. At 8, when her dad was casting dries, she decided to practice casting.
Her Inspiration as a guide
Paula Shearer finds fulfillment in being able to help others experience the enjoyments of getting outdoors and specifically on the water. For people, Joan Wulff has been a good one for her. Most of her friends too have been an inspiring force.
Involvements, Businesses, and Websites
She is the ambassador of Water Masters Boats, Costa Sunglasses, RIO Products, G.Loomis Rods, Clackacraft Drift Boats, SIMMS, Tailwaters Fly Fishing, and Yellow Dog Fly Fishing Adventures. Paula owns the psontefly.com website where she shares her fishing expeditions and sells her skills through offering guided fishing trips at a great deal.
Favorites
Favorite species: Redfish, Bonefish Steelhead, and Local Trout-Rainbow, Brown, Bull, and Cutthroat
Favorite fishing method: Getting the fish to eat on the water surface
Favorite line: RIO InTouch Perception
Favorite knot: Loop knot
---
9) Taylor Joyce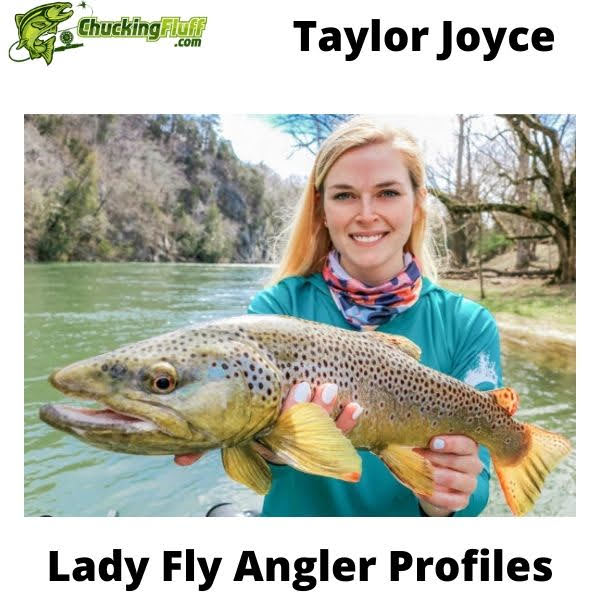 She is just a simple girl with her raft. Joyce was born and grew up in North Carolina. Earlier, she spent most of her time in the mountains. Most anglers will identify her by her love for trout. Because of this, she has a shop that sells trout sticker designs on etsy.com.
Once upon a time…
There was a student at Appalachian State University. She had been there for 2 years and decided to move. Joyce Taylor shifted to East Tennessee State University to complete her undergraduate course in Advertising and Public Relations. She wanted to be nearer to the South Holston and Watauga tailwater. Her love for trout fishing began manifesting. After graduating, she knew that her heart lay more on the fly fishing side than in front of the computer on her desk.
Any Involvements, Websites, and Businesses?
A girl needs her own coin. She works for a marketing agency full time. Taylor is the owner of taylorjoyceflyfishing.com. The website speaks more about her, the designs she creates, fishing spots that she has been to and more that are on her bucket list, and lessons on fly fishing. She uses the site to showcase and market her designs that she also sells via etsy.com.
Besides blogging, she has partnered with Gobi Straps, a company that uses sunglass straps and bottle openers to make superb accessories for your boat rides, barbeques, brunches, and beach days. She is also the ambassador of Douglas Outdoors Fishing Rods.
Has it been all smooth?
Not quite. After Joyce left to East Tennessee, the hurdles began being evident. It was very difficult for her to find information about areas to fish. She is among the women that have faced gender bias in the sport. Fly shop attendants were unapproachable. Even when she thought she could rely on online information for help, there was minimal assistance.
Her inspiration
What inspired her was part of a way to get solutions to the challenges she was facing at that time. Still, in 2014, she decided to get out there and find out these fishing spots for herself. Whether big or small, she documents them on her blog to date as a way to avail more helpful and valuable information that any novice or amateur would need.
Favorites
Favorite fly: Dry flies
Favorite rivers: Tailwaters
Favorite zone: East Coast
Favorite Style: Floating
Favorite species: Brown Trout
Favorite rod: Douglas Outdoors
Favorite pack: Patagonia Sling Pack
Favorite sunglasses: Maui Jim
Favorite waders: Simms Fishing
Favorite vest pack: Simms Fishing
---
10) Shyanne Orvis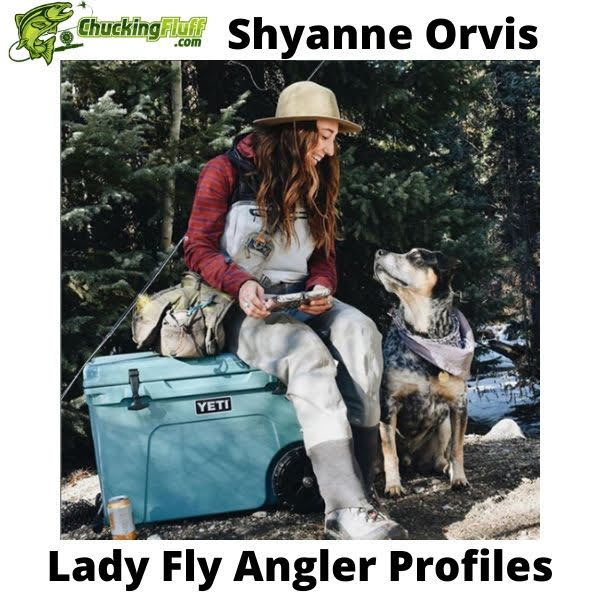 Is there a relation between her and the Orvis Company owner? Sure. Shyanne is a descendant of Charles F. Orvis's brother, Rodgers. Until now we can say that the fly fishing sport runs in the Orvis family. She isn't a part of it by the family name though. Her deeper love for the woods and rods does set her apart from other females in her line.
How did she fall in love with the waters?
Shyanne was a wood lover and often did what boys her age did. Still, as little girl, her parents tagged her along to their fishing trips on weekends and she'd only watch them hook fish. Her dad owned a fishing business somewhere on Lake Michigan-not Orvis. Her grandfather introduced her to the sport but she didn't like it as much. At 12, when in high school, things changed after meeting a friend who often went fly fishing with her family. She was Shyanne's inspiration.
Businesses, Dealings, and Websites
Shyanne is a famous fly fishing guide in the areas of Basalt, Colorado. As part of her career, she spends the summers on the rivers guiding her clients. Through her website shyanneorvis.com, she holds guided trips, hosted trips, and events. She also shares a lot of information on fly fishing on her blog and her social media platform. Until now, she commands a large following on Instagram because of the positive influence she has on those looking to join and learn more about the sport. She guides through her Ladies on the Fly clinics.
She is an ambassador for the BUFF Company that manufacturer men's, women's, kid's, and dog's wear through recycled material.
Does she champion for the sport in any other way?
Selfless Shyanne is a great mentor through Fish for Change which is a non-profit organization. It offers international angling programs to students while taking part in the local initiatives like Mangrove restoration, local education, and conservation programs. She sets time aside to give to the community at no pay.
The challenges
First, her family thought she was overambitious with her dream of fully exploiting fishing. They all thought that her dreams will never manifest. She got minimal moral support.
Becoming a female guide where men were the dominants was difficult. They took her for a serious joke and the negative remarks were too intimidating. Not to stop her from proving her worth to them though.
The counter methods
Of course, she had to prove her family and all men that saw her futile efforts wrong. Majorly, she says that perseverance through the harsh and negative remarks did it. She put in efforts ten times more and the two paid off.
Favorites
Favorite rod: Wade rods Dragon glass 3wt
Favorite sling pack: FishPond USA
Favorite backpack: Patagonia
Favorite waders: Simms fly fishing
---
11) Marina Gibson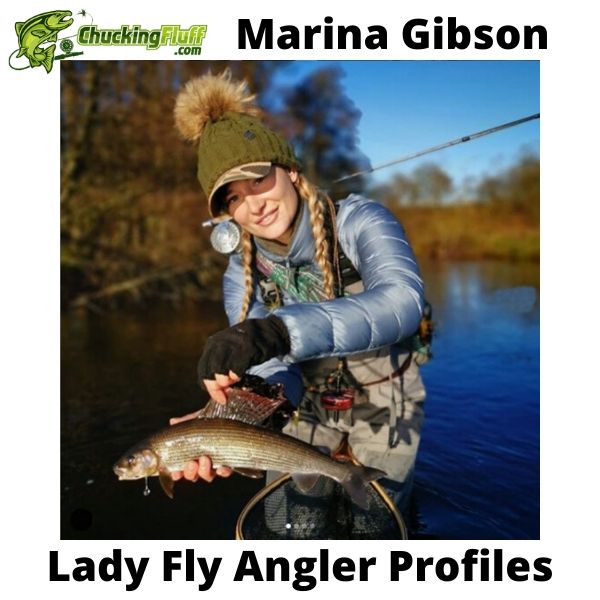 A teacher, a cook, and a lover of water life, Marina Gibson has seen herself grow from a little girl with rods and hooks to a full-grown angler with a pack of goodness that has seen her do more than you can imagine. She is the current holder of the UK records for the Ladies 15.1'' Spey distance going up to 79.5m. She took part in the world championships in 2018 for the first time and came fourth in Women's Spey events.
Back to her fishing roots
Her childhood was blissful with her mother Joanna Gibson, a talented angler holding her hand so that she could take after her. It has come to happen. She loved to chase sea trout, trout, and salmon. Her family often explored Scotland in the school holidays and her passion for angling grew. For her, as she states on her website, fishing is an unreachable itch. It is an obsession. Why? It is a complete part of her.
Businesses, Involvements, and Websites
She is the official ambassador of the Mighty Orvis, Fishing for Schools, and Atlantic salmon. More so, she is a Fly Fisher International Instructor (CI) and a coach at the 1st4sport Level 2. Often, she is a freelance writer for blogs and magazines and has her website marinagibsonfishing.com where she shares her expeditions. Marina hosts fishing trips worldwide and also guides in the United Kingdom. She has been attending shores works on stands. Marina has been doing demos for over two years showing off her casting skills to those in attendance. In fact she can cast a fly line without the use of a rod no mean feat by any standard.
She is the founder of The Northern Fishing School in Swinton Estate that teaches how to guide, fish, keep fit, cook, and also sell stuff whose part of the proceeds go to nature conservation.
How she advocates for the sport
She is part of the Ure Salmon Group committee group where she voluntarily supports and helps in fundraising for conservation and hatchery projects on River Ure.
Favorites
Favorite technique: Spey casting
Favorite species: Tarpon fever
Favorite Waders: Orvis Women's pro
---
12) Rebekka Redd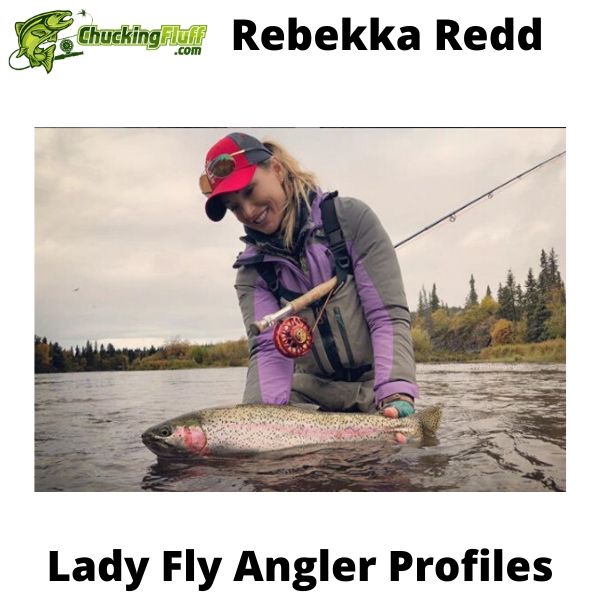 A keen look at her Linkedin profile, Rebekka is Thomas and Thomas fly rod's advisor. This is HUGE. She goes after fish in all places around the world. And is an acclaimed fly angler always on the travel? Striking over two decades while angling, this beauty has a lot to tell on her site and social platforms about her angling experiences. If she isn't fishing, she is taking pictures, writing, bottle washing, cooking, guiding, and ranch handing, or painting her passion which is fish. She has featured on some of the popular and bestselling magazines like the Men's Journal, and Women's Health.
The start
She says in an interview that she began fly fishing as soon as she could walk. Water and fish fascinated her and her paranoid parents had to do what they had to do for her safety. They strapped her on her harness. Once she gained some independence, she often visited the creeks looking for tadpoles, minnows, and frogs. She'd pester her elder brothers to bring her along on their fishing outings at 8. At 14 she had her own fly rod.
While at work as an exercise psychologist, she discovered she was unhappy. She went on to fly fish and it was therapy for her. She pursued her passion for photography, filming, and angling.
What is fishing for her? 
Her passion. It is her gateway to freedom and that she is currently living her life the way she wants to.it is an adventure and not only with intentions of catching fish. Landing a fish is just a bonus but the exploration part of it is the major deal.
Dealings, Businesses, and Website
Redd is the owner of rebekkareddflyfishing.com, a website where she shares lots of posts, articles, and photos on fly fishing. She speaks more about her gear guide and lodges. It is a whole lot of learning time on this site and you should check it out. She has directed and hosted numerous winning angling TV shows and series on different channels.
She is an ambassador for Ross Reels/Abel Reels, Thomas and Thomas Fly Rods, FishPond, Pelican, Mustard, Realtree, and Cortland Fly Lines.
Challenges as a traveling angler
Majorly, environmental misuse and the intense pesticide usage. She says that it is done without official monitoring and even if complained about, nothing is done.
Agriculture runoffs into the water systems, intense plastic waste, mining issues, killing sharks and dolphins for fins, rainforest destruction, overfishing, and such staff are a threat to the sport.
Her role in championing for Fly Fishing
Rebekka is the founder and director of a non-profitable animal rescue organization. She takes part in conservation, protection, and education of the public on conserving wild fish through her locally held steelhead association. She is also an active member of the Wild Mustang Foundation, Trout Unlimited, and Canadian Horse Coalition.
Redd is the founding ambassador of Project Healing Waters Fly Fishing and Able Women Fly Fishing Team. She founds and heads the North Shore Women's Fly Fishing Association. She also hosts and guides trips.
Favorites
Favorite species: Northern Pike, Peacock Bass, and Smallmouth Bass
Favorite rod: Thomas and Thomas Exocett SS 10wt for pike, 7 or 8wt for walleye
Favorite reel: Abel and Ross Reel large arbor
Favorite line: Cortland WF Floating lines
Favorite flies: Walleye, suckers, whitefish, small pike, streamers, leech patterns, lefty deceivers, Dahlberg divers, flash tail whistler, gurglers, frog poppers, and mice
Favorite fly sizes: 4 to 12inches
Favorite technique: Cast to structure
Favorite light jacket: Patagonia Puff
Favorite hat: FishPond USA
---
Conclusion on Lady Fly Anglers
It is evident that fly fishing has majorly been a male-dominated sport since its existence. Towards the competitive side, there is a lesser number of women now but more than what was there before. Most ladies accompany their buddies or folks to the rivers. Very few hook on a fish and the least number is openly taking part in challenges and contests. Proudly, there is a set of ladies from different parts of the world who are beating all odds to stay true to their angling passions and careers. You might wonder how some manage a plateful of tasks, personal life, family, fishing, and other businesses. If you love it, you gotta do it.
Most of these fly fisherwomen haven't had it smooth with this sport. Not because it is boring. Angling has never been boring. Often, the spiteful and unnecessary remarks come top of the challenge list. Many male counterparts doubted their skills and worst online hate as they navigated through the pitfalls of social platforms. Normally, such occurrences can make you question your skills, worth, and abilities.
Back then, gear selection was such an intimidating task. Especially with all the shop staff were men. They'd take on a long hateful laugh once a lady walked in to fit and buy fly fishing gear and apparel. But did the fish run away from a lady's face and run to a man's instead? That looks silly now but was such a whole big deal years ago. The problem of ill-fitting gear was common. Though very uncomfortable and non-functional, women on a water mission didn't quit fishing because there wasn't anything fancy. As some waded out to go and respond to Mother Nature after several hours of fishing, it was a shame then to ease yourself as male anglers were watching. Men and their superiority had just reached the highest level of dominance. Today, things are a little different.
The women we have briefly written about in this post are generous. Most play a voluntary role in some organizations and clubs while others take on guiding and instructing. Currently, they are striving to break the barrier between males and females. It would be a great idea to have more female contests to bring out other female anglers who have been hiding because of 'what the male half will say.' Through this, the competitive circuit will grow tremendously. Above all nature conservation has been one of their concerns and undertakings. For the future to have a gender balance in the future, Mother Nature has to be respected. Whether male or female, an angler has a protective role.