Disclosure:
Just to be open and honest the buttons and links you click on in the website will in most cases take you to another website where you can purchase the products I am reviewing. As an Amazon Associate I earn from qualifying purchases.
August 1, 2022
Questions on Fly Fishing Flies – 40 Answered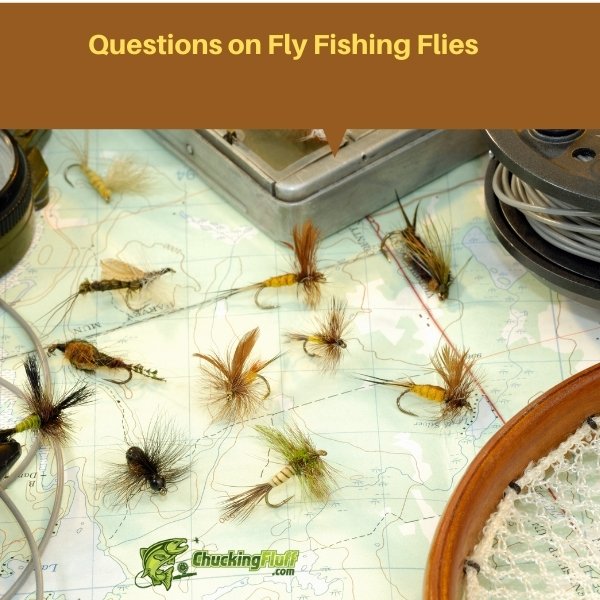 Fly fishing is a world that has opened up to many people.
A sport that was once only taken by the gentry is now for the masses.
To some, the sport of fly fishing seems to be a big mystery and one aspect of that sport is the flies themselves.
Which ones to use what type size color etc are all frequent questions that you will find in forums and social boards.
So we have put together this list of FAQ's that seem to be asked a lot and tried to answer them so the sport is not so confusing.
Let's go with our first question…
---
Q) How Do You Pick Flies for Fly Fishing?
---
Selecting flies is one of the inexact sciences you will come across.
The only way you will know that you have picked the right one is if you tie and cast it.
Overall, when picking an imitation, you want to pay more attention to the below factors:
Size – Try floats that are the same sizes as natural ones.
It could be a minnow, an insect, or whatever you are copying.
Movement – If fish are feeding on a specific thing, it is best to fish imitations you can manipulate in or on water.
The intention is to mimic their food source or match the hatch
Shape – Ensure to choose flies that match the outlines you hope to simulate.
Color – Also, duplicate their colors as much as possible.
Sometimes, fish aren't feeding actively or they could be feeding on things you can't see.
It would help if you fished attractor patterns instead of imitations.
Attractors never mimic a specific food source, instead, they suggest vulnerable and tasty things.
A perfect example is a woolly bugger.
It has a chenille body and a marabou tail.
The whole hook shank's length is palmered with a soft yet webby saddle hackle.
Woolly bugger's mover seductively through the water columns.
Depending on the color and size, it can be seen as an aquatic worm, leech, sculpin, crayfish, crane fly larva, stonefly nymph, hellgrammite, or injured baitfish.
Basically, these buggers look like delicious things to eat without necessarily being pigeonholed into a specific niche.
---
Q) How Do I Identify Flies for Fly Fishing?
---
Identifying various fly species is crucial for fly angling.
The most typical flies are midges that are common in freshwater, with some preferring saltwater areas.
It is vital to know how to identify the tiny bugs to help you fish the right type of pattern that matches your location.
To identify various fly species, check out characteristics that differentiate them.
For instance, if a fly resembles a mosquito, but is biting, these are midges.
You will spot them buzzing above and around your head in massive swarms.
If its wings stand straight to imitate a sailboat, high chances are that it is a mayfly.
Mayflies generally hatch or emerge at dawn and dusk (although, occasionally more).
You will spot trout feeding on things on the water surface slowly yet methodically – these are mayflies.
Caddisflies have wings folded roof-like over their abdomens when at rest.
Sale
Their wings resemble those of moths.
Most jointed antennas are longer with larger basal segments.
Stonefly larva is characterized by two claws after every leg, mature larva with wing pads, and abdomens ending in double long yet segmented filaments.
Adult stoneflies have wing pad shapes, gill position and presence, and labium forms.
---
Q) How Much Are Fly Fishing Flies?
---
Fly fishing flies are categorized into three broad price levels.
Prices vary depending on the material used, class/type of fly, and the labor that goes into tying the fly.
Averagely, fly fishing flies might cost between $2 and $3.
RoxStar Fly Shop Trophy Trout 24pk | Top Wet & Dry Flies for Trout. Proven Nationwide to Catch Fish! Tied in-House Never Outsourced! Proud Partner of Unlimited
✔️Created By Anglers For Anglers: RoxStar Fishing was founded by Mike James with the vision to bring back that old school quality & service that just seems to be missing. At RoxStar we take pride in every fly we make utilizing only the highest quality materials and That Hand-Crafted touch. We absolutely guarantee our quality 110%
✔️Fly Fishing Flies Picked By The Pros: This is hands down the most complete, well-thought-out fly assortment package on the market with the RoxStar touch of Quality. We've designed this trout fly fishing set for beginners and pro's alike. No matter where your fishing or what the conditions are, there is a wet or dry fly pattern in this set to catch fish!
✔️ You get it all Emerger Flies, Dry Flies, Wet Flies, Beadhead Flies Total 24 Trout Flies 1 Each: Dry Flies For Trout: #10 Grasshopper #10 Black Wulff #12 Blue Wing Olive #12 Adams #12 Parachute Adams #12 Elkwing Caddis Olive #12 Royal Wulff #12 Black Gnat #14 BWO Sparkle Dun #14 Ant fly pattern #14 Indicator kink hammer fly #16 Higa's sos fly #10 Muddler Minnow #18 Griffith's Gnat
✔️ Wet Nymph Flies For Trout: #14 Pheasant Tail Nymph #14 Prince Nymph #14 Prince Nymph BeadHead #14 Copper Beadhead #14 Hares Ear Nymph BeadHead #16 Caddis Pupa Olive Beadhead #16 Zebra Midge Black BeadHead #16 Zebra Midge Red BeadHead #10 Brown Stonefly #14 Frenchie Fly. This is an assortment of flies for fly fishing that you need in your fly box.
✔️ The RoxStar Guarantee : RoxStar Fly Shop offers that super quality you can expect. All of our Fly Fishing Flies are Tied In-House by professional fly tiers from hand selected premium material and tightly hand-tied on the sharpest Quality VMC, Mustad & Daiichi fly fishing hooks. We are truly committed to 110% customer satisfaction. So, If you are ever have an issue, you bet we will go above and beyond to make it right!
But, some varieties cost more.
Still, you can buy flies for less than a dollar, however, the quality isn't as desirable and durability is 50-50 compared to highly-priced flies.
Materials used to tie fly fishing flies vary greatly.
The material quality affects the longevity of your fly.
These range from shanks and threads to hair, feathers, and synthetic fiber.
High-grade materials cost more than generic options.
Flies made from rare materials like pheasant tails aren't cheap.
The cost of producing these flies varies too.
To produce one fly, the manufacturer will purchase the necessary materials and items.
These can cost $1 for each fly.
If you add labor and shipping costs, one fly can cost more than $2.5 to produce.
Even with the estimates above, you have not included the cost of fly tying equipment.
Fly tyers prefer buying fully-equipped fly tying kits to save on the individual cost of each item.
Some come with all the materials to help you learn how to tie flies, while others are pre-made with the necessary materials and instructions you need.
---
Q) What Kind of Flies Do Trout Eat?
---
Trout eat a wide range of flies from midges to mayflies, caddis, stoneflies, and hoppers.
These are broad categories of flies for trout, but I will break them down below.
Midge larvae are very tiny and fit on hooks from sizes 18 to 22.
It is best to fish these flies deep since they love living closer to the bottom, around and in mud and silt.
Use a small split shot of 8''+ to help it sink quickly into the water.
Good examples of midges trout eat are CDC midge pupas and zebra midges.
The CDC hatches at any time and you can fish it like emergers or, dead drift like nymphs in the surface of the film.
Most zebra midge larvae are black, gray, or brown.
Their lengths average 3-10mm and will fit a size 16 to 22 shank hook.
Most anglers underestimate fishing larva imitations and this costs them.
Mayflies are a common hatch on rivers and streams worldwide.
They are known for coming out slowly, and it makes them more appealing and vulnerable to trout.
Bring spinners, duns, cripples, and emergers when fishing mayfly hatches.
Parachute Adams are versatile dry flies and are tied using extra-fine hooks specifically for dry fly fishing.
12 Top Produce Adams and Purple Haze Parachute Trout Fly Fishing Assortment | Dry Flies
THE TOP PRODUCE ADAMS - The Adams fly is an effective attractor fly and works to imitate mayfly and midges all over the world
EFFECTIVE FISH-CATCHING FLIES - The Purple Haze is a popular dry fly across the US and around the world
PERFECT GIFT - great fishing gift for your favorite angler or fisherman
CATCH FISHES ALL-YEAR LONG - Always carry the assortment with variety of sizes, you'll prepared for all conditions
VERSATILITY - Hand tied flies range from #12 to #14
It is best to fish them on snags, logs, rocks, and low-hanging branches.
Comparadun pale morning duns are another popular pattern among dry fly anglers.
Caddis only thrive on high-quality waters on streams and rivers.
Excellent examples are Goddard and elk hair caddies.
Stoneflies are a key component of trout's diet and these fish eat stonefly adults in winter and spring before mayflies emerge.
Some examples are Kaufmann stimulators
Hoppers are fantastic bait for trout, especially from mid-July to August.
The good ones are chubby Chernobyl and Dave's hoppers.
---
Q) What Does a Copper John Fly Imitate?
---
Copper John flies nymphs imitate stoneflies and mayflies, but it can resemble any aquatic insect, especially if you tie it with the right wire color.
Trout love these tiny bugs and feed on them in spring summer and fall during hatches.
When fishing the hatch in spring, bring several Copper John nymphs.
They are excellent in two-fly setups, where the Copper John is at the end.
It also applies in three-fly setups, but the most recommended is the two-fly setup.
They are very good when nymph fishing as the copper wire helps get them down quickly.
---
Q) What Size Fly Should I Use for Trout?
---
The best size of fly for trout is 12 to 16, but there is so much to these numbers than you think.
Before determining the correct size of fly for catching trout, there are four crucial aspects to consider.
These are the types of insects in, under, or on the water, your primary goal, the time of the year, and what trout are doing.
When it comes to the time of the year, the winter months have no prolific hatches.
Most of the insects available on rivers and streams are midges and tiny insects.
The commonly used sizes, in this case, are from 18 and below.
Terrestrial insects thrive in summer, meaning you have to increase your fly sizes.
Winter months will force an angler to fish small flies, while spring and summer allow you to explore larger flies.
The type of insects determines the size of flies to fish.
The insect types go hand in hand with the time of the year as discussed above.
Start by finding out the current insects on the water at the time when you are fishing.
Most if not all of them fit in a particular size range.
This will help you adjust the flies in your box accordingly.
Insect prevalence depends on the geographic location.
If you spot a mayfly around you or a nymph beneath a rock, you can approximate the sizes the fish could be looking for.
Your goals on the water on that day matter a lot.
If fly fishing, you can decide to try out European nymphing techniques.
It means you will chuck larger streamers for monster fish.
These are the types of goals I am talking about here.
Some anglers decide to use large searching flies.
These don't match with insects on the water and could be larger flies to make a fish strike to help you know their exact spot.
You can use large nymph patterns of size 10-12 for this.
If you are targeting trout on dry flies, depending on the season and insects, your only option might be tiny midges in sizes 20-26.
They could be smaller than this or you can chuck size 2 hoppers.
You can choose the best fly sizes depending on the fish species you want to catch.
Fish behavior will help you know the right fly size to use.
Some species can be difficult and others spooky.
You can match the hatch and get the perfect fly size for insects around, but fish are not jazzed.
In such scenarios, adjusting fly sizes too small or big is the only solution.
---
Q) When Would You Use a Size #24 Fly?
---
You can use size 24 flies when fishing midges to guarantee you catch all year round.
The situations to use flies this tiny vary.
They might yield today and fail tomorrow.
The size works if you are targeting trout and want to try some dry flies.
Spring is a good time to size 24 midges before caddis start to show and trout begin to feed on large flies.
Use these fly sizes mid-morning and throughout the day if the weather is perfect.
If you are in the furthest east, try BWOs in size 24 and bring your magnifiers as they can be difficult to tie on.
---
Q) How Big Is a Size 16 Fly?
---
A size 16 fly might be big in one fly pattern and tiny in the other.
For instance, a deer hair caddis in size 16 can fool as many trout as possible than the same size would in a blue-winged olive hatch.
Fly size is often overestimated.
Real insects prowling among flies anglers tie for imitations become tinier than they appear.
Even if you view them when perched on a fingertip near your nose, you will be shocked.
It can cause initial distress if you think a fly of size 16 is big and 18 or 20 smaller.
A fly size is referred to by a specific number denoting the hook size on which you tie the fly.
For most flies for catching trout, the bigger the number, the tinier the fly.
For instance, an Adams in size 18 is tinier than the same fly in size 12.
---
Q) What Is the Difference Between a Wet Fly and a Dry Fly?
---
The primary difference between a wet fly and a dry fly is in their distinguishing names.
A wet fly sits under the water and could be an emerger, a nymph, or a streamer.
It imitates hatching flies or different types of large bait.
A dry fly sits on top of the water and resembles a full-grown fly, insect, or rodent.
There are specific times to fish your streamers.
Trout eat on streamers even in the middle of hatches or hot days.
The secret is presenting them well.
Streamers will imitate crawfish, minnows, and other baits.
Be ready for more aggressive strikes when streamer fishing.
Use nymphs at dawn for more success.
Emergers are perfect for use before hatches.
If fish tails are visible out of the water, they are eating emergers.
Dry flies are the best when you spot trout on the surface or when bugs are hatching.
Ripples on the water surface mean that trout are eating what is on top of the water.
Such hatches occur during sunrise or sunset.
If you see flies flying over the water surface, be ready to entertain yourself with dry fly patterns as the fish have fun.
---
Q) Do Fly Fishing Flies Float?
---
Not all fly fishing flies float.
Of all of them, dry flies are designed to float on the water surface.
This characteristic comes from their name –dry, which means that the fly generally needs to remain dry unless otherwise.
Flies that float excellently have high chances of being eaten by fish than those that sink or drift along under the water surface.
To ensure that dry flies float well, they need to be made from the correct material before being tied together.
Some of the best materials tyers use to make proper wings for flies that can float are bucktail, deer hair, feathers, and elk hair.
You can add floatants to your flies to help them float.
Flies that float, which are essentially dry flies have straight wings around the hooks that link to a certain material that allows the fly to cast out on the water surface without sinking instantly.
While dry flies are designed to float on the water surface, they inevitably sink under the water surface or drift along it.
---
Q) Are Streamers Wet or Dry?
---
The general rule of thumb is that any fly designed to sink or fished below the water surface is called a wet fly.
Wet flies are available in different varieties and styles.
You can also fish them in various ways.
Streamers, nymphs, and traditional wet flies are the three primary categories of wet fishing flies.
When you hear the word wet fly, it refers to the traditional designs of wet flies tied from 1800 to the 1900s.
Anglers fish streamers by casting them downstream, upstream, or across the stream.
Retrieves are slightly faster and often jerky but, it will depend on the stripping method you use.
In most situations, streamers are meant to simulate baitfish and minnows.
It means that they swim slightly faster though irregularly than usual wet flies meant to imitate the slow-moving insects in their hatching stage.
You might spend all your lifetime perfecting your casting method until you are precise like a specialist.
I have met pros who make casting streamers appear very gorgeous and simple.
If you are new to streamer fishing, it won't be practical to use the double haul cast or overhead casting style because of their substantially large size.
---
Q) What Size Flies for Largemouth Bass?
---
For largemouth dinkies, wet flies in size 12 catch ultra-cautious ones that can't budge for larger flies.
Small flies can be perfect for bass, and if they do, it is because they are routinely pestered by fly fishers into developing some discriminating tastes.
But, it depends on the type of flies you are using.
For instance, bass poppers in size 1/0, especially green, are a perfect one for largemouth bass.
Weighted woolly buggers in size 4 or 6, in olive or black work excellently.
Freshwater Clouser minnows in size 4 or 6 have proven to yield if they are white or chartreuse.
Barr's meat whistle in size 2 does wonders while crayfish patterns like the Cohen Jiggy Craw in size 2 do the job.
If you get a gulley ultra-craw, size 1 should be your ideal choice.
---
Q) What Is the Best Floatant for Dry Flies?
---
The best dry fly floatant will depend on the type of dry flies you have, the materials they are made from, and what species you intend to catch with these flies.
A dry fly floatant is a blend of a carrier and a wax in the liquid state.
Anglers and tyers use it on dry flies to prevent them from absorbing water and improve floatation.
Floatants have waxy substances that coat the dry flies.
The lighter liquid in them is the carrier for the wax that later evaporates.
This liquid works similarly to a paint thinner when mixing house paint.
There are different types of floatants that you can buy.
Gel floatants are the most typical and oldest in the fly fishing market.
They are best used as pre-treatments.
You need to use it on a dry fly without any moisture.
If it gets into contact with moisture, it worsens the fly and makes it sink faster.
It is best to remove any excess gel from your dry fly before fishing as extra weight can force it to sink.
Powder Shake floatants are best for use after a dry fly has become too wet.
These are also for larger flies since they are easy to apply.
You need to keep re-applying the powder after using the dry fly for a while since it is only a temporary fix.
Brush-on floatants last through many casts but are ideal for small flies only.
Sale
The application process is quite time-consuming.
Spray-on floatants are increasing in popularity.
You can use them for pre-treatment or after your dry fly has become wet.
It works best on large flies since the coating is even than in small flies.
Paste floatants almost have the same composition as gel floatants but are thicker.
These are perfect for larger dry flies and last longer than other types of floatants.
Dip and dunk floatants are new in the market and combine various chemicals which make them fantastic for pre-treatments.
They work best when the fly is totally dry.
---
Q) Should I Use Dry Flies When Fly Fishing?
---
Yes, you can use dry flies when fly fishing, but it will depend on the location, time you are fishing, season, and the species you are going to catch.
Fly fishing flies fit into six categories.
Before deciding on dry flies, you need to make the perfect matches.
It is advisable to consult fly fishing fly flies guides to match true variations of the insects from larva to the adult stage for the best dry flies.
Dry flies and surface flies match adult insects since they emerge from the water.
These also represent other sources of food that fall into the water like mice and grasshoppers.
Dry flies are perfect for bass, panfish, and trout.
It is thrilling to watch fish breaking the water surface to take a dry fly.
Nymphs imitate young insects in larvae form, especially those that live in water.
These are fished on the water or near the bottom of rivers and lakes.
Nymphs are effective for steelhead, panfish, trout, and salmon.
Streamers resemble baitfish, crayfish, and leeches, which are fish's essential food sources.
You will fish streamers through the water column in rivers and lakes.
You can catch almost all types of fish using streamers.
Wet flies are tied to imitate insects swimming into the water surface.
These are effective for bass, panfish, steelhead, trout, and salmon.
Salmon flies are for Atlantic and Pacific salmon and steelhead.
They don't imitate specific things but are for triggering aggressive responses.
Saltwater flies represent most food sources in the ocean, ranging from shrimps to crabs and the patterns can work for everything including tarpon and bonefish.
---
Q) When Should You Fish Dry Flies?
---
The best time to fish dry flies is an hour after sunrise and another hour before sunset.
There are so many factors like weather patterns, hatch patterns, and diurnal cycles to consider.
Regardless of where you are in the world, we all share a diurnal cycle. Where light comes up from the east and sets in the west.
Most fish are active hours to dawn and dusk.
Most anglers encounter the most fish activity early in the morning, and historically, this is considered the perfect time of the day to cast.
Fish start moving towards the water surface one or two hours before the sun rises.
At this time, they are feeding on bugs on the water surface and fly anglers love taking advantage of the burst of activities at this time.
Most fish are inactive in the late mornings and midday.
The late afternoon gives more chances to anglers since the sun is descending and is time for a second burst of activities from fish.
The burst lasts until 7 pm but this depends on the fish species you want to catch.
Trout are less weary when there is heavy cloud cover and can be easily tricked.
They start feeding in shallower waters when it is partially cloudy because of the reduced risk of attacks from predators.
This is the same case for days when there is light to no clouds and the sun is warming the environment.
So, if you are dry fly fishing, target such times and waters.
Fish are active in the full and half-moon since light makes them vulnerable to anglers and other predators.
---
Q) Do Trout Like Wet or Dry Flies?
---
Trout will eat a wet or dry fly depending on the time of the day, the weather conditions, the season, and if the fly is presented in a luring way without spooking the fish.
When trout are in the water film and swimming deeper, especially when the outside temperatures are higher and the water is constantly warming up, they will feet on wet flies.
But at dawn or dusk when the temperatures are moderate, these buddies will be feeding on the water surface, especially on dry flies.
Most novices at fly fishing start with wet flies since they are very easy to cast.
When using dry flies for trout, you need to be cautious and precise with your presentation for you to land a catch.
The presentation has to be the most natural so that the trout don't realize that the dry fly is a complete fraud.
It means that wet flies will yield for introductions since they are more forgiving.
Most wet flies for trout are heavier than dry flies and it can be difficult to tell if the buddy has taken the wet fly.
---
Q) Are Dry Flies Better Than Nymphs?
---
Most anglers fail because they choose one type of fly over the others based on their mood at that time.
This could lead to several missed opportunities in all areas.
It is advisable to fish a fly that best works for you, whether it is a dry fly or a nymph.
Your skillset also matters, but it is crucial to consider the weather and water conditions at that time instead of choosing a nymph or dry fly because of your impatience.
Nymphs are excellent if you understand your ways around a river or stream.
You should also be ready to take advantage of currents and deep pools where nymphs can sink and catch fish.
Also, most fish will be laying around overhanging branches and rocks in shallow waters as they wait for food to drift or float to them.
Lake fly fishing yields when using dry flies because you are targeting fish species high in the water column.
Fish will be looking for bugs falling from above or those that are swept away by the breeze.
Dry flies also work well when fly angling during hatches, especially where particular insects are emerging at different times.
It means you will be targeting certain fish feeding on insects at a particular time of the day and year.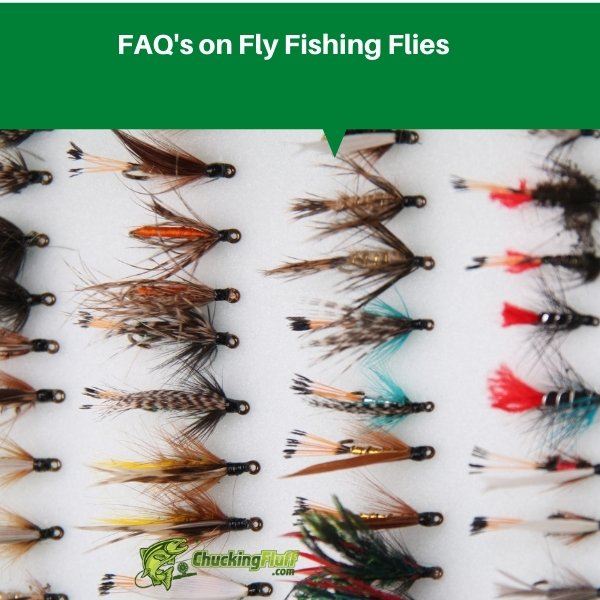 ---
Q) What Flies Do You Use for Fly Fishing?
---
Flies for fly fishing could be dry or wet flies and each has its advantages and disadvantages.
Before speaking to local anglers or visiting fly shops, you need to understand the common types of flies to expect on the water.
Dry flies are the commonest and mimic natural adult flying insects that land and float on the water surface.
Fish can spot them as they hit the water surface and swim up quickly to grab these flies since they find them appealing.
There are dry flies that match the hatch and resemble tiny insects hatched near the water and live around the same place like mosquitos, midges, or mayflies.
Terrestrial bugs are under dry flies too but are less common.
Since anglers are loving them, their popularity will soon increase since they think these flies are more realistic to species like trout.
They imitate bugs floating across or on the water such as hoppers.
Most artificial ones are made of foam to improve their buoyancy.
Attractors differ from typical flies since they don't resemble insects in whichever way.
They use brighter colors, long rubber pieces, and shiny material that move in the water.
Their primary function is catching fish unawares by attracting them faster before they realize that they don't resemble food.
Wet flies are a broad group for streamers and nymphs since they are meant to float below the water surface.
These mimic bait fish or drowned insects.
Wet flies are commonly used in freshwater areas and are the perfect bait type to lure trout.
Nymphs imitate the larvae of aquatic insects.
Besides, they float at the water surface or just below it.
Most anglers consider them the most successful flies for fly angling since many species feed below the water surface most of the time.
Streamers are sometimes called lures by fly anglers.
They almost resemble nymphs but are larger and almost imitate leeches or minnows.
---
Q) Can You Fish Dry Flies Year Round?
---
You can fish fry flies all year round but there are specific seasons known to be the best for this.
Spring is the best time to bring out your dries because of the blend of factors happening simultaneously.
Warm water increases fish metabolism forcing them to want to feed.
At this time, the waters are experiencing the first insect hatches of the year.
Spring is known for some overcast and cloudy days, lower sun, and enough water flow from winter rains.
Such factors work positively to provide perfect conditions for a dry fly angler.
Summer might be a considerable time for dry fly fishing because of warmer waters but low water levels, higher water temperatures, and brighter sunshine negatively affect fish.
Autumn sees rains refreshing the summer levels and the light levels reduce.
The dry fly angler has a small window of opportunity before the end of the season.
Dry fly fishing in autumn can be the same as spring for a few weeks.
Fall can be productive because of the crisper nights and shorter days that turn anglers' thoughts into hunting monster trout.
Also, streams and rivers are less crowded at this time and the temperatures are cool.
Fish will be feeding later in the day and you can sleep in.
In the early fall season, head out from dawn to noon since these hours have the best dry fly action.
---
Q) Do Dry Flies Work in the Morning?
---
Dry flies work well in the morning, especially very early.
Early morning is when most dry fly fishers notice higher activity that is why it is considered the best time of the day to fish these and other flies.
Fish start moving upwards towards the water surface one or two hours before the sun rises.
They will be feeding on insects that are on the water surface at this time.
If you are a novice yet keen enough, you will know that dry flies are the commonest floating flies.
If fly fishing you want to maximize the burst of activities and cast your dry flies.
Fish will remain active the entire day but early mornings are the best.
Late mornings don't offer as many opportunities as dawn.
The sun rises and continues to warm the water and surrounding environment.
Some fish species like trout become inactive and prefer to swim deeper.
At this time, there is little to no activity from most fish.
Regardless, some species will be active throughout the late mornings and early afternoon.
---
Q) Can You Fish Wet Flies on Floating Line?
---
You can effectively fish wet flies on floating lines.
Floating lines without split shots might suffice if fish are active and biting on a wet fly or streamer, especially, if you are combing shallower water.
It is best to adjust the weight of the sink tip so that it matches the current speeds.
Obviously, you will use heavier grains for massive waters and faster currents.
When the wet fly hits the water surface, it momentarily sinks while the hackle sags and then rises as trout feed on it.
If used in this manner, the fly is said to imitate a baitfish or emerging insect trying to run away from under the water surface by swimming up to a safer spot.
---
Q) How Can You Tell Nymphs from Dry Flies?
---
Dry flies look like adult insects and have special material designed to help them float on the water surface.
These materials are hair, foam, and stiff feathers referred to as hackles.
Dry flies are tied with moose, deer, or elk hair with hollow fibers to improve the buoyancy of these flies.
Wings like those on elk hair caddis help them to fly and remain above the water surface.
Some haired patterns are stimulators, royal Wulff, and Comparadun.
Foam flies are designed to float.
The foam has tiny air pockets to allow the dry fly to float all its life.
Some examples are beetles, ants, grasshoppers, and chubby Chernobyl.
Feathers often used on dry flies are from old roosters.
These are bred for a very long time and their feathers are stiff yet barbed (you can think of them like raw spaghetti).
Their individual strands help them to stand on the water.
You can wrap the feathers vertically along the fly's hook shank or at the bug's thorax.
Horizontally around a parachute or post also works.
The commonest flies are brooks sprout, renegade, Griffith gnat, and parachute Adams.
Nymphs imitate immature phases of baitfish or insects and are meant to be sub-surface and sink.
Generally, they are wingless and sometimes have beads or added weight.
Nymphs are grouped into beaded, non-beaded, and Euro nymphs.
Non-beaded nymphs are the commonest and simplest.
These work well in high-pressured places where fish species are careful of flashy things.
Beaded nymphs have a bead close to the hook's eye.
It increases their weight.
Euro-nymphs are heavily-weighted nymphs with bead heads and ride upside down under the water.
---
Q) Are Nymphs Wet or Dry Flies?
---
Traditionally, nymphs are wet flies.
Wet flies are referred to as any fly that is fished under the water surface.
Nymphs mimic the eggs, larva, or pupa lifecycles of various insects.
They can also represent sow bugs, scuds, annelids, and eggs.
An entire nymph is considered a wet fly but in a real sense, it has no extra material tied to it for wings like in wet fly patterns.
Dry flies sit at the top of the water surface and mimic adult insects or those emerging to fly off the water surface.
These are extremely lightweight and won't break the water's surface tension.
Dry flies create typical ripples to attract different fish and hardly disturb the water surfaces as wet flies do.
Fishing a nymph is easier than a dry fly for novices.
The latter needs you to learn how to cast properly and this can be a daunting process.
When fishing nymphs there is some time between the bait hitting the water surface and the fish noticing it.
Most often, fish will be deeper in the water to notice nymphs and won't be spooked by poorly timed casts or splashes.
---
Q) Can You Dry Fly Fish in Winter?
---
You can effectively fry fly fish in winter.
Most anglers often overlook the hatches but they are some of the most productive and exciting.
The trick is to carry a nymphing set up alongside a dry fly combo so that you can use the former to keep yourself busy as you wait for dry flues to show up.
Watch out for the rising winter trout and you should be successful if you know how to maneuver the cold weather.
Dry fly fishing can yield in winter but you will be better off nymphing or streamer fishing if you are impatient.
For blind casting dries in winter, go for renegades, Griffith gnats, and attractors such as BWO and midge patterns will do.
Avoid throwing small single midges when fish aren't feeding since this won't induce strikes.
If you live in a state where winter is slightly warmer at 45 degrees or more, you might see occasional LBS and small caddis hatches.
Dry fly angling in winter can be difficult yet rewarding. Finding hatches is sporadic, but if you are knowledgeable of the tactics and timing, you can play the odds to favor you.
---
Q) Do Dry Flies Sink?
---
Dry flies are designed to float on water but they sink when saturated with water.
To ensure that they remain afloat, dry them completely using a desiccant then apply a good floatant gel.
For stubborn dry flies that refuse to float, change them.
Dry flies float because they have small air bubbles trapped bird feathers and a dubbing material for buoyancy.
If such a fly is saturated with water, it won't float.
Some dry fly tying materials float better than others.
It can be daunting to force an elk hair caddis to sink since the cork structure in the elk hair is initially meant to be buoyant.
Some feathers have incomparable water-repelling capabilities.
A good example is the CDC located on a ducks preen gland.
Fly anglers prefer CDC dry flies for their life-like presentations and buoyancy even in the most unstable and challenging waters.
Other fly patterns use stiff-fibered synthetic hackles or foam bodies to help them float.
The ability of a dry fly to remain afloat isn't only because of the material tied to it.
Turbulence and water flow determine the ability of a fly to float.
Water has a natural surface tension that acts like a barrier and prevents light objects from sinking.
Calmer and smoother flowing parts of a river are best for stress-free dry fly fishing since the surface tension is intact in the entire flow.
When the surface tensions of fast-moving waters and turbulent riffles are greatly reduced, you might not successfully keep dry flies on top of the water surface regardless of the type of feathers and hair you use.
---
Q) How Do You Dry Fly Fish on Stillwater?
---
When dry fly fishing on Stillwater, the most important thing to do is read the water.
O rivers and streams, there is so much you can see unlike in Stillwater.
Such areas have so much going on with very complex eco-systems.
The easiest way to find where fish cluster on Stillwater is by finding shallow water, weed beds, drop-offs and inlets, and rocky shorelines.
You are the drift when fishing on Stillwater.
You want to use flies that mimic the behavior of the fish you want to catch. Mayflies dance on the water surface while bouncing up and down unlike caddis flies that skirt and skim along the water surface.
Fish can take static spinners but you can try damsel flies, pheasant tail nymphs, bird nests, and callibeaetis.
Most anglers are successful with dun patterns and twitch their lines or use slow strip retrieves.
Mayflies, caddis, and midges are the best dry flies for lake fishing in summer.
But, hoppers, Griffith gnats, Adams, and duns work well too.
Timing is crucial and most importantly, be in the right place on the Stillwater body you are fishing.
---
Q) How Do You Fish Nymphs in Lakes?
---
Fishing nymphs in lakes needs you to use finer leader since educated fish are shy of lines and almost uncatchable if using heavier leaders.
Large lakes have hatches of huge buzzers which you can best match with nymphs of size 10.
You will need smaller imitations for smaller lakes and should range from size 14 to 18.
Experiment with various presentations until you get the perfect method for your lake.
Straight lines are a fantastic option when fish are slightly deep and you can't see them feeding on the water surface.
Be slow with your long leaders and allow the nymphs to swing while avoiding smash takes when the rod tip is high.
Bunging is great for fish at a static position or longer ranges.
You can fish finer leaders with this method but smash takes aren't a concern.
Fish lighter setups and keep your patterns as simple as possible.
---
Q) How Do You Fly Fish with a Nymph?
---
Fly fishing with nymphs is considered one of the most challenging techniques.
You need to be closer to the bottom to imitate a nymph properly and fish love to be in the same position since the water at the bottom moves slower and they are using very minimal energy.
Do away with tapered leaders when fly fishing with nymphs because the weights of these flies will turn over your leader.
Your nymphs should be well-weighted to help them get to where the prey is.
Another trick is to ring floating strike indicators but you might have to mend the fly line to avoid drag.
Ensure your indicator is drifting at the speed of the current, not slower or faster.
---
Q) How Do Fly Fishing Flies Work?
---
Fly fishing flies are man-made yet very realistic looking and work by imitating baitfish, insects, and other aquatic life often used as bait.
These are made to resemble the natural food of bass, trout, and other fish species.
Fly fishing flies work to help anglers catch medium to large fish in big volumes.
The flies are made from artificial materials like fur, feathers, and hair and are attached to hooks.
You can see that these are specific materials.
They help trick fish to think they are real baitfish, insects, or aquatic life.
There are different types of fly fishing flies you can use from dry flies and streamers to nymphs and terrestrials.
Each type of fly serves its purpose and works differently from the other.
---
Q) How Do You Make Fly Fishing Flies?
---
Some anglers prefer to make their fishing flies instead of buying ready-made ones.
You will need the necessary tools and materials and a working surface.
Some of the materials you need are vises, hairs, wool yarn, feathers, beads, form, and more.
Before that, you need to know the types of flies you want to make and this will depend on the insects you want to imitate.
Then, you can clean the working surface and start on your tools.
You need enough lighting to help you work on the flies.
Tools like vises help in engaging and interlocking your hooks securely.
You will want to put the hook's bend in the vise and leave the shank outside the vise's jaws.
Compare with flies you have used before to see if you are working well.
You can design shapes and appearances of your flies to look different than the store-bought ones.
---
Q) What Kind of Line Do You Use for Wet Flies?
---
There are two primary lines for wet flies – dry lines and intermediate lines.
Intermediate lines are sometimes called clear camo or slime lines.
Pro anglers recommend choosing your wet fly line based on the needed depth to help the flies go down.
You can use various methods to fish wet flies.
The line you need also depends on what it is you are doing.
The general rule of thumb is that if the fly is floating or almost doing so, it is best to use clear or slightly-tinted monofilament leaders with the right tippet size for the current conditions you are fishing in.
---
Q) How Do You Fish an Emerger?
---
You can fish emergers on top of the water, slightly below the water surface, as you nymph or on the swing.
When fishing emergers on top of the water, it will be on the river's surface like you would do with regular dry flies.
Sometimes, it is the ideal trap for trout that feed during hatches.
You can use a floatant to fish emergers in this style to prevent them from sinking or you can use it as a dropper behind your flies.
If fishing slightly below the water surface, this technique works for trout when your dry flies aren't doing the job.
Cast emergers without floatants and allow them to sink below the water surface.
You can tie it 9-12'' below your dry fly, where the fly acts as an indicator for your emerger.
When nymphing emerging bugs swim upwards from the bottom and work well if you want to catch fish eating rising insects.
You can tie the emerger to act as a dropper on a heavy fly.
Emergers with foam on their bodies work well when nymphing since the lead flies get them down and the foam aids in buoyancy.
If fishing on the swing, be ready to set your hooks while emergers are rising in the water column.
If fishing droppers, trout can take the emerger or nymph.
---
Q) How Do You Cast Dry Flies?
---
If you are learning how to dry fly fish, understand that like with most fly fishing, propelling a weightless lure needs false casting to help build line momentum before shooting your line forward.
Dry flies are the lightest lures and are designed to float on the water surface.
It means that dry fly fishing techniques have tighter and more flattened loops during false overhead casts.
The best dry fly fishing technique for novices is the roll cast since you don't need any false casts.
However, the disadvantage is your casting distance is limited to the line's length that you have out.
The advantage is that an angler needs not to worry about brushes behind them which might grab their flies while back or false casting.
Thanks to the visual anticipation, surface bites are considered the most exciting hits.
After learning how to cast dry flies at a distance, you can start learning how to tactfully select flies, and place your casts or mend lined for the perfect drift.
---
Q) Will Stocked Trout Eat Flies?
---
Stocked trout will eat elk hair caddis, stimulators, soft hackles, and hare's ear nymphs.
Others are pheasant tail nymphs, Copper Johns, Suan Juan worms, roe eggs, and crystal woolly buggers.
Stocked trout are pressured more from the second week onwards.
Find spots that are out of the way like in inlets and tiny coves away from main boat launches.
Most fly fishers cast closer to these launches and ignore other parts of the dam.
Stocked trout often see hundreds of flies and lures, so be fast to change your options.
They see flies that look alike and will strike new things.
In case things on the river slow down, mix up your flies.
Troll to cover as much ground as possible but use flies specifically designed for this fishing technique.
---
Q) What's the Best Fly for Rainbow Trout?
---
Rainbow warrior nymphs, pheasant tails, gold ribbed hare's ears, Morrish mice, elk hair caddis, and parachute Adams are the best flies for catching rainbows.
Others work equally well but these are the most recommended by experts who go after this species.
Fly fishing is all about experimenting, so go out with different flies and test the best that yields rainbow trout.
If you have several flies, you will notice a few that work and others that don't.
Rainbows will eat many options, but to lure them enough, you need flies that look more appetizing.
All in all, ensure your fly fishing box doesn't lack a few parachute Adams and gold-ribbed hare's ears if you are going out to chase rainbow trout.
The two are the most popular and loved flies for this species and their chances of landing a rainbow are very high.
---
Q) How Do You Fish a Single Nymph?
---
Fishing a single nymph is among the easiest ways to use these types of flies.
It avoids tangles and the migraines of casting many flies simultaneously.
For a single nymph rig, have a long-tapered fly leader 7' or more.
Tie the nymph on the thinnest end using a clinch knot.
You can proceed to fish the nymph using a strike indicator or you can avoid it as well.
Strike indicators are bobber types to help suspend the bait or lures in the water.
The use of strike indicators will depend on your casting distance and the nature of the fish on matters of spookiness.
These are best for long-distance casts and in situations when you don't want to scare the fish.
Have the indicator 1.5 to 2 times the water depth.
---
Q) Can You Fish Nymphs with Floating Line?
---
You can fish nymphs with floating lines, especially, the legendary shorter nymphing style called Czech.
Nymph fishing is widely a close-range method that often doesn't need longer casts.
So, the type of fly line you fish isn't almost as important when using this technique compared to the tippet and leader setup.
Some Euro and tight-line nymphing techniques are done without fly lines on the water.
For 95% of nymph angling, you will do, get the weight forward floating line that matches the line weight of the rod.
But, there are special nymph fishing lines like a few from Scientific Anglers.
---
Q) How Do You Fish Nymphs in Fast Water?
---
Most novice anglers stay away from fishing extremely fast rivers, but they are making a big mistake.
Of course, there is a learning curve for throwing your casts.
Another task is the line management required to keep up with hard-to-feel-strikes and faster drifts.
However, if you are consistent in such water situations, you will notice a lot of trout activities.
The biggest challenge when casting in fast water is getting your flies to sink speedily.
See some tips that can help you send your nymphs down and faster once they hit the water.
Add some weight to the nymph – You might have to add more weight to the leader than you expected.
If using a split-shot, it is best, to begin with, several BB-sized before making a few casts.
You might need to continue adding splitshots until you hit the bottom.
You might get snagged and this is normal.
The solution is to remove one splitshot and keep fishing confidently since your flies will be at the bottom.
Elongate your leader – Imagine you are using floating fly lines to fish your nymphs, the furthest you can throw flies from your lines, the better.
In case you are using the regular 9' leader but aren't getting deeper enough, add more feet of the but material or tippet.
Leaders measuring 15' and above are recommended for helping your nymphs sink with minimal pull buoyant fly lines.
Use longer lengths of the level tippet instead of regular tapered leaders – It is best to build leaders by yourself when nymphing.
Besides it allows you to adapt easily to river conditions, level tippets cut through the water more quickly than standard tapered leaders.
Give the flies a lot of runway – If you are targeting certain pieces of structure, it is impossible to cast straight at them.
Casting upstream is the best method, especially, far enough.
It helps your nymphs to get down to the right level.
In faster waters, nymphs need longer runways to sink.
---
Q) Do You Put Floatant on an Emerger?
---
There are different ways to fish emergers.
You can fish them on top of the water, below the water surface, while nymphing, or on the swing.
Anglers sometimes fish emergers on the water surface of rivers that the usual dry flies.
In some instances, such an action is all you can do to effectively target different trout species feeding during hatches.
When fishing emergers on top, you can use floatants to prevent them from sinking.
Try fishing them as droppers behind your dries.
---
Q) What Is the Difference Between a Nymph and a Wet Fly?
---
When we narrow down to the nitty gritty of fly fishing, all subsurface artificial flies are under the family of wet flies.
Technically, it means that all are a certain type of wet fly, but the two groups remain the same in the minds of most anglers.
Social media has made it seem like the modern euro-nymphing techniques on rivers and other contest-style tactics on small reservoirs and Stillwater has rendered wet flies redundant.
There is no doubt that in scenarios when cutting through the water to achieve depth efficiently and faster, nymphs are superior.
I am talking about instances like turbulent or faster flows in rivers and long-leader buzzer angling in Stillwater.
Their slimmer profile and the often inclusion of extra weight are more advantageous in such situations.
However, they don't excel in situations that most subsurface feeding concentrates on failed or drowned emergers, egg-laying individuals, or crash-landed adult bugs.
Here, the chaotic profile and extra movement of hackled wet flies with more neutral or slow-sinking buoyancy action out-fish the sleeker yet hard-profile nymphs.
Last update on 2023-09-28 / Affiliate links / Images from Amazon Product Advertising API
This product presentation was made with AAWP plugin.