Disclosure:
Just to be open and honest the buttons and links you click on in the website will in most cases take you to another website where you can purchase the products I am reviewing. As an Amazon Associate I earn from qualifying purchases.
April 13, 2020
Orvis Recon 2 103-4 Fly Rod Review – Nymph Worthy
European nymphing is becoming a thing for many fly fishing enthusiasts. Not everyone is familiar with this fly fishing technique. Leave alone the style, even the name might be unheard of. 
''We should try out the new Recon Fly Rods for nymphing and see if Orvis is still on top of its game.'' 
This is heard from a conversation between two buddies by the banks preparing their combos for a fly fishing day. 
''Nymphing?'' 
The other sounds uncertain-could it be a fish action, new fishing style, or some jargon?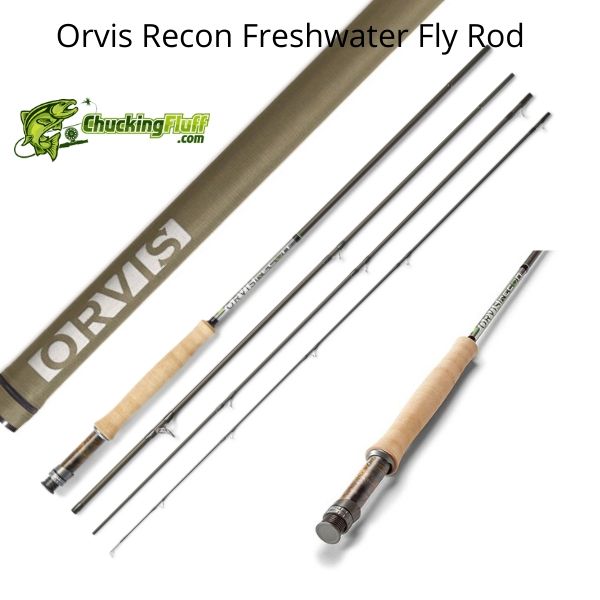 Check Orvis Recon Web Availability

What is Euro nymphing? Its origin dates back to centuries ago. The technique came about from specific rules in angling competitions. They were strict for beginners but pro nymphers had the experience and can tell it is fun than most of the other techniques. This is the rule: You mustn't attach anything to your leader to sink or float a fly. There should be neither strike indicators nor split shots.
Nymphing rods at that time were not as advanced as the Orvis Recon 3WT 10' 4-Piece Fly Rod or Helios 3F Rods. Everyone hopes to win the competition. The competitors know that fish will rise to the subsurface to feed on small nymphs. Sticking to the nymphing competition rules was highly advised and is until now. However, the hurdles are lack of indicators and weight. Getting the flies deep to where the fish are was troubling. Also, strike detection was daunting.
What were the solutions?
Man is creative, innovative, and will always find survival skills. In the nymphing competition, these skills were to be genuine. The first solution was to make weighted flies. Previous nymphs had brass beads. They replaced this with heavier tungsten beads. For extra mass, they incorporated lead underbodies. It was easier for the heavier flies to achieve depth faster. This rendered the use of split shots irrelevant. They needed to find a way to snag the flies on the bottom. Tying the flies on the jig-style hooks was the answer to this one.
The second problem was with the leader. Anglers made special leaders with bright monofilaments in the middle section of the leader. The bright color of the sighter makes it easily visible from far. A fly fisher will set the hook when this sighter pauses or straightens. Away from the history and detailed explanation. Briefly, European nymphing is an angling technique that needs the fly fisher to hold the sighter off the water and detect if a fish has eaten their weighted fly.
So, what makes a good Euro-nymphing rod?
These special rods have lengths starting from 10 feet. This is a foot longer than your usual all-purpose rod. 11 feet rods can be used in larger water bodies. However, their problem is in their weights. Line weights for Euro-nymphing are lighter and the 3 weights are currently dominant. But, 4 and 2 weights have places too. Remember, you rarely cast your traditional line with nymphing rods. Their performances are different from the standard flies.
Anglers rave about the sensitivity aspect of Euro-nymphing. Is it as vital as they make it seem? Sensitivity is helpful as it provides feedback about the happenings under the water. You can easily know if you are rolling the far bottom or ticking rocks. Those rods that are extremely sensitive enable you to feel lighter nymphs going tighter in the water column.
Can you fight a fish with such a long and light rod?
Any angler will agree that you have to be very tactful when landing a big fish. You aren't supposed to stress them. The rod should have enough backbone to prevent these guys from bulldogging the angler into sunken trees, root balls, or boulders. When fighting a big fish, apply side pressure instead of leaving the rod vertically.
---
Main Features of the Orvis Recon 3WT 10' 4-Piece Fly Rod
Material and Technologies: This isn't your usual casting pole. Manufactured in Manchester, it boasts the componentry and quality that you'd expect from this legendary brand and any other USA-made fly rod. The Recon has been crafted from the finest blends of modulus graphite materials and resins. Featuring the latest technologies, it has become a beauty and an assurance of more catches for any nymphing angler.
Other hardware is heavy-duty to ensure that it survives the stumbles that come with nymph fishing. The matte olive blank has accents of spring green and charcoal. What do you expect from a company that has been in the sporting industry for over a century and a half? The rod identifier comes in handy when you are fishing and other anglers have similar rods. Finding yours is pretty fast.
Guides: Sporting 12 guides (stripping and snake guides) the first Silicon Carbide stripping guide is on the first rod section followed by the remaining snake guides.
Grip: The 7 inches half-wells Cigar grip is striking and made from high-quality cork material. The touch is pleasant, comfortable for long-hour fishermen and doesn't leave blisters on your palms and fingers.
Reel Seat: Orvis designs this fly rod with a downlocking reel seat. Its construction is from the best aluminum material. The metal undergoes the Pewter type III anodization to ensure that it is sturdier, lighter, and corrosion-resistant. Its insert is made from aesthetically appealing wood. There is a thing fighting butt at the end of the first piece.
Rod Action: Fast action rods boast higher performances, excellent power, greater sensitivity, and exceptional accuracy. It gives accurate casts over mid-ranges. At longer distances, the accuracy gradually tapers off. It is possible to harness the rod's power to throw nymphs over 60 feet while maintaining the feel. The best news about these rods is that the angler can easily switch techniques if the conditions allow.
Tube: The rod comes in a high-grade aluminum rod tube for easy transportation to and from your fishing spot. Its interior is sub-divided to ensure that the four rod sections fit, and makes the package compact enough to save on storage space.
Weight: Casting with a 10 feet rod all day is draining. This one weighs 2.50oz. It is a lighter rod and causes less fatigue. The reduced weight gives a smoother feel as you cast and the swing weight is more comfortable.
Length: You can nymph fish with a 9ft rod and catch a few chaps. However, the right and recommended rod length for this technique is 10 feet onwards and the Recon passes the length test. One foot will make a huge difference in your casting experience.
Outfit Options: Anglers who love to get fly fishing combos rather than purchasing these gear separately have luck with this one. The outfit comprises of a rod tube, a 20lbs Dacron backing, a Hydros Tactical Nymphing line, a Hydros II reel, and a Recon 103-4 rod.
Warranty: Orvis Backs the Recon Fly Rod with a 25-year guarantee to cater for damage. The company will mend or replace a broken fly rod for free. 25 years of owning an Orvis Recon 3WT 10' 4-Piece Fly Rod for its issues to be addressed minus your financial input is such a relief.
---
Customer Thoughts on the Recon 103-4 Fly Rod

This cane is more delicate than Helios 10 ft. It takes your fishing experience to the next level. The rod fishes better with lighter nymphs to counter hook offs in the competitions.
Grayling and trout fishing has become more fun in the 10 to 20 meters wide rivers. It casts well for distance and can never disappoint even if being used by a novice.
The rod is perfect for fishing all-day. Whether for recreation or competition, it is featherweight. It maintains softness and exemplary accuracy and you can fish with very fine tippets.
Its moderate power allows an angler to use the high-range rod in lighter techniques because it sports moderate power. I love its versatility because, besides euro-nymphing, you can dry fly fish with this fly reel.
The number of fish species that you can catch with this fly rod is uncountable. It can fish out trout and work equally well in saline environments to catch Spanish mackerel, ladyfish, or schoolies speckled trout.
---
Pros – Things that shine on the Recon 103-4 Fly Rod

Greater sensitivity
Lightweight fly rod
Versatility in fishing techniques and fishing locations
Moderate power
Excellent fast action
Comes with a durable rod tube
High-quality material and top of the class technologies
Rust-free and heavy-duty hardware
Perfect grip
25-year product guarantee
Outfit options available
Cons – Things that are not so cool!
It is built for bigger waters and wind so trying it out in small bodies might be regrettable.
---
---
FAQ's – Questions about the Orvis Recon 3WT 10' 4-Piece Fly Rod
Q) Does the fly rod have enough balance?
A) Yes, the presence of the downlocking reel seat and the weight distribution gives it a nice balance.
Q) As you Euro-nymph, which styles can you try with a fly rod of such a length?
A) The Orvis Recon 3WT 10' 4-Piece Fly Rod allows you to enjoy high-sticking or tight-lining your nymphs without much trouble.
Q) How can you describe the bend of this rod during the action?
A) The fly rod takes a deep bend and it is progressive as you fight fish. This offers protection to the lightest of tippets.
Q) Is the lift excellent or one needs to put in more effort?
A) The lift and control are on point. We attribute this to the blank that dampens shock perfectly and smoothly maintaining a stronger backbone.
Q) On a rough estimate, what could be the dimensions of the handle as Orvis doesn't seem to describe this in the product's specifications?
A) The fighting butt is about 0.94 by 7 inches.
---
Final Verdict on the Moonshine Drifter Rod
If you haven't tried out this fly rod, it will feel foreign immediately you take it out of its tube. You could be wondering if the grip is different from your usual pole. There are usually myriads of questions about new rods. Most anglers hardly fish 10-foot rods and especially in lighter line weights like 2 or 3WTs. This one won't take long to be a worthy extension of the body. The Recon is a light, comfortable, and perfect toll inviting confidence and zeal on the water.
The rod feels right. Though light it is very sturdy. The action is spectacular as you can drop a fly on the target with the utmost accuracy. With the first experience, you will hate to tuck that stick back into its tube. Even if fishing the next day, you'll be wondering if the hours would speedily move and give you another chance. Considering the rod's quality, the Recon is worth every penny.
If you have the means, we consider it a choice. So, pick it up and see how well it drops those nymphs. This rod in an all-rounder and besides Euro-nymphing, it can address other situations. It performs well when put through the right paces. You will love how excellently it cuts through the rain and wind. As it comfortably handles big flies, big fish are nothing close to a threat.
The Recon is a perfect fly rod and the best option for anglers looking for flexibility and dependability. If you are unable to find the Orvis Recon 3WT 10' 4-Piece Fly Rod, there are other options that you can consider. The Moonshine Rod Company Epiphany Series 10ft 3wt Fly Fishing Rod, G-Loomis NRX 10ft 4wt Fly Fishing Rod, Hardy Zephrus 10ft 3wt FWS Fly Fishing Rod, and Temple Fork Outfitters BVK Series 10ft 3wt Fly Fishing Rod and Extension Kit are a few that you can purchase. Their qualities, performances, and features are incredible.
Ultimately this rod will meet all the demands of an angler getting into nymphing. You will start to appreciate the aspects that make this specialty fly rod work exemplarily as it does. If you can't find what is in our review, there are several viable options form brands that have been in the fly fishing gear manufacturing sector for a while. Make a wise purchase!
---
Check Orvis Recon Web Availability
Check our Fly Rod Review List
 Still need Help Check this Rod Guide