Disclosure:
Just to be open and honest the buttons and links you click on in the website will in most cases take you to another website where you can purchase the products I am reviewing. As an Amazon Associate I earn from qualifying purchases.
April 16, 2021
Maui Jim Peahi vs Guides Choice Sunglasses Review
A fisherman's life entails long days full of endurance on the water.
Just like a night guard with a revolver often missing the target, an angler will need to cast and throw several flies before landing a catch.
Your eyes are an important tool as you scan the surfaces of lakes, rivers, and oceans.
As you supplement your diet with plenty of Vitamin C sources, protecting them from impending damage is vital.
We have a comprehensive guide on the Best Fly Fishing Sunglasses on our site.
Apart from this, we strive to compare products from different brands and let you decide your favorite.
Here, we compare the Maui Jim Peahi Rectangular Sunglasses and Smith Optics Guides Choice Sunglasses in all aspects.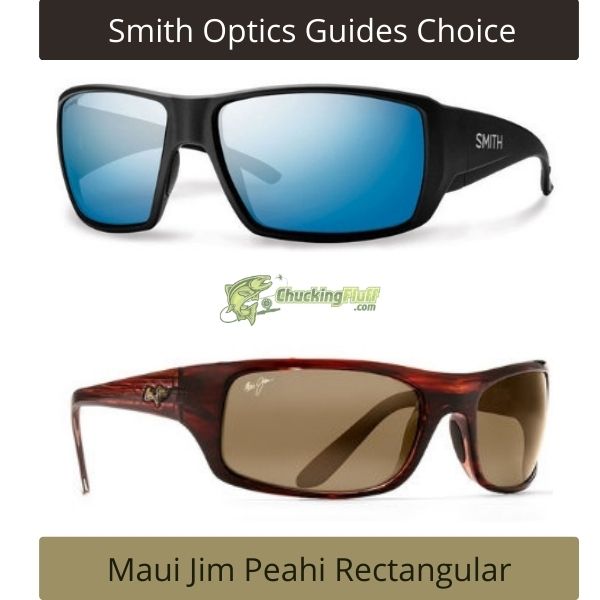 Maui Jim is a renowned manufacturer of lightweight, durable polarized sunglasses which allow the wearer to see view the world in extremely vibrant and glare-free color.
Since 1980, the company has been on the front line in quality production.
In 2015, the company was rated the best and third largest manufacturer of sunglasses worldwide.
Smith Optics believes in living a greater life outside the walls and strives to manufacturer sunglasses that allow you to get the best out of each moment.
Still, on the mission of customer satisfaction, this manufacturer creates ChromaPop lenses which are the greatest advancement in the world of polarizing lenses.
They see the truest colors and allows you to maximize the view of the world around you.
Before we dig deeper into the nitty-gritty of each model, we will touch on the base of key features of these sunglasses.
Each brand offers its own technologies to give every wearer the visual edge to reel in small and big fish.
Polarization, durability, and comfort are among the factors that are well taken care of by both Maui Jim and Smith Optics.
While there are many other products from these two manufacturers, it boils down to eye protection and visual clarity.
Any other thing apart from this is a bonus to a good pair.
Read more below and make sure to check out our sunglasses buyers' guide.
Smiths Guides Choice Amazon Price
Check Maui Jim Peahi Amazon Price
Smith Guides Choice Sunglasses Review
Well, if you are an advanced fisherman or woman, this pair is for you. It has a serious wrap and offers premium light protection.
The various glass lenses ensure that you get the true colors of rocks and water. For this reason, it is an excellent choice.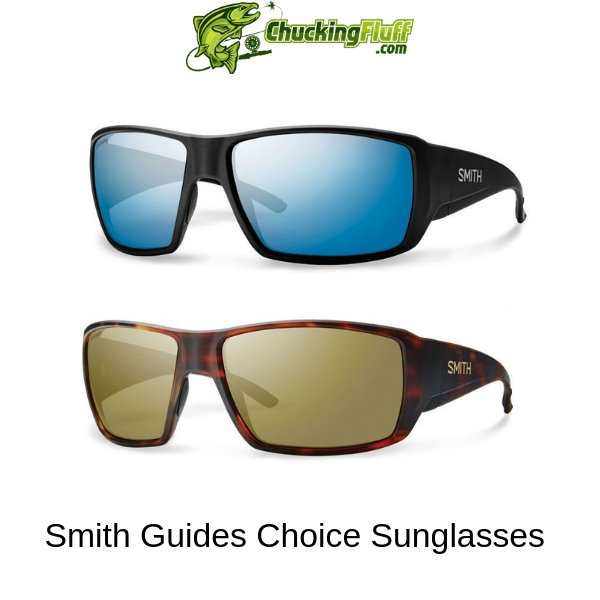 Smiths Guides Choice Amazon Price
Check Smiths Guides Full Review
Key Features of the Guides Choice Sunglasses
These are among the top-rated unisex sunglasses and come in either grey or amber.
This gives the wearer options for either off-shore or on-shore fishing.
Smith uses its patented Evolve material to make strong yet lightweight sunglasses.
The evolve material is has a larger percentage of bio-based products from the non-GMO castor plant.
At 53%, the manufacturer continues to be environmentally conscious.
Smith has its trademark marketing term which is ChromaPop, a high-performing polarization technology that multiplies contrast and clarity.
The technology makes the natural colors very distinctive and its performance in a wide range of light conditions very well.
Having fly anglers in mind, Smith Optics designed the Techlite Polarchromatic lenses.
If you are looking for versatility, copper lenses are the right choices. Lenses with the Techlite technology are lightening, darkening, and self-adjusting to light conditions.
As the midday storm rolls on, visual clarity remains the same as when the sun is blazing.
There is a special glass used to make the Smith Optic Guides Choice Sunglasses.
It is 12 times more impact and scratch resistant compared to the rest of the plastic lenses.
It doubles as 20% lighter making it ideal for use all day.
Your eye health is important to Smith Optics and by this, the company gives the lenses an anti-reflective coating that prevents you from eyestrain.
An 8-base lens curvature is the smartest design for extensive coverage and sunlight protection.
Combining this feature with others like polarization, you are sure to have the safest and best time on or off-shore.
Comfort during wearing is not a big deal because of the hydrophilic temple and nose pads that hold the sunglasses to your face at all times.
Despite the perspiration when you get extremely active, they stay put.
The stainless steel spring hinges hold the temple arms to the lens frames and are corrosion and rust-resistant.
---
Application of the Guides Choice Sunglasses
There is no limitation to the use of these sunglasses from Smith Optics.
The manufacturer incorporates quite a number of mechanisms to ensure that it creates versatile lenses for use in any weather and light conditions.
Both off and on-shore fishermen and women can get a single pair for all-day fishing. The hardware is durable and withstanding.
Pros

– What we like about the Guides Choice
Versatile sunglasses
Medium to large fit
Extensive coverage
Highly polarized
Easy to clean and maintain
Durable construction
Premium spring hinges-Italian
Lightweight
Unisex sunglasses
Cons

– Things that we don't like
The cost is on the higher side and might be a turn off to buyers hoping to spend less.
---
Maui Jim Peahi Rectangular Sunglasses Review
We will not tell of Peahi's story today. It is punchy and true to design.
Anyone wearing a Mau Jim Peahi looks sporty and they could be anglers or suffers.
The inspiration for these sunglasses is endurance in any condition.
The optics from this manufacturer are crispy and the contrast and clarity are brilliant. Something that any angler will love.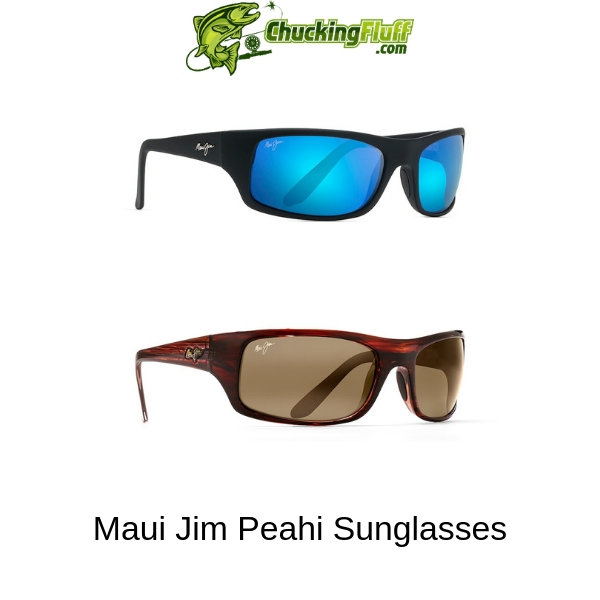 Check Maui Jim Peahi Amazon Price
Check Maui Jim Peahi Full Review
---
Key Features of the Peahi Rectangular Sunglasses
If you need sunglasses that you can use any water sport, these Peahis are the real deal.
Maui Jim doesn't put any limitations to where your imaginations can take you hence the saltwater-safe parts. Not every pair does this.
While Smith Optics uses Hydrophilic Megol on the temple and nose areas, this one uses embedded silicone for comfortability and longevity.
Together with this, the saddle style ensures that the sunglasses perform effectively besides having a striking look.
The finish on the frames is one of its kind ensuring that you enjoy service for the longest time.
100% UV protection is a sure bet that your eyes are free from damage by harmful rays.
Polarization comes in to greatly reduce glare and boost clarity.
The package comes with a cleaning cloth to ensure that your lenses are stain and smudge-free at all times.
A simple wash to keep the cloth clean will do good.
An oversized wrap design is what this pair boasts of.
This gives a larger coverage and assurance of safety from sun damage and danger from flying hooks.
Grilamid frames very light in weight and durable.
Made from a unique polymer, its bending ability is superb and it gets back to shape easily.
Rubber ends on the temple arms secure these areas and protect your back ear from scratches.
The fit is great and comfort is something you are sure of once your measurements match those on the manufacturer's sizing chart.
---
Application of the Peahi Rectangular Sunglasses
PolarizedPlus2 lens technology allows for color clarity, scratch resistance, and detail.
The blue light protection mechanism reduces HEV light without removing the visible blue colors.
You will appreciate these sunglasses in extreme light conditions.
Pros

– What we like about the Peahi Rectangular Sunglasses
Super thin lens construction
Versatile use
Saltwater applicable
Scratch resistance capabilities
Non-slip silicone temple and nose pads
Grilamid frames for durability
Highly polarized
Cons

– Things that we don't like
Doesn't come with a carrying case. You will incur an extra cost for this
The initial cost is high
---
Similarities of the Maui Jim Peahi Rectangular Sunglasses and Smith Optics Guides Choice Sunglasses
Both sunglasses have durable hardware that is usable in any environment.
Not so much attention is needed if you reach saltwater areas.
Whether you buy the Peahi or Guides Choice sunglasses, you are guaranteed 100% UV protection and safety from extreme sun rays.
The two lenses share in the hydroleophobic feature that repels grease and sheds water.
This is for easy and quick cleaning and maintenance. It also doesn't hinder visual clarity.
The lens construction includes a Clearshell technology that allows for scratch resistance for functionality and durability.
Like the Maui Jim Peahi, the Guides Choice comes in a wrap style design that has a wider coverage and that fits both men and women.
In both sunglasses, the lenses available are glass lenses only and plastic frames.
Polarization is a shared feature of the two products.
This allows you to wear the sunglasses for long without eye strain, fatigue, and headaches.
---
Differences between the Maui Jim Peahi and the Smith Guides Choice Sunglasses
Unlike our previous comparison review of the Costa Del Mar Sunglasses: Tuna Alley and Blackfin, these ones are different products from different brands.
Both of them depict excellence in performance, workmanship, and reliability.
The tabulation below shows how each product differs from the other in the aspects that we have listed.
The difference is the manufacturer's uniqueness and not to render any of them lesser than the other. Make your choice!
ASPECT
PEAHI RECTANGULAR SUNGLASSES
SMITH GUIDES CHOICE SUNGLASSES
Lens Technology
MauiPure, Maui Evolution, MauiBrilliant
ChromaPop
Lens Material
Specification
SuperThin Glass
Techlite Polarised Glass
Lens Colour
Blue mirror, Bronze, Grey
Blue mirror, Ignitor, Low light ignitor, Brown, Platinum, Grey Green, Grey, Green mirror, Copper mirror
Nose and Temple Pads
Embedded Silicone

Hydrophilic Megol

Accessories
Tapered leader, backing and rod tube
Leader, backing and rod tube
Frame
Grilamid
Evolve frame
Available Sizes
Large fit
Medium to large fit
Warranty
Two years
Lifetime warranty
---
Wrap Up on the Maui Jim Peahi and the Smith Guides Choice Sunglasses
After in-depth research on the Peahi rectangular sunglasses and the Guides Choice sunglasses, we hope that we can now convey that selecting a high-quality pair of eyewear is as crucial as choosing a good fly reel.
This is an accessory that you shouldn't miss as you hit the waters.
It doesn't matter if you are a seasonal fisherman or a regular angler.
An excellent pair will certainly make your trip fruitful and comfortable.
You must have noticed that products in this comparison review are on the higher end.
You know that you get what you pay for. This doesn't disqualify all sunglasses below the price point of the Maui Jim or Smith Optics.
Be a cautious buyer. Just be cautious.
Here is a take-home for your Peahi, Guides Choice and other polarized fly fishing sunglasses:
You must be wearing your angling polarized sunglasses either for better clarity or glare reduction.
But do these special lenses need special attention and care?
Nothing different, YES!
To keep those sunnies looking very fresh and for optimal performance, safely clean your sunglasses often.
First things first. Never leave your sunglasses in a hot car since frames will warm.
Have them in their pouch, case or microfiber bag.
Most are usable in freshwater but there are others that are versatile.
Nonetheless, rinse them with clean warm water to prevent damage by salt particles and other residues.
Remove any fingerprints and smudges using a microfiber cloth.
Microfiber is softer and prevents accidental scratching.
Ensure you clean the cloth as well by normal washing.
Keep off fabric softeners and detergents with harsh chemicals.
If you are lucky to find lens cleaners, these will aid in the removal of stubborn smudges.
Use mild ones that don't degrade lens coatings for functionality and durability.
Avoid cleaners with any alcohol contents.
We hope that this Maui Jim Peahi Rectangular Sunglasses vs. Smith Optics Guides Choice Sunglasses review convicts you to make a sober choice.
Smiths Guides Choice Amazon Price
Check Maui Jim Peahi Amazon Price
"Check out some of our other Buying Guides"