Disclosure:
Just to be open and honest the buttons and links you click on in the website will in most cases take you to another website where you can purchase the products I am reviewing. As an Amazon Associate I earn from qualifying purchases.
December 3, 2020
Frogg Toggs Pilot 3 Guide Rain Jacket Review
Looking for the best rain jacket for all your fly fishing trips? Stop here and decide whether this Frogg Toggs Pilot 3 Guide Rain Jacket is for keeps or not.
All serious anglers own at least one or two high-quality wading jackets. As they say, there is never bad weather. There is only bad gear. It doesn't matter whether it is drizzles or a heavy downpour.
With the right wading jacket, a fly angler can persist through these adverse elements and have the best of that rainy fishing session.
High-quality wading jackets are supposed to be highly packable, cut wind and keep you warm and dry amidst the rain. It will surprise you that most habitual fishermen will overlook this item but it is worth owning?
As a die-hard angler, investing in a good wading jacket benefits your health. Exposure to wind and cold without garment protection puts you at risk of circulatory diseases, aggravated allergies to cold or asthma.
A rough look at a proper wading jacket;
it should pack small for transportation and allow for freedom of motion like in the Toggs Pilot 3 Guide jacket that has a drop shoulder design for this purpose.
It gives space to cast comfortably and reach for fish or tools and nets. Among protective features, it should be highly water and windproof. Breathability is key to keep you fresh at all times causing no water penetration.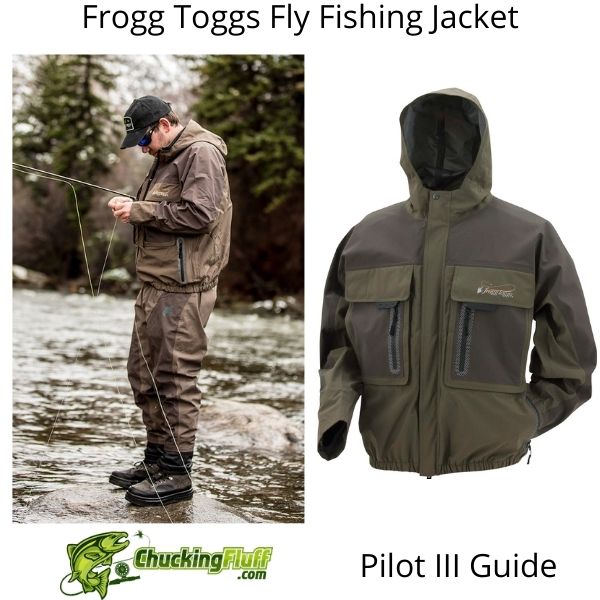 Like any other garment, if you don't take proper care of a rain jacket, it will not serve you longer than you expect. Consider treating this rain jacket with a high-quality waterproofing product to enhance its water repelling capability.
An example is TX Direct Spray On. This is a product by Nikwax and works excellently on old and new gear without compromising on breathability. The craftsmanship and quality are almost unmatched.
Frogg Toggs is among the reputable and consistently reliable manufacturing and supplying brands of everything fly fishing apparel.
Pilot III Guide Rain Jacket is an ideal companion for an angler while on water. It has been mindfully built to offer utmost support as you fish actively in all techniques.
Storage is a great feature of a good wading jacket and this one has it all. From Hand warmer to chest and internal pockets, if you are a light packer, you might not need an extra bag.
The jacket covers your entire upper body including your head. Folks who are asthmatic or have other health complications cold can aggravate that shouldn't worry. This jacket fully protects you from the cold.
Check Pilot 3 Guide Jkt Amazon Price
---
Main Features of the Frogg Toggs Pilot 3 Wading Jacket
Material – The advanced material by Frogg Toggs uses the DriPore Gen 2 Breathable and waterproof technology which is also windproof. Frogg Toggs jackets are made from three durable layers of exclusive polypropylene fabric. You remain cool and protected at all times.
Waterproofness – Fabric pores on the nylon Frogg Toggs Pilot 3 Guide Rain Jacket are 20,000 times smaller when compared to the size of a raindrop. Normally fabrics that are 100% nylon material are water-resistant and keep you dry. Even when submerged in water, the inner side never gets wet.
Breathability – There are very tiny pores on the fabric to allow for body perspirations to pass through to the outside but don't allow rainwater to get in. this attribute is for free air circulation too and keeps you fresh even when the temperatures in the environment outside suddenly rise.
Cuffs – Neoprene cuffs are excellent on this jacket to prevent water ingress in the sleeves. Cuffs have extendable properties and their suppleness makes them comfortable to wear. Insulation properties add to protective features against cold.
Pockets – Pilot III Guide jacket has seven pockets for storage. Two hand warmer pockets can be used for hand warming when not engaged or to store small gear. There are two major chest pockets that are spacious to store your fly boxes and the smaller-sized pockets sewn on top of the bigger ones for storing small items. An internal pocket is for valuables-cash, cards, keys, and jewelry. Major chest pockets have drain eyelets to allow water slide off quickly.
Hood – The storm hood is spacious and fits properly. It remains intact even on a speedy boat and in strong winds. It is not removable and cannot be folded into the collar. However, it doesn't get into your way when angling. The extended chin guard protects your neck region and prevents entry of cold and water.
Seams – All seams are fully sealed to allow you to fish through the worst storms without getting wet or cold.
Zippers – Zippers are made from weather-resistant material and keep all pockets safe from damage from water. The main zipper that runs from the bottom to the top protects your front body from the effects of adverse weather elements.
Attachment Points – There is a D-ring at the rear side of the jacket for net and zinger attachment. It is reachable and you don't have to strain or get the jacket off.
Bottom Hem – A durable draw cord at the bottom hem of the jacket. It is adjustable to allow an angler to get a good fit that is comfortable. Drawing the cord well prevents water from getting up the hem when you wade in deep waters.
Sizes – Sizes are available in small, medium, large, extra-large and double extra-large. You can choose one that fits well from the sizing chart on the Frogg Toggs website. Colors available are slate/gray and stone/taupe.
Warranty – Frogg Toggs has an exclusive lifetime warranty on this jacket to the original owner only. You will have to register and confirm your registration. In case of any defects in the workmanship and material of your jacket, the manufacturer will repair or replace it.
---
Customer Thoughts on the Pilot III Guide Rain Jacket
The overall design of the Frogg Toggs Pilot 3 Guide Rain Jacket is superb and the wrist cuff especially. The elasticity and protection at the wrist area are better than most expensive brands out there.
Zippers are of good-quality. The manufacturer was wise not to use metal on the zippers to counter any instances of rusting or malfunctioning.
The jackets are not true to size and you might opt to order a size that is smaller than your usual size. It performs well under light and heavy rain.
Its design is comfortable and the shoulders give enough space to move in the jacket as you cast. You remain as dry as a bone. Although as you wear it feels damp. Never worry because it is your body's perspiration and not water slipping in.
If you want something light, this is it. It packs down well in your backpack and doesn't make you feel heavy once worn.
The pockets don't get wet when wading deeper because the jacket has a reasonable length and has been approved for use in waders.
Pockets are spacious and allow for good storage of fly boxes and small-sized gear. If you carry cumbersome gear, you will need a chest pack or a backpack to keep your items.
The jacket blocks water when fully submerged. Thanks to fully sealed seams and a durable draw cord at the bottom hem.
---
Pros – Things that Shine on the Frogg Toggs Pilot III Guide Jacket
Spacious pockets
Attachment point at the back
Lightweight
Highly packable
Water and windproof
Breathable construction
Fully sealed seams
Weather-resistant zippers
Full cover and adjustable storm hood
Great range of movement in the jacket
Cons – Things that are not so cool!
No underarm vents
No back pocket for heavy storage
---
FAQ's – Questions about the Pilot III Guide Rain Jacket
Q) Does the jacket run tall for someone who wears tall sizes especially the arms?
A) Tall sizes aren't available but large sizes are designed for 5ft 6in to 6ft 3in in terms of height and 37.5in for sleeve length. Extra-large size has a height of 5ft 10in to 6ft 5in and its sleeve length is 38.5in.
Q) Are there attachment points on this jacket?
A) Yes, there is a D-ring on the backside for your landing nets.
Q) Can you remove the hood or fold or roll up?
A) The hood isn't detachable and it doesn't roll up into the jacket's collar.
Q) Does it have gussets and is it waterproof?
A) Pilot III Guide jackets don't have gussets. The seams are plain.
Q) Does it have a paper feeling when you touch it like other jackets from Frogg Toggs?
A) This one is softer and the feeling is more of waterproofness that other jackets.
Q) What feature does it have over the Java Hellbender Jacket from Frogg Toggs?
A) You can find it in various color options while the Java only comes in stone color.
Q) Is there a back pocket on this jacket for cumbersome gear storage?
A) No, this one only has 7 pockets-two Handwarmer, two chest pockets with two smaller ones and one internal pocket.
Q) Can you wear the Co-Pilot liners with this Pilot Jacket?
A) You can have the Frogg Toggs Co-Pilot liner under the Frogg Toggs Pilot 3 Guide Rain Jacket.
Q) How heavy is the medium size jacket? Will it add a lot of weight on the body making it difficult to cast?
A) The weight is between 120 and 150 lbs. this is lighter compared to the double and triple extra-large sizes which weigh twice this size.
Q) Can you cast with the jacket on in stiff wind?
A) Yes, the jacket has a drop shoulder design that increases the range of motion and gives you enough freedom of movement to cast in the stiff wind.
---
Final Verdict on the Frogg Toggs Pilot 3 Guide Wading Jacket
When spring sets in, many anglers begin asking about rain jackets. Many become doubtful of durability, fabrics, moisture protection, and breathability. This Frogg Toggs Pilot III Guide jacket will suit your angling habits.
You will love its standard three-layer shell which is the manufacturer's proprietary on all jackets. From pictures, it looks bulky and heavy but it is super lightweight and highly packable.
As we get into the weeds of construction and fabric. Craftsmanship resulted in one of the most fully protective gears for men of all sizes and fishing abilities.
It doesn't matter if you are an ultra-light minimalist and love hiking to the most remote timberline lakes. Fair weather anglers who might need an emergency shell that neatly fits their fishing bag will find this one a great deal.
Those who fish throughout the year or shoulder seasons will love its warmth and high level of dryness. While some sizes run large, you can have layers under it and still feel comfortable.
This doesn't mean that it under-performs when it comes to protection against the cold. One reason why it is a worthy investment is the durability when contending with rocks, brushing through bushes and in daily use and abuse.
There's never a whole lot of types of jackets with regards to price ranges and some of the best on the market. We have dug up solid options that match the performance of the Frogg Toggs Pilot 3 Guide Rain Jacket.
The Hodgman Aesis Sonic Wading Jacket, Orvis Encounter Wading Jacket, Compass LG Guide Wading Jacket, Frogg Toggs Hellbender Wading Jacket, Frogg Toggs Cascades Wading Jacket, Caddis Natural Wading Jacket, and Frogg Toggs TEKK TT6405 Wading Jacket are good alternatives.
They are premium and life-altering jackets and all fall under the life-saving variety. Don't freeze when you shouldn't!
Check our full List of Wading Jackets
Check Pilot 3 Guide Jkt Amazon Price