Disclosure:
Just to be open and honest the buttons and links you click on in the website will in most cases take you to another website where you can purchase the products I am reviewing. As an Amazon Associate I earn from qualifying purchases.
December 18, 2018
Patagonia River Salt Wading Jacket Review – Tough and Durable
Patagonia has been in existence since 1973. All through, the company has set a pace for other designers of outdoor gear and clothing. It is one of the reputable brands that can be relied on when it comes to quality and durability. Take for instance the Patagonia River Salt Wading Jacket. It has the looks and all features you would want in a good jacket for your fly fishing sessions. The jacket is very tough considering the fishing shell used on it. It easily beats all weather conditions while keeping you warm and dry. Safe too especially for anglers who have allergies to cold or other complications that can be aggravated by exposure to cold.
Generally, Patagonia is mindful of your health. The jacket features industrial strength protection. The 4-layer fabric is responsible for this. River salt wading jacket stands up to hard use, salt spray, wind, and rain. It is one of the burliest breathable and weatherproof jackets currently in the market. This is definitely a major investment when it comes to fly fishing clothing. If you compare it with some of the high-end jackets from bigger brands like Patagonia, you will notice that it stands out among the best. There are so many positive reviews from users. Know more about this jacket below.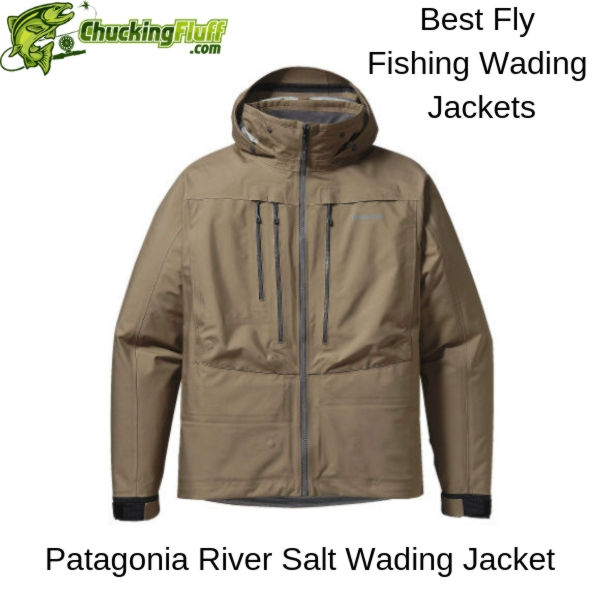 [button link="http://www.avantlink.com/click.php?tt=cl&merchant_id=b23bfa78-1adb-4bf2-8c34-dd8a685b19be&website_id=c0520932-6dac-4d3c-9396-fc3fa49a96bb&url=https%3A%2F%2Fwww.tellurideangler.com%2Fproducts%2FPatagonia-River-Salt-Wading-Jacket.html&ctc=Pat%20Salt" type="big" color="teal"] Salt Pricing[/button]

---
Main Features of the River Salt Wading Jacket
Waterproof – The jacket is made from 100% polyester material. Normally, polyester is durable, quick to dry after a wash, and is mostly used for insulation. Waterproofness is sensitized by the DWR- Durable Water Repellent finish that allows for water to slide through without slipping through the fibers. The H2No performance standard shell adds to the jacket's durability and waterproof nature. The breathable membrane is made of a very thin film that contains microscopic pores. The pores are large for sweat and body moisture to easily pass through but very small to lock out water droplets. That is why it is an all-year round outer shell garment.
Construction – A 4-layer construction jacket that keeps you warm and you certainly do not need an under layer of clothing. If you are skeptical, especially if having an allergy or asthma, having a light vest or T-shirt under it will do no harm.
Storage Pockets – You have enough storage space for your items if you buy this jacket. The exterior has three pockets. There are two large chest pockets-one on each side that can fit your fly boxes, gloves and hats. Access to the pockets is via zippers. All exterior pockets are TPU coated. An interior pocket can be used for your cash, jewelry, and other valuables. Still in the inner side, a mesh pocket comes in handy if you have more items to store.
Jacket Length – The jacket is of medium length and when compared with the SST jacket, this one is 2.5'' longer. It covers and protects your upper body very well even if you wade deeper.
Cuffs – Cuffs are watertight to prevent water from streaming up your arms as you work with your combos. They are adjustable and you can find a tension that is comfortable for you.
Hood – The Patagonia River Salt Wading Jacket has a hood that is big enough making it very spacious. You can adjust it to the right tension so that it stays in place at all times. It has vents to allow for air circulation especially when your head area feels warmer. There is an extension to the neck area to ensure maximum protection from weather elements.
Attachment Points – This can be difficult to see if you do not have this jacket yet. On the right hand side chest pocket, right above it are attachment points for your zingers. Pass your fingers through the open space to find the points.
Zippers – The YKK Vislon Aquaguard frontal zipper that runs from the bottom hem of the jacket to the top is water repellent, corrosion resistant and durable. Same pocket zippers. Salt water speeds up corrosion and rusting but you will never experience that on these zippers.
Hem – There is an elastic draw cord in the hem for you to adjust to your desired tension. The hem has a casing lined with mesh that ensures all excess water is drained.
The jacket is available in ash tan, forge grey, and Ramo Camo ink black. The sizes available are extra-small, small, medium, large, extra-large, and double extra-large.
---
Customer Thoughts on the River Salt Wading Jacket
The jacket is comfortable, it keeps wind, water and cold out.
Although the pockets are limited, the jacket is still find. It works perfectly when it comes to storage if you don't carry so much to your fishing sport.
Wrist cuffs are secure and they do not leak or let water slip through when you get agile and the weather bursts into a storm.
The pro-grade shell jacket is durable and totally weatherproof. It looks good to and for someone who is conscious about style, this jacket is the real deal.
The XL size fits very well and being a steel header, I can comfortably move in.
This jacket is functional, easy to handle when it comes to cleaning and durable- with four seasons in action and still strong, durability is five star rated here.
You do not need to wear heavy before having the jacket on. You might end up sweaty. The jacket itself is enough protection from cold.
The storm hood is awesome. Many times the wind had blown off hoods from other jackets exposing my head to the cold but this one is for keeps.
You need a lightweight jacket that is comfortable and doesn't make you feel burdened even if you are indulging in a soft sport like fly fishing.
Patagonia left out hand warmer pockets on the Patagonia River Salt Wading Jacket. It could be a way of making it simple, stylish and functional. No issues with that but you may need protective gloves if you feel like your fingers are freezing.
---
Pros

– Things we like about the River Salt Wading Jacket
Highly waterproof

Breathable material for freshness

Spacious storage pockets

Water repellent and corrosion resistant zippers

Durable 4-layer construction

Guaranteed warmth and dryness

Available in different colors and sizes

Usable in both salt and fresh water

Watertight adjustable cuffs

Spacious and adjustable storm hood

Adjustable bottom hem

Easy to clean and maintain

Attachment points for nets, zingers and tools.
Cons

– Things we don't like
The only disadvantage is the jacket not having hand warmer pockets especially to those who love to warm their fingers when not engaged. However, some users may not find it a big deal.
---
FAQ's – Questions about the River Salt Wading Jacket
Q) I would like to purchase this jacket. Does rain get into the pockets?
A) The pockets hold everything and the contents remain dry. The zippers are weather resistant. Ultimate protection even if you go deeper in the water.
Q) How heavy is this jacket. Its exact weight to be precise. Is it light?
A) The jacket is very light in weight and weighs 641 grams which is 1lb 6.6 ounces. You can pack it up in your backpack and not feel heavy.
Q) Is this jacket a men's or women's jacket? It just reads Patagonia River Salt Wading Jacket.
A) The jacket is designed for men. Women can purchase the Patagonia Women's River salt jacket.
Q) Is the jacket a 3-layer construction like some from Simms?
A) This one is a 4-layer construction and if you are wondering about how warm enough it is? Wonder no more. The jacket is warm and if you are in good health and have no cold-related illnesses or complications, you do not need another layer of clothing underneath.
Q) I have been looking for attachment points or any D-rings on this jacket. Are there any or I need to customize my own?
A) There are attachment points on the jacket just that they are difficult to see from a photo. The points are on the right hand side of the jacket just above the pocket. There is an opening that covers the attachment point.
Q) How many fits are available for this jacket?
A) Four to be specific. You can get it in slim fit, regular fit, relaxed fit and formfitting.
Q) Does the shirt for this jacket drape loosely on the body?
A) Yes although this will be specific for the relaxed fit. Other fits do not have these feature or characteristic.
Q) Is the jacket absorbent especially if I have to wear it in the summer season?
A) Polyester isn't an absorbent material but Patagonia has applied a hydrophilic laminate which pulls moisture and sweat away from your body and it passes through the exterior shell leaving you dry and feeling fresh.
Q) Do the zippers rust especially when fly fishing frequently and they contact water?
A) No the zippers are rust resistant and cannot be corroded. YKK Vislon Aquaguard zippers are durable.
---
Final Verdict of the River Salt Wading Jacket
What you wear while going fly fishing matters. It will determine your comfort, protection and ease of fishing. A gear designed for all times and extreme weather gives an opportunity to manifest its mettle and to prove its worth. You have all these in the River Salt Wading jacket. The wrong gear that cannot perform is what all avid anglers loath- let's face it- counterfeits are known for such messes. You will spend less time in water. You had better purpose on settling for quality than crap that will see you replacing it after the first wear.
This jacket is an admirable performer. You will love its protective function by the features on the jacket. Waterproofness is on point and there have not been any complaints of leakages. The jacket is excellent at wicking moisture from the interior to the exterior and never the vice versa way. Warmth and dryness is the result. The zippers drain water making the jacket more effective even without rain flaps to cover the zipper. Competing jackets made from lesser brands are taking up the flap feature but it makes the jacket more bulky. The hood is the right size and doesn't block peripheral vision. Comfort can be achieved by adjusting to the right tension so that you don't feel detained.
Now that you can agree that this jacket is worth investing in, you can pre-order. Pre-ordering offers more convenience than shopping at the time of urgency. You might find the Patagonia River Salt Wading Jacket out of stock. Does it end at that? You can choose from the Simms G3 Guide Wading Jacket, Simms G4 Pro wading Jacket, Orvis Pro Wading Jacket and the Orvis Women's Pro Wading Jacket. The price range of these jackets is the same as that of the River Salt Jacket. You do not have to dig deeper in your pocket for these alternatives.
[button link="http://www.avantlink.com/click.php?tt=cl&merchant_id=b23bfa78-1adb-4bf2-8c34-dd8a685b19be&website_id=c0520932-6dac-4d3c-9396-fc3fa49a96bb&url=https%3A%2F%2Fwww.tellurideangler.com%2Fproducts%2FPatagonia-River-Salt-Wading-Jacket.html&ctc=Pat%20Salt" type="big" color="teal"] Salt Pricing[/button]
[button link="https://chuckingfluff.com/best-fly-fishing-wading-jackets-comparison-and-buyers-guide/" type="big" color="purple"] Check our full range of Jackets[/button]