Disclosure:
Just to be open and honest the buttons and links you click on in the website will in most cases take you to another website where you can purchase the products I am reviewing. As an Amazon Associate I earn from qualifying purchases.
February 7, 2019
Simms Women's Guide Wading Jacket Review – Protects like a Pro
Simms offers a wide collection of fly fishing gear well designed to meet every angler's needs. From pants to waders to convertibles, all are of high quality. With women not having so much to choose from, Simms had their needs in mind and designed the Women's Guide Wading Jacket. For a reason, the company doesn't recognize the existence of bad weather. That is why all apparent, gear and equipment are well-built with this philosophy in mind. All your problems will fade away the moment your fly line hits the water. However, the raging storm around you will persist. The Women's Guide jacket protects you like a pro.
For years now this company has been an award-winning company and still is. Simms claimed five awards in the ICAST New Product Showcase in 1998 and has been winning them since. In 2016, the company was awarded the president's E award to recognize Simms export business. The company serves anglers all over the world and guides and guillies take Simms products as there go to fly fishing wear time and time again. You can never expect substandard products from Simms. Craftsmanship, field tests, and quality control are part and parcel of vital procedures that products undergo before releasing into the market.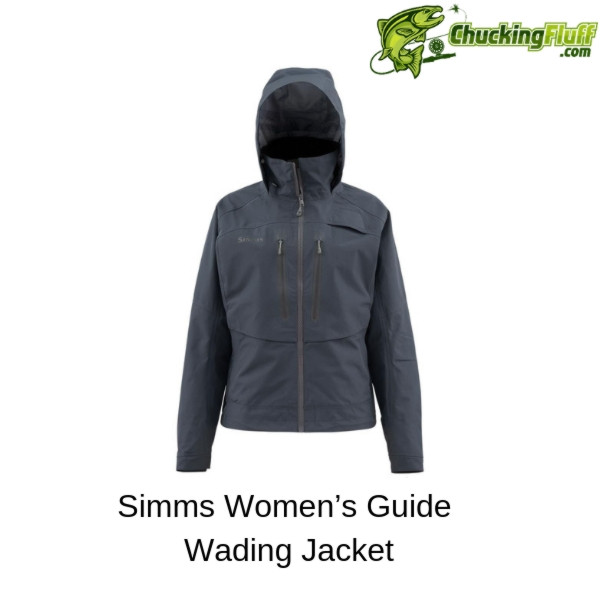 Gore-Tex ladies wading jackets are among the most durable and high-performing. You are guaranteed comfort, safety, and worth. If you are wondering why you have to spend over $300 on a damn jacket, this one will surprise you. It offers more than you expect. This one is huge! As an essential piece of a female angler's closet, it does the job right. Nothing is as limiting as having discomfort angling gear on. You can easily cast and tie knots in this one. Comfort is considered a very essential aspect by anyone who loves fly fishing. Fishing in cold and freezing water is fun when you are warm and the fish are biting.
Like any safety device, the best wading jacket is supposed to lock water out of your waders and trap enough air inside for buoyancy. This is important to backstroke to the shallow waters and get your feet right under you. What if you take a spill? It may sound unusual but it happens. This wading jacket will keep you buoyant for a long time. You remain dry to continue fishing until end of the day while feeling comfortable. Forget about catching hypothermia. Air squeezes out of the abdomen and waders and gets trapped in the arms and upper torso of the wading jacket. It doesn't take the place of a life saver but it can be a good second choice if you don't have one.
---
Main Features of the Simms Guide Wading Jacket for Women
Material – 100% polyester takes three layers in the Gore-Tex technology that translates to a durable and lightweight jacket. It is abrasion and corrosion resistance meaning you can use it in fresh or saline waters. On matters care and maintenance, polyester is among the easiest to launder.
Waterproofness – The Gore-Tex technology gives the outer shell waterproof capabilities.  Water rapidly slides off the jacket giving no chance to access the inner sides of the jacket. Other waterproofing aspects are evident in zippers, cuffs and hood of the Women's Guide Wading Jacket.
Breathability – While it is crucial to avoid wearing cotton garments under the jacket, the layers are made of moisture-wicking polyester. Cotton is absorbent and doesn't do this and will leave you feeling cold and clammy. Matching polyester and polyester will be the best solution. The result is a fresh and active you.
Cuffs – Shingle cuffs on the jacket are super clean and eliminate line catching. They are watertight but adjustable to enable get your comfort point. The cuffs permit insulation down the length of the sleeves for optimum warmth.
Pockets – Enough storage for your items here. Two hand warmer pockets are lined with tricot material to keep your fingers nimble for cooler days on the water. Chest pockets are spacious to accommodate large and medium size fly boxes and a few light types of equipment. An inner stretch woven pocket is for your valuables. Its back pocket is large and lays flat and so slimming to your body. You can stash your flask, lunchboxes or other fly boxes. All pockets are accessed by high-quality Aquaguard Vislon zippers.
Hood – The hood is large enough and can cover your favorite fishing hat completely. It cinches down your head with cords to keep it in place when conditions warrant. Wind cutting collars are not common on many wading jackets but Simms chose to have them on the Women's Guide. They cover up to your neck area for optimum weather protection.
Seams – All seams are fully sealed to lock out elements of weather. In case you have jackets with open seams fix them since it is easy to get cold and wet when wading.
Zippers – The main zipper that goes from the bottom hem to the chin is a YKK VT9 Aquaguard VISLON zipper that is weatherproof and rust and corrosion resistant. If you need more ventilation, you can unzip it slightly. These attributes add to durability. Pull tabs are large sized to be gripped easily even with gloved fingers.
Attachment Points – On the left side chest pocket is an attachment point. Right above the pocket and it is covered with a double-sided sewn flap. This is great for tools, tippets, spools, and forceps.
Bottom Hem – The bottom hem has a durable drawstring to help keep the jacket snug around the waist. Adjust it to your comfort but ensure it doesn't leave space for entry of weather elements.
Sizes – Simms has this jacket in almost all sizes- extra-small, small, medium, large, and extra-large and double extra-large. Jacket Lengths are reasonable to cover your upper and lower torso area.
Warranty – The manufacturer has a guarantee and repair policy on all wading jackets. It saves on the cost of new purchases. There is a 60-day replacement and no questions asked on leaking jackets where the original owner gets a replacement. There is detailed information on repair fee, usage period, duration and terms and conditions for service on the Simms Fishing Products website.
---
 Customer Thoughts on the Simms Women's Guide Wading Jacket
The jacket is extremely light but very warm. It keeps one dry for long hours in a downpour. Thanks to the three-layer construction, you don't need to layer so much.
Extra pockets are amazing. The integrated pockets for gear storage. Lined hand warmers save you the stress of having gloves on all the times and back pockets for sandwiches and extra layers.
Fits are roomy enough for layering and still allow space for full range motion for casting.
100% polyester makes the jacket a good moisture-wicker especially in the hot afternoons when you are all sweaty but need to spend more hours on the water.
Cuffs are well insulated and water-tight. There is no water seeping up the sleeve and are great impassible barriers to icy-cold water.
A high-collar cuts wind effectively. In fact, you may not need your neck scarf unless you want to heat up twice as much.
YKK zippers are salt friendly, unlike the rest that rust with exposure to saltwater or freshwater. Their pull tags are of a good size too. Years down the line no damage.
Safety is an assurance. The construction allows for buoyancy when you slip and fall. You will stay afloat as you look for shallow waters or until your feet find a grip point.
---
---
Pros – Things that shine on the Simms Guide Wading Jacket
Three-layer fabric construction
Lightweight
Plenty of storage pockets
True to size
Adjustable storm hood with wind cutter
Adjustable shingle cuffs
100% weatherproof
Breathable construction
Attachment points for tools and zingers
Easy to clean and maintain
Cons – Things that are not so cool!
Limits on color options. Only available in Nightfall and storm cloud
---
FAQ's – Questions about the Simms Guide Wading Jacket for Women
Q) What is the length of the regular fit jacket?
A) This one goes to the hip
Q) Most jackets come with smaller sleeves and bust. What are the sizes for this jacket if I pick a large size?
A) The large size has a bust of 38-41 inches while the sleeve is 33 inches. Simms has well-contoured design lines and the sleeve articulation is excellent 
Q) Is this jacket made from nylon? Does it get affected by increased temperatures?
A) This one is 100% polyester and doesn't get too hot like nylon on the exterior when exposed to high temperatures.
Q) How easily accessible is the back pocket?
A) Very accessible. The zipper is on the right-hand side so you easily zip and unzip without the contents falling out.
Q) Can the internal pocket fit the large size smartphones?
A) Yes, it is a stretch woven pocket and fits the large-sized smartphones.
Q) Gore-Tex jackets are lightweight. How much does this one weigh?
A)5 oz. to be exact.
Q) Is it safe for use by women who get cold easily and have cold-related allergies?
A) Three-layer fabric construction guarantees you maximum warmth. If you feel like you need to layer just in case, the fits are roomy for this.
Q) Does the Women's Guide Wading Jacket have a stowable hood?
A) Yes, you can stow it in its compartment around the collar when not in use.
---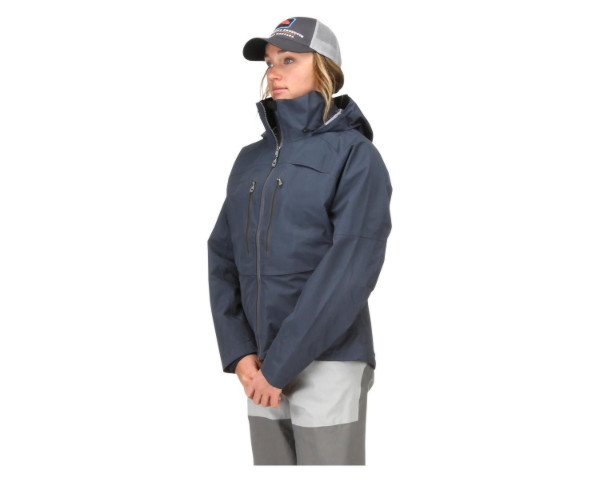 ---
Final Verdict on the Women's Guide Wading Jacket by Simms
Plough through the adverse weather elements with the Women's Guide Jacket which has well-contoured design lines and great sleeve articulation. It takes a minimalistic design and nothing about it is complicated. Something to make you love it more. The three-layer construction keeps you protected from cold. You can apply under layers of choice in super cold weather. For wind and rain, the jacket is a great one. From the base layer to the top, it cuts wind effectively.
Angler driven accents like the shingle cuffs are made of waterproof stretch fabric. The ability to resist rain from running into your sleeves when you stand to raise your hand and volunteer for the first swing through the steelhead run is unimaginable. Over cuffs keep rain out of the sleeve when you put your hands in the fish fighting position. You will love the sleek and nimble design as it doesn't allow you to carry a lot of gear. Blame it on the design-it isn't an accident. However, light packers have nothing to complain about storage.
Don't assume you can clean it like your leather jacket. You would want it intact after a wash. Remember it doesn't cost less. Cleaning the jacket regularly adds to its durability and avoid a peeling effect. It removes oil and dirt that clog the membranes responsible for breathability. Close all cuffs and zippers before washing to prevent damage by the machine. Machine wash it warm without bleach or fabric softener. Tumble dry it on warm setting. High temperatures will distort the form of your jacket. Then dry on warm to reactivate the DWR coating.
So far, it is a five-star jacket but you can rate it once you use it a couple of times. Why not pre-order to confirm if Simms did justice to it? If it is unavailable due to supply and demand factor, feel free to pick on alternatives in case of urgency. These second options are excellent and match the Women's Guide Wading Jacket on quality, durability and performance. Orvis Womens Pro Wading Jacket and Patagonia Women's River Salt Wading Jacket. The alternatives are within the same price range. If you love men's jackets you have many options. For women made by women!