Disclosure:
Just to be open and honest the buttons and links you click on in the website will in most cases take you to another website where you can purchase the products I am reviewing. As an Amazon Associate I earn from qualifying purchases.
February 9, 2019
Orvis Womens Pro Wading Jacket Review – Stylish, Waterproof and Durable
Anything Orvis is a guaranteed product. Being in this sports and recreation industry as a manufacturer for many years now, they have been able to showcase professionalism and reliability in the products they create.
In the list of pacesetters, Orvis remains at the top and its reputation will remain solid as long as consumer satisfaction remains their priority like before.
This jacket was a winner of the 2017 IFTD Best of Show Award – Women's Outerwear so rest assured its features are good.
This Orvis Women's Pro Jacket is the ultimate protection solution for all female anglers.
Its three-layer construction is an assurance of warmth regardless of the weather.
The fact that the jacket incorporates weaving means that breathability was a consideration during designing.
You will remain fresh throughout your fishing sessions because of the free air circulation.
Women love their hair and that is why the adjustable hood comes in handy.
It is big enough to accommodate any hairstyle of your choice. Spacious pockets are in different positions and you can store in your valuables and fly boxes.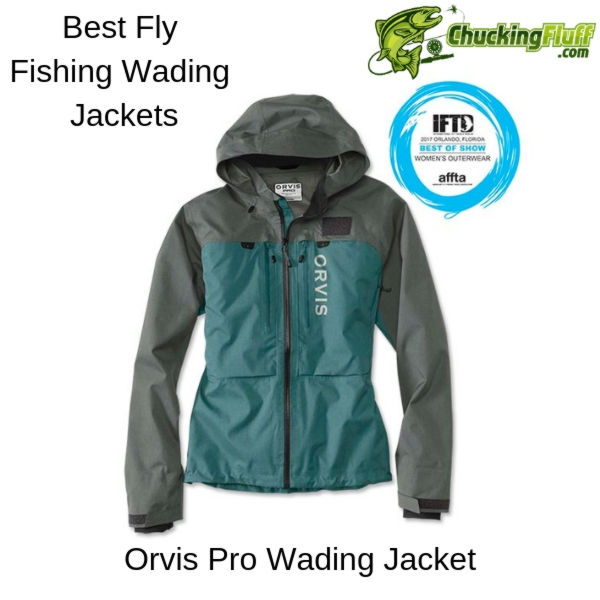 ---
Main Features of the Orvis Women's Pro Wading Jacket
Waterproofness – Orvis Women's Pro wading jacket is made of polyester material that makes it fully waterproof.
With a three-layer construction, the body's ability to retain heat is enhanced leaving you warm and dry.
With 20,000 waterproofness rating and 15,000 breathabilities, there is nothing to worry about being wet while fly fishing.
Seams are fully taped to sensitize the weatherproofing features.
The fabric has a DWR-Dual Water Repellent finish that repels water and mud from the surface of the fabric.
Pockets – In total, this jacket has four pockets for storing a few items that you carry along while going fly fishing.
The two large vertical pockets are accessed via zippers and can be used to store your fly boxes.
In the interior part is a security pocket that uses a zipper to close and open where you can store your valuables like cash, jewelry and keys.
An additional pocket in the inside is made of the mesh where you can store other stuff.
Pockets are lined with fleece to ensure your hands are warm anytime you put them in.
Jacket Length – The jacket has a good length and anytime you wade in the deepest parts, your pockets remain dry as they are high and their contents undamaged.
Cuffs – Your arms are protected from the adverse effects of weather elements like wind, cold, water and ice by the Dolphin Skin CU system that has been integrated into the jacket that make it 100% weather resistant.
Your wrist area is firmly secured by these cuffs and no weather elements can penetrate even when your arms can be above your head on wet days.
Hood – Women are known to love doing their hair in fancy ways and some extensions end up being big in size.
The Orvis Pro Women's wading jacket is designed to have a three-way adjustable hood that is big enough to accommodate any hairstyle.
In case it still feels loose, it can be adjusted at three different levels. The integrated laminate brim is used to add to the weatherproofing feature of the jacket.
Attachment Points – On the rear side of the jacket is a D-ring that can be used to attach your nets and zingers and save you the agony of carrying extra bags.
---
Customer Thoughts on the Women's Pro Jacket
-The hood type is lovely and the fact that it can accommodate big sized extensions, wigs and weaves make it the right choice for every female angler. You can adjust it too to three different tensions-just get your perfect fit.
-Cuffs on this jacket are what all other brands should implement in the female jackets. There are no leakages whatsoever.
-Orvis made this jacket breathable and during summertime, the air circulation is amazing and leaves you fresh no matter how intense the sun is.
-Zips are easily accessible by anglers. Whether opening the jacket or the pockets, there is no struggle at all.
-Pockets keep all your items clean, dry and not damaged from the weather elements while fly fishing. No leakages because of the weather resistant zippers.
-Washing and maintaining this jacket is super easy. Nothing complicated at all. The instructions on the tag are simple and easy to follow.
-No bleach, no fabric conditioner or any harsh soaps.
-Forget about having a sweater beneath the jacket. The jacket's three-layer construction keeps you warm and dry even in the coldest winter season.
-The jacket fits very well. It doesn't matter the direction you angle and how far you can cast. It isn't restrictive at all.
---
Pros – Things we liked about the Jacket
Durable construction
Highly waterproof
Breathability capabilities
Three-layer fabric construction for maximum warmth
Weather resistant cuffs
Spacious storage pockets
Pockets lined with fleece for warmth
Brushed chin guard for comfort
Rubberized tabs
Water-resistant zippers
Big and adjustable storm hood
Attachment points for nets
Lightweight
Washable
Cons – Things not so good
Fabric softeners and bleaches are discouraged when laundering to avoid the top layer from peeling off.
---
FAQ's – Questions about the Orvis Womens Pro Wading Jacket
Q) Are the jackets designed for adults only?
A) Not really because there are different sizes that can fit children and young adults too.
Q) How heavy is the jacket when worn and if I have to carry it to my location?
A) Such a light jacket and weighs 575 grams only. It doesn't make you uncomfortable in terms of heaviness when worn or if you have to carry it in a backpack.
Q) What exact sizes does Orvis have this jacket in?
A) The jacket is available in extra-small, small, medium, large and extra-large size.
Q) How can I care for this jacket?
A) The jacket is made of polyester material and is washable. Machine wash cold and air dry. Do not use bleach and harsh detergent on it. In your nearest sporting store ask for detergent for washing breathable polyester clothing for this purpose.
Q) How big is the hood? I am asking this because women and big hair are inseparable.
A) It isn't meant to put you both apart either. The hood is big enough and spacious and can be adjusted at three points.
Q) How guaranteed is protection around the chest area for someone who is asthmatic like me?
A) Sorry for your condition but you are safe from the cold because of the three-layer fabric construction and a YKK Aquaguard zipper that is durable and fully functional to protect your chest from all the weather elements.
Q) Can I have somewhere to drop in my jewelry and earrings just to be safe?
A) Yes, there is an interior mesh pocket to secure your jewelry and valuables. It is accessed by a zipper so you shouldn't worry about them falling out.
Q) Which colors can I buy this jacket in?
A) This jacket is available in dragonfly/ash only
---
Final Verdict on the Orvis Pro Ladies Wading Jacket
Protective features in this Orvis Women's Pro Wading Jacket Review show that your health is important to the manufacturer hence the professionalism.
The three-layer fabric construction is a feature that you will love because it keeps you warm throughout regardless of whether you have conditions like asthma or cold allergies.
How about the spacious storage pockets accessed by water-resistant zippers? All your jewelry remain safe and dry.
You do not have to worry about rust stains at all.
The adjustable storm hood is interesting to use and you will love it for its space and ability to be adjusted to the tension you find perfect and comfortable.
No matter how big your hairstyle is, be sure it will fit without a strand remaining outside.
If you love your entire body being protected, then this is the right jacket that you should get.
You may want to order a few of these jackets online or from your nearest store but unfortunately, find it unavailable.
This is common because they are loved by many women and high on demand.
Here are some jackets of the same rank, quality and price range as this one that you can select from; Orvis women's sonic wading jacket and Simms Women's Guide Wading Jacket.
Still, from Orvis, you are guaranteed performance and durability.
Need more options check our full list of wading jackets here