Moonshine Rod Company manufactures a wide range of fly fishing rods that suit any angler. Among them is the Moonshine Rod Company The Drifter Series Fly Fishing Rod. Fly fishers who have had hands on any product by this manufacturer can confirm that they have good price points on all products to suit any budget.
The company is a new one but is doing better than some legends. All fly rods are backed with a lifetime warranty in case of any repairs and replacements of rods with defects. All terms and conditions have to be followed to get service.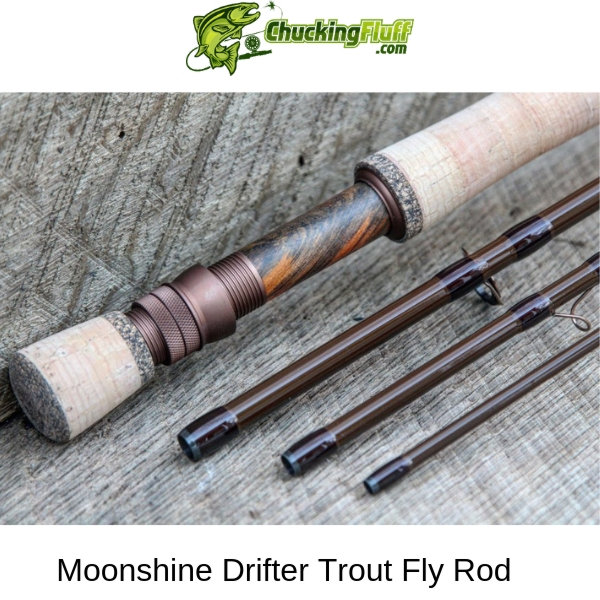 Every blank that the Moonshine uses to build a rod undergoes vigorous tests by an experienced team of builders and Pro team anglers. You are guaranteed quality, durability and high performance regardless of the type of rod you choose. As you spend on one of their rods, you are assured a lifetime of pleasure and enjoyment. For this reason, Moonshine Rod Company is among the crème list of fly rod manufacturers who are doing exceedingly well in the fly fishing industry.
The Drifter Series fly rod is one of its kind- let's say it is a piece of art and purpose. When you sample its performance with regards to sensitivity, there is no doubt that it is innovatory. Its action is one of the best that any ambitious angler would love to take to use. You still can't compare the Drifter rod with the revolutionary brands.
Most manufacturers use aluminum on reel seats but this one has taken the odd side and settling for anodized copper is what you need for durability. Copper is stronger than aluminum and this reel seat can take any abuse and still remain as intact as new.
Don't gamble with its firmness. This one has the 'Chuck Norris 'ability for strong casts and remains flexible in course as you reel in fish. The color scheme gives it a state-of-the-art look. Vintage matte brown crowns the aesthetics of this rod and any angler who loves style and class will love it.
Still, on its craftsmanship, the rod is easy to assemble and disassemble. This allows you to focus more on fly fishing and spend more time on the water. It is among the best tarpon fly fishing rods so far. Its attention to detail goes beyond the fly rod itself.
Moonshine Rods is too thoughtful to include an extra tip on almost all rods. The hard canvas case also has five compartments, unlike most Cordura tubes. The extra section is for storing the extra tip section. Collectively, the rod gives you an incomparable experience on the water. There is more in this review that will interest you.
---
Main Features of the Drifter Series Fly Rod
Rod Specification – Moonshine Rod Co. The Drifter Series Fly Fishing Rod vary in rod length and fly line weight. You can get it from 3wt 7ft 6inch to 8wt 9ft. The 8wt 9ft rod weighs 3.9 ounces. Basing on overall rod weight, the series has some of the lightest rods that are comfortable for use by both young and elderly anglers. It doesn't put a toll on your shoulders.
---
Rod Action – Drifter Series rods are not fast action rods. They are for smooth casting and great accuracy. With medium action, the stiffness is great to allow you to shoot long distances. The balance between stiffness and softness makes the rod forgiving. This rod bends moderately at half-length while the other lower half remains stiff. The upsides are an improvement in line control and accuracy levels.
---
Material – The blank is made from high-grade graphite and hardware from the top to the reel seat is made of anodized copper. Anodization allows for use in both fresh and saltwater environs. It makes the hardware resistant to wear and tear resulting from normal handling and usage and corrosion.
---
Handle – High-grade AAA cork is used to make the grip which has burled ends. The handle is of a good size to allow a good grip by anglers of all ages and skill levels. It doesn't cause fatigue allowing you to spend long hours on the water.
---
Sections – Drifter series rods are 4 piece rods and are easy to transport. If you are a traveling angler this one is a go for. It fits well in the hard canvas case making storage less bothersome. Don't get confused. The added tip section doesn't make it a 5 piece.
---
Guides – The stripping guide first up from the grip is lined with ceramic and is the largest to accommodate the wildly fluctuating line as it bangs into this guide while casting. Snake guides are durable are lightweight and made from durable material.
---
Reel Seat – The burl wood reel seat has anodized copper as the main material used on the hardware. It results in a corrosion and rust resistant reel seat that can be used in both fresh and salt water. Durability is guaranteed because anodized copper is resistant to wear from handling or normal usage.
---
Tube – Moonshine gives a hard canvas rod tube with 5 compartments. Most manufacturers have theirs in four sections. The four main sections are for rod storage while the fifth is for storing the extra tip. The tube makes rod storage and transportation to the fly fishing spot very easy and safe.
---
Warranty – There is a no-fault lifetime on all rods by Moonshine including the Drifter series fly rods. The warranty doesn't cover flagrant abuse or intentional damage. There are charges ranging between $40 and $65 for repairs and replacements. You can check more on the warranty on the Moonshine website.
---
Customer Thoughts on the Moonshine Rod Company Drifter Series Rod
One of the good looking fly rods. The 5wt 9pc pairs well with the Behemoth reel by Redington. It casts well for sunfish.
In all aspects, this rod is fabulous. It is responsive, has great forgiving action and performs well like other fly rods which cost five times its price.
You are able to cast exactly where you want your fly to go effortlessly. Beginners will find this Moonshine Rod Co. The Drifter Series Fly Fishing Rod light and interesting.
An extra tip is a good idea by the manufacturer. Saves you the hustle of separately purchasing another one when your only one breaks. One downside is the absent alignment dots.
The fit and finish are good. The stiffness and flexibility are excellent to give you a great experience as you cast at any range.
The hardware and the wraps are made from good quality material. For a rod in this dollar reagent, its craftsmanship is on point.
It is very sensitive considering the weights and all cast beautifully. The casting stroke can be a little slow compared to fast action rods. It casts accurately at longer distances and has a good presentation.
The rod's action is admirable and super lively. It can toss one of the biggest and ugliest streamers. Despite the tip being delicate, it doesn't break anyhow.
---
Pros – Things that shine on the Drifter Series Fly Rod
Lightweight fly rod
Comes with a 5-sectioned hard canvas rod tube
Casts well on any distance
Medium action rod
Versatile options for length and weight
Exceptional design
Anodized copper hardware for all environment usage
Great flexibility and sensitivity
Double tip sections
Four piece rod
Lifetime warranty
Cons – Things that are not so cool!
Wooden parts with dye and color may not last long after several uses.
---
The Drifter Series Fly Rods from Moonshine Rod Company on Vimeo.
---
FAQ's – Questions about the Moonshine Rod Company Drifter Series Rod
Q) Is this rod a fast or medium-fast action rod?
A) The rod has a medium action
Q) Where are Moonshine rods made? Is quality guaranteed?
A) Moonshine rods have blanks made in China using South Korea carbon. Quality is guaranteed because once blanks are made they are sent to Moonshine Company in the USA for testing where quality matters are checked.
Q) The rod case looks amazing and the canvas is durable. How long does the case for the 3wt rod measure?
A) The rod measures 25.5''
Q) What happens to a broken rod?
A) The rod comes with a no-fault lifetime warranty. However, the terms and conditions on the Moonshine warranty page have to be adhered to. There is more on the manufacturer's website.
Q) Will a starter find this fly rod helpful in advancing their fly fishing skills?
A) This fly rod is designed for anglers of all levels-beginners to professionals.
Q) Is this a 4 piece or 5 piece rod?
A) This rod is a 4 piece rod although it comes with an extra tip. The extra tip doesn't make it a 5 piece rod.
Q) Does the reel seat work in saltwater environs?
A) This reel has anodized copper hardware that makes it possible to use in both fresh and saltwater environments.
Q) What type of handle does this fly fishing rod have?
A) The rod has high-grade AAA cork handles with burled ends.
Q) How heavy is the Drifter 5wt 10ft rod?
A) The 5wt 10ft rod weighs 3.7 ounces.
---
Final Verdict on the Moonshine Drifter Rod
As it boasts a vintage color scheme, anodized copper hardware, and a well-made blank, the Moonshine Drifter rod truly deserves all hats off. It is excellent for those anglers who are aiming at perfection in terms of quality and a reasonable price.
You know that you don't have to spend $1000 on a fly rod to get the best on water. Moonshine provides fly fishers with everything from flexibility and durability to some of the most versatile applications.
If you want a medium action rod that brings out comfortable results this is it. You can use this rod for short, mid-range and long cats seamlessly. When handling, the feel is soft and reliable.
It doesn't matter if it is long double hauls or rolled casts, it is effortless to make casts. Beginners will find it easy despite it not having alignment rods for set up. You can perfect assembling with time and it will not be a reason for not using this fly rod.
The best thing is that Moonshine has its rods with two tip sections and this one doesn't miss out on the list. This is an extra reason to settle for this rod. Craftsmanship and design are top notch. With a well-dyed finish, it delivers sensational graining touch on the wood.
You will love its unique texture. It gets better with ergonomics with the high-grade AAA handles with burled ends to maximize the aesthetics of the fly rod. The action is good for anglers of all abilities and is the perfect solution if you love a great rod blank performance with custom reel seats and superior grip and comfort.
You can't enjoy the hottest broth if you don't taste it. Pre-order this rod to have a feel of it. If you miss it in your nearest store or online shop, there are several alternatives that you can choose from.  Douglas DXF Fly Fishing Rod DXF5904 9′ #5, TFO BVK Series Fly Fishing Rods, Temple Fork: Finesse Series Fly Rod, TF 05 89-4F, TFO Temple Fork Lefty Kreh Professional Series II Graphite Fly Fishing Rod, Orvis Clearwater 5 weight 9 ft Fly Rod, and Redington Classic Trout Fly Fishing Rod are reliable options.
The alternatives fall in the price range of the Moonshine Rod Co. The Drifter Series Fly Fishing Rod. There are no doubts about performance and durability. You can't miss trying this one!
---
Drifter Amazon Price
Check our Fly Rod Review List
Still need Help Check this Rod Guide