Disclosure:
Just to be open and honest the buttons and links you click on in the website will in most cases take you to another website where you can purchase the products I am reviewing. As an Amazon Associate I earn from qualifying purchases.
June 2, 2020
Orvis Clearwater vs Redington Behemoth Fly Reel Comparison
None is talking against the other here. This is just a detailed comparison to see what these fly reel masters did differently to make water life more interesting than before. Orvis and Redington are among the top-notch manufacturers of fly fishing gear and equipment.
There isn't any doubt about the authenticity and performance of their reels and combos. The two brands have scooped several awards before. And for award-winning companies, there is always more anticipation when there is a rumor of a new release or an upgrade. Orvis Clearwater Fly Reel and Redington Behemoth Fly Reel are among the best in the market for 2020. The two reels are upgrade versions and as always, these come with a few twists and tweaks here to better your overall experience.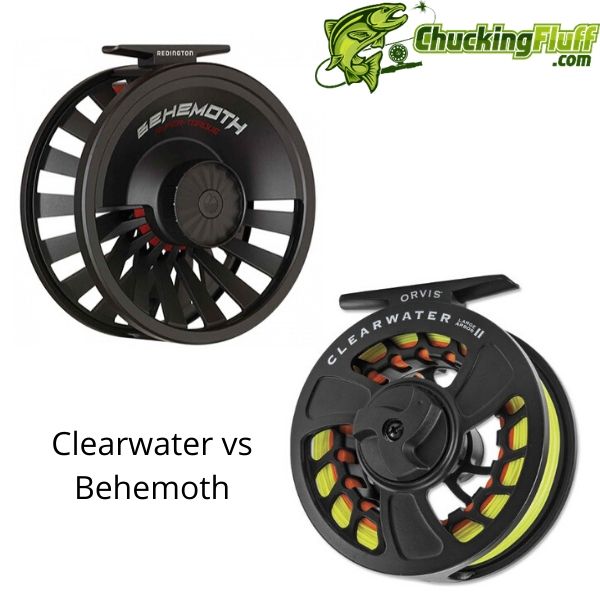 What about these fly reels?
As you go about shopping for the best performing and affordable fly reel that suits your angling needs, you need to know that functionality is crucial. More so, compatibility with your fly rod is not worth gambling with. The former is easier than the later as getting a highly performing reel is easier than getting one that matches well with your rod.
You will want to get a fly reel with a line rating that matches the rod. It is awkward to have a 4 weight trout rod with a 7 weight trout reel. Heavier trout reels are for monster bass and trout. Also, you want to ensure that the reel and rod are paired in the right position. Most left-handed people will want to get right-facing fly reels. There are no limitations as this will highly depend on your taste and preference. However, we recommend that you get a reel that you can change from either side or back.
Usually, options like the start-up energy, drag system, reel weight, and others are vital aspects as you choose the best reel. They are a measure of quality and the performance of your fly reel. We are excited that both Redington and Orvis do exemplary well in ensuring that these aspects are the best.
Check your reel weight. It has everything to do with balance and your overall comfort as you cast and reel. If you get a heavy reel for a light rod, the rod tip gets lifted to create imbalance and the same happens for a lighter reel on a heavier rod. You have to hold your fly rod in a casting angle and feel the two balance properly. Otherwise, it will be wasting precious fishing time and causing fatigue on your arms.
So let's see what these reels look like in our comparison review.
---
Orvis Clearwater Fly Reel Review
As an upgrade for 2019, it came as a shocker that this reel would be even better than its predecessor. Orvis has done so much in re-engineering this fly reel. The Clearwater fly reel is among the company's oldest fly reels and has been doing well since its first release into the market. We expect the new version to carry on the legacy and we expect more improvements in the future.
The construction of the reel depicts durability. Orvis is straightforward in describing the use of the reel and warns against using it in saline areas. You know that every piece of equipment is an investment so you wouldn't want to ruin this with salt.
We love how generous the brand is and with an unconditional guarantee on this fly reel, there isn't much to lose. In case you discover any defects in manufacture or workmanship, you can be sure to get help with repair or replacement to something better.
Good thing-their customer care is admirable and after-sale service something that other brands should emulate.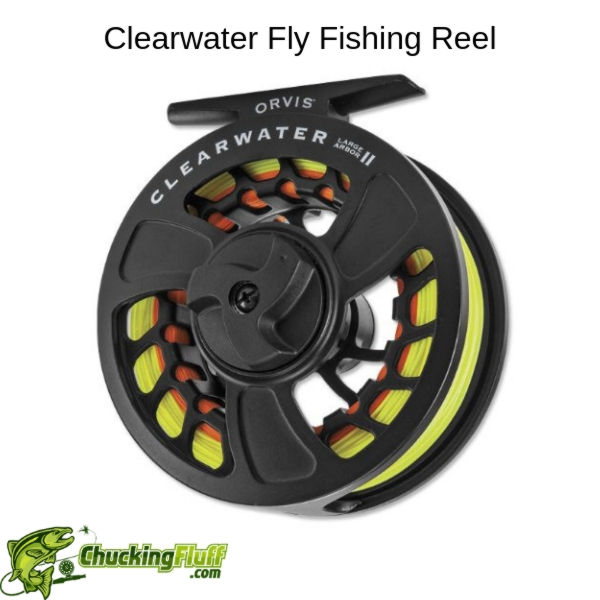 Check Clearwater Amazon Availability
Check Clearwater Web Availability
---
Main Features of the Clearwater Fly Reel
Design, Material, and Construction – The Clearwater fly reel is made from high-grade cast aluminum material. Some of its upsides are flexibility, less machining, low cost, and a fine surface finish. There might be a concern on the tolerance to falls and drops as cast reels are delicate and can easily chip, crack, or break.
Drag System – Orvis retains the Rulon to Stainless Stacked Disc Drag that comes with a drag knob for adjustment. The reel allows for a slight palming of the spool for extra drag. The drag system is easy to operate and maintain.
Retrieve – These reels come programmed on the left hand retrieve. The good news is that the conversion is interchangeable from either of these sides. Orvis has this procedure up on its website for new users to check out.
Reel Weight – Upgrading the reels came with a decrease in the overall weight. Clearwater reels come in two versions-Clearwater II 4-6 weight and Clearwater IV 7-9 weight. The former is 5.4 oz. and the later 6.1 oz.
---
Application of the Clearwater Fly Reels
This fly reel falls under the freshwater fly reel category by Orvis. You are restricted to using it in these areas to ensure that you maintain functionality and longevity. Some anglers risk the reel in saltwater but the brutality in such areas tampers with the reel and its components. If you do have to use it in the ocean make sure to rise carefully and completely in freshwater as soon as you are finished.
---
Pros – Things that shine on the Clearwater Fly Reel
Large arbor design
Lightweight construction
Two models to choose from
Interchangeable to any side
Unconditional guarantee
Low-maintenance
Excellent drag system
Tougher spool
Cons – Concerns not Deal-breakers
It is a freshwater reel and will not be versatile in terms of environmental use
The cast aluminum is delicate than machined reels
---
Redington Behemoth Fly Reel Review
Previously, you'd feel like you are going bankrupt because of how costly fly reels were. Just for a powerful drag, Redington introduced a killer reel for the money with all the specifications any angler would want in an affordable fly reel.
It is among the beasts and we have put it to test to verify the manufacturer's claims of superiority. So far, so good. The reel is a go-for when hunting albacore, tarpon, sailfish, bonefish, and any other challenge that a fly angler would like to take on.
Besides being in the crème list, it takes a spot in those aesthetically pleasing fly reels lists. The look is cool with the interwoven spokes. The brilliance on the ergonomics is evident on the drag knob and handle. Read below more aspects of these reels.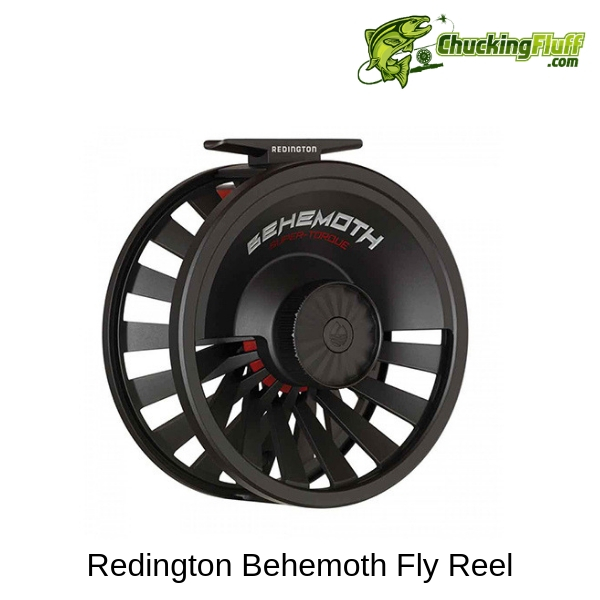 Check Behemoth Web Availability
---
Key Features of the Behemoth Fly Reels
Material and Design – Another Die-cast reel, Redington takes this path to ensure affordability while providing a functional reel. You can carry this as a backup reel in case yours becomes faulty. Also, rookies who feel like they need to spend very little can opt for these reels. Be careful with handling as carelessness will lead to breakage.
Drag System – The operations of your fly reels will revolve around the drag system. This one has a powerful carbon fiber drag system and has excellent stopping power. The reel can haul heavy species without a problem. Its startup inertia is very low to give the smoothest drags without jerking and stops that can make a fish bolt for refuge.
Spool – Triangular spools allow for quick line pick up and this is what the manufacturer uses on this reel. However, because of the width of the spool, the line pile up is something you will have to be careful about.
Retrieve – Conversions on a reel are great and with the best ergonomics, it gives an easier experience. You can convert these reels from the left to the right-hand side and vice versa. The knob is oversized and might pose a challenge to anglers with smaller hands.
---
Application of the Behemoth Fly Reel
The fly reel boasts versatility in terms of areas of use. It is exemplary in both fresh and saltwater areas. You can have it on a four or five weight fly rod for some trout time. It can catch monster fish that you often find in saline waters. You can carry it to the flats and it will fish you a good meal for the day.
---
Pros – What we like about the Orvis 2019 Clearwater Fly Fishing Outfit
Lifetime warranty
Twin-molded handles
Increased backing capacity
Large arbor
Adjustable drag system
Cons – Things that we don't like
Another Die-Cast reel, this means more care during and after use as the construction is delicate.
Capped carbon fiber drag systems can affect performance because of the entry of drag inhibitors. A quick rinse after each use will go a long way.
---
Similarities of the Redington Behemoth Fly Reel and Orvis Clearwater Fly Reel
Both fly reels are usable in freshwater areas and perfect for trout and bass.
The two reels are made from Die-cast aluminum which is a delicate process.
There are product guarantees on the reels however, the terms differ.
Both reels have large arbors.
The retrieves of these reels are interchangeable to either side.
They are available in various models.
Both manufacturers avail spare spools for these reels. However, they come as separate purchases.
---
Differences between the Clearwater Fly Reel and Behemoth Fly Reel
We prefer to tabulate the difference to make it easier to read through and make a choice. This table doesn't show the difference in performance when on water but focuses on specific structural aspects of the reel.
---
| | | |
| --- | --- | --- |
| ASPECT | ORVIS CLEARWATER REEL | REDINGTON BEHEMOTH REEL |
| Environment | Freshwater | Freshwater and Saltwater |
| Drag System | Rulon to Stainless Stacked disc drag | Carbon fiber drag system |
| Models | LA II (4-6) LA IV (7-9) | 4/5, 5/6, 7/8, 9/10, 11/12 |
| Arbor | Large | Large |
| Diameters | 3 ½ '' and 3 ¼ '' | 3.4'', 3.6'', 4.0'', 4.4'', 4.7'' |
| Weight | 5.4 oz. and 6.1 oz. | 5.2, 5.7, 7.5, 10.8, 11.4 oz. |
---
Final Verdict
Before you decide which one to bag remember that we do these comparisons to help you choose what best suits your needs at the moment and which will be a perfect backup for the rainy days. Orvis and Redington are household names in the angling sector and for a long time they have maintained a reputation of customer satisfaction, response to feedback, and critics. It is the reason we are reviewing upgrades of previous reel versions.
It isn't a surprise as we expected more from these brands and the delivery was on point. For instance, reduction in reel weights was a bold step in ensuring that rod and reel balance is superb. Every other aesthetic and feature takes its place well to ensure the proper functioning of these reels.
While there are a few concerns here and there, we hope that the manufacturers do something about them in their next face-lift of these reels. Otherwise, they aren't deal-breakers that can hinder you from trying them. As a general rule of thumb for these reels, a little care will save you an unexpected loss. These reels are from Die-cast aluminum making them brittle. Even with the excitement of owning and testing one, have this in mind to prevent breakage or cracks.
Make use of the product guarantees and warranty in case you discover a defect in material or any malfunction. The support teams of Orvis and Redington have a history of commitment and you will get help. If you are out for trout and bass, the Orvis Clearwater Fly Reel is your companion. For tarpon, albacore, sailfish, bonefish, salmon, snook, redfish, and pike, Redington Behemoth should be your ultimate choice, especially in the larger sizes.
If you are still not convinced on the Clearwater Fly reel or Redington Behemoth then we have more reels reviewed on our full list here.
Check Behemoth Web Availability
Check Clearwater Amazon Availability
Check Clearwater Web Availability