Disclosure:
Just to be open and honest the buttons and links you click on in the website will in most cases take you to another website where you can purchase the products I am reviewing. As an Amazon Associate I earn from qualifying purchases.
February 12, 2022
Brands of Fly Fishing Rods – The Whos Who Guide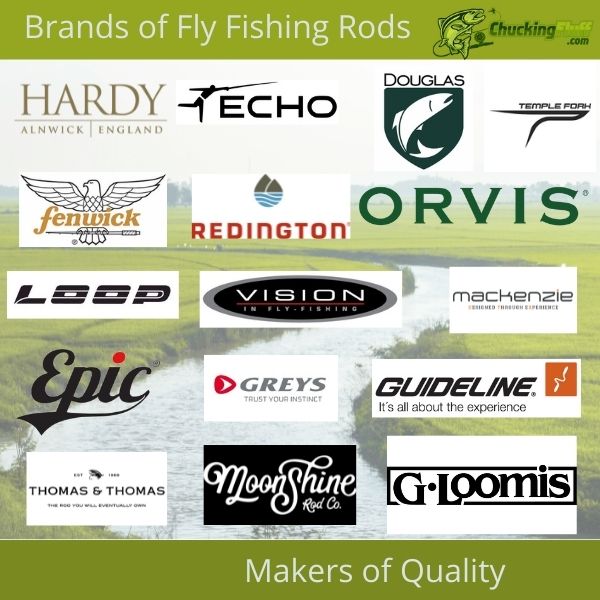 There are so many fantastic fly fishing rod brands, both old and new, and it can be daunting to tell them apart since everyone is striving to be the best in the market.
As part of the features to consider when purchasing a good fly rod, the majority include the brand, and that is on point.
A quality and reputable fly rod brand produces high-performing and long-lasting rods for most people.
You must have heard about Orvis, Sage, G.Loomis, Winston and the likes; these are just a few in the market, but the list is longer than you think.
Before we dive into the list and description of fly rod brands, it will be crucial to know that they are priced differently.
Depending on your budget, you can buy cheap, middle-priced, and high-end options.
Some manufacturers have all the budget categories above, while others like Winston, Sage and G.Loomis, among others, are primarily high-end brands with a few middle-priced options.
---
Who Makes the Best Fly Fishing Rods?
---
This is a whole debate on its own, and every angler has their unchallenged opinions.
It all depends on everyone's definition of 'BEST.'
If you want a high-end fly rod, you will pay heftily, and if you want one with low weight, there is no doubt that you will shell out more bucks by considering top-end brands.
Sometimes, you need a rod that is an absolute joy to cast and don't want to go bankrupt; check with the middle or cheaply-priced brands.
However, today, Orvis, Winston, Sage and Douglas are building some of the best fly rods in the market at different price points.
Other brands are doing equally well.
Redington and Echo are developing excellent rods now, and you can't assume what Fenwick is doing.
The bottom line, in this case, is that it is easier today than before to get a great fly rod at whichever price.
The limiting factor can be your budget.
If you need something, you have been eyeing for a while, save for it or wait for sales.
You might be lucky to land on an excellent fishing stick at a great deal.
Check out our Rod Buying Guide
---
Best High-end Fly Rod Brands
---
Below are some of the best high-end fly fishing rod brands in no order:
---
Mid-priced Fly Rod Brands
---
Don't be surprised if you spot brands mentioned in the top-end section in this category.
As earlier said, some companies consider anglers of all budgets.
---
Echo
Orvis
Douglas
Greys
Wychwood
---
Budget Fly Rod Brands
---
When you need to save a few bucks or are a novice starting your fly fishing journey and want to weigh the waters, this category will be of great help.
Also, if you are looking to increase your collection of backup fly rods, shopping from the brands listed below, especially the budget-friendly section, will be ideal.
---
---
Echo
---
Since he was young, Echo's founder Tim Rajeff learned the importance of never sacrificing performance.
He has spent all his life with this in mind and has internalized it into his brand fly rods and ethos.
Echo offers a wide array of fly sticks designed to uncommonly stringent specifications.
The brand continually pushes developing and crafting high-grade and performance-driven fly fishing rods.
Suppose you have fished some of its rods. In that case, you can agree that the results of the founder's passion and experience are reflected in the rod with every unique action while emphasising casting efficiency and accuracy.
---
G.Loomis
---
Incomparable performance comes from not leaving anything to chance when building the most highly-specialised fly rods in the market.
That is precisely how G.Loomis has approached its rod-making business.
If you are a serious angler who wonders about the epitome of the dream of fly rods, find out what your mentor guides are using on the next few trips.
They probably have G.Loomis rods.
---
Orvis
---
If an old company has survived the tests of time, think Orvis!
From changing its leadership severally to almost closing business at some point, Orvis has risen to be one of the best fly rod and tackle brands.
Do you know what the most exciting thing is?
It is a considerate company and produces fly rods for anglers of all skill levels and budgets.
Whether you are shopping on a tight line for a trout reel or feel like splurging on the most expensive stick the company has ever manufactured, the buddies at Vermont never lack options.
This brand has proven to be the anchor and guide that teaches rookie and advanced anglers the right ways of fly fishing.
I know it can be intimidating if you aren't into the spot yet, but trust Orvis once you toss yourself into it!
Whether you want to learn how to cast using long or short rods, this invaluable brand commits to teaching you and other nature enthusiasts.
As you hone your skills, you will appreciate the quality of its fly rods and the company's commitment to using the sticks appropriately, as you can see in their learning centre.
---
Redington
---
You can agree that Redington didn't come to play from the brand's logo.
Hot red, symbolic of burning flames, is what the company chose, and its deeds are as depicted in the logo.
Years back, when people thought fly angling had a stuffy reputation, it was only a lie.
Most fly fishers don't fish with smoking jackets on, but we have everything to thank this brand.
In 1992, this brand began supplying anglers who crave value, fun and versatility with high-quality fly fishing rods and other gear.
Check out rods like the Predator for anglers who love hucking meat or its famous fiberglass Butter Stick that melts in hand just like warm butter.
These are just a few; try Redington rods to get the most out of your resources.
---
Sage
---
Combine a snowboarding pioneer and a fly rod builder, and let me know your findings.
As for me, the expectations are never met; they are always surpassed.
Sage has spent decades innovating, and the 35+ years haven't gone to waste.
The brand commits to the same philosophy it has held on to for over three decades – innovation.
Its most recent Konnetic rod technology will baffle you with the perfect blend of control and power to tackle any fly angling situation.
The only option to experience such magic is testing the rod on the water.
---
Scott Fly Rods
---
Are there perfect trout rods?
If there is any that exists, it should be the Scott Centric.
The fast-action Centric rod commenced Scott's portfolio of fine and exquisitely built fly fishing rods handmade in Colorado's Montrose.
Any angler who knows or chooses Scott has confidence in its rods.
---
Temple Fork Outfitters
---
Temple Fork Outfitters prides itself in building the sport and protecting it through its passion for fly fishing.
There is no doubt that areas fishers love to cast in are threatened.
By inviting the freshers to experience, enjoy and practice the sport, TFO believes that more buddies will protect these waterways and lands.
How does this brand do this?
By providing top-notch fly fishing rods and tackle at costs that invite more exploration.
---
R. L Winston
---
Fly angling is an art, and from the specimens to the scenery, the aesthetics of this sport changes into a true passion for the true angler.
Winston has a classical approach to its craft, evident in its masterpieces' performance and looks.
Don't you believe me?
Watch the Winston Pure Fly Rod deliver dry flies delicately to sipping trout and challenge me that has completely nothing to do with angling.
Since 1929, Winston fly fishing rods have painted an un-erasable picture of a classic fly angling experience.
Other Brands you mustn't ignore.
The brands briefly described below might not be very popular, but their offerings are superb.
Like any business, it takes time, consistency, and quality to be noticed to the level of Orvis, G.Loomis and the likes.
Check them out and test any of their highly reviewed and recommended rods.
---
WETFLY
---
The buddies at WETFLY aim to make this sport affordable and enjoyable without compromising quality and performance.
The brand recently launched a line matching frugality and functionality – the new Nitrolite Tactical Pro Rods built from multi-layered wrapped carbon fibre for weight reduction while maintaining strength.
Its Nitrogen Rod series also had an excellent reception gauging from online reviews.
---
Fenwick
---
Here's another one whose primary intention is affordability.
The manufacturer is beginning to be noticed thanks to its Streamflex and Streamflex Plus rods that boast versatility and power.
What struck me as attractive about this brand is how fast its Streamflex Plus rod sold out after the first release.
I think it is because of the fifth 6'' piece you can add on the rod to create a nymphing setup.
---
Tenkara
---
If you are new to Tenkara, it is a Japanese style of fly angling that leans mostly towards extreme minimalism.
One of the Kickstarter runaway victories for this brand was their Beartooth, a tiny fly rod that collapses to 14" from 10.'
---
Conclusion
---
These aren't all the existing brands of fly fishing rods, but some that you will not regret buying from.
Share more you own or have used in the comments.