Disclosure:
Just to be open and honest the buttons and links you click on in the website will in most cases take you to another website where you can purchase the products I am reviewing. As an Amazon Associate I earn from qualifying purchases.
February 13, 2021
Orvis Mens Pro Underwader Pants Review – Underlayering
Anglers who cut their fishing teeth chasing water life in the coldest regions while wading and constantly in deeper waters will agree that proper layering can save a life.
Water temperatures in the rivers, creeks, and lakes are single digit and the humidity isn't something to speak about. However, avid fly anglers still step out to have time for themselves doing what they love.
All you need and all you would want is a pair of warm yet light underneath layers like the Orvis Men's Pro Underwader Pants. Quick-drying pants protect your legs from the brutal conditions.
Most winter fly fishermen and women expand their angling horizons and sample delicate brookies, browns, and rainbows in tailwaters for the better part of winter.
And this means a perfect pair of underwader pants like the Men's Pro will do. Waters flowing during these times are colder than iced tea and the air temperatures also fall lower. It won't take long to freeze if you aren't well-prepared.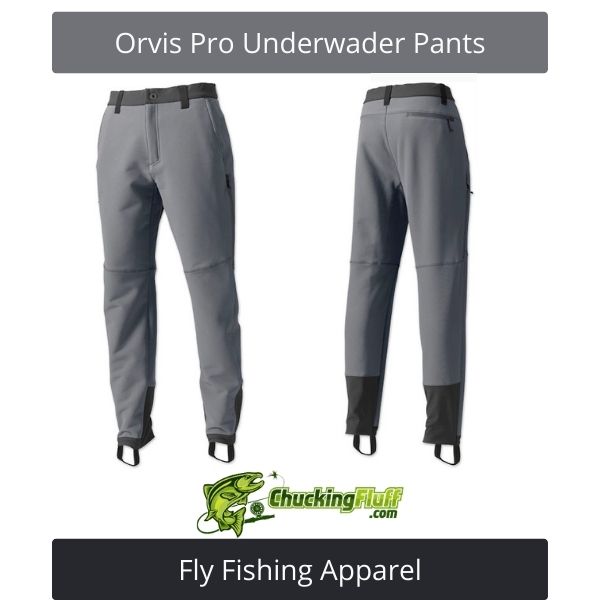 If you glance at your thermometer, it probably reads 10 or 9. While this can be frustrating to a normal human, a winter angler will get excited about their underwader pants.
As you have matured in the sport, the charm of frequently wading to the armpits in colder water could be constantly pushing you to spend more time out.
Polyester underwader pants are a comfortable and reasonable approach for safer wading in the colder winters.
When it comes down to the Pro Underwader pants, you need enough warmth as your lowers are in more contact with water than your uppers especially if you will be standing in puddles often.
They are dry and comfortable. Also, they won't cut into an angler's ammo budget. The design and quality of these pants are superior to its rivals.
Comfort
One of the crucial aspects that determine your comfort is how the underwader pants fit under the waders. They don't have to be too loose or too tight. It just has to fit closer to your skin.
Straps in the feet area are to keep them in place. You won't spend so much time wearing and removing your waders.
Polyester breathes well and with the construction mechanism of the Orvis Pro Pants, you don't have to worry about accumulated condensation and perspiration.
They wick away moisture and help with warmth. It doesn't offer odor neutralization or absorption but still works well. We love that it has good dryness ratings and is a good defense against moisture.
Warmth
Material and insulation are the two primary components that determine the warmth levels of your underwader pants. Fleece is a common material with excellent warmth levels.
Polyester is also a good one that accomplishes this without increasing the price of the underwader pants. It makes layering quite simple to do.
The insulation grams confirm that the underwader pants will protect you from as much cold as possible. Its high-pile fleece interior offers enough insulation without causing overheating.
If you haven't experienced the discomfort of being too warm then you must be a lucky guy. The blend between fleece and polyester is what you on these days. With proper layering, you will have nothing to worry about the Orvis Men's Pro Underwader Pants.
Durability
This is one of the aspects that you would want to confirm before committing to a purchase. The hems are well done and the stitching is impressive.
We love that Orvis concentrates more on the quality of the pants' manufacturing process. There are no uneven stitches, loose strings, or any abnormalities that are signs of a badly-done piece.
Another good sign of quality is elastic in the feet and waist to give a proper fit.
The material also determines the longevity of your pants and fleece with a combination of polyester improves breathability and insulation. The high-pile fleece is of high-quality and spandex is for stretch mechanism.
Check Orvis Pro Bottom Web Availability
Key Features of the Men's Pro Underwader Pants
Material
Orvis uses three main materials to make the Pro Underwater pants. The stretch mechanism is because of the spandex material to give a snug fit-not too tight or too loose.
Polyester on the other hand is for breathability, lightweight, and quick-drying properties. What makes it a perfect underneath layer is the high pile fleece in its inner side for utmost insulation.
If you are a wading angler, you will be standing in the water longer, crossing streams and rivers to get to the other end, and doing more things with your feet in the water.
Sometimes, this water might be very deep and cold so more protection is necessary. It is a four-way fabric construction with excellent warmth and durability.
---
Fit
This is also an athletic fit like the Orvis Men's Pro Insulated Hoodie. It fits true to size and needs confirming with the Orvis chart to ensure that you get the correct size.
---
Leg Construction
The legs have a tapered design to make them slightly tight in the ankles though not uncomfortable. Your underwader pants will make your legs look longer and slimmer.
The design is perfect for wearing under your wader pants or chest waders as they lay well and allow for easier boot-wearing.
---
Cuffs
The cuff hems are designed with lightweight stretch panels to make them less bulky and allow the angler to comfortably wear the pants with wading boots.
---
Straps
Stirrup straps just like thumb loops on wading shirts are very important. With frequent movements here and there as you cast, your pants could ride up your feet making it uncomfortable. The straps keep the pants in place throughout.
---
Pockets
The two front handwarmer pockets are ideal for when you want to toast your cold fingers. They are lined with fleece to make heat regeneration fast enough.
There is a rear security pocket accessed via a zipper that you can store a few personals.
Ensure that you use it for flat items like licenses and your wallet but not tools that could damage your layers or injure you as you sit or lean to rest.
---
Vents
Mesh vents are ideal for ventilation and more breathability. There is one on each side of the underwader pants and is accessed via durable zippers. You can release the zippers when you feel like you are overheating.
---
Waistband
The Orvis Men's Pro Underwader Pants has a durable elastic waistband that fits well without being too tight. It also comes with inbuilt belt loops for the angler who loves more security. However, the wading belt is a separate purchase.
---
Coatings
Orvis uses a durable water repellent coating as a final finish on the pants. This improves the water-resistant properties of the pants and allows them to remain dry and warm for a while if they get exposed to water.
---
Zippers
YKK zippers are what you spot on this pair. This is for durability, proper functionality, and smooth operation. Since they are made from nylon material, they don't rust or corrode.
---
Sizes
The Men's Pro Underwader Pants from Orvis are available in small, medium, large, extra-large, and double extra-large.
Pros – The Good about the Orvis Pro Underwader Pants
Overall durable construction
Athletic fit for snugness
Perfect insulation
Lightweight and highly breathable
Easy to clean and maintain
Available in various sizes
Good pocket system
Water-resistant
Cons – The Concerns though not Deal-breakers
Only available in an athletic fit

No odor block 
Customer Thoughts on the Orvis Pro Underwader Pants for Men
Not being available in a regular fit or others for anglers to choose from will force you to reach the Orvis desk and confirm with your measurements to get the right sizing. Otherwise, it is a good underneath layer if you choose what fits properly.
The stirrup straps might need some little getting used to but they are such an excellent addition especially if you are looking to achieve long-term comfort.
You will love its insulation qualities and the slim cut ensures that warmth doesn't escape, neither does cold air get into the pants. We love that you can easily pull up hick socks and they will remain in place.
In an upgrade, if there is any, Orvis could do well on the inseam with an increase of about half an inch or so. This is to improve the freedom of movement and prevent it from being so restrictive to built guys.
If you have a high arch, the angle construction might be challenging. Unless you walk into a fly fishing store and fit your size, then you will determine if it can be comfortable or not.
It shouldn't be too low or too tight at the top area of your foot. Some anglers are using thick socks to remedy this which will still work when fishing in winter as the socks will work well in the boots.
FAQ's – Questions about the Orvis Men's Pro Underwader Pants
Q) I am planning a winter trip to fish in the Cascades. Do you think these pants will work well or I need a thicker option?
A) A thicker one could lead to overheating. Considering its features and construction, the Pro underwader pants are among the best when it comes to insulation and you will not regret it.
Q) Is the fly convenient or it is another pull-down style?
A) Orvis designs this one with a zippered fly for convenience
Q) Is the polyester material waterproof?
A) No, the material and pants, in general, are water-resistant only because of the durable water repellent coating that Orvis uses on it. It will not hold up to prolonged exposure to heavy rains.
Q) Would these pants fit a guy with a 49'' waist size?
A) Unfortunately this might not fit as the double extra-large size is expected to fit persons with waist size 44 to 46''.
Q) Are there any customized pants for older guys with potbellies even at a higher fee?
A) Orvis doesn't customize these pants to suit bigger anglers past the given sizes. You will have to get another pair.
Wrap Up on the Orvis Pro Mens Underwader Bottoms
Underwader pants should be lightweight and these aren't enchiladas. So layering underneath and over them will be a cinch. They are tight-seamed, well-built, and have all the features of a properly designed gear.
What struck as first is the fit-athletic with tapered legs. Whether they are pro underwater pants or any others, they are an excellent addition to a fisher's gear and perfect for days when you need to wet wade colder areas like the Appalachian streams whose temps are extremely low.
Putting them on is not rocket science. As long as the sizing matches your proportions, there should be no worries. The waistband is superb and the loops make it even better.
You can wear them on their own without waders if you will be fishing from a boat on the cold yet dry days. Orvis has engineered a vent system with the latest technology to ensure that you can dissipate heat when temperatures in your underneath layers begin to rise.
Some anglers might find it useless since you are wearing your waders over them but the little cold air that gets through the openings in your upper areas of the waders can go a long way in preventing overheating when the vents are open.
The pants are amazingly light and tough to allow you to push through all the rhododendrons and reach the hidden pools. A proper outwear will complete its cold combating abilities. After a long fishing day, it is awesome to step out in dry underneath layers.
And we mean completely dry. We are optimistic that if Orvis will upgrade it, then it won't interfere with its water resistance and breathability levels. Maybe it will work on making the stirrup straps a little long and the inseam too. Overall, the Orvis Men's Pro Underwader Pants is the real deal!