Disclosure:
Just to be open and honest the buttons and links you click on in the website will in most cases take you to another website where you can purchase the products I am reviewing. As an Amazon Associate I earn from qualifying purchases.
September 26, 2021
Winter Fly Fishing Clothing Tips – Layer up to Keep Warm
Introduction to Winter Fly Fishing Clothing Tips
Unless you are properly dressed, stepping out into arctic conditions to fly fish can be a slow death sentence.
The fish may be bigger and thriving at this time but if you seemingly don't care and aren't fully prepared you will not be catching as many as you should.
Most anglers have been severely miserable in the winter and this is something they wouldn't want to experience again.
Freezing will never allow you to enjoy wetting your fly lines. Another painful issue that some winter anglers undergo is closer calls with frostbite.
Apart from the water life that can dumbfound you for the first time, frostbite is one of the scariest things an angler can face. As it progresses to a certain level, high chances are that it will be a permanent thing.
This brings us to the topic of winter fly fishing apparel.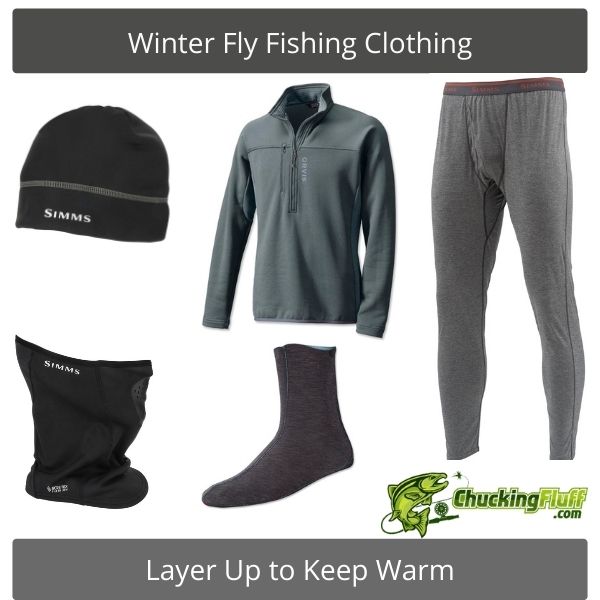 The Layering Aspect – The Onion Principle
Why the onion principle? This is a multi-layering strategy of various functional fabrics and garments. We still insist on avoiding cotton material.
Remember to first begin with a very lightweight base. It should be moisture-wicking and probably made from a synthetic blend or wool.
Over the top of your base layer, have fleece as an insulation layer. You can have a fleece jacket or pullover for the torso and fleece wading pants for the legs.
This section of layering can be termed as the mid-layering. Add another jacket for insulation to counter the wind or cold bites. The parka technology jackets will come in handy.
Finally, a waterproof layer is important to keep everything else dry. If you get wet good wicking fabrics can help but in a cold situation it will be very hard to keep warm. So a decent breathable waterproof skin on top is a must.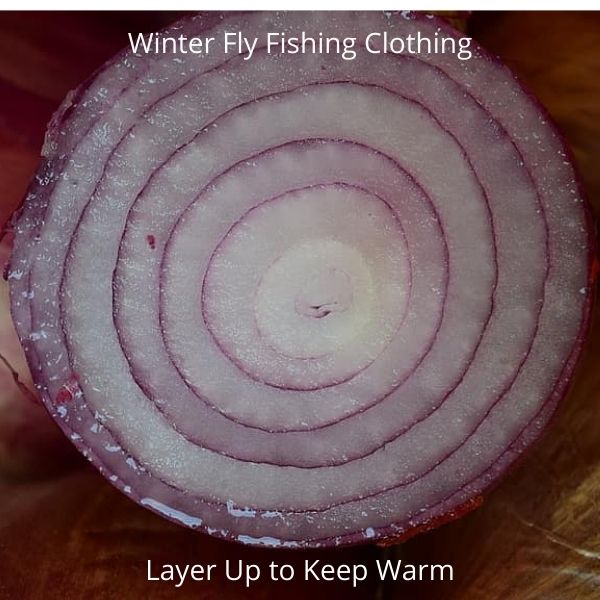 ---
1st Layer (Base Layers)
This is the innermost ring of your onion. It is the basement for your next layers. If you will be wading, boots only won't be helpful. You will need a few layers of socks. Having many layers of socks isn't a guarantee of protection from the cold.
The combination is what matters most. Start with a thin pair from synthetic fabric for moisture transportation. Follow it with a warmer pair for isolation. As you layer your feet, you should ensure that you have some space in the waders and boots. It should be enough to wiggle your toe with ease.
Some space is an assurance that even in the stockingfeet, you will remain warm. Hence, you should choose a pair of wading boots that is a size bigger than their usual one.
Above this thin base layer undergarments like leggings and long sleeve tee made from microfleece or merino wool polyester blend are good to wick away perspiration.
---
2nd Layer (Lighter Mid-Layers)
This layer is majorly for isolation. Actual temperatures will dictate the number of clothing you will have on. To protect the upper body with a second layer, have a pullover made from microfleece, or synthetic fibers like wool.
Wear the thinnest underneath. Fleece material is lightweight but very breathable. These second layers aren't water-repellent, windproof nor waterproof.
To cushion your lower body, select a pair of comfortable fleece trousers. Some anglers choose to buy bibs or overalls-these cover both the lower and upper body.
One primary advantage of such designs is that they remain in place and nothing will ride up. Also, they protect your sensitive parts like kidneys.
Another alternative to the fleece pants is the interesting Primaloft isolation. It is synthetic but not as exemplary when it comes to moisture transmission. However, it will outdo itself in keeping you warm.
---
3rd Layer (Heavy Mid-Layers)
What is left for your lower body is a pair of waders then you will be toasty and all ready to cast in the cold weather. You could use your high-end breathable waders but they will not give as much isolation to our onion ring.
In extreme conditions where you need to have maximum warmth neoprene waders will be the best choice. While they aren't as fancy, their comfort and warmth during this season are of more importance.
Over your fleece pullover, you can add a thin down jacket or one from synthetic fabric like the Primaloft isolation. The two variations are lightweight and you can put them away into a backpack.
This third layer mustn't be too tight. It has to create an air buffer which will aid trapping warm air but also allow perspiration to move out of the body.
---
4th Layer (Outerwear Waterproof yet Breathable Shells)
The topmost layer has to cover the upper body and protect it from wind, rain, and snow. The outerwear should be waterproof but have a breathable shell.
Even in a storm, it should make you feel comfortable and dry. Only specific materials can execute the job. Check out our wading jacket buying guide for more info.
---
Basic Must-Haves
Stop the assumption that the sun is never hottest in winter. Those less blazing rays you feel could still leave you with sunburns and skin damage. Ensure that you always have your tube of sunscreen with you in winter.
You could be wondering if sunscreen is an article of clothing. Here, we prioritize health before fun. Invest in a sunscreen with SPF50+ to keep your minimally exposed skin safe.
We can't insist enough on the importance of sunglasses for fly fishing. Alongside sunscreen for sun protection, a good pair of sunglasses for winter fishing will be ideal to ensure that your vision can cut into the glare.
---
Fabric Types for Winter Fly Fishing Clothing
Fly fishing in the winter can get sublime. While the fashion industry boasts over 50 types of fabric both in the purest form and in combinations, fly fishing requires nothing complex.
We will discuss the most recommended fabric types for different winter fly fishing clothing.
---
Merino Wool
You can never fail with merino wool in winter fly fishing. It is one of the most natural wonder materials for warmth. Merino wool clothing for winter fly fishing comes in various weights.
The weight will correspond to its thickness. While thick is better for curling on the couch, it isn't for fly fishing. We advise that you go for the thinner merino wool clothing and layer them for the utmost benefits.
For instance, getting the thinnest for your base layer will wick moisture away and dry pretty fast. This helps you to stay warmer for a long time.
Light to mid-weight merino base layers will be ideal. This should be between 120 to 200g.
---
Synthetic Fabric – Primaloft, Lycra, Capilene, and Polyester
Synthetic bases are also advantageous because of their thinness. These materials have quick-drying properties. If you perspire so much even in the cold, synthetic mesh base layers will be the best options.
Also, they are very comfortable and lightweight. One of the primary concerns is that they could get stinky from the sweat and body odor.
Some manufacturers are applying various treatments on synthetic fabric to make them antimicrobial but this isn't sustainable. If odor and stench are your concerns, you can opt for wool base layers.
---
Fleece and Micro Fleece
Fleece is very popular among winter anglers because they keep you very warm in the frigid temperatures. The material is incredibly comfortable but can be stinky after some time.
Fleece comes in different sizes too. The layering factor will come in handy in winter.
---
Neoprene
Though not as fancy as you'd like, neoprene material for winter fly fishing comes in handy. Neoprene might not be breathable but gives the insulation that an angler needs to remain comfortable and mobile throughout an entire cold fly fishing session.
Ensure that you get neoprene waders if you can't have breathable yet waterproof outerwear for such days.
---
WARNING!
Throughout this article, we have discouraged cotton as a choice of fabric for winter fly fishing clothing. The guys at Orvis warn you that COTTON KILLS! It sure does.
Cotton is a very hydrophilic fabric and absorbs more water pretty fast. Once this material absorbs water, it doesn't become insulating at all-something we are looking to achieve in the brutally low temperatures.
If your cotton under layer becomes damp with sweat or soaks from a leaking wader, your body needs to work extra hard to boost warmth and improve dexterity.
Stay away from cotton sweat pants, undershirts, or socks. This will allow the body to breathe all round from head to toe.
So what should you have to you to ensure that you cushion yourself from the effects of frigid temperatures?
---
Essential Winter Fly Fishing Clothing Checklist – A License to Freeze if you Miss Out on This!
We will be addressing some of the most basic and obvious things here. They might sound cliché but are of greater importance to any angler going out in the winter and is looking to have fun, be safe, and return healthy.
---
A Pair of Long Underwear
A good pair of long underwear will be an excellent way to start base layering. Stick FAR AWAY from cotton fabric. Synthetic fabrics are the most recommended for underneath and outerwear. Ensure that it is a pair that fits you properly and will hold up over time. It shouldn't be stretching out or falling. An example is the Capilene Line from Patagonia.
---
Simms Lightweight Core Bottom
Being on top of your lower extremity game when fly fishing in winter will see you comfortable and functional for as long as you are in the cold.
Starting with the Simms Lightweight Core Bottom is the surest bet to creating a solid underneath layer. The underwear is made from durable polyester material and boasts moisture-wicking properties.
This guarantees you total dryness even if your perspiration levels are higher than usual. Also, the anti-odor aspect keeps you smelling fresh throughout.
Simms designs this in small, medium, large, extra-large, double, and triple extra-large sizes. Each size comes with a Jacquard stretch waistband whose elasticity doesn't snap after prolonged use.
Men know that pants with a flat and unmeasured crotch can be the most uncomfortable clothing to have on especially if you will constantly be in motion.
This is made with a gusseted design to allow for proper and comfortable motion. Comfort is enhanced by the flatlock seams. Toss it in the machine when you feel like it needs a wash.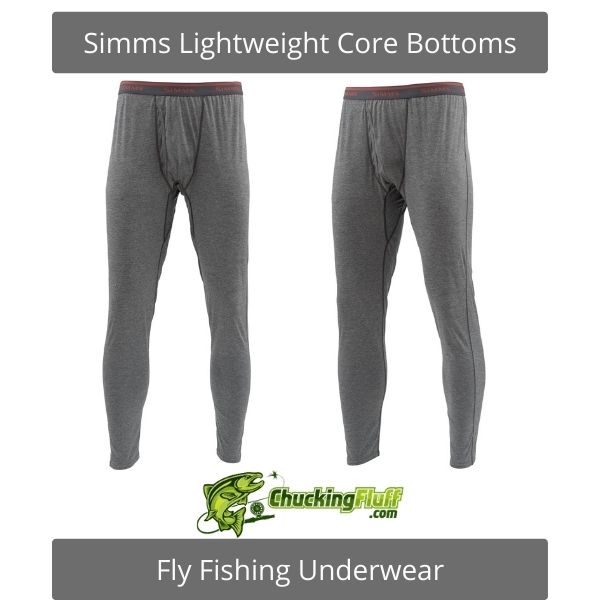 Check Simms Core Bottoms Web Availability
---
Wool Hat, Beanies, Skullcaps, and Head Sock
Science has an awkward way of application in normal life. For instance, if you are a gentleman and would like to warm your toes, have a hat on.
This is particularly for the guy without natural dome protection and loses over 98% of their body warmth via the exposed crania.
Venturing into the wilderness on a cold icy day will force you to have a good and warm head covering.
Some guys on the water get stupidly tough- maybe trying to impress someone. This is wrong as they are putting their health on the line.
We recommend wearing a hat that will give good covering for warmth but won't be obstructing your view. Ball caps won't be useful on this side of Mother Nature.
When it gets to the freezing temperatures, grab a warmer fleece head sock as an under layer and complete the sequence with a wool hat.
You might turn out with a goofy look but this combo is an excellent one to beat the frost.
---
Tips
Some winter days have the sun out slightly. If you will need to keep the blazing guy out of sight, have a beanie designed with a visor.
Ensure that the beanie is foldable down and can go over your ears to ensure that you are covered in the extremities.
---
Simms Gore-Tex Infinium Wind Beanie
You must be familiar with the Gore-Tex technology in the Simms Waders. The manufacturer further improves the technology when designing its head coverings for winter.
The Simms Gore-Tex Infinium Wind Beanie features the Infinium technology that isn't waterproof but offers immense protection and comfort from the cold.
This is specific for colder days without rainfall if used alone. However, you can use it as an under-layer covering for your head and have a good waterproof but breathable rain jacket with a hood over it.
We love that the beanie is windproof and remains breathable. Since it is made from fleece which is one of the most recommended fabric materials for layering in winter, your head will be toasty as long as it remains dry.
The DWR coating on the stretch material will improve its water-resistance but will not be functional in heavy downpours if you use it alone. You can purchase the beanie in small, medium, large, and extra-large.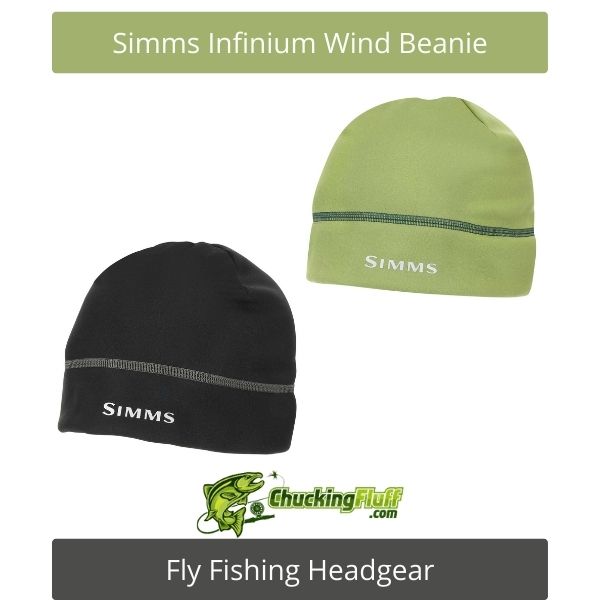 Check Simms Infinium Beanie Web Availability
---
Simms Gore-Tex ExStream Cap
There are those with more coins to spare and need the classic look with a cap. The Simms Gore-Tex ExStream Cap will be an ideal choice. Still featuring Gore-Tex technology, breathability is well-considered during construction.
Comfort and dryness remain some of its top benefits. Simms goes ahead to add an insulation technology-Primaloft Gold Insulation to keep you super warm and feeling cozy even when the outer temperatures are proving otherwise.
The flip-down design to protect your ears is a thoughtful inclusion that will allow you to focus on your session. Constructing it with a 2L shell fabric improves the layering factor by increasing warmth retention.
The ripstop lining makes the cap durable while reducing its weight. The cap comes in one size only. If it proves bigger for you, layering with a beanie will give a better fit.
We love that Simms designs the flaps to go over the cap and be secured with a durable flap when you need your ears out.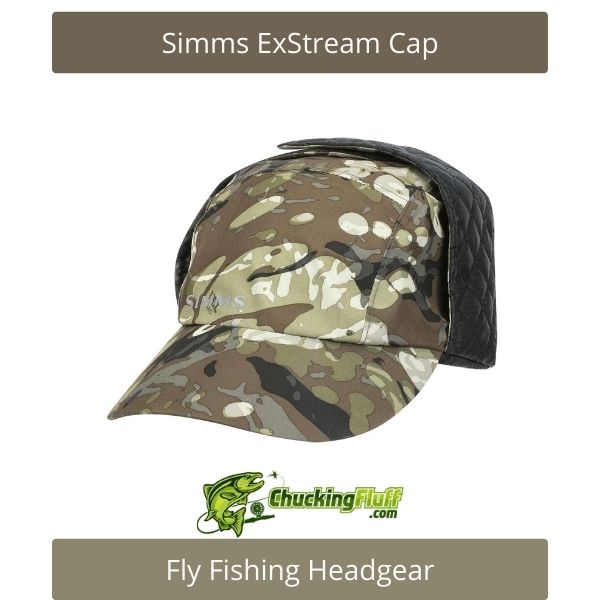 Check Simms ExStream Cap Web Availability
---
Gloves- Full-fingered gloves, half-finger gloves, and fingerless gloves
There is a crucial need to have warmer hands in the winter. The key aspect is dexterity. Sometimes, the temperatures might drop lower and you will need waterproof gloves.
Neoprene ones will be a good choice to ensure that you are warmer on the inside despite your constant exposure to moisture. This comes in handy when the conditions are to the extreme.
However, it has some downsides. Neoprene gloves will restrict movement thus hindering dexterity and blood circulation. It is cumbersome to fish in them and doing basics like fly tying will be impossible.
When the winter is slightly bearable, you could have the half-fingered or fingerless choice to tie knots, work around your smaller flies, and get out hooks from your buddy's mouth among other handy jobs an angler has to do.
Some fly fishers who are fishing with gloves on say that casting feels awkward and very weird. Such anglers can start with the finger-free gloves like those from Simms.
Those stepping out in a classy and aesthetical feel will have inexpensive woolen half-fingered gloves. Wool is famous for its moisture-wicking features and increased warmth.
On cold days, they keep you warmer and comfortable if you are careful with exposing them to water.
The fly fishing world is very captivating with innovations coming in almost yearly. The half-fingered gloves have other configurations like the inclusion of mitten caps that you can pull over to convert the half-finger design into full-fingered gloves.
---
Tip
Ensure that you carry a backup pair of gloves. Your woolen ones could get drenched and it will only take minutes to end a seemingly good winter fishing episode to frozen hands.
---
SeaKnight Neoprene Outdoor Sport 3-Cut Fingers Anti-Slip Fishing Gloves
SeaKnight designs the Outdoor Sport 3-Cut Finger Gloves from high-grade Neoprene and PU material for better thermal insulation and waterproofness.
The palm area is non-slip to give a good grip. This design allows for proper dexterity and you can perform all the small tasks like changing flies, removing hooks from your newly found buddies, and changing tippets.
To secure the gloves, there is a durable Velcro which gives a proper fit and is easily adjustable for comfort. These act right both in winter and summer as they also offer sun protection.
The convenience of use in all seasons is what makes us highlight it. Also, if you are a lover of other outdoor sports and activities, you will find it useful for hiking, riding, biking, photography, and cycling.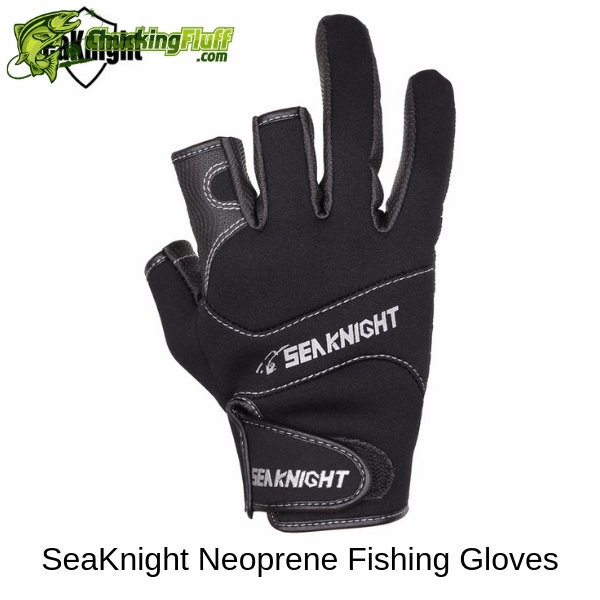 Check SeaKnight Gloves Amazon Availability
---
Palmyth Unisex Flexible Fishing Gloves
Convertible gloves like the Palmyth Unisex Flexible Fishing Gloves have come to save the fly fishing world.
While most anglers complain that fishing with gloves is almost impossible, this 3-cut convertible design makes it possible by flipping back the upper extensions to expose your fingers for operational convenience.
We love how versatile they are in terms of outdoor activities that you can perform in them.
The soft shell is breathable, windproof, and water repellent. Remember that they aren't waterproof. So prolonged exposure to water will have your fingers wet and cold.
Otherwise, with slight backsplashes, the plush fleece offers greater thermal insulation. In the palm, Palmyth uses partial synthetic leather for reinforcement.
The Velcro strap on the wrist is adjustable to offer the right fit and secure the gloves from sliding off. Taking them off is pretty easy with the pull ring on the fingertips.
The manufacturer advises that you measure your pal area and ensure that you pick a size that matches your dimensions. Those who love loose-fitting ones can go one size up.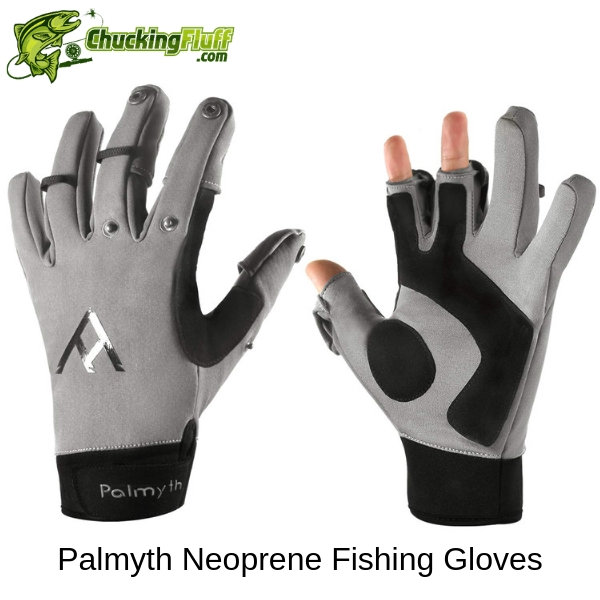 Check Palmyth Gloves Amazon Availability
---
Simms ProDry Glove with Liner
What fascinates us the most is the availability of these gloves in an extra-small size. We find this very thoughtful of Simms to consider the younger anglers looking to adventure in extreme conditions.
The Simms ProDry Glove with Liner operates on a 2-system design as a three-finger cut and a fully covered style depending on the angler's preference.
Simms designs it with a pre-curved structure to allow for proper grip and to allow the angler to feel everything that they touch.
This is one of the few fully waterproof gloves featuring Simms's patented Gore-Tex X-TRAFIT lining system for excellent fit and more warmth.
To make it even cozier, there is the 3 finger liner from high-grade wool in case you need extra insulation.
Another admirable feature is the heat pack pocket around the wrist area for when the temperatures decide to fall extremely low. The glove leash comes in handy to get a good fit and secure this pair to your wrists.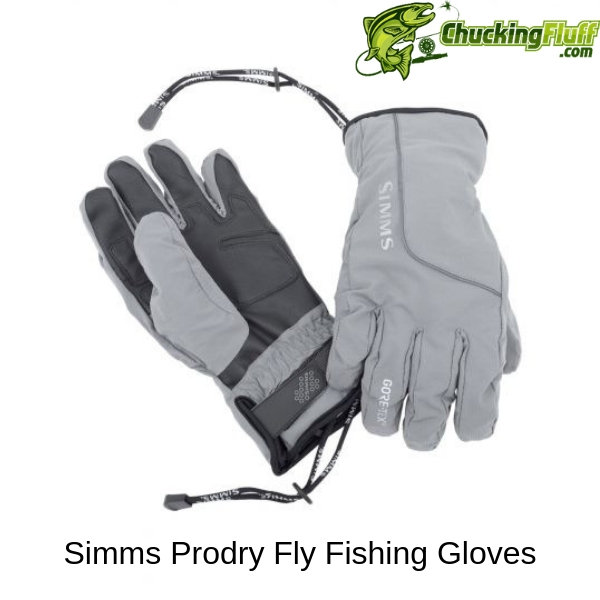 Check Simms Prodry Web Availability
---
Parka or Thin Down Jackets
This is the right opposite of what a Nano puff jacket is. Most anglers use it as a lighter mid-layer. Parka technology jackets allow you to insulate the torso area without giving you that feeling of an Oompa Loompa.
---
Orvis Men's Pro Insulated Hoodie
The Orvis Pro line is one of the popular best-selling selections of this legendary company. A feature that makes it stand out from the rest is the pro-protection.
The Men's Pro Insulated Hoodie ensures the best temperature control by using heat from your body. This is another brand that uses the Primaloft Gold Insulation that is from recycled content hence environmentally safe.
You will love how lightweight the jacket is without compromising its function. Also, it packs down pretty well. The features of the side panels are improved by the Polartec Alpha.
Orvis constructs the outer layer and the liner from 20D Ultralight ripstop stretch nylon and is treated with a unique coating to make them abrasion, water, and wind-resistant.
The cuff panels are from stretch woven material and boast great abrasion resistance. Handwarmer pockets are lined with fleece and accessed via zippers.
Storage is well in place with the zippered chest pockets and an internal security pocket is also accessed via a durable YKK zipper. The scuba-style hoodies are low-profile and allow for extra layering. It doesn't come in the way of your vision. Need more info check out our full Orvis insulated Hoodie Review.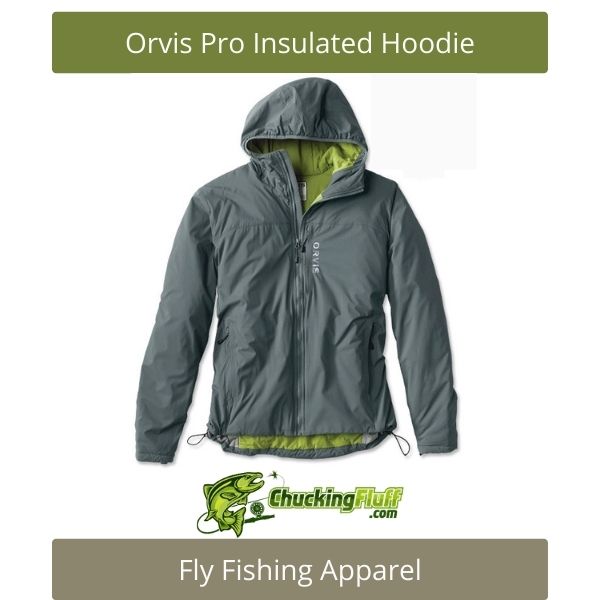 Check Orvis Pro Hoodie Web Availability
---
Neoprene Waders and Breathable Waders
The history of breathable waders has come a long way and is very commendable. Some websites hesitate to mention neoprene waders as one of the cold weather angling essentials.
However, in some circumstances, neoprene waders become the best option compared to the older breathable designs that weren't as excellent as some of those that are currently available in the market.
Despite neoprene providing warmth against the colder days, they are a cheaper option to the high-end breathable waders. What impresses us the most is that modern waders have excellent construction and are very versatile.
For the breathable waders, you have to be keen on the layers you put underneath. Otherwise, the new designs like the Simms Mid-Layer Bib are as excellent in keeping you warmer while remaining waterproof and breathable.
Some time back, I stepped out in them when it was about 8 degrees Celsius and my base layer was micro-fleece underneath my Simms Bib.
Also, my feet were in neoprene socks before I could complete my amour with my breathable waders. This combination beat the ice floating on the water like it means serious business. The secret of breathable waders is in your underneath layers.
---
Simms Freestone Z Stockingfoot Waders
Just what you'd want in a good pair of breathable waders, the Simms Freestone Z Stockingfoot Waders is built with four layers both in the upper and lower section.
This guarantees you full insulation from the cold with proper underneath layering. We love the choice of technology-Toray QuadraLam that has proven to have moisture-wicking properties while remaining waterproof even in the shakiest conditions.
The fabric is heavy-duty and very durable. You can access it via the TIZIP waterproof zipper at the center front.
The storage system is minimalistic and we love it. There is a left chest pocket with a water-resistant zipper to store a few essentials.
When your hands are icy from the cold and exposure to water, you can breathe life into them in the handwarmer pockets that are lined with micro-fleece.
The warmth effect takes a short time and this is a plus to its functions. Your fishing license, ID cards, and other vitals can go into the inner security chest pocket.
To secure the waders to your body and for safety when ice sheets begin to cause havoc, the waders come with a 1.5'' elastic belt that goes through the three belt loops.
Gravel guards are a must-have on your stockingfoot waders. They lock out any sand, stones, and gravel that could find their way into your boots and damage your booties.
The elastic bottom hem gives a good fit and is adjustable to seal out all the cold, wind, and water.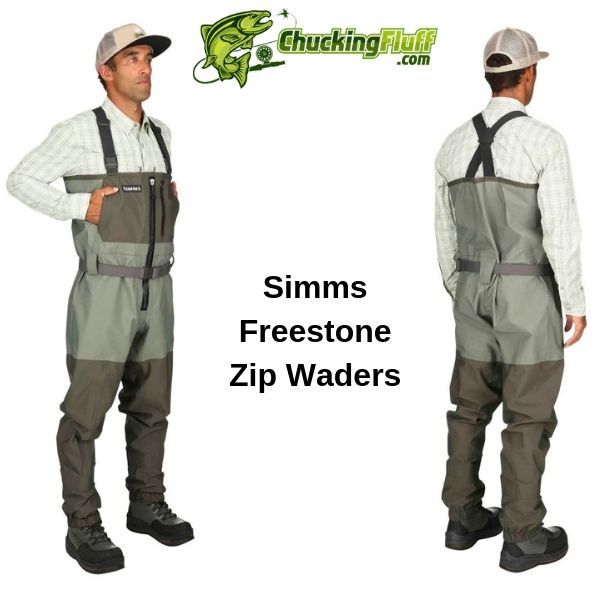 Check Simms Freestone Zip Web Availability
---
Patagonia Men's Rio Gallegos Regular Waders
As one of Patagonia's highest-performing waterproof and breathable waders, the Rio Gallegos Regular Waders for Men has a durable H2No Performance Standard Shell and both the lower and upper layers boasting four layers of polyester microfiber material.
The uppers are lighter and have a high-density taffeta construction while the lower is heavier from the high-density double weaved taffeta for more protection since they will be the most exposed to extremities.
Patagonia finishes the construction with a DWR coating to make the waders fully waterproof.
The EZ-lock suspender system mounted on the waist gives the angler a choice to convert the waders into waist-high waders and back.
The wading belt is fully elastic to give a snug fit in the waist area. The single-seam construction is a tactful way to get rid of seams in high wear points to minimize tears and leakages. There is an inner pocket accessed via a welded TPU zipper.
The storage system is denser than in most waders. Two drop-in pockets with a stretch mechanism allow you to store a few more necessities. For your tools, you can use the two daisy chains.
You can hang your waders using the hanger hoop at the center back to dry. Handwarmer pockets are for toasting your icy fingers.
There is a larger chest pocket for your fly box. More tools can be hanged on the laser-cut Hypalon keeper that is on the suspenders.
We love how articulated the legs are with the foam knee pads that are removable. The booties are lightweight yet well-constructed for insulation and comfort.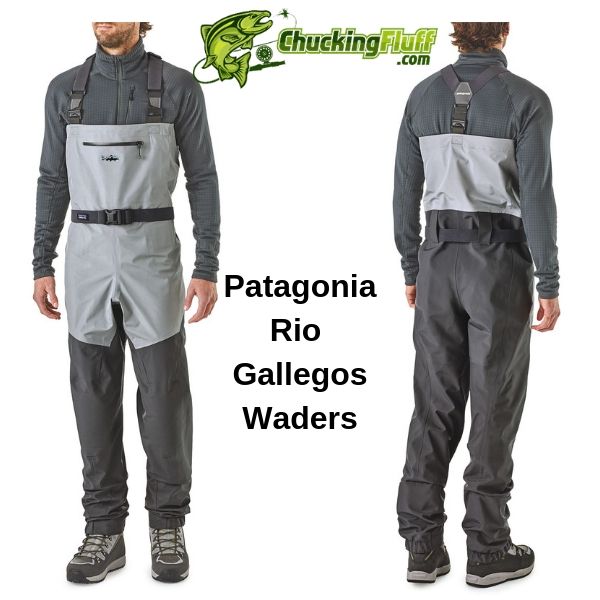 Check Gallegos Web Availability
---
Nano-Fiber or Fleece Pants
Adding this to your cold-weather arsenal will never disappoint. You can layer them over your long underwear. Puff Nanos will keep you as toasty as you need to be.
If you try wading in them with your breathable waders over for some hours on icy tailwaters, you will understand its importance. They double are good winter pants.
---
Orvis Men's Pro Underwader Pants
Another one from the Pro line, the Orvis Men's Pro Underwader Pants has been one of those hotcakes that the market is proud of. First, the most striking feature is the athletic fit and tapered legs.
These features allow you to wear the pants on their own under the waders without adding any bulk. Even while being almost unnoticeable, they offer the perfect option for layering to keep your lowers well insulated.
Orvis designs this one with a four-way fabric for more durability and comfort. The inner side is lined with quality fleece material for more warmth and improved comfort.
Underneath layers shouldn't be bulky. The manufacturer achieves this by having the cuff hems with lightweight stretch panels. Some underwader pants ride up and make the angler uncomfortable.
Orvis has stirrup straps on these pants to have them in place always. There are two hand-warming pockets and a back security zippered pocket. If you need more ventilation, you can use the mesh zip vents on either of the sides.
The waistband is fully elastic and comes with belt loops in case you need to secure it further to your body. Overall, the pants are finished with a DWR coating. The pants are available in small, medium, large, extra-large, double, and triple extra-large.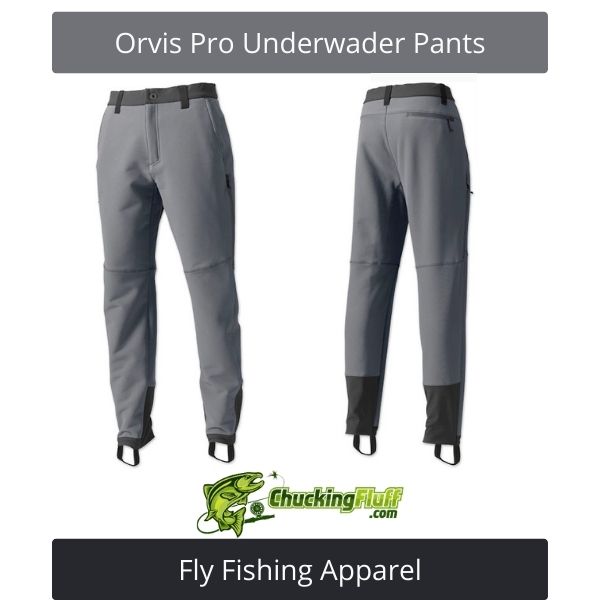 Check Orvis Pro Wader Pants Web Availability
---
Simms Midweight Core Bottom
Simms has a keen eye for detail when solving customer problems and challenges and creating proper fleece underwader pants was one of those to cross on the list.
The Simms Midweight Core Bottom is made from 100% polyester micro-fleece to ensure optimal thermal insulation.
We love that the material is easily breathable and has anti-odor properties to keep you fresh even when your body decides otherwise.
The waistband has an excellent stretch mechanism to allow for a snug fit. To prevent your bottoms from riding up, there are elastic cuffs to have them in place.
All seams are flat locked to ensure that you are comfortable as you move about your casting session. Simms has these bottoms in small, medium, large, extra-large, double, and triple extra-large sizes.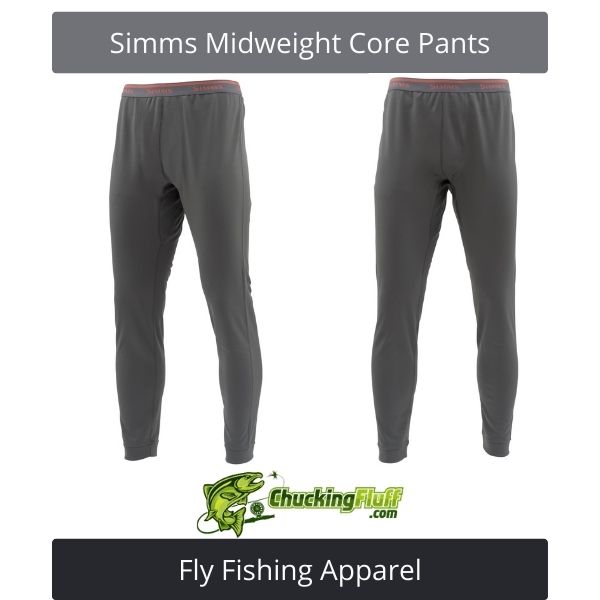 Check Simms Midweight Pant Web Availability
---
Face Shields, Scarves, and Neckwear
Winter thermal scarves are becoming popular as they are extra warm and offer more insulation making it ideal outdoor wear. Some are made from polyester while others are from merino wool.
Normally, the winter weather will insist on keeping warm. Bandanas can be used as an underneath layer over the fleece scarves. Here, you can also alternatively get the balaclavas, buffs, and neck gaiters.
Their advantage is that you could pull them up or down when need be. However, they could also freeze after collecting moisture. Ensure you have an extra to switch to a warmer one when yours gets cold.
---
Simms Gore-Tex Infinium Neck Gaiter
If you are a Simms die-hard you can pair the Simms Gore-Tex Infinium Neck Gaiter with the Infinium beanie. Don't assume that protecting your head and chest area will have your neck in the same temperatures throughout.
Most of the time, the reverse is what happens. Be safe with this breathable and windproof neck gaiter.
We love that it is stretchable even though it comes in one size only. The stretch mechanism comes from the choice of material-spandex and polyester. Simms finishes it with a DWR coating.
This offers water resistance for a short time only. For ventilation, there are TPU-coated laser-cut holes to allow for proper air circulation.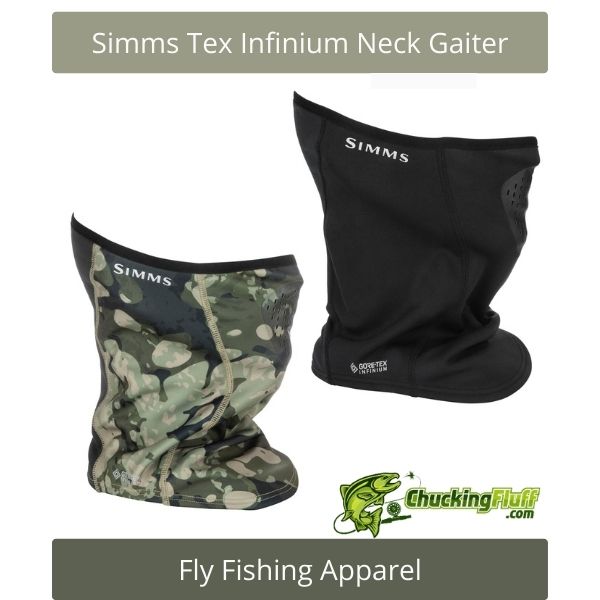 Check Simms Neck Gaiter Web Availability
---
Sweater
Your mother must always have told you to have your sweater on when the clouds began to gather. Some anglers start layering with a mesh shirt or synthetic perforated design then a non-cotton shirt-perhaps a mock turtleneck followed by a proper sweater.
Your mother's knitted sweater might work but as anglers, we swear by the rightful ski sweaters from the Duluth Trading Company.
---
Orvis Men's Pro Half-Zip Fleece
Orvis uses almost similar technologies for the Pro fleece garments for fly fishing. The Orvis Men's Pro Half-Zip Fleece uses a highly advanced Polartec fleece fabric that traps the heat from your body and uses it to generate more and keep you cozy.
This choice of fabric also has moisture-wicking properties to keep you dry regardless of the body perspirations.
The arms and body sections are built with the Polartec PowerStretch HardSurface Coating for maximum abrasion-resistance while maintaining the stretch mechanism. Overall, the cut gives an athletic fit when worn.
The side panels are made from Polartec Power Grid fleece for insulation and moisture-wicking properties. The center front zipper runs halfway to allow you to wear and remove the sweater easily and for temperature control around the core area.
You can stash a few small items inside the chest pocket accessed via a YKK zipper.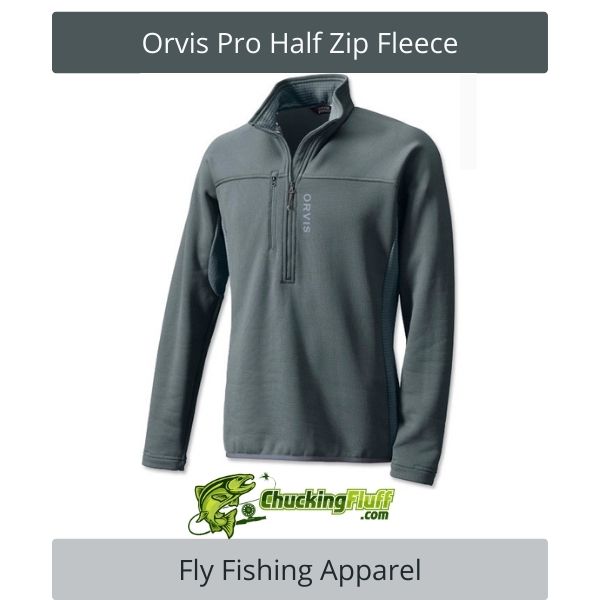 Check Orvis Half Zip Web Availability
---
Simms Fleece Midlayer Top
Assuming a polo neck design, this sweater is a steal considering that it has an extension to cover the neck area. We find this a bonus as you can have a few underneath layers to cushion your neck area from the cold and wind.
You can have a wading or rain jacket over it to make your onion-ring fully warm, breathable, and waterproof.
The fabric is odor and abrasion-resistant which are vital features to keep you fresh, dry, and protected. Simms uses the Grid fleece material to trap your body's warmth and retain it without making you feel bulky and hindering mobility and flexibility.
It comes with a zippered chest pocket to stash a few fishing essentials that you need closer.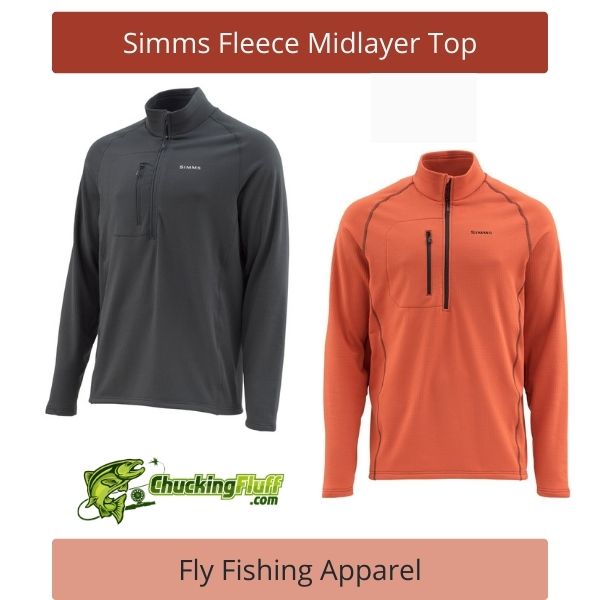 Check Simms Midlayer Top Web Availability
---
Base Layers
Base layering the upper extremities is as vital as attending to your feet and toes. There wasn't much in terms of options in the olden days but the alternatives have become quite a number nowadays.
You can start with a cheap fishnet shirt. You can take on the mesh options to be ahead of the warm game.
Some brands have the skin-tight shirts for base layering. They look similar to what the NFL linebackers have on. Keeping things on a looser side is most recommended for winter fishing.
Overly tight options will restrict blood flow and almost hinder movement. This will make you more susceptible to cold weather effects.
---
Simms Lightweight Core Top
If you don't like your first top layer being mesh-like, this Lightweight polyester core top will do you more justice. 100% polyester has moisture-wicking and anti-odor properties.
This ensures that you remain fresh and dry from body perspirations. When you feel like refreshing it, you can machine wash and dry before your next session.
Simms designs it with a Raglan sleeve design to ensure that it fits properly and doesn't ride up your arm when you don't need it to. It was thoughtful to have the hem with a drop design to ensure extra coverage.
This is another one with a flat-locked seam structure to enhance comfort and prevent irritations. The top is available in small, medium, large, extra-large, double extra-large, and triple extra-large.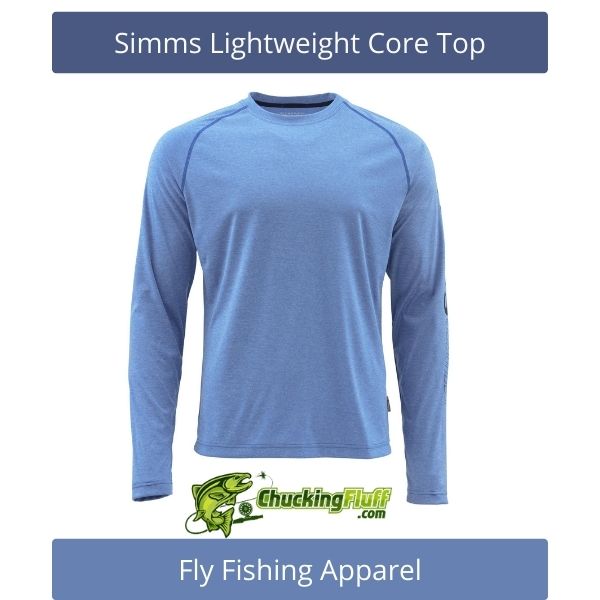 Check Simms Lightweight Top Web Availability
---
Thermal Socks
Your next day might involve trudging through the snowbanks and long stands in icy waters. All this while, the ambient temperatures will be dancing right at the freezing mark.
If you will have donned in a good pair of thermal socks, you will be the most thrilled. Cotton isn't a choice here.
Instead, choose thermal socks made from more neoprene than nylon. You could opt for other synthetic materials like the Lycra spandex which offers warmth and holds up pretty well.
Besides, they hug your feet and give more calf and arch support without causing itchiness.
Most people believe that the thicker it is, the better for you. This common notion is false when it comes to fly fishing. You don't want it too thick nor too tight to hinder blood flow to the toes.
This will make you very uncomfortable and can be detrimental.
Some brands embrace the two-sock design by manufacturing some stockingfeet waders with neoprene booties. These booties don't breathe.
Anglers who juggle between hiking and fishing in winter will have their feet sweaty. The waders will keep out most of the water but won't release all the perspiration to the exterior especially as you move.
---
Tips
You can have a lightweight purely synthetic pair of liner socks. Most are made from a blend of spandex, nylon, or polyester.
Despite not having insulating properties, it does well when it comes to moisture-wicking.
Follow this with a nylon blended pair of sock or a ball of heavyweight wool to warm your feet.
Stay far away from layers that give a tighter feeling when you have your wading boots on. Feet that don't properly fit in the boots will hinder blood circulation in the feet and instead make them colder.
If you are an avid winter fly fisher, ensure that you invest in a good pair of wading boots- they should be a size slightly bigger to accommodate the extra feet layering.
One of the best options for winter fishing is the boot foot waders.
---
Orvis NRS HydroSkin Wet Socks
While the Neoprene wet guard socks are 2.5mm thick for extreme temperatures, the NRS HydroSkin Wet socks are 0.5mm and lighter to act as a thinner layer under your stocking feet.
It is a good liner to insulate and protect your feet from the cold. The outer layer features a four-way stretch design to improve mobility and durability.
Orvis makes the ThermalPlush lining durable enough to improve isolation, have moisture-wicking properties, and quick-drying abilities.
To further improve the insulation aspect, the manufacturer finishes it with a laminate adhesive from titanium to retain the body's warmth while remaining very lightweight.
Also, there is a DWR coating to repel water backsplashes. The flat-locked seams are great for comfort. You can get this pair in medium, large, extra-large, and double extra-large.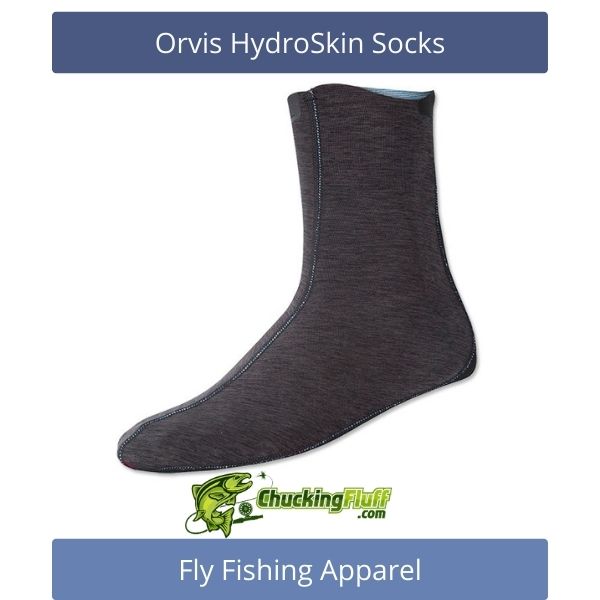 Check Hydroskin Socks Web Availability
---
Orvis Men's Midweight Wader Socks
The Orvis Men's Wader Socks are a new addition to the Orvis socks collection for fly fishing and other outdoor activities.
It takes a pretty invincible design though is very comfortable and a god layering clothing to go under your stockingfoot waders.
Apart from neoprene, wool is also one of the best fabrics to use for insulation. For the socks, the thinner the better. This is to allow your feet to properly fit inside your wading boots while still leaving enough room for toe movement.
This one has a blend of wool, spandex, and nylon. Each material carries its benefits. Orvis uses a unique 1X1 ribbing construction to counter layering and bunching.
Nylon material is strategic at the toe and heel areas for more durability. These are the common area prone to wear and tear.
The Midweight design is lighter than the heavier option by 20%. To differentiate the two, the heavier-weight is dark grey while the midweight is light grey. Both are available in medium, large, and extra-large.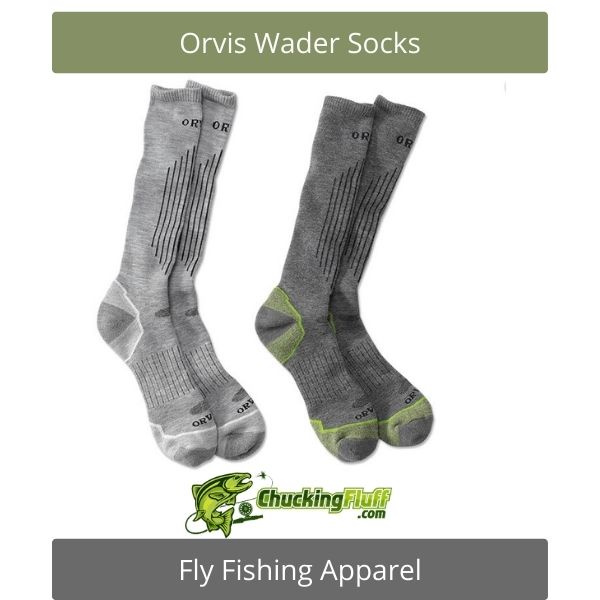 Check Orvis Wader Socks Web Availability
---
Wind and Waterproof Rain Jackets
It is necessary to have at least one waterproof rain jacket that also doubles as windproof. This allows you to be safe against extreme weather conditions.
---
Orvis Pro Wading Jacket
The manufacturer terms it as guide-class and we agree. All the features put together work to keep you warm, dry, and comfortable.
The cut is from a custom made three-layer shell that is woven for longevity and durability. To be relevant for use in the winter season, Orvis builds it with a 20K waterproofness rating to keep you completely dry regardless of the exposure to water.
Also, it has a 15K breathability rating which we find ideal for keeping you dry by wicking away moisture and perspirations from your body faster than most jackets.
To seal it, there is a DWR coating on the surface of the fabric to add water repellence for backsplashes and light showers.
All seams are fully taped for comfort and weatherproofing. An admirable feature is the chin guard designed from brushed microsuede.
There are handwarmer pockets accessed via a zipper to keep your fingers toasty when not engaged.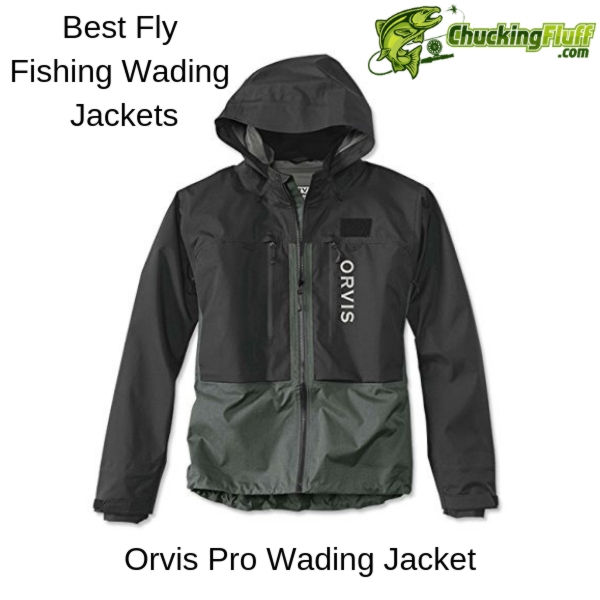 Check Orvis Pro Jacket Web Availability
---
Simms Freestone Wading Jacket
The Freestone product line is among the most bought by anglers who fish in wet conditions. The construction has proven to be unbowed by the ice, storms, mud, and water.
This wading jacket is a three-layer design made with the Gore-Tex Toray technology for comfort and durability.
Simms's material description states that the fabric used is pure nylon with a tricot backer and this combination has stood out in keeping anglers warmer in cold weather.
All the seams are fully taped for weatherproofness though breathability is still a functional aspect. To wear the jacket, unzip it using the YKK center front zipper.
Two top-load storage pockets come with integrated retractors to keep water away from entering the pockets. For extra storage, there is a D-ring to attach your net. It also comes with one fly patch.
You can adjust the storm hood at three points depending on your needs. If you need your head out, tuck it away.
Navigating low hanging trees can be a problem if your jacket doesn't have internal cuffs with an anti-catch mechanism. This one comes with it and is safe and fun to fish in.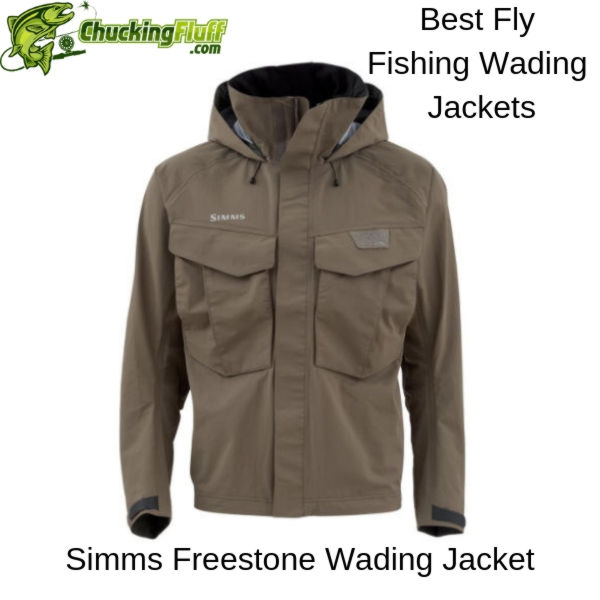 Check Freestone Jacket Web Availability
---
Wading Boots
Wading boots for winter need to be a size bigger than your summer boots. This is to allow for underneath layering in the feet area.
You will be having two or three layers of socks inside your stockingfoot waders. All these fabric should fit in your boots properly and allow for some space to generate warmth. The boots should never be tight fitting.
---
Redington Prowler Sticky Rubber Wading Boots
Redington designed the Prowler Sticky Rubber Wading Boots for anglers who need more traction when hiking and wading. What you notice first are the molded overlays from high-grade rubber.
They are well-constructed and very durable. The collar area of these boots is nicely padded to give the wearer more ankle support.
We love the design of the sole. It is wide enough for stability as you maneuver on a delicate surface that could be slippery and life-threatening. The inner side is lined with mesh for breathability.
There are drain holes to release water faster when you submerge them in water. The midsole is made with EVA foam to absorb any shock and prevent feet fatigue.
There is a neoprene lining that improves your comfort and gives a better fit. Kick-off your boots easily with the help of the heel step.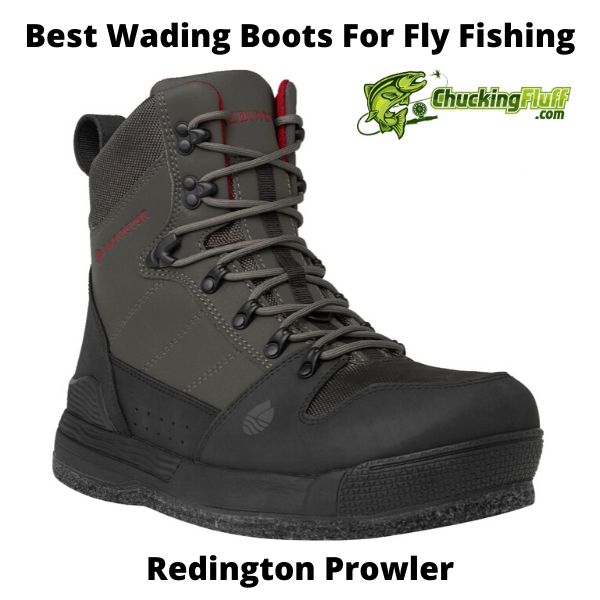 Check Prowler Amazon Availability
---
Simms Freestone Men's Rubber Sole Wading Boots
Simms doesn't gamble with durability when designing its products and these Freestone Rubber boots are a great steal. They offer more traction in both dry and wet conditions.
We love that the construction is superb and the outcome is a boot that can last many seasons without a single repair. The rubber sole helps to prevent ice and snow from building up under the sole.
The uppers are made from high-quality synthetic leather. This is to reduce the boot's weight, drain water pretty fast, and has scratch resistance to ensure that they remain long-lasting and functional.
The midsole is from dual-density EVA foam for shock absorption and utmost comfort. You can wear them all day as they are lightweight and are designed with the right-angle footbed technology from Simms to counter sores and fatigue in the feet and ankles.
The neoprene lining cushions you against the cold. Thanks to the wide opening wearing and removing your boots doesn't have to be a struggle.
The lace-toe boot closure design works together with the speed lace hooks to give a good fit.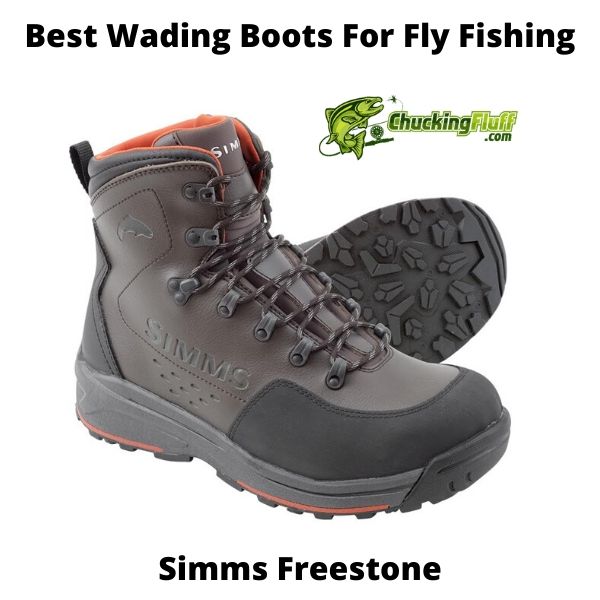 Check Freestone Boots Web Availability
---
Warm It Up
Anglers know that there isn't bad weather, only poor preparation, and bag gear. Days are growing shorter and in no time, the temperatures will be at their lowest.
We all dust off our lighter clothing and welcome the woolen socks back to the cycle. For most fly fishers, winter and late fall mean that their fly rods and favorite flies can be tested.
Everything comes down to the type of clothing you pack for this season. You could either have a blast or be miserable. Your gear shouldn't leave you wet and cold throughout.
You could plan a trip to Montana. The state is either cursed or blessed with dynamic weather patterns from frequently cold to wet weather. But any trout angler knows that this blessing or curse is perfect for fishing.
The ultimate secret to clothing in winter is proper layering. Once your core is warm, your other extremities also benefit. If you will be heading out in this season, ensure you got company.
Sometimes, sheets of ice get down the river and the damn things aren't stopping for any soul. An extra pair of eyes will add to your safety. You can be the best swimmer but be overpowered by these shitty sheets.
A wading belt will also be vital to stop water from rushing to the feet area when you fall in. it also helps you to stay afloat. This is your ideal seatbelt during the cold season.
Be generous as you pack and get an extra set of warm clothes and have them in the backpack or car. If you tumble, you could easily retreat, change, and be warmer.
We have put together some of the best products and there is at least one under each of the 12 winter clothing must-haves.
Look out for more detailed buyer's guides that we will be uploading as they will consist of more products from the budget-friendly options, middle-priced products, and high-end options.
Also, share with us in the comment section how you arm yourself when winter sets in. learning from you is more pleasurable and educative to us.
Shopping for winter fly fishing clothing doesn't have to backfire on you because of not knowing the proper layers to choose and how to go about the onion ring layering method for warmth, dryness, and functionality.
Above is a detailed piece on how to go about shopping for various winter clothing. We hope that it brings you closer to achieving your dream of fly fishing in winter. There is no bad weather, just wrong gear, and unprepared chaps!
"Check out some of our other Buying Guides"