Disclosure:
Just to be open and honest the buttons and links you click on in the website will in most cases take you to another website where you can purchase the products I am reviewing. As an Amazon Associate I earn from qualifying purchases.
February 9, 2021
Simms Midweight Core Bottoms Review – Wicking and Warm
Winter is approaching and while the usual man chooses to remain indoors coiled up in a couch with a mug of hot coffee, the fervent angler is getting their arsenal together.
A good number of anglers are very active while winter fly fishing for trout.
These guys pack smartly to avoid being affected by the extremely low temperatures. How well you dress your extremities will determine the duration you will be able to fish.
An excellent product like the Simms Midweight Core Bottom will be a good underneath layer for warmth, comfort, and dryness.
Summers are hot and bubbly-some anglers love it this way. Winter on the other hand is gloomy-also another angler's meat. In all the weather seasons, the body perspires.
This is the reason you should own a good pair of breathable bottoms to have under your wading pants or chest waders. Moisture-wicking is crucial as it prevents the accumulation of sweat and condensations from making your garments cold.
If your underneath layers are wet and cold, numbness could occur and affect dexterity.
Casting for brownies and salmon in the knee-deep rivers doesn't have to be dreadful if you all well set. We know that waterproof and breathable outerwear is crucial.
However, a warm layer just below this is even more vital. Losing dexterity because of numbness is very easy. It needs slight exposure to very cold air and temperature and you are left immobile.
The other risks of extremely low temperatures can get detrimental which is why protecting yourself in the winter is mandatory.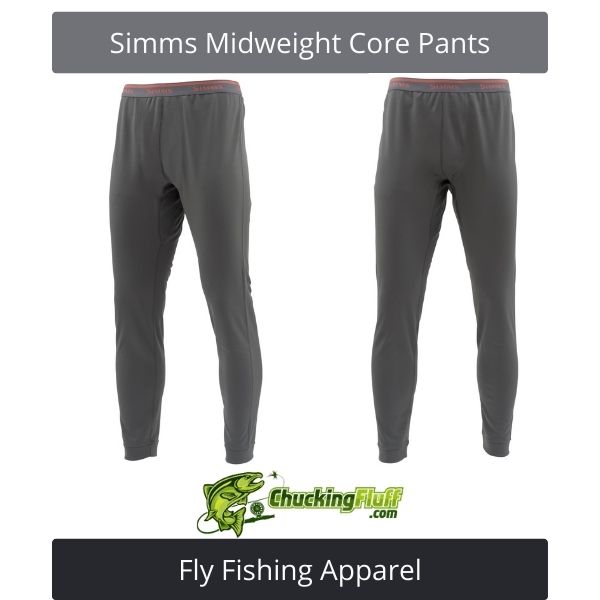 ---
Check Simms Midweight Web Availability
---
Comfort
Just like a shoe that isn't your size is uncomfortable to walk in, so are bottoms. No angler likes to wear uncomfortable bottoms and pants.
One of the best choices to go for is the Midweight Core Bottom that is available in various sizes that you can choose from.
The fleece material feels very soft on your skin and doesn't cause any irritations.
You can't compare them to others that are rigid, rough, scratchy, and bumpy. The cut is masculine and if you pick the right size, it fits your body decently without being restrictive.
You can easily bend your knees to assemble your combo or do the basics of fly fishing. You wouldn't want to think they are bursting when you squat to release your fish.
Bottoms should feel right to avoid ruining what was to be a good day. The waist isn't too tight and fits snugly to stay in place regardless of your movements.
The legs are the right size. They aren't too long to be bulky at the ankles.
---
Materials
Since bottoms are a common underneath layer for winter fly fishing, the type of fabric you choose will greatly determine how they function and feel.
This is also what will make your bottoms tear and stain-resistant or not. Some perform better than others.
In this case, we are first aiming at optimum warmth and dryness which is achieved by the fleece construction. Fleece has proven to perform better than most materials.
The blend with polyester makes it very durable and easy to maintain. Polyester also improves the bottom's breathability and is quick-drying.
---
Odor Control
The body exhales through perspiration and body odor is something humans have to deal with. It gets nasty when you are layered up and your body is perspiring more.
It can be a hazard to your comfort if you don't put the odor under control. While a good cologne may help, manufacturers like Simms are improving their garments by building them with odor cancellation properties.
Simms Midweight Core Bottom are among those with this feature. The fabric absorbs all the body odor and prevents it from staying longer on your underneath layers. Some bottoms aren't designed with this feature.
---
Maintenance
Unfortunately, fly fishing bottoms need cleaning just like you would do to your fleece jacket or waders. The Simms Midweight Core Bottoms don't have a lot of design elements that will need meticulous cleaning and take more time.
This is a sleek yet minimalistic design that is easy to launder. Simms recommends machine washing and drip drying. Proper care and maintenance will make your gear last longer. We love that they lay flat and fold up well for storage.
---
Simms Midweight Core Fishing Bottoms Key Features
Material
Simms uses pure polyester micro-brushed fleece to design these bottoms. Because of the material's structure, it is extremely warm. Its pile surface gives space for tiny air pockets in between the fabric threads to go on both sides.
This is for breathability. The blend also makes these bottoms water-resistant for a long time. As you stand in water longer of your waders get punctured, it takes a while before your bottoms can soak. Their resistance is what keeps the wearer warmer under extreme conditions.
---
Weight
Your underneath layers shouldn't be very heavy and overly thick. Simms uses a fabric weight of 7.17oz per square yard. The resultant weight of the bottoms is 11 oz. They are extremely lightweight to ensure that you can comfortably move in them. They pack down pretty well.
---
Breathability
The choice of fabric technology highly influences the breathability of these bottoms. Polyester with a blend of fleece creates millions of microscopic holes on both sides of the fabric to allow seat and condensation to pass through with ease.
---
New Properties
An anti-odor feature is one of the best additions in an underneath layer for winter anglers. The more you layer, the more warmth you retain. Your body can perspire more if the heat continues to accumulate. Sweat smells awful and it is the task of the anti-odor feature to cancel bad smell and leave you feeling fresh.
---
Waistband
Simms uses the Jacquard elastic stretch on the waist area. These types of bands are stable and very durable. Their strength and resilience are what we love about it. While most elastics wear out and wrinkle within the first few washes, this one doesn't. It is also pleasant to touch.
---
Cuffs
Bottoms and pants often ride up your feet if they aren't built with cuff systems at the hem. This can make it uncomfortable to move in as you will keep bending to pull them down. These bottoms have an elastic cuff system to make them stay in place until when you will take them off.
---
Seams
For the flatlock seams, the two pieces of bottom fabric are placed side by side and sewn raw edges together. This is to prevent any bulk and prevent chafing your skin to cause discomfort. These seams also lay flat.
---
Sizes
The bottoms are available in a carbon color which is dark to make stains less visible. They also hardly get stained as they are worn under your waders or pants. Unless the outerwear is punctured and allows dirty water to seep through, they have a low risk of staining.
Simms designs the Simms Midweight Core Bottom in small, medium, large, extra-large, double extra-large, and triple extra-large.
---
Customer Thoughts on the Simms Midweight Base Layer Bottoms
The dryness levels of these bottoms are admirable. The fabric construction takes time to let water inside and you remain dry below your waist for a long time.
They also don't soak up water and boast quick-drying properties.
We love how lightweight the fabric is. It allows you to move around easily as you fish and their elasticity doesn't restrict the wearer's movement.
These aren't as smaller in the crotch as the cycling bottoms are. The crotch area is roomy for all-day-long comfort.
The Simms Midweight Core Bottoms are very elaborate when it comes to insulation.
Fleece wins so many cold battles and with proper outerwear, you will have no regrets.
Some bottoms come with very small cuffs that become too tight in the ankle area.
This one is the perfect size for comfort and function. The legs don't ride up at all.
---
[/et_pb_text][et_pb_text admin_label="Pros and cons" _builder_version="4.8.2″ hover_enabled="0″ sticky_enabled="0″]
---
Pros

– What Shines on the Simms Midweight Core Bottoms
Highly breathable
Water-resistant
Tear-resistant
Stain-resistant
Has anti-odor properties
Available in many sizes
Easy to clean and store
Extremely warm
Lightweight and packs down well
Cons

– Things that are not so cool!
Apart from customers who selected the wrong size hence an improper fit, we are yet to identify any major concerns of the bottoms. We will update once we come across any.
---
FAQ's – Questions about the Simms Midweight Core Fishing Bottom
Q) How durable are these underwader bottoms?
A) If we gauge durability from the results of care and maintenance, then this one will last you so many seasons than you think. It doesn't pile after dozens of washes.
Q) Is the fleece heavy to wear under breathable chest waders ?
A) With an overall weight of 11OZ, you can tell that it is very lightweight and you can also wear under your chest waders or jeans if fishing from the banks.
Q) Are there reports of them running on the bigger side?
A) The good news is that these bottoms are true to size. The fit isn't too tight or too small. Just a right decent one to allow for comfort and freedom of movement. Ensure to get the correct size
Q) Do these come with Lycra stirrup straps?
A) Unfortunately, they don't. However, they are built with an elastic cuff system that fits well in the ankles and prevents the legs from riding up. Putting on your waders over them won't pose a problem.
Q) Are there any pockets?
A) The Simms Midweight Core Bottom don't come with pockets. You can have a storage system on your waders, wading jacket, or fleece hoodie.
---
Our Wrap up on Simms Midweight Core Fishing Bottom
If you love angling in winter and are seeking solitude, it sure is the right time for an adventure. Its flip side could be the cold and figuring out means of staying warm can be a problem.
We can't speak enough about the Midweight Core bottoms. They keep you toasty in single-digit temperatures and are a good layering system.
As you commence from the bottom working upwards, your lowers are in contact with water most of the time and a proper shield will go a long way.
Fleece plays heavily into the insulation properties of these bottoms. This, together with a good outerwear will be a reliable system.
The construction is very straight forward and they double up as perfect layers for duck hunting, winter hiking, deer hunting, ice fishing, and skiing.
Their simplicity is the reason most anglers choose to buy it. An underneath gear for winter doesn't have to be fancy. Only functional and durable.
Whether you will be on a kayak, a boat, a dock, or at the banks, the bottoms are water-resistant and a good way to combat the cold.
What makes them easy to launder is the stain-resistance. They are also resistant to mildew and this means longevity is easily achieved.
You can run them in a washer to get them cleaned up from sweat and body oils. It is advisable to drip dry them. They dry pretty fast because of the type of materials that they are made from.
There might not be any ventilation in the crotch area but the breathability aspect of the fabric technology is what makes it comparable to other high-end options.
Even if the temperatures in your body and layers rise, the moisture-wicking aspect of fleece and polyester will get the job done.
The carbon color matches with almost any fishing gear and can be used in any environment.
The Simms Midweight Core Bottom will help you be safe than sorry. It might not be as fancy as your lounging bottoms but any winter angler will confirm that they are very useful in winter fishing.
If you are hunting for backup bottoms, head over to our winter fly fishing clothing tips post.
---
Check Simms Midweight Web Availability
---