Disclosure:
Just to be open and honest the buttons and links you click on in the website will in most cases take you to another website where you can purchase the products I am reviewing. As an Amazon Associate I earn from qualifying purchases.
February 15, 2021
Simms Fleece Midlayer Top Review – Warmth Under
In fly fishing, very few gear and equipment are versatile.
Not because manufacturers are mean, but because of how gear-specific the seasons and techniques are.
We are always lucky to try as many products as possible to determine their usage and the Simms Fleece Midlayer Top fell in the multipurpose list.
You can compare this one to a colored pencil that can work on many projects.
Winter is about to set in and any fisher who is active during this time knows what preparedness means to them.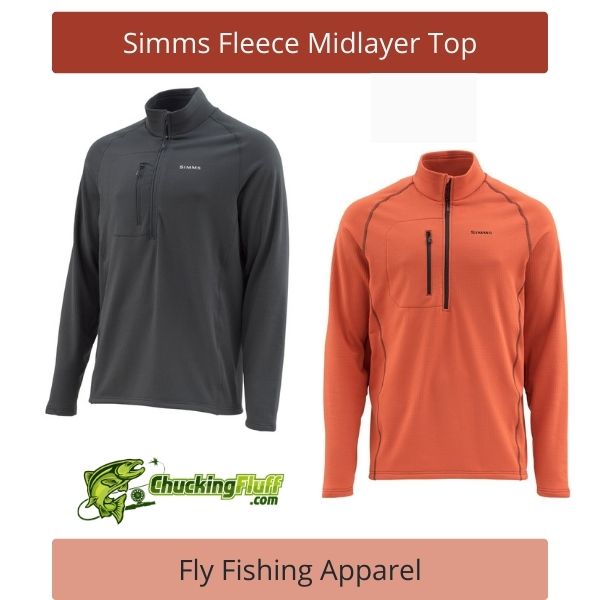 A new fleece Midlayer top will be a good way to kick out the cold from your uppers. It is lightweight yet all warm and cozy.
Diving into Simms's specifications, we have examines that the fleece quality and weight are top-notch.
Of course, you wouldn't expect less from a legendary brand like this.
We advise anglers to keep an eye on descriptive words like heat retention, wind-resistance, and insulation.
However, checking the customers' thoughts, pros, cons, and reviews will help you decide if the product is worth it or not.
Let's say the Midlayer Fleece Top from Simms didn't disappoint.
A performance-based option
We know that new anglers who haven't fished in winter will think that the heavier the fleece top and other layers, the better and warmer.
Unfortunately, it isn't this way for an outdoorsman.
Thinner fleece layers like this Midlayer top work excellently.
They are premium quality and allow for perspirations and condensations to escape through their micro-porous membranes.
Water from its outer surface will seep through because the material isn't waterproof.
The top's breathability keeps the wearer cool, dry, and warm-something you want to achieve in winter.
This top doesn't retain too much unnecessary heat that could highly increase your sweat levels.
If you will be out in any season wearing this alone or as an underneath layer, you will love it.
Sometimes, angling involves high-output activities like climbing and hiking. This top's performance fleece will be a good ally.
---
Wind-resistance
As the winds kick up, the downside of most fleece wear is revealed. Here, the blend of material will influence its efficiency.
Most standard polyester fleece tops notoriously lack wind-resistance.
However, with an improvement in the grades of fabric, cool breezes will not cut through.
This one boasts extra resistance because of the blend. If it had a weatherproofing treatment, it would have been ten times better.
Since most winter forecasts look breezy pair this fleece Midlayer top with a windproof layer.
---
Mobility
Fly fishers are adventurous souls and these Simms Midlayer Fleece Tops give special nods towards mobility.
Here, we focus more on the underarms. The cut around this place is enviable to allow the angler to move their arms freely without feeling constrictive.
This comes in handy when your fishing holes need long-distance hiking, climbing, or mountaineering.
If you are a backpacker, you will notice its difference almost instantly.
---
Durability
Fleece gear isn't cheap. You will want your Midlayer top to last you as many seasons as possible.
This one has been built to take the brutality of almost all season.
Simms allows the users to put theirs in the machine. This also confirms it being a performance-based fleece.
One of the commonest problems of fleece tops and jackets is piling.
Underneath layers are constantly rubbing on each other as you move and shift positions.
Tiny balls occur due to friction and your fleece gear begins to shed off.
We know that physically removing piles is possible but preventing their occurrence by purchasing high-quality products is the best solution.
There are no reports on the Simms Fleece Midlayer Top piling after dozens of laundering.
---
Weight
Just like all mountaineering and hiking gear, your fleece Midlayer top for fishing should be light.
Down jackets are common for their excellent warmth to weight ratios and will work well over this top.
For moderate to extremely cold weather, this light fleece can be combined with a thicker jacket with insulation for proper insulation and moisture management.
Check Simms Midweight Top Web Availability
Key Features of the Simms Fleece Midlayer Fishing Top
Material and Fabric Technology
Simms uses polyester and spandex to design the fabric on the outer side of the Midlayer top.
The inner grid is made from high-quality fleece.
Polyester fleece is highly breathable and soft to the touch.
It is known for absorbing a tiny amount of moisture (this is estimated at below 0.4% of its weight.
The blend dries pretty fast and its efficiency in breathability is guaranteed.
Because of the spandex fabric, the top has stretch.
---
Pockets
It is great for a fleece Midlayer top to be equipped with a storage space to store your personals and a few harmless outdoor accessories.
This one can take up your licenses and phone. Positioned at the chest, it is convenient to allow for quick access.
---
Other Properties
We have mentioned fleece garments suffering from piles that are unsightly and affect their durability.
Simms designed the Fleece Midlayer Top from a high-grade blend of materials to improve its abrasion resistance-the primary cause of piles on the fleece.
The choice of fabric technology gives the top excellent odor-resistance. You will be warm and toasty.
Your body won't resist exhaling even more as the temperatures in your underneath layers rise.
The fabric absorbs but doesn't retain body odors which keeps you smelling fresh longer than when wearing garments made from wool.
---
Zippers
You will spot two zipper systems on this top.
One is the access to the chest pocket and the other at the mid-front upper area for easy wearing and removal.
These zippers are very easy to operate.
---
Neck
This top has what looks like a turtle neck style.
This was thoughtful by Simms for the wearer to have a covering on the neck before they can layer with warmer scarves.
---
Patterning
The cut and fit of a mid-layer top will have an impact on the wearer's comfort and mobility.
Another aspect that has a hand in how free you will move when wearing this top is its patterning.
---
Sizes
Simms avails this top in Raven from a small, medium, large, extra-large, to double extra-large size.
Pros – The Good on the Simms Fleece Midlayer Top
Great insulation
Odor-resistance
Wind-resistance
Abrasion-resistance
A spacious pocket
Allows for free mobility
Available in different sizes
Can be washed and dried in the machine
Doesn't experience piling
Cons – The Concerns though not Deal-breakers
The package should have included reference washing instructions to guide the user.
Customer Thoughts on the Simms Fleece Midlayer Fishing Top​
The top is a perfect interlining for a puff jacket, a hoody, or a wading jacket.
It might seem very light but its insulation abilities are practical when you step out in lower temperatures.
From the neck area to the hands and waist region, the base layer is for grabs.
There have been a few reports on the fit. Some taller anglers say that it would have done with more length to avoid it being like a crop top to them. Besides, it functions pretty well.
So many brands that manufacturer fleece tops exist.
However, Simms is offering some of the top of the range Midlayer fleece gear for a reasonable price.
There isn't any point in purchasing a fleece top for men if it can't execute its tasks well.
Quality is a huge factor that determines the performance and durability of your top. This one doesn't fall below the threshold mark of quality.
We love the Simms customer reward program through their warranty.
In case of any defects in the craftsmanship and material of the Midlayer top, the manufacturer allows for returns.
You will either get a replacement of the same size and color as your top or a full non-questionable refund.
Any other repairs can be sorted out at a small fee.
FAQ's – Questions about the Fleece Midlayer Top from Simms
Q) Is this fleece Midlayer top warmer than one made from wool?
A) For better initial warmth, wool does great. However, this gets affected when it gets wet from splashes or rain. It will take hours to dry. Fleece on the other hand is a technically warmer choice, dries quickly, doesn't insulate the chill in your layers, and keeps you warmer for a long time.
Q) Is this Midlayer top in the category of mid-weight fleece wear?
A) This one falls in the lightweight category and you can use it alone when fishing in the temperate climate or as an underneath layer when fishing in winter.
Q) Does it shrink?
A) We haven't come across any critics of the Midlayer top shrinking even when you run it in a dryer. These are durable and maintain their shape after a wash.
Q) Is this one waterproof?
A) This fleece top isn't waterproof. Neither is any fleece fabric unless it has an outer layer made from Gore-Tex or waterproof fabric and technologies. However, it has excellent breathability properties to keep you dry.
Q) Can I run my Simms Fleece Midlayer Top in the dryer if I don't have time to drip dry it?
A) Some anglers do this but it isn't recommended. To improve the longevity and functionality of your top, keep it far from heat. Heat on fleece also causes piling and results in a bad bumpy feel. You wouldn't want yours to look cheap.
Q) The top doesn't come with clear washing instructions. How do I go about cleaning mine?
A) For excellent results, turn your top inside out before washing, use a very mild detergent, and wash on a gentle cycle.
Q) Can you use a fabric softener on the top?
A) Avoid using fabric softeners on fleece tops and gear as it could cause piling.
Wrap Up on the Simms Midweight Top
Layering is a very crucial part of keeping warm when outdoors. Any winter angler can agree that a good onion ring is better than an expensive reel and rod set during this time.
Warmth helps you achieve comfort to move around. This mid-layer top is a good layering option.
It goes well with a puff jacket, thin down jacket, synthetic insulated jacket, or a rain jacket depending on how low the temperatures are.
Some anglers use it on its own when they need protection on fair days.
Style is among its primary limitations but if you are wearing it as a base layer, what is the point of needing a stylish underneath garment.
We love that this one is versatile and other outdoor lovers are finding it a relevant addition to their wardrobe.
The long sleeve design protects your arms from the cold and the extra neck covering controls the wind gusts from hitting your neck that much.
It comes with a quarter-way zip at the center front to allow for easy wearing and removal. It is a multi-sport style top.
Not all Midlayer tops for winter fishing come with properties like odor resistance.
This one does the odor cancellation job pretty well and the angler remains fresh for a long time. As a lightweight fleece, it is thin and packs down well. It doesn't take up as much space as a jacket would.
It is crucial to note that the fleece top isn't waterproof. Be sure to carry waterproof outerwear because winters are very unpredictable.
Like any other garment, failure to properly care for and maintain your fleece top will lead to damage.
Ensure that you know how to care for fleece wear before attempting your first wash.
The manufacturer instructions on laundering and maintenance of the Simms Fleece Midlayer Top might not be detailed and this gives you a task to embark on research.