Disclosure:
Just to be open and honest the buttons and links you click on in the website will in most cases take you to another website where you can purchase the products I am reviewing. As an Amazon Associate I earn from qualifying purchases.
September 24, 2019
Palmyth Neoprene Flexible Fishing Gloves Review – Great All Rounder
If you enjoy outdoor sports including fishing, read on to be relieved of the burden of having a bin full of specialty gloves. Have you thought how much you'd spend on each pair for biking, running, walking, fly fishing, hiking, shooting, and photography?
That would be your savings for two or three months if you were to purchase from the highest price range. Save yourself the stress. Palmyth Neoprene Flexible Fishing Gloves for Men and Women is the surest life-saving pair you need for all outdoor sports. As an all-rounder pair, it plays its protective part excellently. Fly fishing is a heat isolation task and for you to have seamless fun when it is freezing, you need them.
Palmyth never fails in its motive to satisfy customers who have a thing for outdoor activities. One of the vital aspects the manufacturer takes into account when designing and manufacturing gloves is the material. High-quality material is key. If it is poor, it doesn't matter how good the design or aesthetics are.
The Palmyth Flexible gloves have the palm area reinforced with synthetic leather to protect your palm area from cuts and other injuries as you pull the line or handle fish. Grip is necessary when holding your fishing rod. The leather adds grip even when wet. The plush fleece backing is to keep you warm even on the coldest days.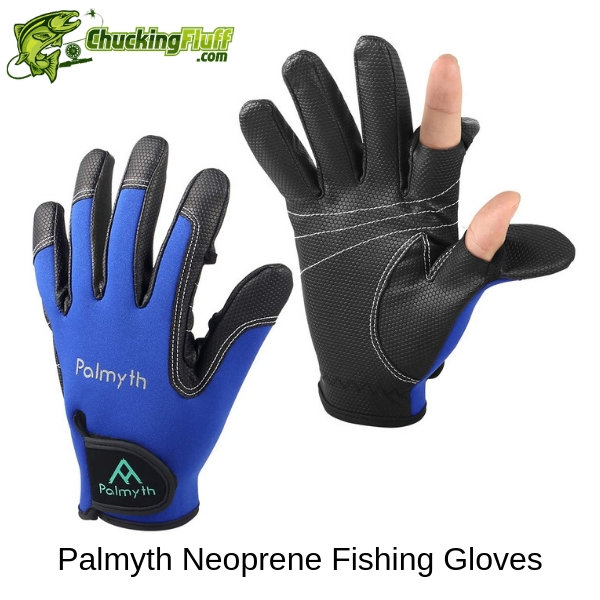 ---
---
These gloves are increasing in popularity among sportsmen and women. It is one of the reasons we had to review it. The flexibility and comfort it offers are impressive. The fabric construction is superb and with 4-way stretching options, palm and finger movement is easy.
If you love long-time fishing and have these gloves, the open vent at the top of the fingers ensures more comfort. Your hands can get warmer than you expect even in the cold. Should you take them off? No! The vents make the pair very vulnerable especially when temperatures extremely drop. They aren't fully waterproof and when your fingers get in contact with water, you are at risk of freezing.
As one of the best multitasking gloves, you sure should make the best of this investment. The softshell is breathable and water repellent. Still a great option for ice fishing. On the part of thermal insulation, it has exemplary performance. While most users complain that it doesn't work well in extremely snowy or cold days, if you are fishing on relatively cold water, it serves its purpose right.
Palmyth's innovation and creativity are evident in the cut design that comes with caps to change the design into a full-fingered pair of gloves. The caps have high-quality rust-free metal buttons. This is to ensure that you can use your fingers for a few fly fishing basics like tying and cover them again to prevent freezing of fingers or injuries from pulling the fly line.
It feels unnatural if you are fly fishing with gloves for the first time. It can be a real struggle especially if you have the heavy-duty gloves on. Newbies will need some time and practice to adjust to casting with covered hands. The Palmyth Neoprene Flexible Fishing Gloves for Men and Women are unisex which is awesome and come in three sizes.
The gloves have Velcro straps to secure them to your hands. The Velcro straps fit any wrist size. This pair comes with good looking black cuffs made from elastic neoprene. The cuffs further enclose the wearer's wrist tightly to lock out cold wind and water. This leaves you feeling dry and warm.
---
Key Features of the Palmyth Neoprene Flexible Unisex Fishing Gloves ​
Material – Neoprene fabric covers most of the parts of the gloves and is stretchable to ensure that it fits most hands. The neoprene material extends to the back of the palm and the cuffs to make the gloves highly windproof. The palm area is reinforced with synthetic leather to enhance grip. Velcro is used on the straps to allow them to stay put always.
Waterproofness – When there is light rain, the gloves work well without any leakage. They leave your hands warm and dry. However, the material is not fully waterproof to offer protection from the effects of adverse weather. They get wet when submerged in water for a long time.
Breathability – Not like the Berkley gloves. These ones are breathable to ensure that the inner fabric wicks away any moisture or sweat when your hands get extremely warm and perspire. They will do a good job even when it gets icy outside. The 4-layer construction dries very fast hence allowing for breathability to occur without any hindrance.
Straps – Velcro straps at the wrist are adjustable and can fit any wrist size. The straps work hand in hand to ensure the gloves give a snug fit. The Velcro is durable and the strap doesn't lose its sturdiness. You can always remove any fluff using a pin to ensure it is fully functional.
Cuffs – Neoprene cuffs wrap your wrist fully and lock out all weather elements leaving you dry and warm. Push them under the cuffs of your wading jacket for more protection.
Design – A 2-cut design allows for finger dexterity and maneuverability. The design allows for closure of the finger caps to give a full-fingered design. This is ideal especially if you'd like to have gloves with a finger cut design and another with all fingers covered.
Sizes – Available sizes are medium, large, and extra-large. Before settling on any size, ensure you measure your palm length and compare with the sizing chart on the manufacturer's site. If your measurements fall in between sizes, select the larger size to ensure you don't compromise comfort and finger dexterity.
UV protection – This is a special feature of this pair of gloves making it feature in the best UV fly fishing gloves category of our full review. The protection might not be as much as that of the Palmyth UV fingerless gloves but is of a reasonable range. The gloves don't use any artificial spray but have protections woven into the neoprene fabric. It protects your hands from aging, skin toughening, and sunburn.
Maintenance – As per the manufacturer's instructions, you can machine or hand wash. However, you are forbidden from using fabric softeners, bleaches, and ironing.
---
Customer Thoughts on the Palmyth Neoprene Flexible Fishing Gloves for Men and Women​
The large size fits the hands perfectly but the extra-large size has long fingers and was wider too. If you have young short fingers, this size will be the best for you. The sizing chart is helpful and recommendable.
The applicability and comfort while fishing is out of this world. The fit is snug and doesn't have any irritating tags or seams. A low profile closure has loose flaps and doesn't get in the way of the cuffs of a sleeve.
Construction holds up well. This has taken time to discover though. There are no weak points or issues concerning seams. They are fairly water-resistant and good for light showers or snow. The material is very flexible with the right amount of elasticity.
Opening the finger caps is very easy. It is a pinch-and-pull. If the other hand is engaged, simply flip the tip at the back of your finger. Compared to any other touchscreen glove, this pair is more reliable.
The gloves might be very good when the weather is not to its extreme. If they get in contact with water for a long time, they become soggy and uncomfortable to use. This will not be a good option for a downpour.
The palm area is reinforced with synthetic leather protects you from getting injuries from fish or as you to pull your fly line. It enhances grip.
The Velcro strap is very durable. Unlike other gloves that have the seams coming off or the strap accumulating a lot of fluff making it difficult to use, this one is high quality and can fit any size of wrist. What will determine your fit is the size of your palm.
---
Pros

– Things that shine on the Palmyth Flexible Fishing Gloves​
Breathable and water repellent
Has UV protection
Easy to launder and maintain
A versatile pair of gloves
Has durable Velcro cuffs
Flexible with good elasticity
2-cut design that is interchangeable
Excellent fit and varied sizes
Cons

– Things that are not so cool!
Not waterproof for use in extremely bad weather
---
FAQ's – Questions about the Palmyth Neoprene Flexible Fishing Gloves

Q) Is the grip reliable for ocean fishing?
A) The grip is important and if you are not a frequent fisherman in the ocean, you can have them for occasional use.
Q) Can one wear heated gloves over this pair?
A) Well, why not have the heated gloves alone then. These one couple up as safety from injuries, protection from cold, and for grip.
Q) On which setting should the machine wash be at to ensure one doesn't damage the fabric?
A) Warm or cold will be alright to protect the synthetic leather at the palm and the neoprene fabric.
Q) Are they puncture or abrasion resistant?
A) They are good quality and protection at the palm area is reinforced to ensure you are safe from injuries, however, the neoprene section is at high risk of abrasion or puncturing.
Q) Does the tip or cap of the gloves fold away nicely when you need to use your fingers?
A) Yes. No magnet to keep the cap open but it won't be a hindrance to anything.
---
Final Verdict on the Palmyth Neoprene Flexible Fishing Gloves
Cold weather fly fishing is fun if you have the right gear on. Your hands are very important in casting. Fingers get numb very fast when exposed to the cold. Do you think you can tie knots or cast with frozen fingers?
The Palmyth Flexible unisex gloves have a unique design that allows you to show off two of your fingers, use them, and cover them back. How cool! Watersports need a lot of energy and finger dexterity. Something that these gloves give if you get the right size that fits well.
The fabric is comfortable and a blend of synthetic leather and neoprene on some parts gives different sections different properties. The cold season comes with a lot of winds. The neoprene fabric on the front side of the gloves has wind-blocking properties.
The leather on the palm area is for safety from injuries and for added grip. UV protection is important even in the cold. This is among the few pair of gloves that is cheap and has sun and UV protection capabilities. This is a good option if you don't do sunscreen on your hands.
Palmyth is a popular brand that has purposed to focus on affordability in almost all its products. Often, you will find a good number of products and especially gloves for less than $50. Anyway, safety is important even as you have fun. Safety gear too is cheaper than the amount you'd spend treating injuries you'd have prevented with less than $20.
This type of gloves is selling like hotcake and you might find it out of stock in your nearest store or online shop. You don't have to cancel your trip. You can settle on Berkley Fishing Gloves, Alaska River Series Fishing Gloves, or the Goture Anti-slip Fishing Gloves for Men. These options fall in the same price range as the Palmyth Neoprene Flexible Fishing Gloves for Men and Women and their performance and durability are at par. Go Unisex even in the cold.
---
---
About Author
admin