Disclosure:
Just to be open and honest the buttons and links you click on in the website will in most cases take you to another website where you can purchase the products I am reviewing. As an Amazon Associate I earn from qualifying purchases.
September 25, 2020
Berkley Neoprene Fly Fishing Gloves Review
Berkley Fishing Company has a passion for angling like you do. It is one of the leading tackle companies worldwide. There is no doubt that its dedication to anglers is what steers it to offer an array of reliable and innovative fly fishing solutions.
Developed by anglers for anglers, the company makes fly fishing fun in all ways. As part of their solutions to fly fishing in cold weather, the manufacturers have the Berkley Fly Fishing Gloves.
Our full review on cold weather gloves for fly fishing has this pair as the best full-fingered gloves for the sport. There is so much that was put into consideration before settling on this choice.
Affordability, durability, simplicity, performance, and customer feedback from previous users are a few factors that drew our attention to it.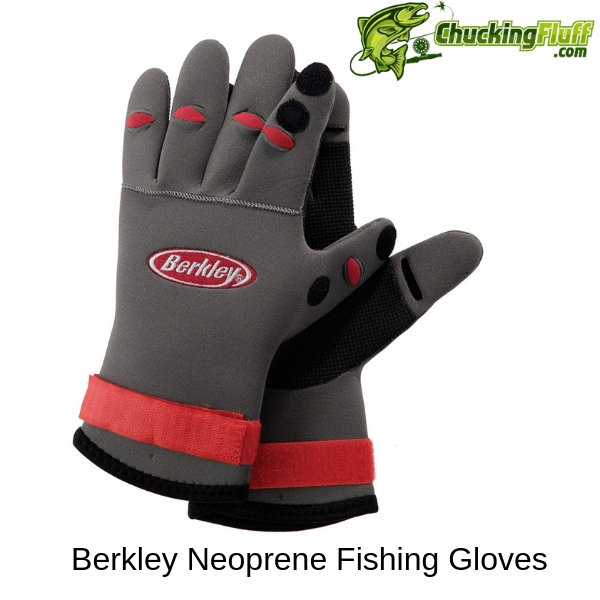 ---
Check Berkley Gloves Amazon Availability
---
Let us sample this pair inside out and confirm if the manufacturer's claim of it being an all-round pair is true. Aesthetic-wise, it is a master. There are unisex versions and a female option of the same.
Pink will stand out for female anglers who love to pop each time they are outdoors. It costs less than the other two. The pink Berkley gloves are specifically designed for female anglers' delicate hands and are heavy duty.
Blue-grey gloves take the same design as the ladies' pink gloves. Both of them are washable and great for gripping slippery fish. Our major concern in this review is the neoprene gloves with anti-slip grip construction.
There is nothing complicated or very special about this one.
The customer is always right-so they say. There are thousands of positive reviews on the internet of these neoprene gloves. Despite being heavy-duty and flexible, they have easy and quick access to the thumb and index finger.
Unlike the fingerless or finger-cut designs that have your fingers exposed to the cold, Berkley had an idea of making this pair a two-way design. A good closure type will keep weather elements out and leave your hands warm and dry.
Velcro straps do this very well. Berkley's neoprene fly fishing gloves are strong and very durable. Taking a honeycomb design, these gloves are incredibly heavy-duty and offer more grip even when wet.
They protect your hands from cuts, chafing and other injuries that come with angling and handling fish.
Full hand coverage is a great feature especially when it comes to protecting your hands from sun rays. Toasty hands-on very chilly days allow you to throw your lines and cast comfortably.
These gloves are warmer than most pairs from bigger brands. Spending more time on the water is what any angler would wish for on any day. Designed for water use, you can grab wet fish with ease.
However, they aren't totally waterproof. You could be wondering why because neoprene is among the materials used in construction. They are water-resistant and not waterproof.
These Berkleys are quite thick-heavy duty construction. This shouldn't be a turn off because they offer unimaginable flexibility. Finger dexterity is when on water and no matter how dexterous a task is, it is easy to undertake it.
The underside is well-textured to ensure they are anti-slip. Trust them to remain put when handling wet fish or working with your fly rod. A lingering fishy smell is disgusting.
These gloves protect your hands from having slime that causes this. There is something about the sizing that is limiting though it isn't a deal-breaker. The gloves come in only one size.
If you have very small or bigger hands, they might not fit well.
---
Key Features of the Berkley Fishing Gloves
Material – Most sections of the gloves are made of high-grade neoprene material. Despite having a heavy-duty construction, the material doesn't make it heavy for you to use with them on. The palm areas have a rubber coating to enhance grip. This is necessary especially if you still need to get hold of fish and fillet them.
Waterproofness – We wouldn't say that these gloves are waterproof. Maybe water repellent. They get wet when you submerge your hands in water. They don't take long to dry though. These gloves are considered the best for ice fishing. This could be the main reason behind their construction.
Breathability – Not reliable like in other gloves like Lindy, Glacier, and Rapala brands. The inner layers aren't breathable and you might experience wetness when you sweat in a very busy session even in the cold. Moisture-wicking properties are important in a pair of gloves, especially heavy-duty ones. Berkley should put this in mind if they were to redesign this pair in the future.
Straps – Velcro straps are ideal for securing gloves to the hands. Some manufacturers lie Simms use leashes which is also superb. These straps are adjustable to ensure you get a good and comfortable fit in the cuff area. As you adjust ensure that you don't leave any space for water or cold to slip inside. If you have a wading jacket on, ensure the cuff area of the gloves goes under the cuffs of your jacket.
Design – A honeycomb design is striking and gives you enough room for finger movement. Sort of a two-in-one design, these gloves allow for finger exposure and full coverage as well. There is so much you need to do with your fingers. Tying knots, flies, attaching tools and more. The gloves allow you to use your thumb and index finger for this. Once done, you can cover them to avoid feeling cold or getting cuts while on water. Quite a good design there!
Weight – Berkley gloves for fishing though heavy-duty weighs very little compared to other gloves with many layers. At 5.3 oz., you can wear them as you go to the shores, have them on for your sessions and return home without removing them. Their weight is bearable even when they get soggy.
Size – Only one size is available for this pair. This, from the description of users, could be medium. Smaller-sized hands will feel as if baggy and slightly larger hands will have this too tight to do anything. You might have to reach the manufacturer for the exact dimensions.
Maintenance – No special treatment here like the DWR coating. The gloves are washable and this makes maintenance easy. Look at the package or tag for any dos and don'ts when laundering these gloves. Stay away from ironing to avoid damaging the areas with rubber coating.
---
Customer Thoughts on the Berkley Fishing Gloves
Good gloves for catching fish. If you know how messy slime and know how easy you can lose a catch if you don't have a good grip, then you know how important it is to have these gloves. They handle small and medium fish very well.
Quite a bad thing already on the sizes available. This is limiting especially if you'd like to have only Berkleys for your entire family. They only fit medium-sized hands and that is it. Something should be done here in the next processing batch.
Superb construction. In fact, it beats many in quality. The rubber allows for flexibility and offers a fantastic grip at all times. As a well-rounded pair of gloves, their versatility gives them a thumbs up.
They are cheap and anyone who has owned high-end gloves will not expect too much from them. Aesthetics are on point and they protect you from fish spines. Although they get wet as you work with fish making you uncomfortable, they are better than having your fingers and palms all out to the spikes and fins of fish.
Despite having high-quality Velcro straps, the fit is excellent for a medium hand. The problem comes about when the gloves are waterlogged. You will have to remove them and squeeze out excess water. Getting them back on is another problem. You will take some more time here.
---
Pros

– Things that shine on the Berkley Neoprene Gloves​
Very affordable
Heavy-duty construction
Lightweight and flexible
Washable
Offer good grip
Velcro straps and rubber-coated palm area
Protects you from sun rays, cuts, bites and other injuries
Cons

– Things that are not so cool!
Gets waterlogged easily
Difficult to remove and wear when wet
Available in one size only
---
FAQ's – Questions about the Berkley Neoprene Fishing Gloves

Q) I am hoping to go fishing for Northern Pike. Are they good at handling them?
A) Yes, these pikes are slimy and the gloves play an important role in increasing grip.
Q) Can these gloves fit pre-teens?
A) I wouldn't say yes or no. They fit most medium-sized adult hands and depending on the size of the hands of your kids, you might have to stop by a store to test their fit before ordering online.
Q) Will one need a separate pair of gloves for gripping and pulling the fly line?
A) No. In fact, this will be cumbersome. The rubber coating makes gripping and pulling the line safe on your hands.
Q) How can one launder them? I got them as a birthday gift and would love them clean and smelling fresh always.
A) They are washable by hand or machine wash on a warm setting to avoid tampering with the rubber. It is recommended to air dry them.
Q) Does the grip wear off after frequent use?
A) It does. There is no replacement for this. You will need to dispose of them and get a new pair.
Q) Heavy-duty gloves almost give an impression of industrial gloves. How much do these Berkley Fishing Gloves weigh?
A) About 5.3 oz. or thereabout. They are very light though and comfortable to have them for a long time.
Q) How waterproof are they if things get messy on water?
A) They are water repellent but not waterproof. They get soggy if you stick your hands in water.
Q) Does Berkley have these gloves in different colors?
A) The Neoprene anti-slip comes in grey only but the coated design comes in pink and grey/blue.
---
Final Verdict on the Berkley Neoprene Gloves

Berkley gives you something versatile for the cold season because being fun while keeping safe is their priority. These superb gloves so their job pretty well. The palm area is coated with rubber to give it a good texture.
It becomes easier to handle fish up to 30 pounds. Strange? They look very simple in design but their performance in this area is incomparable.
If you are a serious angler looking for a pair to start with, these Berkley Neoprene gloves are a great deal.
You don't want to get finned or cut by agile fish. Their protective function is well taken care of with the heavy-duty construction.
While it might not protect you from bass spiny dorsal fins and more dangerous ones, it still is a pair to grab when you are shopping on a budget. There are a few downsides of this pair though they aren't deal-breakers.
What could annoy a user is how fast they get wet when you submerge your hand in the water. Sizing isn't really off because it fits most adults with medium-sized hands.
The lack of choices in size should be an area of concern for the manufacturer.
Leave alone the exquisite design, the finger dexterity, and the comfort you get especially if it the right fit for you. It is very affordable and among the cheapest on our list.
There are more options you can choose from if you find the Berkley Fishing Gloves out of stock. Palmyth Neoprene 2 Cut Finger Design, Neoprene Outdoor Sport, 3 Cut Fingers Anti-Slip Gloves, Alaska River Series Fingerless Gloves, and Goture Men's Anti-Slip Fishing Gloves are excellent options. Safety First!
---
Check Berkley Gloves Amazon Availability
---