Disclosure:
Just to be open and honest the buttons and links you click on in the website will in most cases take you to another website where you can purchase the products I am reviewing. As an Amazon Associate I earn from qualifying purchases.
December 4, 2019
Simms Kispiox Fly Fishing Glove Review – Lightweight Neoprene
''Among my pet hates on fly fishing is despite how much I wrap up in the cold, i.e. fleece jackets, warm socks, hats, etc., there is something I fail in wrapping effectively-my hands,'' grumbled Luke who looked very devastated. He probably hasn't heard of the Simms Kispiox Glove.
Many times most anglers have had the enjoyment of their fishing experiences wasted away by frozen and wet hands. Often, it takes such fishermen or women an eternity to either draw their lines or thread flies onto their leaders. Most of them complain of having tried various options in vain. Using special types of gloves, hand warmers, rubbing hands to regenerate heat but there were so many faults. No worries. There is a solution to all these here.
The Kispiox is a common name on the shores and river banks. If you've heard it, it isn't a special type of fish or fly. It is a high-quality pair of gloves from one of the reputable manufacturers and suppliers of fishing equipment and gear. Drop by the shores a couple of times this season or the next cold or rainy season and clear your doubts.
Sunshine can sometimes quickly change into sleet and later very heavy and cold driving rain. They look heavy like industrial gloves. They aren't. Weighing only 3.2 oz., they are light, warm and totally waterproof. They aren't bulky and cumbersome. The wearer can easily cast and draw their fly line in various retrieval rates even in figures of eight relatively well.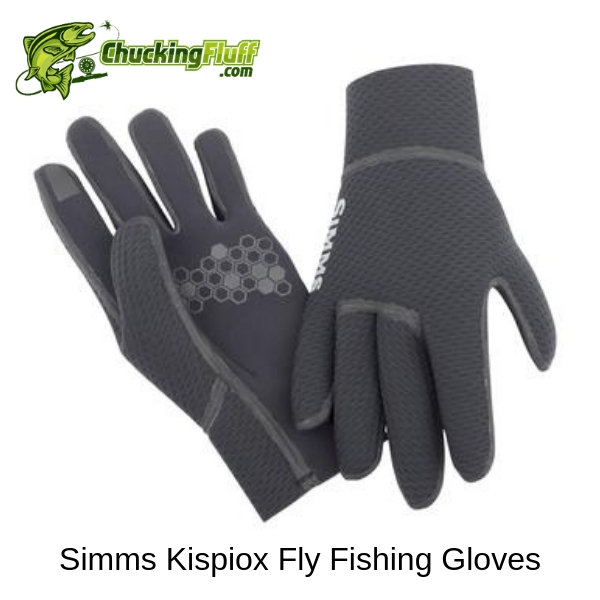 ---
Check Simms Kispiox Gloves Web Availability
---
Another problem comes about when you need to attach your favorite flies to your lines and tie in the new droppers. It is extremely difficult if you do this with other gloves because of the slippery-like feeling especially when they get wet. Their predecessor the Simms Skeena River Gloves almost have a similar design but there is a great improvement in the fabric construction and design of the Kispiox which raises their performance and durability. Manufacturers have invested resources to see that most of their apparel comes in various sizes from small to large and others even available in XXX-Large.
In the '60s, '70s, and 80's when most fishing tackle companies were just starting up, the sport was mostly an adults' thing. A few children took part but there weren't gear and apparel for kids. Mostly they'd wear oversized wading jackets belonging to their parents or guardians and use the excess fabric of the arms to cover their hands in the cold weather.
Looks uncultured if you do this in the 21st century. Can you imagine how far angling has come? Anglers had a blast fishing but it was very uncomfortable. The fabric construction of the Kispiox Glove will move you. 100% neoprene with a lining of fleece at the back of the hand. This is the uniqueness of its own kind. It is impossible to hit the river when draped in very heavy cotton or unbreathable fabric.
Neoprene and fleece put together in this pair is a good wetsuit for any angler's hands. Currently, this style is gaining popularity among steelhead fishermen and other coastal anglers who constantly have their hands in the water. You are sure of having dry and warm hands when temperatures drastically drop and near freezing point.
Like the Skeena gloves, these ones may get clammy because of a very low breathability rate. It is easier to feel the tug of your next steelhead on the swing. Simms has also gone technical on this one. It shares the finger tech design with the Outdry Shell Glove.
We all love to keep memories of our outdoor life in photos. No-fuss. You can do this with your gloves on. You can also operate all your finger-sensitive gadgets with ease. Just be careful not to drop them in water. It happens.
Scale down to read more on the main features of this wetsuit for the hands and look at what users love and loathe on the same pair.
---
Key Features of the Simms Kispiox Fishing Glove
Material – 100% neoprene insulates exceptionally well even when wet. The thickness of the fabric construction is relative and makes maneuverability easier. Around the casting finger where wearing out is common in other gloves is history in this pair. The back of the hand is lined with fleece from the inside. Fleece ensures you are very dry and warm.
Breathability – Nothing similar to the Outdry Shell Glove. This pair has a very low breathability rate. I don't know why Simms decided to design it this way. All the same, there haven't been any complaints about the gloves getting very soggy from perspiration. Though there could be a little clamminess, it gets alright very fast.
Waterproofness – Simms guarantees you 100% waterproofness. Neoprene does this very well especially if it is in the highest grade. Unlike most pairs that get soggy in a short time, this one can serve you in very cold weather without putting your health on the line.
Design – The gloves are full-fingered to ensure you get maximum coverage and insulation. The design doesn't affect functionality and dexterity. The wearer can easily tie knots, attach flies, and do more without any difficulty.
Technology – Most of the Simms gloves for cold weather are designed with tech finger capability to ensure you enjoy convenience and protection at the same time. Finger sensitivity will not be affected if you have liner gloves beneath the Kispiox.
Cuffs – The gloves have extended cuffs to give more hand coverage and ensure maximum protection from weather elements. The cuffs can easily be covered by the cuffs of your wading jacket to avoid them from coming your way while fishing.
Weight – Quite light. The gloves weigh 3.2 oz. and are comfortable to wear for a very long time without remembering that you have them on. They are also very packable and easy to carry to your fly fishing spot.
Sizes – The Simms Kispiox Glove is available in Small, Medium, Large, and X-Large. There is an exclusive sizing chat on the Simms website just below the product details for you to crosscheck your measurements and identify which size will be best for you.
Maintenance – There is nothing different about this one. You will discover that all gloves allow for hand or machine washing. Avoid using bleaches, fabric softeners and ironing your gloves for longevity and performance.
---
Customer Thoughts on the Simms Outdry Shell Glove
The gloves are highly waterproof. You can easily get a fish out of water. As you continue fishing, the gloves keep you warm and the fleece lining is responsible for insulation. As long as you have the right and comfortable size, you need not worry.
If you still love to layer your gloves, you can get a size that is slightly bigger than what you actually wear and have another lighter neoprene or woolen gloves underneath.
It will be a great idea if Simms considered increasing their selection of sizes for these gloves. There are lovers of Simms products who would need these gloves in 2XL and 3XL.
Simms is boldly embracing technology and upgrading most of its products. The tech finger design is awesome and a good way to have more time on the water even on colder days. The convenience is something that will make many people love these gloves.
There must be a reason why Simms designed this pair without having breathability aspects in mind. It is unknown to users though. This comes as a disadvantage because the gloves become clammy when the temperatures in the gloves and that of your hands rise to leave you sweating.
As the gloves protect you from adverse weather elements, they also protect you from cuts while pulling your line. The palm area is well done and doesn't wear out no matter how long you use the gloves.
---
---
Pros

– Things that shine on the Kispiox Glove

Lightweight
Durable construction
100% waterproof
Guaranteed warmth
Tech finger design
Versatile application
Good dexterity and flexibility
Cons

– Things that are not so cool!
The fleece fabric isn't breathable and can get clammy
There is high demand for the extra larger sizes of these gloves but Simms doesn't produce them in 2XL and 3XL sizes.
---
FAQ's – Questions about the Simms Kispiox Fishing Gloves

Q) What type of cuffs are there on the Kispiox gloves?
A) These are gasket cuffs and are slightly adjustable.
Q) Is the palm area reinforced or covered with another fabric to make gripping rods and reels easier?
A) The gloves have a shark's sin textured palm to easily hold slippery objects and for a superior bite.
Q) What is the fabric technology of these gloves? Is it similar to the Outdry and Skeena River?
A) The Kispiox use the 100% waterproof 2.5mm neoprene fabric technology. There isn't much resemblance with the Skeena and Outdry.
Q) Does the stretch in the palm area gets affected with frequent use?
A) No. The palm area's stretchability for dexterity remains intact throughout as long as you follow the manufacturer's care instructions.
Q) From the pictures, the gloves look like they have a 2-cut finger design. Do they?
A) They don't. Simms tried to reinforce the pressure points on the gloves to see them last longer even with frequent use.
Q) Can the X-Large size of the Simms Kispiox Glove fit a heavy man who wears XX-Large?
A) Not certain. Not unless your measurement are slightly higher than those on the sizing chart, they will fit but be tight and uncomfortable.
---
Final Verdict on the Simms Kispiox Fly Fishing Gloves

Simms has been in business for a long time and over the years the manufacturer has proven to be the go-to brand for the best cold-weather fly fishing gloves. Their Kispiox glove boasts of a premium neoprene construction making it the best choice for freezing days.
The interior high-quality fleece lining provides more warmth even when you submerge your hands in water. Being 10% waterproof, it can withstand temperatures up to 25 degrees Celsius for a few hours. The Kispiox incorporates a stretchable palm design for flexibility as you work. This helps with dexterity and offers a firm grip especially when you factor the texture.
The high-stress points such as the thumb and index finger are reinforced and well sewn to ensure more safety and for wear and tear resistance. You know that these two fingers and the palm area face a lot of brutalities. The wrist closure is adjustable and offers a comfortable fit.
This is one factor that you will love. The cuffs wrap your hands fully and prevent the entry of weather elements. As these gloves naturally bead water off, they dry quickly after a wash. You can have them back on almost immediately. Notable is the limitation in available sizes. There are a few concerns from users that Simms needs to add larger sizes to fit anglers with bigger hands.
We have done in-depth research of everything you need to know about these gloves. The gloves are affordable and easily available though they are quite on demand. It is not very old in the market but has had a great reception since its launch. There are numerous reviews and critics that are very insightful.
We have everything in this review. What happens if you need a pair urgently but can't find the Simms Kispiox Glove for your trip? There are other options like Patagonia R1 Gloves, Simms Warming Hut Glove, Simms Guide Windbloc Flex Glove, and Simms Outdry Insulated Glove. The construction and design may be different but the performance and durability are right on point.
---
Check Simms Kispiox Gloves Web Availability
---