Disclosure:
Just to be open and honest the buttons and links you click on in the website will in most cases take you to another website where you can purchase the products I am reviewing. As an Amazon Associate I earn from qualifying purchases.
October 22, 2019
SeaKnight Neoprene Winter Fishing Gloves Review – 3 Cut Design
Since 1983, SeaKnight Company has gained trust and confidence through dedicated customer service. Starting u as a mere workshop hoping to scale the industry and be a big enterprise, this is a company that has stood the test of time and set itself apart from its competition.
Almost all angling solutions are found here from high-quality gear like the Neoprene Outdoor 3-Cut Finger Design Fishing Gloves to fly fishing equipment at affordable prices. Based on persistence, innovation, and challenge, the manufacturers look forward and live up to high expectations for the best quality and durable fishing gear.
Any technological innovation you learn of under the SeaKnight brad is courtesy of R & D personnel, able and professional fishermen and women. Before any product is released to the market for sale, it undergoes rigorous field or lab tests. The outdoor tests bring steady technical improvements and upgrades to ensure each angler gets the best experience. As you go for any challenge on water, SeaKnight will always accompany you.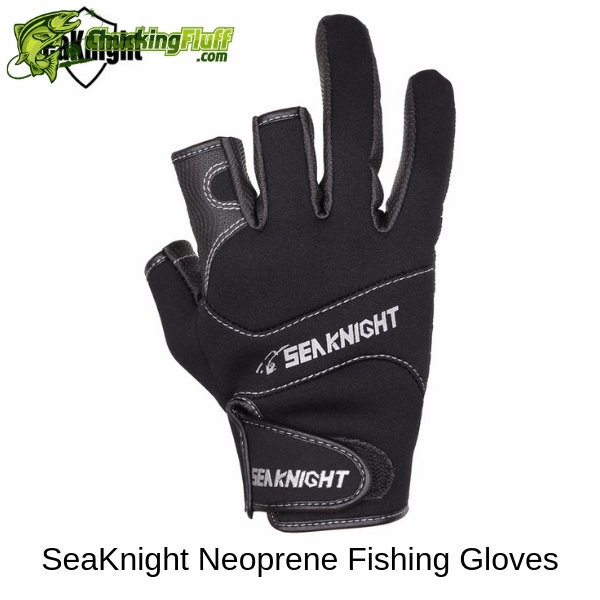 ---
---
When we go window shopping for the best pair of fly fishing gloves for cold weather, we are sure to find the best with regards to our needs, budget, and preference. Incredibly, this Neoprene 3-cut design from SeaKnight is one of the most remarkable and popular pair.
Anglers love to catch fish in adventurous locations usually at any time regardless of the weather. This pair saves the wearer from great trouble. I know you understand the dangers of fishing bare hand in the cold and what fish can do to your palms or fingers.
However, different gloves are suitable for different times. The SeaKnight Neoprene 3-cut design is ideal for ice and cold weather fishing. It is very difficult for an angler to neglect this exceptional pair. Right from its aesthetics, design, construction, and performance.
Everything about it is on point. For the protection and safety of all anglers, both novices and professionals, their appropriateness is not something to gamble with. Fishing gloves in cold weather are an essential accessory. Its necessity is undeniable. The pair is lightweight allowing you to carry it everywhere you go fishing. You can have them on as you journey to your fishing spot and not feel any weight or discomfort.
The three-finger cut design is epic. This one has the three fingers at half-length like the Goture Men's Anti-slip gloves. No caps like what the Palmyth Flexible gloves have. These gloves do what they are supposed to do even when the temperatures drop nearing to freezing point.
The two fingers can be used to handle fish and your thumb for casting. You can put desired pressure on the line using your thumb along you to feel your fly line much better than when with full-fingered gloves. The gloves' material is very tough and durable and the line can't cut the gloves no matter the tension.
A pair that is true to size is the surest to carry when going on the water. This one molds to the wearer's hands because it is designed with high-quality neoprene material. The wrist area is adjustable using the durable Velcro cuffs. You can tighten or loosen them at will.
Neoprene 3-cut design outdoor gloves from SeaKnight come in three large sizes which you can choose from- Large, Extra-large, and Double Extra-large. If you are tired of continuously getting cut or pierced, this pair of gloves is just what you need. Moreover, if you'd like to cast your rod frequently in the cold, feel warm and be in full control of your rod and reel this is a pair to go for.
---
Key Features of the SeaKnight Neoprene Fishing Glove​
Material – The gloves are made from Neoprene which is windproof to ensure that your hands remain cold even with the blowing cold winds. The palm area is made from PU to increase friction and give the wearer a good grip regardless of whether the gloves get in contact with water or not. The material is anti-slip and has reliable thermal insulation. There is no need for using heat packs to feel warmer. The material has a slight elasticity to give you comfort and good finger dexterity.
Waterproofness – Not waterproof like you'd wish of them. They repel a lot of water though and only get waterlogged when you stick your hands in the water for a long time. To avoid this, you need to be extra cautious when releasing fish back into the water or when pulling your drowned equipment.
Breathability – The design is breathable and allows you to remain dry and fresh when your body gets extra warm and your hands begin to perspire. The cut design also allows for free air movement which is a bonus to the breathability aspect of this pair.
Design – A 3-finger cut design that looks striking and is fully functional. The thumb, middle and index fingers are left covered to half the length of each finger for easy operation and convenience. You know how difficult it can be for new users to adjust to fishing with gloves on. The thumb can be for casting and pulling the line while the two fingers to handle fish.
Straps – The wrist areas have durable Velcro straps for adjusting the gloves. These are adult gloves because they are only available in large sizes. To secure them to your hand, ensure that you adjust the straps to a comfortable yet protective tension. Don't leave space for cold winds to slip in.
Size – Young anglers might not find any size that's suitable for them. Sizes available begin from Large, to double extra-large only. These sizes are likely to fit adults and a few teenage anglers. This is a downside because the younger generation is developing more interest in angling and will need more protection because of their delicate hands.
Maintenance – Like any other neoprene gloves, keep away your fabric softeners, bleaches, harsh detergent, and irons. Otherwise, you can hand or machine wash and leave the gloves to air dry.
---
Customer Thoughts on the SeaKnight Neoprene Winter Fishing Gloves​
If well taken care of, these gloves last longer. They dry very quickly even after getting waterlogged. Their color doesn't wear off as most gloves do. In fact, if you adhere to the laundering instructions, you have nothing to worry about.
The gloves have a really snug fit if you get the right size for your hands. SeaKnight has a sizing chart to allow you to confirm the right size that doesn't compromise on comfort, dexterity, and maneuverability.
The grip is incomparable. In fact, it remains efficient even when they get wet. You can get hold of fish with confidence without getting any injuries. The construction on the palm area is excellent and you are guaranteed safety.
There is usually a big problem with noticeable seams bursting especially if your hands get fatter than before. This is not the case in this pair. The seams are well done and so far, with several years of use, they are still intact.
SeaKnight should consider having these Neoprene outdoor gloves in more sizes. Especially those that can fit youngsters. They perform very well and children and pre-teens will feel safer in them than most of the other brands just like adults do.
---
Pros

– Things that shine on the SeaKnight Neoprene 3-cut Design Fishing Gloves​

Offers good grip
Comfortable and convenient 3-finger cut design
Versatile pair of gloves
Durable and adjustable Velcro cuffs
Offers sun protection
Lightweight
Easy to maintain
Cons

– Things that are not so cool!
The sizes are limited to adults. There is no small or medium size
Too much exposure to water makes them soggy
---
FAQ's – Questions about the SeaKnight Neoprene Cold Weather Fishing Gloves

Q) Are these SeaKnight gloves available in different colors apart from black?
A) At the moment, the alternative color is red with a few areas in black.
Q) What is the palm width of the extra-large size gloves?
A) The palm width is 9 to 10 cm.
Q) Does sun protection mean that the gloves have UV protection features?
A) No UV protection features in this one. Since it covers a larger part of the hands, it protects from sunburns and melanomas only. If you are looking for UV protection gloves, the Palmyth Flexible or Palmyth UV-resistant gloves will work well.
Q) Are these gloves perfect for steelhead fishing in the winter?
A) There isn't any reason why they won't perform well. A few reviews on the same confirm that you can go ahead and steelhead in them.
Q) Can they hold up to use in extreme weather like heavy downpours?
A) Not exactly! These gloves are water repellent, in the event of continuous exposure to a lot of water, they get water-logged. They work well in light showers and ice fishing.
Q) What happens if the seams burst when fishing?
A) There haven't been any complaints on damaged seams so far. The construction seems perfect but if they do, you can repair them or get a new pair.
---
Final Verdict on the Orvis Soft Shell Fingerless Gloves

Neoprene Outdoor 3-Cut Finger Design Fishing Gloves is one of the top-rated pair of fly fishing gloves for cold weather. You will agree that finding the best pair for your sessions in winter is a daunting task. Forget about interchangeable gloves like the Glacier Bay.
This one is a complete 3-cut finger design that comes to taste among most of the gloves in its category. There is a lot to love about this design. The convenience of the three left out fingers is out of the world. It can be difficult to adjust to gloves if you are a novice in angling. Such a design makes operation and maneuverability easier.
There is so much you can't do with squeezed and numb fingers. SeaKnight gives a sizing chart to ensure you match your measurements with those on the chart in order to be sure that you are getting the right fit.
High use areas are well reinforced and the seams perfectly done. With a design that gives a snug fit, the padding below the waterproof neoprene material makes the gloves warm and ensure superior comfort. They might not be waterproof like expected but will repel a good amount.
Operating on the water with caution is important to ensure you remain dry and warm. Their popularity could be due to the fabric construction-the layering is epic and the neoprene has wind-blocking capabilities. Care and maintenance aren't complicated. Like any other pair of neoprene gloves, you can hand or machine wash on a warm setting. Keep gloves away from any fabric softeners, bleaches, and iron boxes. You are advised to drip dry your gloves.
Let's get it head on. Budget is among the crucial factors to consider when purchasing gloves. Most anglers would love a home or garage full with absolutely top-of-the-line gloves but this will need you to break the bank. For the price these gloves go for, you can be sure to get the best out of them for the longest time with good care and maintenance.
Loading up on affordable gear is no issue that is why if you go to the stores or are shopping online and miss on the Neoprene Outdoor 3-Cut Finger Design Fishing Gloves, worry not. There are reliable options like the Palmyth Neoprene 2 Cut Finger Design Fishing Gloves, Alaska River Series Fingerless Gloves, Goture Men's Anti-Slip Fishing Gloves, and Berkley Fishing Gloves from our price list of gloves below $20. SeaKnight ensures safety as you have fun!
---
---