Disclosure:
Just to be open and honest the buttons and links you click on in the website will in most cases take you to another website where you can purchase the products I am reviewing. As an Amazon Associate I earn from qualifying purchases.
March 23, 2019
Patagonia Tough Puff Hoody Wading Jacket Review – Lightweight and Warm
Thrashing by brushes and stabs from flies can make your wading jacket almost non-function.
Maybe patching and piecing back together can make you wear it once more. But for how long?
A solution to the fears of abrasion. The Patagonia Tough Puff Hoody Wading Jacket is what we are talking about here.
Patagonia is a household name when it comes to manufacturing fly fishing wear that is durable, functional and affordable.
The conditions that anglers face put them at high risks of falling ill. Adverse weather conditions are uncontrollable but when in the right gear, there is no need to worry.
The Tough Puff is a modified version of Patagonia Nano-Air- still one of the puff families.
After being released into the market, the Nano-Air earned very high in the breathability and comfort metrics.
This was because of the soft yet stretchy fabric and the FullRange insulation.
From afar, the two jackets almost look similar but from close range you spot the differences between the two.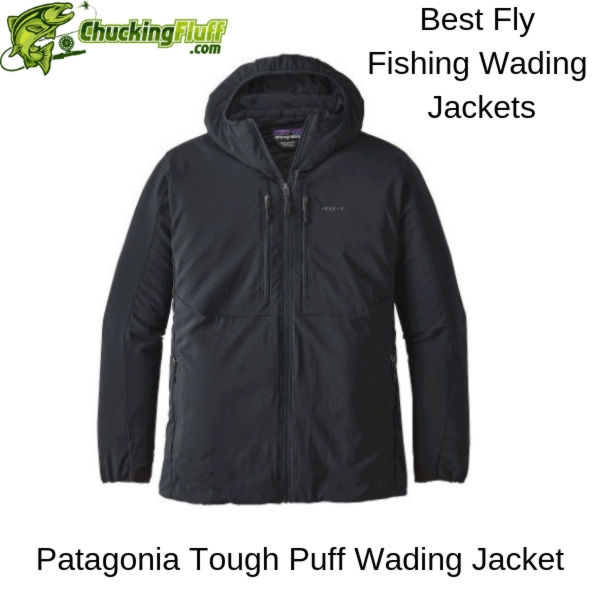 ---

All features are wrapped in one. You are guaranteed comfort, warmth and protection.
The technical features in this jacket will never give you an idea of taking it off. It is practical both on water and in the mountains.
With extreme temperature fluctuations, Tough Puff keeps you warm during frigid mornings.
Stretch is very important and this jacket features this aspect in its design.
You will often climb around banks and reach for fish that is why mobility and comfort are well taken care of.
If you are an angler who likes to down on bulk luggage you carry- you will love this wading jacket for its spacious pockets.
Chest pockets for your fly boxes relieve you from the burden of carrying small bags and pouches.
While most jackets with chest pockets tend to be heavier and bulkier in the torso area, this one takes on a very low profile.
This makes this jacket an excellent crossover to everyday casual life.
---
Main Features of the Tough Puff Hoody Wading Jacket
Water-resistant – The outer shell of the jacket is made from 100% polyester making it water-resistant and windproof.
The water repellency nature will take you through the difficult times when you would normally want to pull your rain jacket.
The DWR durable water repellent finish works effectively by repelling snow and light rain.
---
Construction – With a 2.5 shell layer construction, you are sure of staying warm throughout even in the worst downpours.
The shell is designed to have a mechanical stretch that allows for easy mobility and comfort when you need to reach for your combos or fish.
The lining is made from 100% recycled polyester and is double knit. 60-g FullRange polyester stretch insulation are all for dryness and warmth.
---
Breathability – Surprisingly breathable like its predecessor, the Nano-Air Puff, the breathable lining wicks away sweat and moisture from your body to the outside.
The Patagonia Tough Puff Hoody Wading Jacket doesn't allow rain and water to pass through though.
Capilene linings are among the best breathable fabrics used by Patagonia during manufacture.
---
Storage Pockets – On the chest area are two large pockets- one on each side.
They are spacious enough to accommodate the largest fly boxes.
The two lower pockets can be used as hand warmers or for storage purposes.
There are no pockets in the interior so if you are a bulk carrier, you will have to have a bag for your other items.
The pockets are accessed via durable weather-resistant zippers so you do not have to worry about the contents getting wet and damaged.
---
Jacket Length – The jacket is of hip length and fully covers and protects your upper body from the effects of the elements of weather.
It is a regular fit. No matter how deep you wade in the water, you will still remain dry and warm.
---
Cuffs – Cuffs are elastic and seal out water and the cold.
The inner side of the hands from the cuffs upwards are made of the of the durable water repellent finish like the outer shell of the jacket to keep water off and leave you dry if you happen to get your hands deep in water.
---
Hood – The hood is big and spacious. This one doesn't have a drawcord but has a fitted elastic to ensure it fits well on your head and cannot be blown off by the wind when on or off a boat.
It is a fixed hood and the extension up to the neck area protects your neck from the cold.
---
Attachment Points – There are two models of this same jacket. One model, the 81761 has attachment points below the left pocket where you can attach your zingers and tools for easy access.
The other model, 81760 doesn't have any attachment points. If you can take to your sports shop to have them fixed for you at your preferred spot, it will be a good idea.
If you do not need the points, there is no need of tempering with the jacket.
---
Zippers – The jacket has 5 zippers in total. All of them are made of durable material and are weather resistant.
The main zipper runs from the bottom of the jacket up to the neck area and protects your torso area from the cold and water. The others are access to the four pockets.
The jacket comes in various sizes and you can choose what fits you from extra-small, small, medium, large, extra-large and double extra-large.
The colors available are black and bay blue. This jacket is designed for men and female anglers who would like to have the abrasion-resistant jacket can get the Patagonia Women's Tough Puff Hoody Wading Jacket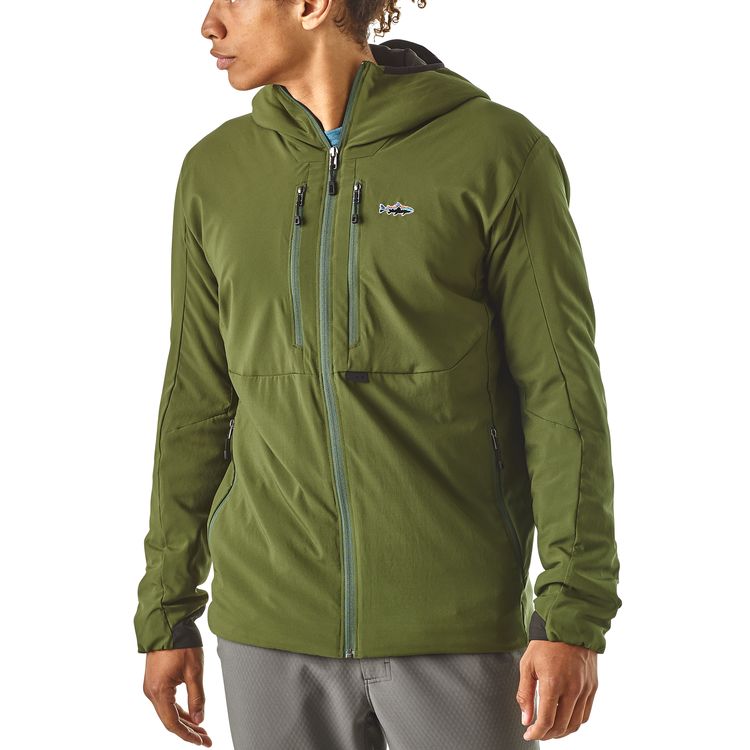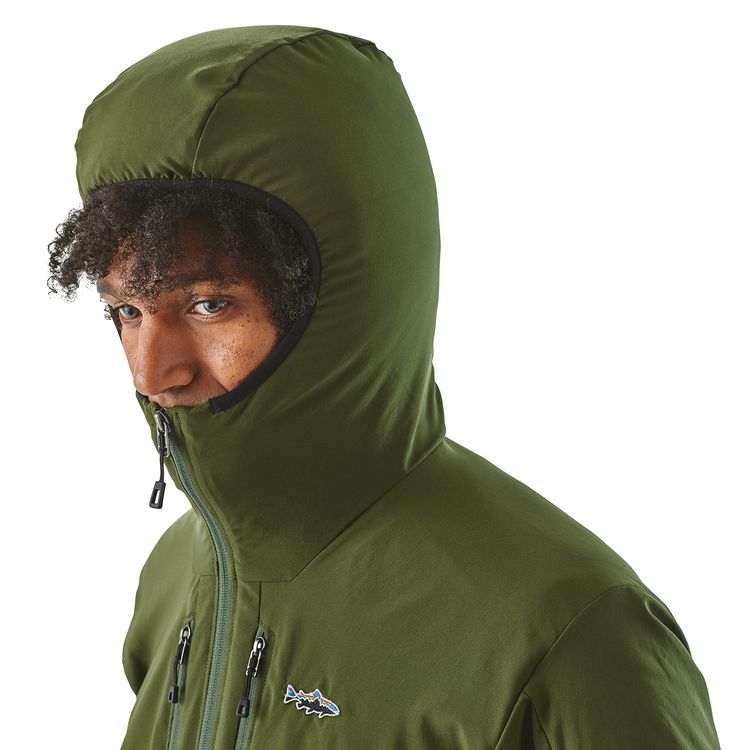 ---
Consumer Thoughts on Tough Puff Hoody Wading Jacket
The Patagonia Tough Puff Hoody wading jacket is the warmest synthetically insulated puff wading jacket that can make you comfortably survive the brutal winter.
It is warmer than its sibling the Nano-Air jacket but not dramatically warmer.
A warm jacket when wet is what an angler needs. The FullRange design was a good idea.
It repels water at a faster rate while retaining most of the jacket's heat retention capacity even when it is raining or submerged in water.
The jacket is tough like it is called. It is resistant to abrasion unlike most wading jackets that tear when thorns and thickets scratch the fabric.
This jacket has been built for activity because it moves with you when you move. Being stretchy adds to comfort and mobility.
The seams do not burst when you stretch to catch a fish or cast.
Four pockets only for someone who carries so much when going fly fishing is a disadvantage since you have to get off water to pick what you need from your bag while extra pockets could have served storage purposes well.
Such a versatile jacket-warm, stretchy, light, warm when wet and breathable.
All these in one reduce the number of gear you need to carry when going out.
---
Pros – Things we like about the Tough Puff Hoody Wading Jacket
Light in weight
Stretchy and increases mobility and comfort
Spacious chest pockets to fit the largest fly boxes
Durable water repellent finish
Good fitting and spacious hood
Easy to maintain
Elastic watertight cuffs
Durable weatherproof zippers
Available in various sizes
Abrasion-resistant
Moderate breathability
Overall durable construction
Cons – Things we don't like
The number of pockets are less. None in the inside to store valuable items.
The Full-Range doesn't compress well like the Nano and packability is a little problem
---
FAQ's – Questions about the Tough Puff Hoody Wading Jacket
Q) Is the hood removable so that it doesn't get in my way when fishing?
A) This hood is fixed on the jacket. It is also not oversize to get into your way. If you want it out you can fold it away.
Q) Does the lining have static? I find other jackets with polyester lining with static although not much.
A) No complaints so far on the jacket having any static. Capilene linings are mostly for moisture-wicking. Not unless you bought imitations maybe.
Q) Does the jacket have Velcro cuffs?
A) These cuffs are elasticated and if you are worried about adjusting, the elastic is not too tight to make you feel uncomfortable. They work well just like Velcro cuffs.
Q) What is the chest and neck size of the medium size jacket?
A) The medium size has a chest-length of 39-41'' and a neck size of 15.5-16''.
Q) How do I care for my jacket? It is brand new and I do not want to damage it.
A) This jacket, in fact all garments from Patagonia come with printed instructions on care and maintenance inside the garments. Generally, products should be washed in warm or cold water. Use mild powder laundry soap which is biodegradable and non-toxic. Dry the jacket on the line.
Q) What is the insulation used in the jacket?
A) Insulation is 60-g FullRange 100% polyester.
Q) Which product technology is used in the Patagonia Tough Puff Hoody Wading Jacket? I am used to buying GORE-TEX jackets.
A) This jacket uses the Patagonia Capilene technology for moisture-wicking to leave you dry and the DWR- durable water repellent to make the outer shell and inner side of the hands drain water very fast.
Q) Is it a relaxed or slim-fit?
A) The jacket is a regular fit. Mostly, the other products like shirts are categorized into relaxed, regular, slim or formfitting.
Q) How much does this jacket weigh?
A) There are two models of this jacket. Model 81760 weighs 621 grams while 81761 weighs 624 grams. There is not so much difference in weight and all of them are light both when worn and when carried in a backpack.
---
Final Verdict of the Tough Puff Hoody Wading Jacket
Puff wading jackets are common on streams and rivers and from coast to coast but the Tough Puff Hoody Wading Jacket is the commonest.
The prevalence of these jackets is well earned because of their high performance, durability and functionality.
Being true workhouses, most anglers will be seen sporting the Patagonia label.
This jacket is the best bunch for any angler. You will love its protective feature, especially against adverse weather conditions.
The water repellence and breathability levels are quite a thing to depend on. So far, there have been no critics on this.
Capilene linings are a rare feature in many jackets. Patagonia knows how important it is to remain dry and fresh hence their tact move.
While some might find storage being an issue because of the number of pockets, I think the major things to look for are warmth, protection and comfort.
This would mean you have to limit the things you carry or have a bag just in case you pack more fly fishing items.
The insulation-driven design is something you will love. There is no other wading jacket from Patagonia that offers more like this one.
It tackles quite a wide range of on-water demands and that makes it a must-get for anglers.
With all these in mind, there is every reason for you to have this jacket. If you can order it early before you next session, the better.
If you do not find it in your nearest fly fishing shop or online, there are alternatives to choose from.
The Simms Freestone Wading Jacket, Aquaz Trinity Wading Jacket, Patagonia Minimalist Wading Jacket, Orvis Clearwater Wading Jacket, Stormr Typhoon Wading Jacket and Wright McGill Essentials Wading Jacket are all within the price range of the Patagonia Tough Puff Hoody Wading Jacket.
The jackets serve the same purpose like the one in this review. Be tough in all tough conditions with the Tough Puff jacket.