Disclosure:
Just to be open and honest the buttons and links you click on in the website will in most cases take you to another website where you can purchase the products I am reviewing. As an Amazon Associate I earn from qualifying purchases.
August 17, 2018
Simms G3 Guide Wading Jacket Review – Great for Deep Wading
This is a review of the older G3 Guide jacket which can still be obtained from some retailers, however, we have the new G3 Guide Tactical wading jacket review done also.
Simms Fishing is an expert in manufacturing fishing and recreation gear, accessories and other products. The high-end products are all crafted and manufactured using high-grade material to ensure they are durable and out-perform when wading. Due to the dedicated team, professional management team and objective to fully satisfy customer needs, the company has always soared high and is among the leaders in the current market.
When it comes to keeping you dry while fly fishing, Simms G3 wading jacket is ideal because the jacket has been developed with all the features combined, the wearer is fully protected from the adverse effects of bad weather. There is a guarantee of warmth, dryness and comfort.
Storage pockets are in good numbers allowing you not to compromise the safety of your valuables and accessories. Those lined with micro-fleece keep your hands warmer when not in use. Considering that the pockets are made with water-resistant zippers, your items are safe from damage by water. This version of the jacket is lighter by 25% compared to the previous versions so not only is it lighter but it contains its immense waterproof levels.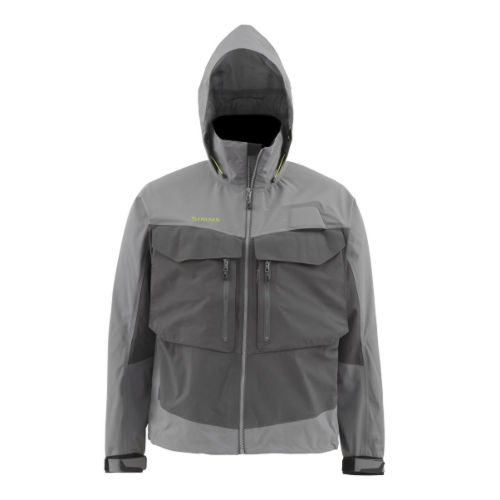 [button link="http://www.avantlink.com/click.php?tt=cl&merchant_id=a1db0933-64cf-444f-b01c-eb4254407b81&website_id=c0520932-6dac-4d3c-9396-fc3fa49a96bb&url=https%3A%2F%2Ftroutsflyfishing.com%2Fcollections%2Ftops%2Fproducts%2Fsimms-g3-guide-jacket&ctc=G3″ type="big" color="teal" newwindow="yes"] G3 Guide Pricing [/button]

---
Main Features of the G3 Jacket
Waterproof – The Simms G3 wading jacket is made of 100% nylon material making it fully waterproof. Designed using the GORE-TEX Performance Shell outwear water and mud that gets in contact with the surface of the jacket slides off giving you maximum protection from cold.
Storage pockets – Storing your valuables, accessories and fishing gear isn't problematic when you have this jacket on. With a total of 7 pockets at different positions, your items are secured. On the chest area are 2 top-load pockets and 2 zippered pockets that you can use to store your fly boxes. One internal stash pocket can be used to store money, keys and watches. The two handwarmer pockets are lined with high-grade micro-fleece material to ensure your hands are kept warm when not engaged.
Jacket length – The length of the jacket is reasonable- neither too long nor too short. This makes your pockets safe from water damage when you decide to wade deeper. This jacket is best used when wading in chest waders and not when just bank fishing in thigh waders or boots as the shortness of the jacket will leave your upper legs wet, if bank fishing is your style then a 3/4 length jacket is much better.
Cuffs – The Velcro cuffs used on the Simms G3 wading jacket are made from water-resistant material and keep your arms dry all the time even having to handle fish in the water a useful feature of the jacket.
Hood – Simms designed the hood of this jacket to be a tuck-away. The hood is big and spacious to accommodate any hairstyle. To get your head area fully covered and protected from wind and water splashes, use the three-point adjustment to get the perfect and comfortable tension for yourself. In case you want your head out to breath, tuck away the hood to avoid it from causing discomfort when fly fishing.
Attachment points – The G3 wading jacket has attachment points for your nets and zingers. You do not need another sling pack to get extra storage space.
---
Customer Thoughts
The jacket is perfect and keeps you dry in the rain. It acts as a good wind barrier and the insulation mechanism is unbeatable.
Attachment points on the jacket come in handy for hooking nets and zippers. There is no need to get sling packs weighing you down.
After a few years of use, attachment points for zippers began to fail but Simms replaced the jacket
The jacket runs a bit small for some customers.
The jacket is excellent but doesn't have vents in the underarm and in other areas to counter overheating during summer seasons.
The jacket is entirely waterproof and there are no leaks around the pockets. The Velcro cuffs are weather resistant and keep the arms dry throughout the entire fly fishing session.
The jacket's design with three under layers is fabulous and keeps you warm. There is no need to get an under cloth for extra protection from cold.
Big hairstyles are usually a problem when wearing many hoods but this jacket has one that is big enough and has adjustment points to get your perfect tension.
Using fabric softener and bleaches negatively affects the jacket's quality
Washing the jacket without zipping the pockets and closing the Velcro cuffs gets the jacket damaged by the machine
High setting when tumble drying the jacket may get it burnt.
---
Pros – Things we like about the G3
100% nylon waterproof material
7 storage pockets
2 micro-fleece lined handwarmer pockets
Water-resistant Velcro cuffs
Adjustable and tuck away hood
Adjustable bottom hem using a dual drawcord
Light in weight only 23oz
YKK AQUASEAL zippers that are weatherproof
Durable
Breathability capabilities
Dry on warm to reactivate the DWR coating
Easy to clean and maintain
Cons – things we don't like
Over-washing the Simms G3 jacket damages the GORE-TEX adhesives and tapes while also causing the casing to peel off the top layer affecting its durability and performance.
---
FAQ's – Questions about the Simms G3 Guide Wading Jacket
Q) How many pockets does this jacket have? I love carrying a few personal items with me and would like to know
A) The jacket has 7 pockets in total to keep all your items in. For valuables, keep them in the internal stash pocket.
Q) Are there any attachment points for an avid angler like me?
A) Yes, there are attachment points for your zingers and hooking your net including 2 integrated retractors.
Q) I am worried about the length. Can I go bank fishing and wading when having it on?
A) Deep waders will find its short length excellent. If you love bank fishing, getting a jacket that is three-quarters in length will be a better option.
Q) Some cuffs on other jackets aren't as secure. Should I bank on this one for maximum protection against the weather?
A) Definitely! Water‐resistant Dry Cuff™ are used on this Simms jacket and are made of weatherproof material to keep you dry regardless of the weather and the intensity of your session.
Q) Is it a removable hood? How big is it for my dreadlocks to fit in?
A) This one has a tuck-away hood and is very big to accommodate any hairstyle. For good tension and more protection on your head area, there are three adjustment points you can use.
Q) Does the jacket have underarm vents for sweaty people like me?
A) Unfortunately it doesn't have vents. If your perspiration is high especially in the summer season, you can consider toning down on inner clothing and vests.
Q) Are there any leaks around the pockets?
A) The pockets are well-secured and your items will remain safe and dry no matter how deep you wade.
Q) Do I need more undergarments for protection against the cold?
A) It depends on your needs the three-layer construction is enough to keep you warm on modest days but for really cold weather a base layer would be required.
Q) How heavy is the jacket I hear it's not a lightweight jacket.
A) The jacket weighs 23ozs and is 25% lighter than the previous model.
---
Final Verdict of the G3 Wading Jacket
All male anglers and waders should have this jacket for guaranteed warmth, comfort and maximum protection from the effects of wind and cold. In regard to performance and quality, the price is worth it. In this Simms G3 Guide wading jacket review, you will attest to the fact that convenience is highly considered.
The attachment points are an excellent feature of this jacket that you will love. You can attach your zingers and nets without needing any sling pack when going fly fishing. The seven pockets are another excellent feature. Storing your valuables and wading accessories shouldn't give you a migraine. Fly boxes can be stored in the chest pockets.
The high performance of the G3 wading jacket makes it loved by many anglers and waders. In the event that your stores run out of it, there are other jackets with quality and performance like it. The G4 Pro jacket by Simms is in the higher price range of the Simms G3 wading jacket but it a great jacket and well worth the look. The alternative jackets work perfectly as the one in this review and you are guaranteed value for money.
How well you launder this jacket will determine its lifespan. The jacket comes with washing and drying instructions that have to be followed strictly to maintain durability, quality and performance. There are important points to note before machine washing to prevent the machine, bleaches and fabric softener from damaging the jacket. Nylon material should be machine washed at a warm setting and tumble dried in the same setting to prevent the jacket from looking burnt and distorted.
[button link="http://www.avantlink.com/click.php?tt=cl&merchant_id=a1db0933-64cf-444f-b01c-eb4254407b81&website_id=c0520932-6dac-4d3c-9396-fc3fa49a96bb&url=https%3A%2F%2Ftroutsflyfishing.com%2Fcollections%2Ftops%2Fproducts%2Fsimms-g3-guide-jacket&ctc=G3″ type="big" color="teal" newwindow="yes"] G3 Guide Pricing [/button]
[button link="https://chuckingfluff.com/best-fly-fishing-wading-jackets-comparison-and-buyers-guide/" type="big" color="purple"] Check our Wading Jacket List[/button]