Disclosure:
Just to be open and honest the buttons and links you click on in the website will in most cases take you to another website where you can purchase the products I am reviewing. As an Amazon Associate I earn from qualifying purchases.
May 12, 2021
Simms New G4 Pro Wading Jacket Review – Top Awards
The New Simms G4 Pro Wading Jacket
In the last half of 2019, Simms unleashed one of the most technologically advanced yet durable fishing collection-the Simms G4 Pro line.
It did an overhaul of all the gear in this line including the New Simms G4 Pro Wading Jacket that caught our attention so fast.
Others in the lineup that are brand new for the market are G4Z (zipped front) and G4 Pro stockingfoot waders and the Felt or Vibram G4 Pro boots.
For about two decades the G4 Pro jacket has traversed so many countries, combed numerous ecosystems, and taken all the brutality of weather elements compared to others out there.
What's New?
The jacket was redesigned in 2019 for 2020 for the hardcore anglers in need of an arsenal of gear that they can fish longer in regardless of the conditions or terrain.
Simms uses the most recent technologically advanced fabrics and incorporates cutting-edge design ideas to level up a new standard in performance, function, and durability.
What surprises us is the duration it took to update the older version of the jacket.
More than 20,000 hours of field tests by the guides that cast in the unforgiving locations to satisfy their passions, it was indeed rigorous.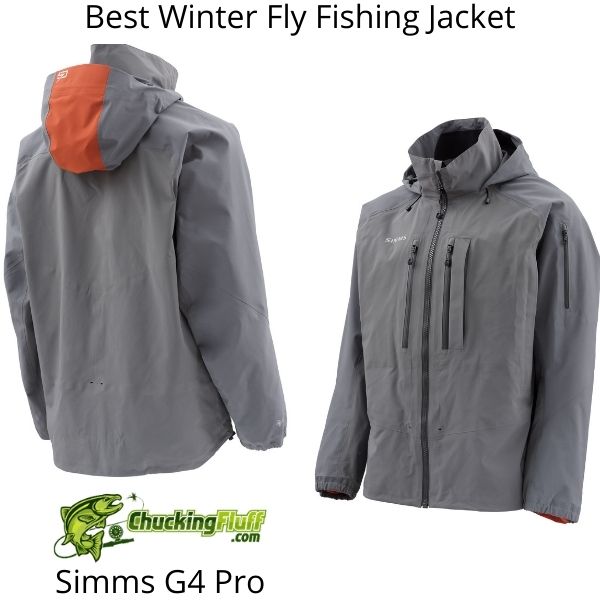 Check Web Price
This G4 Pro jacket represents everything good that Simms is about, passion, innovation, and design.
For sure, the product design is immaculate thanks to the top-notch material selection.
The jacket has been built to last as it can withstand all the elements.
A primary ingredient of the G4 Pro wader is the new Gore-Tex Pro Shell material with three layers for durability and breathability.
You will love its new fabric package that boasts higher abrasion, tear, and puncture resistance as compared to other materials in the Simms Product line.
Is it eliminating the Need for a Fishing Pack or Vest?
Simms G4 Pro jackets for a long time have been known to offer excellent weather protection.
Most anglers marvel at the generous on-body storage and the revamp is everything we needed in a good all-round weather jacket.
The delivery of the storage system is in a streamlined and sleek profile.
The two fly box pockets are large enough to accommodate your favorites.
The upper left arm area has a stash pocket for personals that you will want closer for easier reach.
Have more gear in the zippered chest pocket.
Another interesting feature that most waders will love is the zippers on the handwarmer pockets.
The zippers prevent the entry of weather elements leaving your inners at a lower risk of getting wet.
Also, if you won't be using them for their purpose, they are good storage spaces for blunt gear.
Through the handwarmer pockets, you get access to two back game pockets.
For more storage, Simms designs two woven drop-in pockets on the inner side of the jacket.
These pockets are stretchable to allow you to fit more gear.
There is an inner zippered stash pocket for your personals.
Foul weather shouldn't stop you from going out.
To make it safer for your health, there is a 3-point adjustable hood.
We appreciate the hi-vis accent to allow you to be visible from afar in the night or when the weather says otherwise.
The watertight shingle cuffs are to keep you warm and dry.
Other excellent angler-friendly additions are a tactical vertical flip-out fly patch for use when necessary and the inbuilt sunglass chamois.
---
Key Features of the New Simms G4 Pro Wading Jacket
Material and Fabric Construction – Don't confuse the Gore-Tex Shell fabric and the Gore-Tex Pro Shell Fabric.
The new G4 Pro jacket uses the latter because it has a double action.
It is lightweight, breathable, waterproof, and boasts excellent comfort and durability.
The jacket is made with a woven backer to slide over layers and lay flat.
The hood, shoulders, and upper sleeves are made using the 80 Denier pure nylon material while the undersleeves and body are made from the 70 Denier nylon material.
The tricot backer is the same in all areas-C6 durable water repellent pure nylon.
---
Hood – The hood is oversize to allow for more coverage from its hem to the head.
You can adjust it at three points which enables the angler to find a perfect point for comfort without compromising protection from weather elements.
There is an orange high-vis panel at the center of the hood to increase your visibility to motorists or other anglers.
The length of the hood at the back from the hem to the collar is longer than any other Simms jacket to further improve protection.
---
Pockets – On the outer side, the 7 pockets are well-streamlined to make the jacket more sleek and functional.
Four on the front include the two large fly box pockets and the micro-fleece pockets-all of them are zippered to prevent water from seeping through and filling them.
Through the zippered handwarmer pockets, you can access the two back game pockets.
You can use them for a small camera, lunch packs, or extra fly boxes.
There are two woven drop-in pockets for blunt gear and extra layers.
The upper left sleeve has a stash pocket for small personal items.
---
Zippers – Simms uses the YKK AquaGuard Vislon zippers on the jacket.
Their construction is more improved as they repel water to reduce sogginess.
They are easy to operate and don't corrode or rust.
---
Cuffs – These jackets feature internal shingle cuffs that have Velcro straps.
The cuffs are efficient in preventing the entry of weather elements even when you dunk your hand in the water.
You will love how well they cinch down while not being too tight and uncomfortable.
---
Hem – Its waist hem has been built with a durable adjustable elastic drawcord to give a proper fit in the area.
Once you adjust the cord properly, you lock out all the cold, wind, and water. Here is a chance to staying dry and warm longer.
---
Sunglass Chamois – The right frontal chest pocket has a sunglass chamois to clean your fishing glasses to allow for proper and clear vision.
The chamois is detachable if you won't find it needful for other days.
---
Fly Patch – The flip-out fly patch takes a vertical position and is a good docking station for your favorite flies and to attach your wet ones to dry before storing in their fly boxes.
---
Sizes – Available in small, medium, large, extra-large, and double extra-large, the New Simms G4 Pro Wading Jacket will be the perfect outerwear for days when the weather threatens to be unbearable.
---
Check out some of our other Buying Guides
---
Pros – The Good about the Improved Simms G4 Pro Wading Jacket​
Spacious and adjustable storm hood
Hood with an orange hi-vis panel for safety
Great storage system
Leaves room for underneath layering
Excellent weatherproofness and breathability
Comes with a docking station
Good cuffing system
Adjustable waist hem
Available in various sizes
Cons – The Concerns though not Deal-breakers
We are yet to come across any tangible downsides of the new G4 Pro jacket.
However, a customer mentioned the handwarmer pockets being quite a task to unzip or zip.
They further said that the operation isn't single-handed as they had expected.
This is only one complaint and we think it might be a problem with the size they chose as other users are content.

---
Customer Thoughts on the Simms G4 Pro Wading Jacket​
We are impressed by the cuffing system on the wrists of the jacket.
They are ten times better than what we have on most wading jackets.
Whether you are a wading angler, a drifting angler and are often rowing, water doesn't soak to your elbows as it does with other jackets.
This was quite a steal, especially with the minimal-looking front section.
The construction of this side was tactful to prevent your fly line from being caught by zippers or your oars from getting into pocket openings.
It might be a concern to anglers who fish in their local holes but to backpackers and traveling anglers like me, packability is at 100%.
The jacket packs down pretty well.
The range of motion it has is incomparable.
You can lift your hands with ease to row or do the basics of angling without worrying about your pit seams bursting from tension.
We give a thumbs up to this fit.
It indeed makes a fishing vest or fly pack lose meaning if you will be out for a few hours.
The storage system is something you have never seen in a jacket of this price point.
The jacket is stylish and very comfortable.
We love that it fits well but has enough space to allow for proper underneath layering if you will be stepping out when the temperatures are lower.
FAQ's – Questions about the New Simms G4 Pro Wading Jacket
Q) Do these have a venting system?
A) Unfortunately, the underarm venting system wasn't carried into the new design of the updated Simms G4 Pro Jacket. However, the new proprietary Gore-Tex Pro Shell fabric improves breathability as much as possible.
Q) Does the jacket come with a warranty?
A) If purchasing from Simms directly or through an authorized Simms dealer, you get a wading jacket backed by a lifetime warranty.
Q) What is the fit of these wading jackets?
A) The new G4 Pro wading jacket is available in a regular fit.
Q) How long is the jacket?
A) For all sizes of these jackets, the length is intended to reach the hip area for more upper area coverage.
Q) Which size of fly boxes can fit in the chest pockets?
A) The chest pockets could easily accommodate two large C & F boxes. You can also fit in one or two tippet spools.
---
Wrap Up on the Simms G4 Pro Wading Jacket
Forget your Canada Goose, Moncler, or Saint Laurent jackets.
Those are for class and style-they won't shield you fly fishing outside in a downpour and single-digit temperatures.
We are talking about the award-winning G4 Pro Jacket from Simms.
The G4 Pro wading jacket won an award in the 2019 IFTD show and it was well-deserving.
The wading jacket forms a solid framework of any angler's layering and insulating system.
Any day you step outdoors to fish in the wind, cold, or rain, you will be more protected and comfortable in this gear.
For serious anglers who love to cast in freezing steelhead rivers and those who trek longer to their tucks, we are talking about a solid shield from the brutality of adverse weather.
Simms minds your health and safety by including a hi-vis panel at the center of the hood.
The panel runs from the collar hem to the top of your head.
As you trek to your favorite holes, motorists and riders can spot you easily and keep their distance.
Also, in case the tides are angry and decide to make you live the life that fish live, you can be easily seen by fellow anglers or guides for rescue (but always remember to carry a life vest or personal floatation device).
What if an expensive wading jacket like this one develops a problem?
Not all manufacturers offer customer reward programs like warranties.
Simms has a lifetime warranty on any G4 Pro jacket that you purchase from its store or an authorized Simms dealer.
Simms stands behind all products it manufactures and if your jacket fails because of defects in material or craftsmanship, you can return it to them for replacement or repair.
However, the warranty won't cater to issues as a result of mishandling, natural breakdown, accidents, or wear from prolonged use.
Any other repairs can be done at a small fee.
Though on the higher end, the New Simms G4 Pro Wading Jacket is worth every dime spent on it.
All features are angler-relevant and the newly-improved design was well thought out by the team at Bozeman.
In case you'd want to check out other wading jackets for this season of the next, our guide will be resourceful.
---