Disclosure:
Just to be open and honest the buttons and links you click on in the website will in most cases take you to another website where you can purchase the products I am reviewing. As an Amazon Associate I earn from qualifying purchases.
April 5, 2021
Simms G3 Guide Tactical Wading Jacket Review
As we were just about to wrap 2017, the fly fishing sector boldly welcomed the New Simms G3 Guide Tactical Wading Jacket.
By then, this was the most recent addition to their already popular G3 Guide Collection.
Some guides were lucky to have Simms ship over a package of the jacket and the majority put it to test during the summer.
Our Thoughts
First, we think that there was a major overhaul of the previous design. Assessing the high-end fishing apparel from Simms, the G3 Guide is the category's staple and has been for so many years.
There are great improvements in how the design looks and functions. The older version of the G3 Guide Wading Jacket had some angler-specific features that we loved. We were pleased to see that our specifics weren't altered.
We expect all-around excellence from Simms and it was a relief to see no changes on the bomb-proof storm hood.
The designers also tailored it to ride above the wading belt taking a functional high-waist approach for deep wading.
The updates are commendable and are what made the jacket exemplary.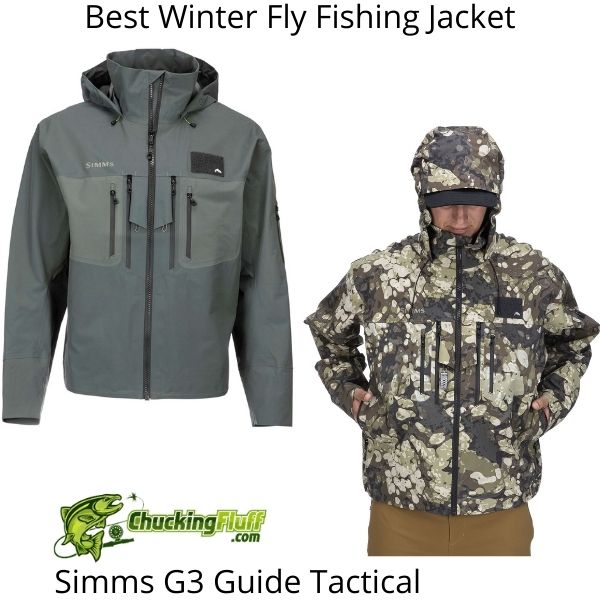 What's New with the G3 Tactical Wading Jacket?
The flat front is a bonus to the jacket's functionality especially if you love Spey fishing.
This jacket is a guide-tough option and can tote a bunch of fishing gear.
A Spey-friendly jacket doesn't have to have big billowy pockets on the front-something you can spot on most jackets.
If you will be fishing two-handed rods, your hands will often be closer to the body. Having big frontal pockets full of gear will create a hindrance.
We love that the pockets on these jackets are flat-faced. There's nothing that can catch on the fly line or your elbows.
Functional cuffs on wading jackets are EVERYTHING! We are moved by efficiency rather than style. Anglers find themselves dipping their arms in the water to pull a buddy out and unhook a fly or release him.
How your cuffs have been designed will determine your dryness, warmth, and comfort levels.
If you can cinch down the cuffs like the ones on the Guide Tactical, your chances of getting soggy and cold are very minimal.
Cuffs on the previous models of the G3 Guide Jackets had similar watertight cuffs though sewn on the outer side of the sleeve.
They locked out water but caught on your running lines, net bags, and wading belt. This could make them unfasten on their own-what an inconvenience!
Still on the cuffing system, the Standard New Simms Guide Jacket, the cuffs is underneath your sleeves hence the name-shingle cuff.
This is a perfect shield from weather elements and a feature to counter catch-alls.
Testing this in summer as you run around the bankings and sand bars, you will notice that you feel cooler as the day progresses.
The fabric construction of the wading jacket is what improves its breathability. Its weight contributes to this feature.
Weighing about 20 Oz., the jacket is extremely lightweight. It being lightweight doesn't mean its quality is crappy.
The outer layer is highly abrasion-resistant and feels like a rip-stop fabric and for the three years it has been in the market, its durability is guaranteed.
Check Simms G3 Web Availability
"Check out some of our other Buying Guides"
---
Key Features of the Simms G3 Guide Tactical Wading Jacket
Material and Fabric Construction – Simms makes it simple by using the famous Gore-Tex fabric that boasts a pure nylon face. All areas of the jacket are built with three layers for weatherproofing.
The Gore-Tex membrane has multi-billion microscopic pores in every square inch. These pores are smaller to prevent water from the outer surface of the jacket from seeping through. However, the same pores allow for sweat and perspiration from the inner side to escape to the outer surface. This helps to keep you dry, warm, and comfortable for a long time.
Hood – The manufacturer maintains the hood design that was on the older version of the jacket. It has four points that you can use for adjustment and determining a perfect yet comfortable fit for your head without allowing the entry of weather elements. You can fold and tuck it away when not in use to avoid the wind from blowing it to obstruct your vision.
Pockets – Its pocket system is flat-faced, very angler-friendly, and a feature that other manufacturers should pick from Simms. The older version was great for anglers who wanted to drop their vests or packs but not quite a thing for sling pack lovers.
This changed for the better in the New Guide 3 Tactical Jacket that comes with four zippered chest pockets, a zippered sleeve pocket, two zippered lower hand pockets, an inner zippered pocket, and a stretch mesh pocket.
All the chest pockets are slimmed and flush with this jacket's outer. However, they can take up all the gear you need for a day's fishing including your fly boxes. The sleeve pocket is for your watch, sunscreen tube, sunglass chamois, and smaller items.
Toast your cold hands in the warm handwarmers when not engaged. Ensure to zip them once your hands get something to hold. This prevents the entry of water that can wet your underneath layers. Put your license, ID, and fishing pass in the inner zippered pocket. The mesh pocket will hold extra layers and a lunch pack.
Attachment Points – Simms integrates two retractors and a fly patch on the jacket. The retractors are to keep your necessary fly fishing tools easily accessible. The fly patch is for drying wet flies before storing them in the fly boxes (to prevent rusting and corrosion) or to hold favorite flies that you will be using for that session.
Cuffs – Shingle Cuffs are what came with the new Guide 3 Tactical jacket. It is what you will spot in the standard Guide Jacket. The cuff is underneath the sleeve which makes it highly efficient in its weatherproofing function. Besides, it prevents your fly line, wading belt, or net bags from getting caught by the cuffs. For this reason, the cuffs remain tight and in place until you unfasten them.
Zippers – The Simms G3 Guide Tactical Wading Jacket features YKK zippers for ease of operation. Each zipper comes with a sizeable pull tab to allow you to hold the zipper well even if in gloves or with wet hands. These zippers don't rust or corrode as they are made from high-grade nylon. You are sure of durability and functionality.
Hem – There is a hem closure to allow you to get the right and comfortable fit at your waist area without allowing the entry of water or cold winds.
Fit – Wading jackets are uniquely cut and are meant to be worn overfishing waders. They are designed to be slightly shorter than standard rain jackets. This allows you to wade deeper without submerging it to wet you or the contents in the lower pockets. The older versions of the G3 Guide jackets were longer but this new upgrade meets the demands of waders perfectly.
Sizes – Simms has these jackets in shadow green and Riparian Camo colors. If you are looking for minimalism or aren't a fan of the Camo Prints, the former works well. Riparian Camo is for anglers looking to achieve stealth especially if targeting spookier fish or fishing in areas where these buddies are on the highest alert. Sizes are available in small, medium, large, extra-large, and double extra-large.
---
---
Pros – The Good about this New G3 Guide Tactical Wading Jacket
Lightweight
Waterproof
Breathable in all seasons
Comes in various sizes and colors
Correct length for wading without getting wet or damaging pocket contents
Functional zippers
Generous storage system
Working hem closure for weatherproofing
Shingle Cuff system to counter catch-alls
Excellent quality
Cons – The Concerns though not Deal-breakers
There have been several complaints about the Shingle cuff system and its Velcro amount. While most anglers have no problem with it, some say that the Velcro isn't enough to secure the cuffs to the wrists.
Handwarmer pockets aren't lined with fleece. You might be forced to pack a few pairs of gloves if fishing when the temperatures are extremely low.
---
Customer Thoughts on the G3 Guide Tactical Wading Jacket
If you are looking for a good wind-blocker, the Guide 3 Tactical got your back. Even with fewer layers underneath in the summers when drifting, it remains unbowed.
The jacket feels thinner and lighter compared to the award-winning G3 jacket but in terms of waterproofness, it takes the prize.
It indeed is a tactical jacket. Simms was thoughtful about the pocket system as you can carry more leader material and soft plastics in the tactical pockets.
Some anglers mentioned that there isn't enough Velcro on the cuffing system. While what is there still does the job, Simms could have done with a slight extension of the same.
The handwarmer pockets lack the fleece or micro-fleece lining which would have been better to help with quickly warming your hands if fishing on colder days.
---
FAQ's – Questions about the Simms G3 Guide Tactical Wading Jacket
Q) Can you bank of the seam construction of these?
A) Sure. Seams on the Tactical Jacket are fully sealed to prevent any leaks. So far, there have not been any complaints on the seam design or leakages from anglers who have been using the jacket since it was released.
Q) Does Simms offer a warranty for this jacket?
A) If you buy it from Simms or an authorized Simms dealer, the weather comes with a lifetime warranty but all terms and conditions of use apply.
Q) What is the recommended application of this wading jacket?
A) It is a good one for wading, fishing from the shores, drifting, stillwaters, and river fishing. For wading, you have to wear it over chest waders as it is shorter than the traditional rain or fishing jacket
Q) Can this be a 4-season fishing jacket?
A) Considering the cut, we can term it as one. You can go steelhead, trout fishing, or on any pursuits that will need deep wading. You will need layers under it in deep winter though.
Q) Does the short cut leave me exposed?
A) The cut is shorter than what you find in traditional wading jackets. Among most anglers, the length is right above the wading belt and this could leave you exposed to weather elements. That is why we recommend wearing them over chest waders.
---
​Wrap up on the G3 Tactical Wading Jacket
You won't realize how much you need a wading jacket until you are pursuing steelhead or trout that need you to wade deeper.
Definitely, your APC, North Face, Burberry, or Belstaff designer jacket will be useless here.
It can be a very easy argument to engage in but any fervent angler will swear by a good one like the Tactical wading jacket.
After its launch on 15th November 2017, we can say that Simms's new approach to redesigning high-performing waders was excellent.
Whether you have it on your home water or are traveling to adventure far away streams, rivers, and lakes, it is a tactical piece like in its name.
The construction was smarter this time with the Spey-friendly flat-faced pockets and improved cuffing system.
Some anglers have criticized the Shingle cuffing system for inadequacy in the Velcro.
Let us know your thoughts if you own or have fished in the G3 Guide Tactical Wading Jacket. Does it need to be on the list for the next update?
We love that the cut allows for better movement in the chest and arm areas as you fish. As an angler, the movements and motions associated with fly fishing always demand a comfortable jacket that is fine-tuned to meet such needs.
While it strives to minimize bulk and unnecessary fabric in some parts of this jacket, there is enough space to allow for underneath layering.
The Simms G3 Guide Tactical Wading Jacket remains re-invented this legend pretty well and for an angler looking for a piece that works as a military jacket, this one passes the test.
You can also shop for a backup wading jacket from our resourceful buyer's guide.