Disclosure:
Just to be open and honest the buttons and links you click on in the website will in most cases take you to another website where you can purchase the products I am reviewing. As an Amazon Associate I earn from qualifying purchases.
April 6, 2020
Piscifun Platte Large Arbor Fly Fishing Reel Review – Saltwater on a Budget
Fish can be stubborn. Especially those in the flats and saline waters. There is a very special feeling in getting on the water to cast the perfect fly and hook them. Sometimes, it is a success other times it flops badly.
What revolves around a fantastic experience for all saltwater anglers is the type of fly reel they use. You need a reliable reel to show for the hours you spend casting. Piscifun Platte Fully Sealed Drag with Large Arbor Fly Fishing Reel will be a loyal servant in this case.
Founded by close buddies in 2013, Piscifun is a fishing brand that allows you to enjoy fly fishing with family. The company works on manufacturing high-quality and affordable fishing equipment while reducing costs.
Their primary focus is on the average angler who finds fishing fun but can't overly spend on fishing gear because of one reason or the other.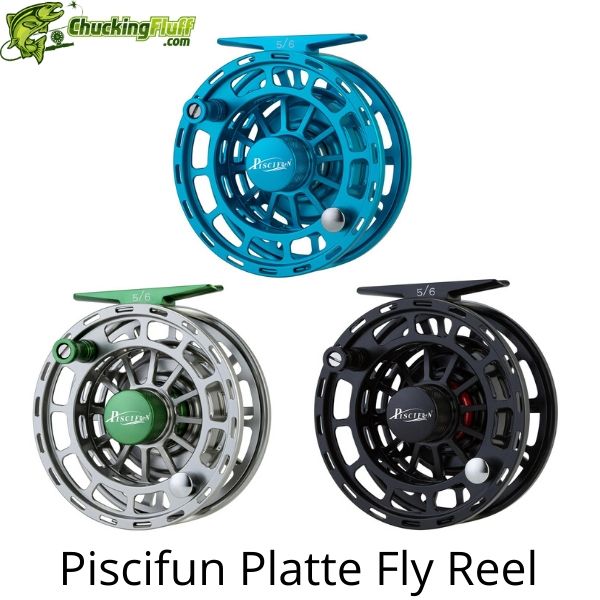 ---
---
CNC machining isn't jargon to any angler. This is among the crucial processes that a reel for harsh environments has to undergo. It is a direct machining procedure where the resultant reel doesn't have a mold. This process is made by computer coding.
Though the procedure is complicated and delicate, the aftermath is a sturdier, lighter, more durable but costlier reel. Their cousins the die-cast reels are more flexible and you can make alterations easily. One of their downsides is they shatter with the slightest fall.
The heart of a good reel is the drag. After picking the right rod, you have to pair it with a quality reel. Two main drag types that exist are the offset and center drag. Center drag fly reels seem to be the real deals when it comes to stopping power.
However, you have to dig deeper into your pocket. If you have extra bucks to spend, we advise that you spend it on the rod even if you need the best drag. It will be useless to have a center drag if you cannot cast the fly.
Offset drags will work equally well. The problem is that you have to keep palming the reel when you land a monster fish. The drag system aids in controlling the speed of a reel as the fish pull the fly line off in a bid to secure its freedom.
The best drag slows the fish down. A reel's quality will determine if its drag is more powerful. The click sound mightn't be vital in fly fishing but it deserves a mention. Mostly it enhances the aesthetic appeal.
Do the weight and size of the Piscifun Platte with large arbor matter? They do. Amateur and pro anglers will tell you that identifying one with the right weight and size is probably one of the essential things to do before counting those bucks for payment.
Alongside all the other important features of a saltwater reel, you have to ensure that it fits on your fly rod. The two must be of compatible weights.
Your arbor size is a top-on-the-list factor. Small arbor reels are the majority in the market. They are ideal for freshwater fishing. Freshwater fishing dominates hence the greater availability of its reels.
Platte fully sealed drag reel has a large arbor making it perfect for saline environs. You will comfortably reel in large fish and experience faster pick up.
---
Main Features of the Piscifun Platte Large Arbor Fly Fishing Reel

Material and Technologies: The main material chosen for the Platte Saltwater fly reel is aluminum. It undergoes the CNC machining process that makes it an alloy that is sturdier, lighter, and more durable. The alloy further makes the reel rust and corrosion-resistant which is a vital aspect of the best fly reels for saline areas. It ensures that the reel lives up to the brutality of such environments.
Chemistry explains that salt accelerates corrosion on metals especially when exposed to water and oxygen. A corroded reel is like a car engine without oil. This reel later gets an anodized finish that guarantees abrasion-resistance, full functionality, and longevity. The final material description of the manufacturer for this reel is a CNC-machined 6061-T6 aluminum fly reel.
Frame and Spool: The rim has vents and is tactfully built to assume a flat design. The surface is smooth for you to palm the reel easily and for extra drag. The frame is sturdy and lighter. It features a spool with more and enhanced ventilation to drastically reduce weight without compromising the strength of the reel.
Drag System: An advanced design is carbon to stainless steel drag system with the multi-disc cork drag that Piscifun uses on this reel. Some of its parts and components are made from high-grade stainless steel to prevent corrosion. It comes completely sealed via the three 'O' rings to bar the entry of sand, grit, scum, and other inhibitors that will lead to the drag system malfunctioning.
Another upside of the seal is to allow for minimal maintenance. You only need to rinse your reel under fresh tap water after every use. The disc drag system is powerful and has greater stopping power that the click and pawl drag type. You need the reel to have instant feedback. The one-way roller clutch will do this task pretty well. The drag system boasts an extended working surface for easy adjustments once you hook on a fish. More benefits are smoothness and heat dissipation.
Arbor: Large arbor reels have a more consistent drag, excellent aspect ratios, smart line pick up, and a faster retrieve rate. These are the right tickets for tackling long-running fish species like false albacore, bonefish, and those that are thoroughly bred in the blue waters. Another related advantage that most reviews don't describe is the cranking speed of the reel. You don't need the lazy and slow circles neither do you need to tire your hand. That is why most of the modern reels have the handle closer to the spool center.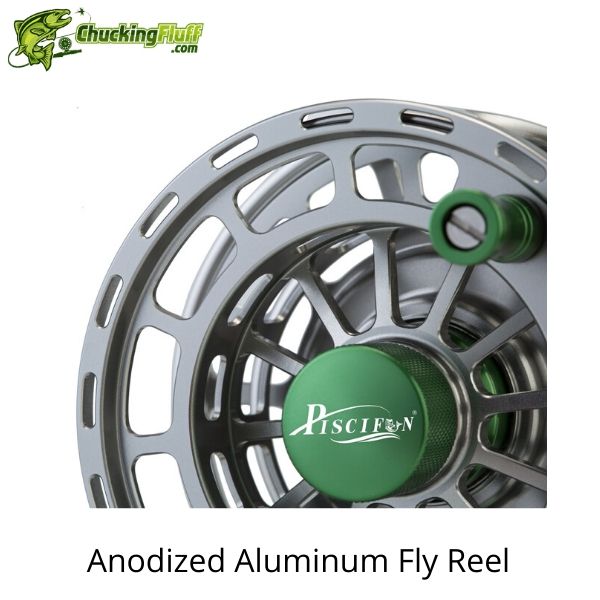 Ergonomics: The drag knob is large and flat to counter instances of the fly line getting entangled around it. The knurled knob is for proper gripping. The manufacturer designs it with ports to reduce weight. This reel has a metal handle that is damage-proof, smooth rotating, double screwed, and with minimal grooves for more grip.
Weight: The Piscifun Platte Fully Sealed Drag with Large Arbor Fly Fishing Reel is available in 4 line weights. These are 3/4, 5/6, 7/8, and 9/10 WT. Their reel weights are 6.0oz, 6.2oz, 7.9oz, and 8.3oz respectively.
Other Reel Specifications: Still with the 3/4, 5/6, 7/8, and 9/10 WT line weights, their diameters are 3.3 inches, 3.6 inches, 3.8 inches, and 4.1 inches respectively. Widths are 1.1 inches, 1.1 inches, 1.2 inches, and 1.2 inches respectively. The braid capacities are WF3F/50yds/20lbs, WF6F/100yds/20lbs, WF7F/125yds/20lbs, and WF7F/150yds/20lbs in the order of line weights.
Retrieve and Click Drag: Piscifun programs this reel in the left-hand retrieve. However, you can reach the customer service via their website for help in reel retrieve conversions to the right-hand and back. This drag system has a clicker design to ensure repeatable and accurate adjustments and settings, give feedback, and to enhance the reel's aesthetics. There is a low and almost unheard outgoing and incoming click sound as you make drag settings.
Reel Case: Piscifun cares for the safety and durability of your Platte large arbor reel. It includes a soft well-made neoprene-padded case for reel storage during transit and when the reel isn't in use.
Warranty: Not all manufacturers are this generous. This one backs this reel with a lifetime warranty in case of defaults in material and workmanship. If your reel develops a fault in the course of use, as long as it is within the warranty guidelines, Piscifun will have it repaired or replaced.
---
Customer Thoughts on the Piscifun Platte Saltwater Fly Reel

The Piscifun Platte stands out because of its tolerance levels when put alongside other reels in its category. What will make you love it more is its versatility. You can use it in both freshwater and saltwater bodies without any problem.
You can't compare the spool release on this reel to that on the Sage or Lamson. This one is better and quicker. No popping off and wasting time. For the price that it comes for, it is worth a mention. You can carry it as your main reel or as a backup and it will never disappoint.
It is heavier than most high-end reels. If you pair it with a lightweight rod, the extra weight will be noticeable and might just be a problem of mismatching and a hindrance to proper casting.
One feature for you all to take at home is the sealed drag. Its sensitivity is pretty high and using it is something you all who haven't had it will admire. The drag is silky smooth and you can't believe that it costs that low yet it outperforms most legendary names.
---
Pros

– Things that shine on the Piscifun Platte Fly Reel

Lifetime warranty
Easy side conversions
Fully sealed and low maintenance fly reels
Excellent line pick-up
Superior construction
Great ergonomics
Durable reel
Cons

– Things that are not so cool!
The reel is slightly heavy compared to the rest in its category.
---
FAQ's – Questions about the Piscifun Platte Fly Reel
Q) Can I purchase a spare spool for this reel?
A) Yes. Piscifun manufacturers spare spools for the Platte Saltwater reel
Q) Can this reel be great for King Salmon Fishing?
A) We'd say yes. Considering that King Salmon is a big and heavy fish species, having a heavier reel weight will guarantee you success.
Q) Is the fly reel usable in freshwater environments in case I need to change fishing spots and it is the only reel I have?
A) Sure. This reel is effective for both freshwater and saltwater fishing.
Q) Does the color of the reel affect your fishing?
A) Some fish are very sensitive and spooky. Even your shirt or jacket color will scare them away. This reel is available in blue, gunmetal, and black. If you are targeting the tricky species, you need to match the reel to your environment and avoid brighter colors.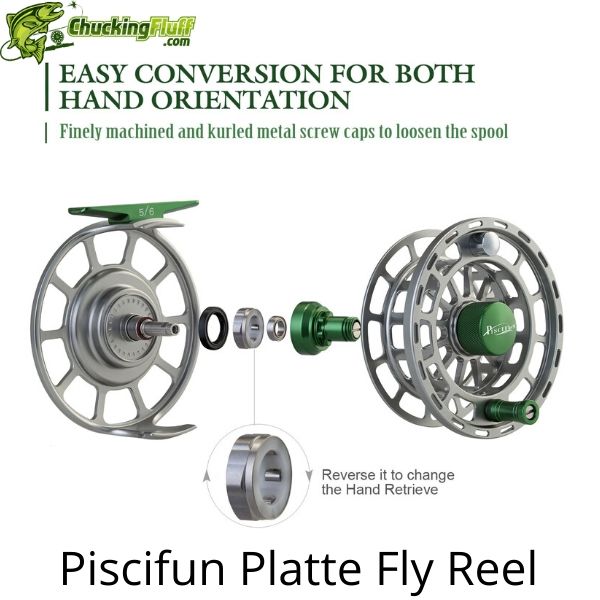 ---
Final Verdict on the Piscifun Platte Fly Fishing Reel
Saltwater fly fishing is among the most enjoyable ways of spending the day alone, with family, or friends. Besides the relaxation, the excitement is unspeakable.
You get an unforgettable rush once a bonefish or salmon pulls as the line comes tight in the hands. All the pleasure is attributed to a good reel and rod.
Piscifun ensures that it gives you a reliable reel that is fully functional and low maintenance. If you spend lots of time fly fishing in the salts, you can agree that the fun comes with more zeal.
You suddenly get drained once you reel in the line and wrap up the day. You mightn't have time to unpack your reel leave alone washing and treating it before storage.
We advise that you run clean fresh water on the reel to remove the saline traces and preserve its status until your next use. This isn't much to do compared to losing your reel. Piscifun is a big name in the angling industry. It prides itself on excellent customer service.
Among its rewards to any purchaser of this reel is a lifetime warranty. This doesn't mean that it will cater for faults you create due to laziness. However, if you experience any malfunctions listed in the warranty section, feel free to call and request for assistance.
There haven't been many critics about the Piscifun Platte Fully Sealed Drag with Large Arbor Fly Fishing Reel. This means that it has been serving anglers pretty well.
Its ratings online are very high and we give Piscifun a thumbs up for designing an affordable and fully functional reel. Sometimes, you don't have to overspend to get a quality reel. In this case, cheap is reliable and durable.
---
---