Disclosure:
Just to be open and honest the buttons and links you click on in the website will in most cases take you to another website where you can purchase the products I am reviewing. As an Amazon Associate I earn from qualifying purchases.
March 20, 2020
Sage Trout Fly Reel Review – Updated 500 Series
We all strive to beat the rest and come top. Well, being second doesn't mean we failed. Especially for the EFTTEX awards, which is the biggest new product showcase exhibition in Europe, it is such a big deal.
Taking the runners-up position after the Hardy Ultralite MTX-S fly reel, Sage did it with their specialty fly reel which brags of some of the classic aesthetics and more modernized performance.
As it takes a whole new look, the manufacturer drew inspiration from the 500 series fly reels. The 500 dates back to the 1990s and you can agree that the company is reviving history though with a few tweaks here and there for the betterment of durability and performance.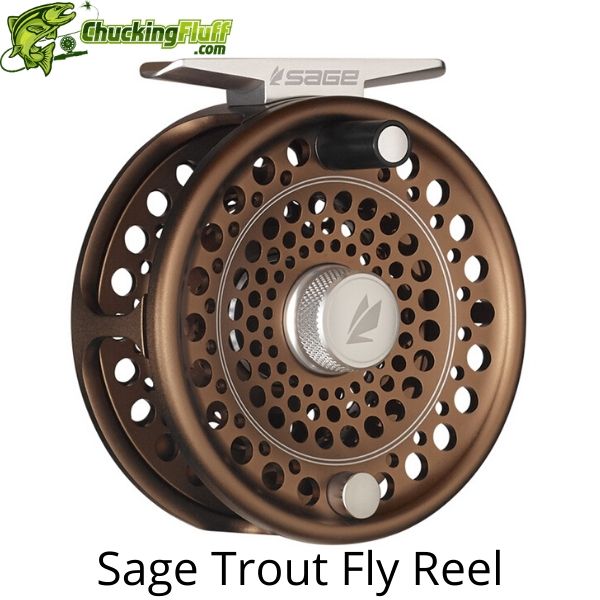 ---
Check Trout Amazon Availability
---
To be honest, in the hunt for trout, fly reels basically function as fly line holders. The reels have an unused line during angling. However, many trout fishers strip-in by the hands upward of about 60% of their catches rather than reeling them. 
Once a fish gets caught on the fly reel, it is vital that the thing performs well. The trout fly reel from Sage earns perfect marks from many reviewers after exhaustive tests in different situations and conditions.  
It remains wonderfully reliable regardless of the abuse you expose it to. There is no problem if you dunk into the murky waters with sand.  
It still works exceptionally if you drop it on a concrete floor from over the bridge. Thanks to the machined aluminum full-frame, we can bank on it on abuse tolerance. 
If you boot around the bottom section of your boat for hours, the drag remains perfectly tuned to achieve smooth operation. The reel's arbor is large and for this season, you mightn't find a better trout reel. 
The Sage Trout Reel ticks off all marks for a superior reel. It has reasonable weight, boasts of faster and efficient fly line retrieval, sports a very smooth and secure drag system, and most importantly is very durable and tough. 
From reduced weight and optimal strength, Sage machines its body from high-grade 6061-T6 aircraft-quality aluminum. While anodization would have yielded more strength and longevity to the mainframe, Sage employs the anodization treatment on the handle and hub. 
Whether you choose to use dry flies or big streamers, it isn't a lie that you can easily hook into feisty kokanee and cutthroat as they are on their spawning runs. 
The Trout Reel by Sage has a reasonable weight. There are several models under this reel, each with their weights. With the lightest weighing 4 ¾ oz., the Trout is among the lightest specialty reels. 
After a long day of continuous casting, the weight-saving aspect is apparent in greatly reducing arm fatigue. For balance, each reel size balances its own set of rods with regards to weight. 
The 2/3/4 works well for the small trout fly rods. Size 4/5/6 is ideal for most of the all-around trout fly rods while 6/7/8 is superb for larger trout setups. 
However, you can choose to go with it on your steelhead and salmon hunts. Sage trout reels take advantage of the spool size on the line pickup. 
This fly reel will gobble up the fly line pretty well and easy. You can convert this master from the left-hand side to the right-hand side and vice versa quickly. 
Regardless of orientation the sealed carbon drag if functional. The control knob is easy to adjust – the push of your finger is just fine. You mustn't breathe hard. 
The scale with numbering allows the user to lock in the drag on a previously remembered setting. There are no reports of tension-creep or slippage during use. 
The Trout's design depicts modest styling and a classic feel. This premium gear has a flare and hard anodization on a few machined aluminum parts offers superior surface protection and a resultant striking finish.
---
Key Features of the Sage Trout Fly Reel
Arbor Design – Built to take a concave shape, there is no doubt that the arbor has greater capacity and strength to battle angry trout. Large arbor trout reels are the hottest thing in angling since the introduction of the graphite fly rods back in the 1970s.
Their attributes are quicker retrieve rates which means you reel less. Bigger coils of the fly line will come out of your reel reducing tangling. The drag remain consistent as your trout pulls out the fly line, the spool diameter remains almost constant.
Line Retrieval – As a result of the large arbor, line retrieval is faster. Sage released the Trout Reel programmed with a left-hand side retrieve. However, you can convert from the left-hand to the right-hand retrieve and vice versa.
Drag Knob – The One Revolution drag knob is made from machined aluminum which is later anodized to counter any instances of corrosion. It feels good to grip the knob as it fits in your hands pretty well. The knob has dented and numbered settings for precision drag setting and allow it to remain in position regardless of use.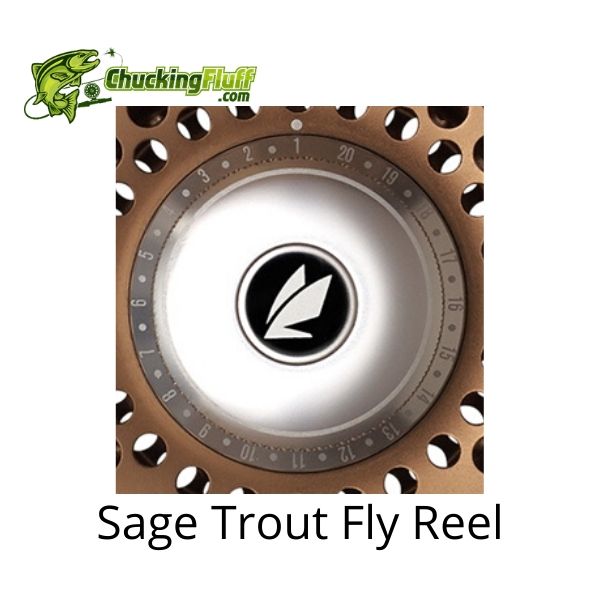 Frame – Machining the aluminum mainframe was tactful to add strength to the reel. It mightn't be as strong as the machined and anodized aluminum full frames but is 10 times better than the plastic molded fly reels. For now, we can count on it since there have been no critics on durability.
Drag System – The sealed carbon drag mechanism will work all year round. Unlike traditional reels that feature cork drags that freeze and result in different drag with temperature increase, this one which is fully covered doesn't since it handles hard runs.
Sealing it makes the reel easy to maintain and clean since it doesn't allow for the entry of inhibitors into the internal parts.
Weight – Not heavy like you think. The size 2/3/4 trout fly reel weighs 4 3/4 oz. while size 4/5/6 weighs 5 3/8oz. and 7 1/8oz. for the 6/7/8 fly reel. This ensures that you can handle the reel for as long as possible without feeling burdened.
Accessories – Too generous to ensure its customers get tremendous value for their money, Sage includes a neoprene ballistic nylon case with perfect embroidery for proper reel storage after use to prevent the accumulation of moisture, dirt, and any performance inhibitors.
Handle – An ergonomic handle it is. Whether you are going out for minutes or spending the whole day with the rod and reel in your hands, you need a handle that is easy on your hands, has excellent grip and is usable minus a layer of protection.
Capacity – This Sage Trout Fly Reel has adequate capacity for a potentially large line with a lot of backing. If fly fishing for trout in small rivers, you will require minimum to no backing. If trying your lack in still waters a backing of 50-100m worth backing is what you need.
For this reason, reel size 2/3/4 has a capacity for the backing of WF4+100yds at 20lbs. size 4/5/6 has it at WF6+100yds/20lbs. while size 6/7/8 has a backing capacity of WF8+150yds at 20lbs.
Spool – Sage has extra spools for this reel when you need to interchange your fly lines. They are separate purchase and don't cost much.
Balance – Reel balance is a critical feature to look at in a trout fly reel. The reel has to balance with your fly rod with the right capacity for the backing.
Once the reel is loaded, it must ideally balance the rod in the angler's hands just where you grip its handle. It results in a lighter feel countering any tip heaviness making angling more interesting and comfortable.
---
Customer Thoughts on the Trout Fly Reel from Sage
Sage Trout is impressive. The reel has very reasonable weight and if you are looking for something that can absorb tons of unintended abuse very well, you will not go wrong on this one.
It has proven to be incredibly durable and wonderfully function even though it hasn't lasted several seasons. It survives dunking in grimy ditch water and other brutal scenarios.
With regards to longevity, we'd like to see if the machined aluminum frame is a deal-breaker.
This reel picks up the line so fast than most of the reel models in the Trout's category. It pulls in more inches of line with every rotation of the reel's spool.
The one revolution drag knob allows for fast and easy operation. It has the easiest mean of making reel conversions from either side to your intended position.
Its drag system is fully effective and the fact that the control nob is sizeable and easy to adjust makes it a good reel for anglers of all abilities.
Sealing the carbon drag ensures greater performance and counters hampering when the reel gets dirty. It isn't susceptible to impacts by grit.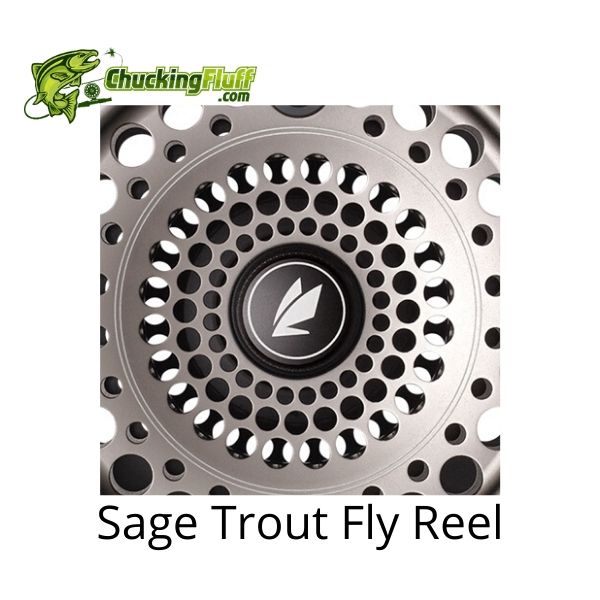 ---
Pros

– Things that shine on the Sage Trout Reel
The sealed carbon drag system
Large arbor
Comes in three models with regards to sizes
Reasonable weight
Anodized knob and handle
Machined aluminum mainframe
Minimal porting
Great rod balance
Fast line pick-up
Easily convertible to either side
Stronger and durable arbor
Cons

– Things that aren't so cool!

Not really a downside but the aluminum mainframe which has been machined only might not be able to withstand extreme abuse and brutality unlike it would have been anodized after the machining process.
---
FAQ's – Questions about the Sage Trout Fly Reel
Q) Does the One Revolution Drag Knob offer the kind of smoothness and power as you'd get in large traditional systems?
A) Yes. In fact, even better though in the ORD's there is no weight or bulk.
Q) Can you clean this reel with WD40?
A) Sure. After a few trips, you can use WD40 on a piece of cloth and wipe the reel to remove stains and dirt from the reel.
Q) Is it scratch and dent-resistant?
A) No. It is the reason Sage gives a neoprene reel case with every purchase for protection when travelling and on boats.
Q) Must one release the drag after use when about to store the reel?
A) Not a must in carbon drags. If it were a cork reel, especially the traditional types, you would have.
Q) Does the reel bond to the drag surface after tightening?
A) No. For these types of drag systems, such occurrences are uncommon.
Q) Is there a spare spool for each size of these trout reels?
A) Yes. Each size has its spare spools though they are separate purchases though not too costly.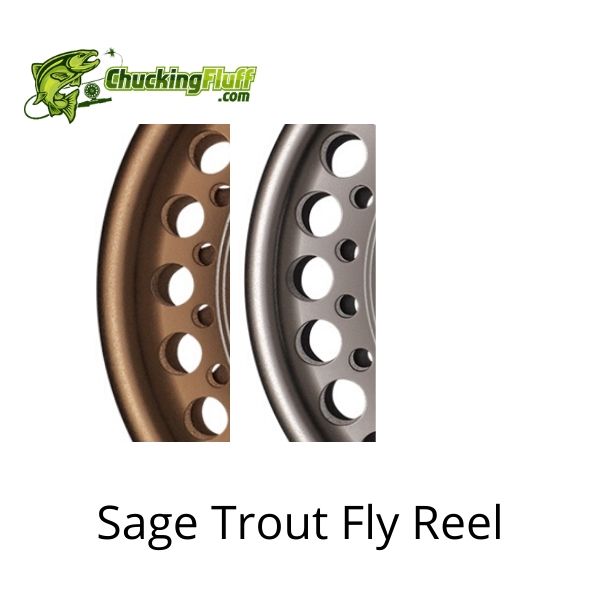 ---
Final Verdict on the Ultralite MTX-S Fly Reel
We have keenly broken the Sage Trout Reel coverage from construction to its performance. These fly reels have unique designs that focus on addressing trout fishing situations majorly but the largest model of this reel can perfectly deal with Steelhead and Salmon.
As a general-purpose fly reel, it hosts freshwater fishing situations where trout exist. In most instances, when a fish gets hooked, you are likely to strip the fly line in rather than cranking in with your fly reel.
However, that isn't always the case. The Sage Trout is a line tender and holds the line well for the rod.
Coming second in the best fly reel category in this year's EFTTEX awards, there is a promise that this reel is here to stay longer just like its cousin the Sage 500 Series did.
From the exemplary finish to the great choice of material and metal treatments, you can be sure to reel in more trout than you would with the traditional trout reels.
Well, Sage is scaling heights in reel innovations and designs and for the Sage Trout Reel to fall among the top-rated in honorable events like the EFFTEX, it is a pleasure to say that we have more to experience from this legendary brand.
---
Check Trout Amazon Availability
---