Disclosure:
Just to be open and honest the buttons and links you click on in the website will in most cases take you to another website where you can purchase the products I am reviewing. As an Amazon Associate I earn from qualifying purchases.
November 21, 2020
Redington First Run Fly Fishing Vest Review
The best fly fishing vests are easy to come by if you are knowledgeable on the available designs, types, and most importantly your special features to consider before making an order.
We have done in-depth research on this Redington First Run Fishing Vest since it falls on our best list. Redington is an all-round tackle company that manufactures equipment, gear, and apparel for fishing.
The company has a passion for the outdoors which is the steering force for designing apparel with very practical features so that you can also enjoy it too.
Mesh vests are superb when the temperatures begin to rise steadily. With all the agility, perspiration is something you can't avoid. It gets worse if you are dripping with sweat all over yet you still have a few hours left before you wade out.
The First Run Fly Vest is the right gear for such days. Available in ochre colour and in a variety of sizes, you will love how well it fits especially if you select the right size.
Unlike the adjustable designs that often run too small or large, the manufacturer allows you to compare your measurements alongside those on the sizing chart to be sure of what you are buying.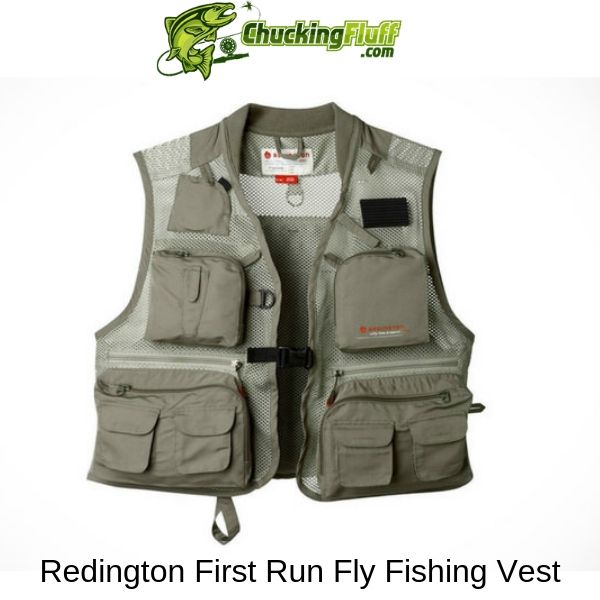 ---
---
From the responses of users and assessment of the reviews, it definitely is something to go for. It is a high performing piece that is worth the money. From the simple design and aesthetics, it wows many. The colour is exciting and appealing to most anglers. You might not be interested in a fly vest that has so many pockets place everywhere and anywhere. This one is for those who are minimalists and love appearance and organization. The pockets aren't few and aren't many. They are enough for a few equipment and gear that will last you a few hours.
The stitching is uniform. Both the front and back are decent. The inner side is also well made and the seams are well done. Unlike most of those that often come apart when tad bit pressure is applied, this one looks like it has a delicate construction but it endures more just like most high-end fly vests. The whole thing is made of mesh meaning it takes the shortest time possible to dry. This is a great feature especially if you are very vigorous on water and the splashes wet the vest. Mesh is highly breathable and allows the wearer to remain cool and dry throughout. This is a good solution to the rising temperatures in summer and spring.
Knit collars on mesh vests are a rare thing. This comes as an advantage to the user. It looks great and has a good feel. The comfort it offers is out of this world. Unlike others that have no collar, you often get strained around the neck once the vest is loaded. This one gives a new experience. To add to this, it is generally lightweight and is difficult to remember that you had it on even after wearing it for a long time. There are more in this review about this fly vest that will interest you. Read what users are saying about this masterpiece and the questions they are asking.
---
Key Features of the Redington First Run Fishing Vest
Material – Redington was smart with this one. The complete mesh construction was meaningful for the hot and warm season.
The fabric makes the fly vest have unique technical features like high breathability, low heat retention ability, medium moisture-wicking properties, not prone to piling or bubbling.
Despite the pockets having polyester, the vest still serves its storage function very well.
---
Ventilation – The mesh fabric is highly breathable making it a top pick by the manufacturer as the main material for this vest.
It is uncommon to see gym guys wearing synthetic mesh apparel but out on the water when the sun is blazing, you will spot almost 95% of anglers in mesh fly vests.
You will remain active and dry throughout your session if you layer correctly and complete your outerwear with this fly vest.
---
Pockets – Good organization is important. This doesn't mean you need to have a fly vest crowded with pockets everywhere for you to carry everything you need for an adventure.
The manufacturer was tactful enough to organize the front by having two medium-size chest pockets-one on each side- and two larger pockets right below the chest pockets.
There are smaller pockets sewn on the pockets to store smaller gear and equipment. The upper right shoulder has a tippet pocket. There is a large carry pocket at the back for bulkier gear.
---
Closure – The front closure isn't a zipper-like in most of the fly vests. This one has a durable buckle that easily reachable and smooth operating.
You can release and close the buckle with one hand without taking much time. Some pockets are accessed via high-quality zippers and others by Velcro. This mix is interesting and adds to the vest's style.
---
Attachment Points – It is necessary to carry your tools and accessories when going on the water. Redington has tool attachment points on several areas of the fly vest.
There are D-rings for your nets and zingers and loops for extra equipment. There is a rod holder for rod stowage as you head to or from your fishing hole.
---
Collar – Knit collars are beautiful and being added to this fly vest makes it attractive. It also cushions the neck area especially when the fly vest is heavily loaded with gear.
You will love how comfortable you feel in this fly vest than in one without a collar.
---
Special Features – Redington cares for your well-being and includes a hydration pack in this vest. As you cast and throw loops, you are losing energy and to feel rejuvenated again and fish longer you need to keep hydrating.
The 1-liter reservoir hydration system is ideal for any angler whether light or heavy drinker.
---
Recommended Use – The Redington First Run Fishing Vest is specifically a fly fishing vest according to the manufacturer's instructions for use.
However, if you love to enjoy other types of fishing, you will find it useful if you get the right size and the weather is favorable for its use.
---
Available Sizes – Unlike the suspended structure fly vests that are adjustable and have no variation in sizes, you might be disadvantaged if you wear very small vests.
Luckily, the Redington First Run Fly Fishing Vest comes in different sizes from small to triple extra-large. As long as your personal measurements match or are within those on the sizing chart, it will be a good fit.
---
---
Customer Thoughts on the Redington First Run Fly Fishing Vest​
It is a good vest for anglers of all levels. Its functionality is something you can't doubt especially when it is hot or warm. You only need to have a lighter under layer and you are good to go.
The vest has hydrophobic properties and will dry in a few minutes after getting wet.
The mesh fabric construction makes this vest very lightweight which is one of the crucial features for a fly vest that you intend to wear for a very long time.
Even if you fill the pockets completely, you hardly feel the resultant weight. In fact, you can wear it all day and forget that you had it on.
Pockets are sensibly placed to allow for easy access of your items and to allow arm and hand movement towards the front without any hindrance.
Too many pockets also tend to make the owner pack more. Redington is a smart manufacturer.
The hydration pack is a plus to this fly vest. Especially at the price it goes for, anyone could think that it is a throw.
Not so many brands include this special feature which is very important especially when the temperatures rise, perspiration increases, and you need to quench your thirst.
With proper care and maintenance, the fly vest can last longer than you expect. Ensure you follow the laundering instructions from the manufacturer. You will love its dedicated service to you.
---
Pros

– Things that shine on the Redington First Run Fly Fishing Vest!​
Highly breathable
Lightweight construction
Available in various pockets
Enough pockets for gear storage
Knit collar for comfort
Has enough attachment points
Comes with a 1 L hydration pack
Cons

– Things that are not so cool!
Limited choice of colors
Pockets are not waterproof
Fabric is not abrasion resistant
---
FAQ's – Questions about the Redington First Run Fly Fishing Vest
Q) How lightweight is this mesh fly fishing vest?
A) Mesh is extremely light and when unpacked, it weighs about 0.16 ounces.
Q) Are the pockets on the inside of this pocket large enough for a few fly boxes?
A) There are 3 small pockets. Two are on one side and the remaining on the other side. They will not fit larger fly boxes.
Q) Does the fly vest have an integrated creel pocket at the back where you can keep caught fish?
A) There isn't a creel pocket for fish. The only pocket is a 1 L hydration pack which isn't recommended for any other use.
Q) What happens when the water line bends, isn't this risky?
A) The pack has a small elastic band slightly above the pocket to allow your water line to remain straight.
Q) Are the zippers YKK Aquaguard?
A) There are no exact specifications on the manufacturer's product details but the zippers are durable and smooth to operate.
Q) Do the pockets have a waterproof coating like DWR for important items?
A) No. The pockets are only water-resistant and not waterproof. You will need waterproof bags to store in your valuable and important items to protect them from water damage.
---
Final Verdict on the Autumn Ridge Traders Fly Vest
Everyone will look at the quality before any other thing. This one is neither perfect nor the worst. It, however, does its job perfectly. The fly vest has just enough pockets.
This might not sound appealing especially to heavy packers but considering its fabric construction, it deserves the number it has.
Most smart anglers who have this in mind will find this fly vest very helpful and in most cases, they will overlook the downsides of the vest because of its functionality.
You can store what you need for the day including your gadgets and valuables. The good idea is that you will unlikely have room to store more stuff.
Mesh detailing in almost all parts except the pockets ensures that you remain sweat-free on hot afternoons. A breathable fly vest is what any angler would appreciate on such days.
The seams are well sewn and they will not come off unless you really want them out by tearing. Who would do this to a $50 vest? Why? No matter how much pressure you apply on it, it remains intact as new.
Get good use out of this mesh vest because it isn't heavy duty. We have reviewed this vest in all aspect and are sure that you will pick it on your next shopping day.
If you find the Redington First Run Fishing Vest, Grit unavailable probably due to high demand, the Kylebooer Multifunctional Fly Fishing Vest, M MAXIMUMCATCH Maxcatch Fly Vest Pack, NRS Chinook Fishing PFD, NorthStar Sports Sandy Point Mesh Deluxe Fly Fishing Vest, Anglatech Unisex Fly Fishing Vest Pack, Elkton Outdoors Fly Fishing Vest, Orvis Clearwater Vest, and Fishpond Flint Hills Vest are good options in the same price point as the First Run.
You can have the First Run as Your First Choice Anytime!
---
---