Disclosure:
Just to be open and honest the buttons and links you click on in the website will in most cases take you to another website where you can purchase the products I am reviewing. As an Amazon Associate I earn from qualifying purchases.
July 3, 2019
Lixada Fly Fishing Vest Review – Practical Flotation Solution
Whether you are by the shore, kayaking or battling the rougher waters, you will be needing a good life vest that will couple up as a storage option you can count on.
One like the Lixada Fly Fishing Vest is an excellent choice that you need not ignore.
Obviously, the most important thing when picking a fly vest is to consider the fit and storage system.
Other features like safety to protect you when you go overboard are a few to take a keen interest in.
For life vests, there are those designed for casual or extreme kayaking. The likes of the NRS Chinook and Lixada will do well in extreme kayaking and for avid anglers.
Like Nike and Adidas, Lixada is a company that is scaling the heights in the outdoor sporting industry.
This manufacturer's dedication to offering the solution to discomfort and performance when hunting, running, fly fishing, cycling or swimming is incomparable.
The young team of professionals is on the front line to provide premium quality products to their consumers.
They are open to customer feedback to help grow and improve their products. As you enjoy sports in any Lixada product, you get to maximize convenience, comfort, and style.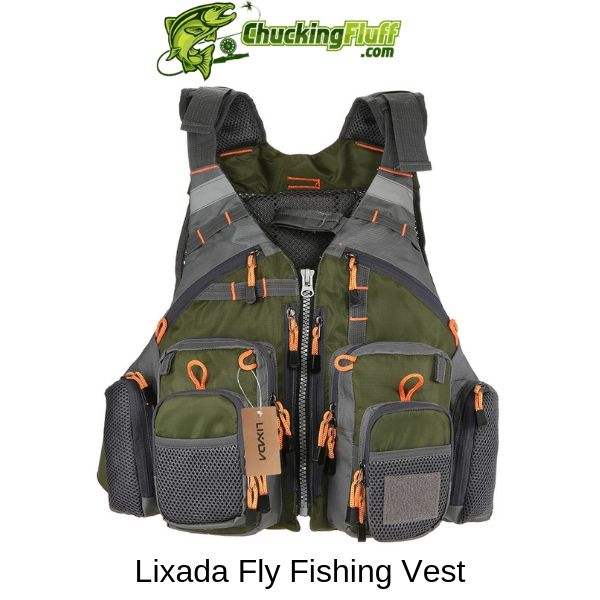 ---
Check Amazon Lixada Availability
---
This life fly vest from Lixada is perfect for anglers and kayakers because of its lightweight and plenty of features.
Nothing beats a vest made from high-grade and durable polyester on the exterior and superior foam on the inner side. The foam is to ensure you remain afloat in case you go overboard.
There is one thing that sets it apart from the rest. Its adjustability at every inch is superb.
Regardless of your weight and height, you can have it for decades and pass it on to your younger buddy.
We view the best fly fishing vests like tactical vests. They are meant to make fishing convenient, fun, and excellent.
In as much as most novices ignore them, they are important apparels just like your fly rod would be.
These fly vests should be in your shopping list and budget even after purchasing the necessary accessories.
The available storage systems are amazing and you can stash in a variety of items.
Considering that our buyers' guide is up and ready, shopping for one or two shouldn't be trial and error.
As you consider other crucial factors, durability should be among them so you don't land into junk.
Most cheap counterfeits break after a few weeks of use. Superior materials and stitching are very paramount and ensure performance and reliability.
This article is an in-depth review of the Lixada life fly vest. Read below to see what reviewers are saying about this solid gem.
---
Key Features of the Lixada Fly Fishing Vest
Material – A tougher outer shell is the surest way to go out and return home safe. The Lixada life fly vest has an exterior made from durable ripstop polyester.
Something close to what most marine military have. The shell is abrasion resistant, has water resistance properties and its durability is unmatched.
This fly vest comes in two different categories. One with foam and another without.
The foam is in the inner side for buoyancy and is replaceable. Ensure you get EPA foam if you choose one with foam.
---
Floatation – This one doesn't fall under PFDs but has enough buoyancy hence acting as a life jacket.
EPE foam is used extensively in all the marine industries and is great for marine buoyancy.
The kind of foam is lightweight, environmentally recyclable since it is chemically inert and is non-abrasive. In the event that you get overboard, you will remain afloat and be able to find your way out of the water.
---
Pockets – Enough to store all you need. This fly vest has 11 pockets in total. The chest area has four spacious pockets for your fly boxes and large gear.
Four more are on the front and accessed via durable zippers. There are two side mesh pockets for lighter gear and one large back pocket which you can use to stash your lunch boxes, rain jacket, and cumbersome gear.
The mix in sizes is a great idea to ensure small, medium, and large gear fit in.
---
Closure – The front access is by a zipper that is smooth to operate. The pockets are accessed via the same zippers with tabs in smaller sizes. I wouldn't say the zippers are fully dependable especially if you consider durability.
They are made from metal and will corrode over time with exposure to water. You can apply polish to prevent corrosion or use any DIY hack for this.
Throwing away a $40 fly vest after a few months because of rusty zippers is painful so keep an eye on the zips.
---
Attachment Points – You might not use all the attachment points. They are so many and convenient to have your tools closer. The loops are durable and on most pockets.
There is a rod hanging loop on the left side around the chest area.
More accessory loops allow items are still on the front area and more on the sides. The inner side has a hanger loop on the neck area to ensure you hang it up with ease.
---
Foam – There are options with foam and those without. The foam here is EPA foam which is for buoyancy and safety.
There is an inside zipper at the back area that you will open to take out the floating foam and replace with newly bought foam.
---
Design – Unlike most fly vests that have closed sides, this one as open sides to give the wearer enough room to throw casts, more space to paddle, and the flexibility and mobility the vest gives is admirable.
It almost takes the suspender structure design but not exactly.
---
Ventilation – For breathability, the Lixada Fly Fishing Vest has a breathable mesh construction on the backside and the inside.
This allows for free air movement and keeps the wearer cool and dry throughout.
---
Recommended Use – Its versatility is out of this world and once you have this fly vest, you can use it for swimming, boating, sailing, fishing, and kayaking.
You are guaranteed safety and enough storage space.
---
Available Sizes – There is no range of sizes for this fly vest. It is a universal adult size and will perfectly fit anyone who is less than 95kg. This is quite a good size though.
---
Customer Thoughts on the Lixada Life Fly Fishing Vest
This fly vest is completely on point. You will not need a backpack at all. Everything you usually have in your backpack will fit in the pockets with an exception of large tackle boxes.
The fact that it adjusts for larger people is a perfect idea. The straps open up with ease to fit you loosely with some room to spare. This is if you are 250lbs. or less.
This fly vest from Lixada is the real deal. Pretty much to go out with for any outdoor activity that needs a good vest.
It is highly breathable and the jacket has 11 pockets in various sizes which are enough for your tackle gear.
Having removable life floats inside is the real deal. You can easily replace with premium ones that are readily available for a few bucks.
It is a high-quality and well-designed fly vest that is fully functional. With almost two years in use, it is recommended for outdoorswomen or men who need a versatile life activity vest.
There are no disappointments if you take care of it well.
---
Pros

– Things that sine on the Lixada Fly Vest
Available in various colors

There are options with foam and those without foam

The maximum bearing is 95kgs

Lightweight at 750g

A versatile outdoor vest

Has reflectors for professional safety

Custom-fit design with adjustable buckle straps

Open-sided

Highly breathable

Has many attachment points

Plenty of pockets 
Cons

– Things that are not so cool!
The zippers are prone to corrosion but can be salvaged with a few DIY hacks

The universal size won't fit everyone especially smaller people

It isn't Coast Guard approved
---
FAQ's – Questions about the Lixada Fly Fishing and Life Vest
Q) Is it a full PFD?
A) It is a safety life jacket that takes the same construction and does the purpose of a PFD though it is yet to be approved by the Coast Guard.  
Q) Where can one buy the foam to avoid ordering the wrong one?
A) The foam is in the form of foam panels and can be found in stores that sell floatation devices. They are easy to replace inside the life vest. 
Q) Has it been tested in water to keep a heavy adult afloat?
A) Though not yet approved. It keeps an adult buoyant if you don't consider the technical bit of it in terms of certifications.  
Q) Can one go kayaking in the Lixada Fly Fishing Vest? And does the back pouch get in the way of fishing or paddling?
A) You can use it for kayaking and the back pouch remains in its place throughout. Whether it is full or empty. 
Q) Are its pockets waterproof?
A) Not exactly. They are water-resistant and you will need a waterproof pouch for your valuables. 
Q) Do all the types of this Lixada Fly Vest have a reflector?
A) Yes, the safety reflectors are on all the fly vests including the color you choose and whether or not it has foam. 
Q) Are these YKK Aquaguard zippers?
A) No, they are ordinary metallic zippers. You will need a little knowledge of protecting them for durability.
---
Final Verdict on the Autumn Ridge Traders Fly Vest
Lixada has gone miles further in designing this epic life fly vest for a throw price. You can compare it to your old fly vest but it does quite more.
It has led the competition by including more technical features that many manufacturers haven't in their products.
You will love its convenience and versatility for use in most outdoor sports.
Coming in a unisex version and in a wide range of colors, the female anglers will have something safe, functional, and cute to look good in.
The pouch at the back is superb for more storage space and the multi-attachment loops for your accessories on the front will amaze you.
Safety has been well taken care of wit the removable foam for floatation and the reflectors at the front and back of the fly vest.
You need not worry when the waters threaten to overpower you. To add to the juice, the number of pockets is just right for all your gear.
You will need a few waterproof bags for your electronic devices and valuables. There could be a problem with the zippers but not as much if you love to do most things by yourself.
You can find out more ways of preventing the zippers from rusting on Pinterest and YouTube. Otherwise, they operate smoothly and have tabs for convenience.
All in all, it is a product that gives value for money and that you will love for your time on the water.
You can go further and buy this if your weight is within the accepted range by the manufacturer.
If you miss it in your nearest store or online shop, you can settle on the Autumn Ridge Traders Versatile Fly Fishing Vest, Piscifun Adjustable Size Fishing Vest Backpack, Bassdash Strap Unisex Fishing Vest or the Lowpricenice Adjustable Mesh Fishing Vest.
They fall in the same price range as the Lixada Fly Fishing Vest and you will have no regrets at all. Keep safe as you have fun.
---
Check Amazon Lixada Availability
---