Disclosure:
Just to be open and honest the buttons and links you click on in the website will in most cases take you to another website where you can purchase the products I am reviewing. As an Amazon Associate I earn from qualifying purchases.
March 24, 2022
Best Life Jackets for Fly Fishing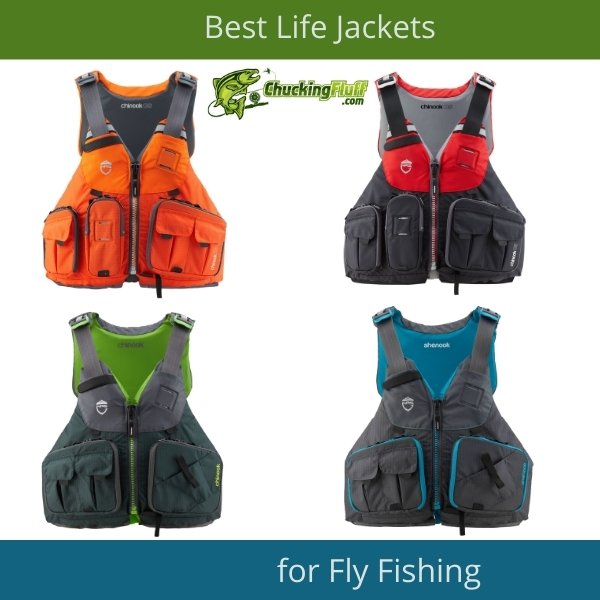 NRS Chinook Fishing Kayak Life Jacket (PFD)
NRS Women's Shenook Fishing Lifejacket (PFD)-Charcoal-L/XL
NRS Chinook OS Fishing Lifejacket (PFD)-Orange-XS/M
Lixada Fly Fishing Vest Fishing Jacket Breathable Polyester Mesh Design Fishing Vest
---
Let's be honest: our primary intention for fly fishing is catching the fish, but the adventure is unpredictable.
Anything could happen, and you could join the fish instead of catching them.
What now?
We love to be prepared and keep safe this side, and if you have been the bold type that over believes in yourself, you should turn a leaf NOW!
Life jackets are essential for any angler regardless of their skill level and today's neck-saving gear are not as bulky, ugly and ungainly as those your papas used.
Some years back, as I was testing my new set of flies on the river on a windy day early in the year, a buddy a few meters away slipped on the wet bank and fell in.
The flow pushed him further from the bank.
He went under several times trying to swim in his waders and the heavy, sodden fishing jacket, and we hastily swung into action to help.
It is unlikely he would have survived.
Looking back, the guy made several mistakes that day – I am not sure if it was out of ignorance or assumption that he could never be in a drowning situation.
The biggest was not having a life jacket.
If he had one on, it would have helped keep his head above the water in a survival mode.
Having been part of the rescue team, I can 100% agree that having your head above the water is extremely important.
After all, you are likely to keep half afloat if you are breathing air and not water.
Yours truly learned always to have it on, but sadly, most fly anglers are hesitant to buy or wear any.
I have compiled a review of some of the best fishing life jackets that cut across all skill levels and budgets.
There is a detailed buying guide further below and a FAQ section to help you make solid decisions before investing in PFDs or life jackets.
---
NRS Chinook Life Jacket
---
I might not own much from Chinook, but I have looked over their gear and equipment for years.
You understand me if you are an adept angler who loves scouting for new entries.
I have worn cheap sets of life jackets while still an apprentice, and when I looked at the NRS, one reservation kept striking me – Is it another bulky piece?
Especially if I'd enjoy more beer cans and barbecue in the following months and be a portly fellow?
A keen look at it made me change my mind after a while, and the fact that the manufacturer adds storage to a PFD for fishing is incredible.
Overall, NRS's design is pretty simple for the simple angler (I understand there is a sophisticated group, and that is alright).
It is something you will appreciate if you are in dire need of performance over the cut and structure.
You will love the minimalist storage pockets to easily access tackle without enticing yourself to stash all your gear.
Pockets – The two primary pockets are superb for small fly boxes – one or two would just be enough, especially for the angler who uses specific applications.
For instance, if you are chucking streamers, toss in a small box with bugs similar to nymphing or dry fly fishing.
It is perfect for anglers with a focused approach as it holds only flies you are most likely to cast on that day.
It saves you the stress of rummaging through boat bags, and you can quickly change flies.
You can have one pocket for flies and the other for two large tippet spools.
The two outer small pockets can hold your nippers, split shot and floatant, but you can experiment with them however much you want.
Forceps and pliers can go in the other holder.
Rod Holder and Knife Lash – Most anglers hardly bring knives onto the water, but you have a place for it in case you do.
At least, you can stop tossing your rods around or holding them under your pits as you work on flies – put them to use as they don't get in your way, which is pretty nice.
Material Design – NRS Chinook is rated as a Coast Guard 3 level – try a nice swim in it, and it should work perfectly.
There is a heavy-duty zipper in the front, and side straps easily cinch down to give a snug fit.
Comfort and Utility – It takes seconds to adjust the fit, and the vest is extremely lightweight.
The fabric breathes nicely and is built with a mesh back panel.
My highlight about the NRS is the confidence it gives when jumping out of a boat to fish, but it is recommended to stop frequently to work on your feet.
I would give it a hundred on a scale of 0 to 10.
I know of a buddy who doubles it as a pillow in their campervan.
The NRS Chinook doesn't cause conflict with your casting motion, and lines don't snag on anything.
If you are looking for a killer piece of gear, don't hesitate to get this one.
Sale
NRS Chinook Fishing Kayak Life Jacket (PFD)
The Chinook is a Type III, medium profile life jacket delivering 16.0 pounds of flotation.
PlushFit foam and a high-back design combine to create an extremely comfortable vest for any type of raft or kayak seat.
A mesh lower-back offers added ventilation on warm days.
Two large, zippered pockets, sized for tackle boxes, with internal organization, plus two smaller accessory pockets with hook-and-loop closure. Also features a rod holder, strobe attachment point, reflective accents and knife lash tab.
The Chinook carries the US Coast Guard Certification through Underwriters Laboratories (UL).
Yippee! Female fly anglers can get the Shenook specifically cut and designed for their needs.
---
NRS Chinook OS Fishing Vest
---
If you are unaware, NRS is among the famous companies in the realm of water sports but is claiming a decent space in the fishing sector.
The company's most popular PFD inspires the design and fit, but the OS has additional features for convenience and open water safety.
I can't insist enough on this jacket's comfort – NRS builds it with internal PlushFit foam for all-day comfort.
If you have worn crappy ones before, you know how bad the discomfort can get twenty minutes into your session.
But how we all survived in them for hours is God's miracle.
The high-back design was highly thoughtful, as it gave the vest an overall comfortable feel.
And if you are a kayak or raft angler, this is a must-have as it is built for your vessel's seat type.
Warmer days are fun to fish, knowing that you are prepared in case of a toss but can fully enjoy casting because of the mesh in the lower back.
Storage – Like in the original design, NRS didn't disappoint on matters storage.
The jacket has a zippered pocket to fit a VHF radio and three pockets for accessories with the hook and loop closure.
It also features two strobe attachment sections, a rod holder and two lash tabs for knives.
Anglers are adventurers chaps – one time, they are fishing in mist and fog, and the other time, they are up and about with night crickets.
If you often fish in low-light visibility, you need a good life jacket with reflective accents like the OS.
With a zippered front and six adjustment points, you can easily customize your fit.
There is a large zippered tackle pocket for all your paraphernalia, as you will need them closer.
Internal organization and a small tackle pocket offer additional space for the heavy packer – I know some of you love to bring along extras for just-in-case situations.
NRS Chinook OS Fishing Lifejacket (PFD)-Orange-XL/XXL
Roomy front-entry design with full-length zipper, Mesh lower back fits great on high-back seats and provides ventilation
Soft PlushFIT foam flotation conforms to your body, multiple adjustment points lets you customize the fit
2 zippered tackle pockets, 3-accessory pockets, 1-pocket sized for VHF radio
2 strobe holder loops, 2 knife lash tab, shoulder strap keepers and reflective accents
16.5 lbs. design flotation, 2.15 lbs. average weight
The OS boasts US Coast Guard Certification from Underwriters Laboratories.
It is rated at level 3 and assures you of floatation as long as it is in the best condition.
The cut is similar to its predecessor's and offers maximum movement to allow you to paddle all day and move from one spot to another.
It is excellent for fishing and moving around to do the basics of angling, and for both the novice and seasonal angler, you wouldn't want a PFD that gets in your way.
Suppose you plan on taking your fishing adventures to the open ocean.
In that case, the OS allows you to retain the angling prowess of the famous Chinook and keep the open water proficiency of a sea kayaking life jacket.
---
NRS Shenook PFD
---
I was elated when NRS launched the female version of the standard Chinook.
More women are casting rods and wading murky waters, and it excites me to see the numbers grow.
And it will surprise you to know that they are doing is as good as the men without facing special challenges like before, thanks to manufacturers like NRS recognizing their demands.
The women's model has similar features to the standard Chinook but with a feminine cut and more features to suit the female body.
With perfect articulation, the PlushFit foam panels help to reduce bulk while molding to the female angler's bust.
Cut – The frontal structure allows the girls to sit nicely in their space without feeling compressed, and we all pride ourselves in our female anglers being comfortable when enjoying the sport.
Still, with a zippered front entry, getting in and out doesn't have to leave you feeling uncomfortable around the other gender – zip down, get in, zip up and do you are good to go.
Fit –The entry type and six adjustment points give an excellent customized fit.
Straps are adjustable to help you get a snug and comfortable fit while preventing your life jacket from riding up.
You can watch more videos on adjusting your PFD to learn more tricks and tips for your Shenook.
It is a USCG-approved Type III PFD and has been reported to hold up nicely during intense and rough use.
Material – NRS makes it stylish, simple and low bulk thanks to nylon outer fabric that encases the shaped and bevelled foam floatation panels.
The construction means it crams plenty of buoyancy into a small package without hindering movement.
It is a perfect fishing life jacket for the female angler.
NRS Women's Shenook Fishing Lifejacket (PFD)-Charcoal-XS/M
The Shenook is a Type III medium profile life jacket delivering 16.5 pounds of flotation.|Articulated PlushFit foam panels reduce bulk and mold to the female bust.|The zippered front entry and six adjustment points offer a customized fit.|The high-back design fits comfortably with most raft and kayak seats and the mesh lower-back offers added ventilation on warm days.|Two large zippered pockets sized for tackle boxes with internal organization plus two smaller accessory pockets with hook-and-loop closure.|A fifth tool holder pocket offers quick access to pliers line cutters or other fishing gadgets and accessories.|Also features a rod holder strobe attachment point reflective accents and knife lash tab.|The Shenook carries the US Coast Guard Certification through Underwriters Laboratories (UL).|5 - Front|1 - Front|4 - Side|2 - Shoulder|1 - Waist|Rod holder loop|Strobe holder loop|Reflective accents|Pockets with internal organization|Shoulder strap keepers
Storage – The pocket system is similar to the standard NRS Chinook PFD, which struck me as considerate since ladies need the same tackle and gear as men do and just about enough space to store them.
Unlike other manufacturers that compromise the storage system, NRS considered convenience and functionality, which I find fantastic.
One of the primary concerns of most female anglers about life jackets is arm space, and from the reviews I have gathered about the Shenook, she is a game-changer.
There is enough arm space for comfort and range of motion to cast, reel in, stretch and paddle.
Here's a point to note: While the Shenook almost entirely resembles the standard NRS Chinook, the former has a different fit and comfort level when worn by women.
Of course, the male version would work similarly, but it can be uncomfortable for ladies with a bigger bust to have on, thus recommending that you all lovely ladies stick to the female cut.
There might not be pink girly options in this case – but the grey and blue gets the job done; at least performance over fanciness would do here.
---
ONYX A/M 24 Automatic and Manual Inflatable PFD
---
The A/M/24 PFD is thin and comes in a U-shape that comfortably rests on the shoulders and quickly straps around your chest.
A quick-release buckle secures it, and an adjustable strap loosens or tightens around the chest for an optimum fit.
Apart from the large D-ring close to the bottom on the right, there is no other way to store your nippers or forceps.
Activating the manual inflation requires you to jerk on the handle dangling from the bottom of your right-hand tube.
The Onyx 24 Manual Automatic life jacket is a dream to have on. Compared to hybrid life jackets or traditional PFDs, it is light, thin and very comfortable.
And that is an excellent thing because while researching its comfort, functionality and overall performance, I repeatedly heard that the perfect life jacket is the one you can confidently use in water.
If an unintended swimming session happens and your fishing life vest is stashed in your backpack or vessel's dry storage or the trunk of your truck, being in the moon would have been a better option for it.
I know most people loathe installations, even the simplest bulb replacements are a pain in the butt, but Onyx wants nothing of this sort to any A/M 24 PFD user.
The life jacket comes with an installation manual for the carbon dioxide cartridge and is among the simplest you can ever find.
It goes for the first use and other subsequent uses; also, you need to discard the cartridge after every installation to ensure you have spare.
If you are physically fit, active and confident in your swimming skills and have some time for regular maintenance, this inflatable can be a solid option.
I would advise anyone purchasing the A/M/ 24 to test it on dry land to familiarize themselves with how it works first.
Sale
ONYX A/M-24 Automatic/Manual Inflatable Life Jacket, Green
COMFORT REDEFINED: The A/M-24 inflatable life jacket is designed with your comfort in mind, offering a lightweight and unobtrusive fit, allowing you to move freely and comfortably during your water activities.
VERSATILE & RELIABLE: Whether you're fishing, boating, kayaking, SUP, canoeing, or sailing, the A/M-24 inflatable ensures ease of use, providing reliable buoyancy when you need it most.
COMPACT & CONVIENENTt: This life jacket is easily inflatable by either manual or automatic mechanisms, ensuring rapid deployment in case of emergency. When not in use, it's compact and easy to store, fitting perfectly into any gear bag or boat compartment.
UNMATCHED SAFETY: Don't compromise your safety on the water. Choose the A/M-24 Inflatable Life Jacket for unmatched comfort, reliability, and peace of mind. Enjoy your water activities with confidence.
AUTO & MANUAL MODES: AUTO MODE for boating or sailing, easily converts to MANUAL MODE inflation for kayaking, paddling, SUP or fly fishing.
The PFD comes with a manual inflation and deflation tube tucked somewhere in it.
Here's a trick: Once you initiate a manual release, you need to allow some air out of your vest for the fully-inflated bright yellow bladder not to cut off the circulation to your head.
A buyer who described themselves as reasonably large complimented its fit and commented how snug the vest fit around their head and neck.
A reminder for anyone who intends to get this in their hands: You have to wear the A/M/24 on top of everything.
It works well over a fishing jacket, but I can't recommend using it over or with a sling pack or fishing vest.
---
ONYX M/16 M annual Belt Pack Inflatable Life Jacket
---
I would call the ONYX A/M 24 a minimalistic dream and the M/16 an upgrade to the game as it takes the minimalism thing to a whole new level.
Instead of draping it around the shoulders and dangling on the left or right side of your chest, the belt pack, which could be confused for a small fanny pack from a distance, straps around the waist.
As simple as that – no complicated adjustments, no nothing!
So if you are the extra-minimalistic angler who appreciates no bulk and less gear, jump on this one before most sites run out of stock because I bet its demand is higher than I thought.
There is an adjustable waist strap, a quick-release buckle and a beefy D-ring.
Here's the good news: This tiny belt pack is very discreet easier to wear and use.
I know a bunch of you hate the hassle of full chested PFD.
If you are among them and need a hassle-free experience, you will appreciate ONYX for the M/16.
But there is a concern (if you want to term it as such) – Instead of inflating into a standard or traditional fishing life jacket that covers your neck chest and leaves your head floating out of the water, the belt pack converts into a sturdy and reliable bright air pillow with one black strap at the top.
If this sounds like you would be in the water with a bright pool float on your waist, then you aren't far wrong.
The M/16 is for the angler that wants something to hold tightly on to in case of an unintended dunk; however, it won't keep your head out if you are unconscious or disabled at the start.
I found out that the 16g carbon dioxide canister that comes with the life jacket doesn't fully inflate this PFD.
I am not sure if it is a primary concern as many users say they can easily blow air into the inflation and deflation tube severally to inflate the pack entirely.
But if you were to be in a survival situation, especially in a fast current or rougher waters, you will have to ponder if an under-inflated belt could be a big problem.
Sale
So, what is the verdict?
Well, the Onyx M/16 is extremely easy to wear and use, but there is no automatic inflation.
You need to activate its manual inflation by pulling on the handle.
Wait, just a simple pull, not a tug of war affair.
It is a real asset for fly fishers who find themselves unexpectedly in the water, if you ask me.
On the same note, though, I would definitely recommend you keep the cautions in mind.
Unless you are a strong and confident swimmer in excellent physical health, the M/16 might not offer all the features you are looking for in a PFD.
I would instead buy a full-chested fishing life jacket from the other options.
Someone could think that the cautions make the belt pack unusable, but it is approved by USCG and rated as a Type V PFD for men and women.
This PFD is for the serious fly angler who loves casting from their boat as it offers total freedom of movement.
And if you are wondering if it can be compatible with your SUP, it should work with most of them, thanks to its oral inflation method.
Note: The M/16 is designed for adults above 80 pounds, and children shouldn't use it.
Don't be tempted to have it on a minor because of its low profile design.
---
Airhead Deluxe Adult Fishing Life Vest
---
You might have been there.
You are fishing in heavy flows, thinking you are cautious as never before, before realizing you have done the stupidest thing.
Perhaps, you have incrementally waded farther and deeper, each time lying to yourself that a few more steps won't hurt.
Situations like these need you to have worn your Airhead Deluxe to avoid unnecessary panic.
This life jacket is a slim, minimalistic and unrestrictive type.
The Deluxe is considerably thinner and lighter than most options in the market.
It is a true fishing life jacket with a serious advantage over bulkier designs when it comes to a series of potential hazards that face anglers who are swept downstream into brawling waters with boulders.
Other risks are being taken off your feet into the frigid water by sub-surface ice flow and tosses from rock-hitting boats into rapids.
Most importantly, it is one you can actually wear because of its rather slim construction.
Not only will the design of the Deluxe likely place nicely with most fishing jackets, but the genius minds behind the construction have also built a fishing life jacket to allow you to wear over wading gear.
I am not naïve enough to think the Deluxe will make it with you to every angling destination, and I am cocksure it doesn't need to.
However, the fact that you will need to access a life jacket you can wear and use all day comfortably without getting in the way of your fishing, on days when you are out on fast icy and dangerous waters, especially when you are going there alone, well, that is really something.
YUKON Deluxe Mesh Top Fishing Vest, Bark - x-small
Adult closed side fishing and PFD vest with 2 large and 2 small zippered pockets
Mesh shoulders and back for maximum air flow with neo Lite kwik-dry collar
Zippered closure and two belt straps w/quick-release buckles
USCG approved type 3
Size x Small
The Deluxe is a perfect accessory for the angler who is out for a day or night filled with heavy tugs and tight lines but wants to maximize the contentment and peace of mind that comes with angling knowing they are safe.
There's pretty enough storage as the four zippered pockets are spacious to accommodate your floatant, indicators, nippers, weights and fly boxes.
Two tiny Velcro pockets are for extra convenience.
The highlight of this jacket is the Neolite Kwik-Dry Collar, which is smooth to the touch and has moisture-wicking capabilities, which ensures your neck area is dry throughout.
I was impressed by the mesh shoulders and back – thoughtful, especially for summer angling when you need to keep cool and enjoy a hot day out.
Airhead has the Deluxe in navy, and bark colours and sizes range from extra-small to extra-large.
The manufacturer recommends this fishing life jacket to adults above 90 pounds.
---
Stearns Comfort Series Life Vest
---
The Stearns Comfort is for all fly anglers and water sport lovers who want to be safe than sorry in case of a dunk.
It is a boon because of its unique design that allows it to effortlessly float around in the water.
Stearns builds this life jacket from high-grade nylon material for quick-drying capabilities, durability and longevity.
You can trust it is a great one because of the coast guard approval (you should know that this is a big deal when buying any life jacket or PFD).
The fit is nothing close to great – it is excellent from the tons of user reviews I have gathered online.
If there is anything about fly fishing gear and apparel that would make prospect buyers not commit is the fit of a piece of gear.
Adjustable straps allow you to loosen or tighten your belt without hassle.
While a small group prefers extreme minimalism when it comes to PFDs and needs no storage system on them, there is the gang that appreciates a pocket here and there.
If you fall in the last category, you will love the Comfort Series and its easy-to-reach pockets to stash your essentials.
I know that you can have a sophisticated fishing jacket with tens of storage areas underneath your PFD; however, it is uncomfortable, time-consuming and exhausting to keep looking for tools for when you can have them in the front pockets of your life jacket.
The Stearns construction is almost similar to the Airhead Deluxe as both have mesh fabric on the back and shoulders for excellent breathability.
The Comfort Series allows for free movement with no trapping, and its lightweight and compact nature will enable you to carry it on any expedition.
Its structure allows free paddling without hindrance, making it a bonus to the drifting fly angler or boat fishers adventuring flat waters.
Angling is accommodative of all persons, but most gear isn't.
Stearns Comfort Series Collared Angler Vest, X-Large
US Coast Guard-approved life jacket
Large armholes for easy casting and movement
Large front zippered pockets to store gear and tackle-pockets also work as hand warmers
Flexible neoprene collar prevents chafing
Mesh shoulder panels for added ventilation on breezy days
Stearns designs the Comfort Series to fit even the overweight angler who still wants to enjoy the sport and feel safe while at it.
I haven't used the life jacket, but results from my assessment show that the shoulder pads, webbings, mesh and overall material are high-quality, and you can wear this on any skin type.
There have been cases where a user gets skin problems or blisters after wearing a vest; thus, if you have a sensitive skin type or love to be on the safer side and not compromise on comfort, this one is a solid choice.
Be sure of your measurements and size before ordering this life jacket, as some buyers have bought the wrong size.
Check on the Stearns website and get the size specifications for the Comfort Series to avoid any inconveniences.
It is a moderately-priced piece of gear, but its performance and durability compare to high-end hybrid PFDs.
Overall, this life jacket is a sure shot winner for most anglers' needs, and I would have it as the top pick for this guide.
---
BlueStorm Gear Stratus 35
---
BlueStorm has over eight decades of history in constructing personal floatation devices.
For a company to stay this long in business and remain among the best in its realm, there must be doing everything right.
Trust me on this one because the Stratus 35 isn't your average life jacket.
First, it is approved by US Coast Guard and falls under type II PFDs, meaning it is ideal for use for fishing and most if not all water activities from sailing, paddle boarding and kayaking to drifting and boating.
It is common to get anglers enjoying other water sports besides casting, and if you are the versatile type but want to spend on one great piece of floatation device, this one is a worthy buy.
This life jacket works by inflation using a carbon dioxide cylinder.
A simple manual jerk inflates the vest, but you need an oral inflation boost.
BlueStorm makes and inspects the Stratus 35 life vest by hand, thus contributing to its excellent quality.
Also, it offers superior comfort thanks to the anti-chaffing material.
The manufacturer designed this one with a maximum chest of 56 inches and offers 35 pounds of buoyancy, making it perfect for most adults.
A buoyancy of 35 is 2.5 times more than the amount offered by most type III life jackets.
Non-swimmers aren't advised to use such inflatable vests.
BLUESTORM Stratus 35 Inflatable PFD Life Jacket | USCG Approved Automatic/Manual Life Vest for Adults | Deep Blue
US COAST GUARD-APPROVED TYPE-II PERSONAL FLOTATION DEVICE (PFD) inflates automatically upon water immersion via replaceable CO2 cylinder (includes 1 cylinder with purchase) or manually with a pull of the "jerk to inflate" cord or back-up oral inflation tube.
LIGHTWEIGHT, COOL AND COMFORTABLE: Life jacket's ultra-breathable soft polyester collar wicks moisture away from the neck and provides comfort without chaffing; 2" wide waist belt and large adjustment slider ensure a secure, comfortable fit for all-day wear
LARGE EASY-ACCESS ZIPPERED FRONT POCKET is great for storing sunglasses, fishing pliers, licenses, sunscreen during boating, fishing, kayaking, sailing, angling and other on-the-water activities
ADJUSTS TO FIT chest sizes between 30" and 56"
35 LBS OF BUOYANCY: 2.5x higher minimum buoyancy rating than Type III foam vest personal flotation device
If you aren't physically fit, inactive or not confident in your swimming skills, you can get a hybrid PFD.
You won't experience overrides in heavy rains, but if the shell gets wet, it won't set off the device prematurely.
The Stratus 35 is for anglers looking for a superb balance between safety certification and comfort.
Most reviewers say that this PFD is hands down one of the best-made gear in its price range.
If you want a highly-buoyant life jacket that you can entirely depend on in turbulent water, the Stratus 35 delivers.
Wide straps and a harness loop wider than the average ones ensure even weight distribution over large surface areas.
It means that while this jacket appears to be bigger than most options, it is almost difficult to notice the weight as much.
The spacious gear pocket allows you to be on track with your stash.
A crucial issue I found thoughtful to highlight is that the Stratus 35 is ideal for anglers, water sportsmen, and women with broader shoulders than the average.
This PFD might seem comically oversized on you if your shoulders are slimmer.
---
XPS Deluxe Fishing Life Vest
---
Whether fly fishing or giving company to a buddy on a boat as they do the thing, you want to stay protected, and nothing compares to getting a high-performing fishing life jacket at an excellent price.
The XPS Deluxe boasts excellent fit and function and will protect you from water hazards if you are of chest size 36 to 68 inches.
These are super comfy easy to wear and use.
If you are looking for a life vest that stays reliable and effective for as long as you need them, you can bet on the Deluxe.
Let's be honest,
It is daunting to get a life jacket that hugs your body and contours to it without feeling sandwiched between its sides.
XPS did this one proud and included larger armholes for more effortless moving comfort while fishing or paddling a yak.
EVEN AMONG THE BEST, the XPS Deluxe stands out for its utmost comfort and value.
Have you seen its collar?
It is made from a fleece-lined fiberfill to keep you warm on colder days.
Can I call it the perfect life vest for winter fishing?
Because its side-entry handwarmer pockets are an excellent addition that most don't come with, I find it superb, especially for the buddy that combs waters in the night or adventures more in cold weather.
It boasts some sophistication that I haven't seen in 95% of PFDs apart from a few hybrids and high-end options – mesh bottoms in the two zippered pockets for drainage.
Thanks to how the buckles have been placed, there have been no reports of the life vest riding up when in use.
Though light, they keep you floating when necessary, and the reflective tape increases your visibility, making it easier to get help when you are in shock and can't shout since they shine through water.
XPS designs this PFD as an obvious choice for worth and safety, but while we all want to be safe, you need a life vest that allows for free movement.
The Type III XPS is an approved floatation device designed for maximum mobility.
For instance, all coast guard approved life jackets, especially universal options, have non-restrictive cuttings that allow you to easily swing your arms while playing a fish or controlling a water vessel.
Its back panel is reasonably thin and doesn't interfere with your seat when resting your back.
If you are in a yak or SUP, feel free to move around it, mainly because the life vest will keep you floating in case you fall overboard.
The life vest is highly durable and is made from high-grade ripstop nylon known for its shrink and wrinkle resistance.
If you first see it, you can think that it can't withstand heavy storms or winds because of the lightweight material, but it will shock you.
The XPS Deluxe is strong to survive the roughest and toughest weather conditions.
No one wants to buy a vest that is difficult to use.
Everyone wants one they can quickly wear, adjust and remove, and this one does just that.
This life vest packs a big punch even for its price, as its build and features ensure you are always safe on the water.
---
Lixada Fly Vest
---
Let me clarify something here: The Lixada Fly Vest isn't a full PFD but has the proper buoyancy to allow you to float on water in case of an unintended swim.
So, I listed it here for anglers who want to cut on the number of gear they wear when out and need a versatile piece.
Did I mention that buying this is cost-saving as you won't have to buy another floatation device unless you want a different one for a change or feel like building a collection?
It looks like a fishing or outdoor vest with 11 zippered pockets and multi attachment points on the front, shoulder, and bag from afar.
However, underneath its exterior is a fully-functional floatation system that you can detach and leave the outer shell functioning like a shear angling gear carrier.
Lixada designed this for the adventurous angler who needs most of their stash closer enough to them even if they wade deeper and their feet can't find the river bottoms.
It might not be a one-size-fits-all, but most anglers will be comfortable in it, thanks to the webbed buckle straps that you can adjust.
If you prioritize gear storage without compromising gear storage, Lixada got you.
The vest has a good blend of mesh and ripstop polyester and offers you the best of the two worlds.
Its tough fabric can withstand as much abrasion and friction, making it ideal for the harshest conditions and routes.
Even with the tough fabric, the mesh back allows air circulation and ensures that you are always cool.
Lixada has a universal size but comes with adjustable straps for a better fit, and the hip strap ensures the vest tightly clings to your waist.
Unfortunately, it means that it can be daunting for buddies of all heights and sizes to get the perfect fit from this vest.
---
Old town Treble Unisex Life Jacket
---
If you are looking for a versatile and high-performing floatation device to enhance your safety during fishing, you will love the Old Treble Unisex Life Jacket.
It is built with top-notch storage and safety features with the kayaking angler's needs in mind.
You can stash your gear in the front pockets for easy access; also, the ring and tab offer attachment points for extra tools.
A VHF radio and small fly boxes can fit in the two zippered chest pockets.
The lash tab holds whistles, sunscreen, and fly fishing tippers or whistles.
A VHF radio can also fit in the envelope pocket but if you carry a beverage, have it in this section and the radio in the chest pocket.
All the pockets are zippered, and you don't have to worry about your stash missing in the water.
The manufacturer did an excellent job when it comes to comfort – it is easy to forget that you are wearing them.
Even though if fits all the needs of a kayak angler, waders and bank fishermen/women still find it practical.
Its low-profile back construction allows you to integrate it with any seat, and if you are a backpacking angler, this one is the real deal.
I know backpackers love moving with all their gear on their backs and this vest allows your pack to sit well without feeling extremely heavy, thanks to the thin profile.
Many users praise it for its ease of mobility and superior comfort.
Adjustment straps should help you cinch your vest for a snug fit.
The material is deserving of a well-cut fishing vest that can withstand the roughest conditions while making you feel comfortable even if using a high back seat.
You will enjoy more breathability as you paddle.
The shell and liner fabric are made from 200 denier nylon material and speak to the life vest's suitability for angling.
The colour allows you to fish in clearer waters without being noticed by the fish as it isn't too bright.
The safety gear is lightweight and will keep most adults above the water if the need arises.
The Old Treble life jacket is a fantastic product to keep an angler comfortable and save them from water accidents.
It is designed for persons of chest size 30 to 52 inches and will give a snug fit without the foam back getting in the way of sitting structures.
You are unlikely to get edgy even after hours of angling.
Old Town Treble Angler Unisex Life Jacket
Old Town's Treble Angler Unisex Life Jacket is designed for utility and comfort at an affordable price.
Made from durable 200D nylon, the Treble Angler features adjustable shoulder, waist, and side straps, elastic shoulder strap keepers, and a thin-back construction that fits comfortably with most kayak seat designs.
Built to carry a lot of gear, the Treble Angler features two zippered pockets for secure tackle storage, two slip pockets, and an envelope pocket for holding a VHF/GPS device, plus Hypalon tabs and D-ring attachment points.
The Treble Angler is a simple, lightweight unisex design that fits most sizes and is perfect for novice or experienced kayak anglers.
This life jacket fits a 30-inch to 56-inch chest and is USCG and Transport Canada certified.
This vest, however, comes in a universal size that allows several users to wear a similar size.
On the flip side, it might not give a snug fit if you are petite or bigger than the chest estimate given by the manufacturer.
But overall, it is a very comfortable life jacket.
You will love the floatation device's amount of mobility when in use.
The Old Treble Unisex PFD is designed to allow free movement while fishing, paddling or any water sports.
You will enjoy the thin, low-profile back design that doesn't get in your way unless you unzip the frontal entry and the sides remain open.
A 5.10 tall buddy weighing about 230lbs will fit in a standard size and use the adjustment straps while having a lot of room to move and turn anywhere.
The shoulder construction is almost weightless and won't hinder mobility whatsoever.
Even if this life jacket packs rich features, you want it durable enough and being versatile; you can use it for various water activities.
It might not be the most durable life vest in the market, but it lasts.
The manufacturer ensures it is made with strong stitches and reinforcement in sections where adjustment straps are connected to the jacket.
The choice of material ensures the product doesn't tear or chafe quickly, neither does it shrink like cotton or linen.
Chest pockets are also well-stitched and won't rip or tear easily, even if you slightly overload them.
My worry on zippered gear is the sipper pulls bending under pressure. Still, there have been no reports about this one, and I would easily go for it after all the positive performance and durability reviews I have read.
With proper maintenance, the life jacket should keep you safe for as long as it is in excellent condition.
Denier nylon is easier to clean by wiping with a piece of cloth and mild detergent.
---
Amarine Made Boat Buoyancy Aid Fishing Life Jacket
---
Amarine designed a comfortable, extremely durable and highly-buoyant life jacket with all the features needed by a serious angler.
We are used to most of them being made from ripstop nylon or 200-400 denier nylon, but this manufacturer went against the norm.
It doesn't mean that using a different material compromised performance, durability or efficiency, in fact, it made this life vest one of the best-made in the market.
The outer shell is from 600 denier Maximum waterproof Terylene Oxford fabric.
It is as durable as a fabric can be if used for life vests.
Not a marketing gimmick, but the manufacturer says it should last a decade-plus and should not rip even if snagged on something.
This statement prompted me to research more and find out what previous and current users are saying, and it sure does.
Now, if you are the 'extra' type of angler who is always bushwalking while in your vest, jumping from one river rock to another and combing water vegetation searching for fish, this one is a gem.
If you have navigated thickets and bushes on your way to your favourite spot, you know how easily cheaply-made gear can be ripped by thorns, twigs, sharp rocks and branches.
We are talking about a life vest that is 100% waterproof and will not absorb water, and it sticks to its promise.
Water won't seep into it unless there is a tear or open seam.
The waterproofness combined with the jacket's high-quality foam ensures it remains highly buoyant.
It is designed for adult anglers and watersports lovers who are less than 230lbs but shouldn't be used by small children.
If you are looking for a super comfy well-padded life vest, this one should be on top of your list.
Its shoulder straps are padded and easily adjustable for comfort and to help with a snug fit.
The torso strap is also adjustable.
For safety reinforcement, the life vest is designed to have a crotch strap so that it can stay put when you wear it and avoid riding up regardless of the position you are in.
The Amarine is a durable and secure product, and its design is ideal for the active angler.
Built with large armholes, it allows for free arm movement when paddling, casting, reeling in, battling fish, and doing fly fishing essentials.
Most users appreciate its storage system as it is enough to hold your essentials, personals and tackle you need when on the water that should be at arm's reach.
---
Top Safety Adult Life Jacket – Inflatable Manual Version
---
While fishing in the shallows can be less-risky, anywhere you feel the water level will be above your waist requires you to have a floatation device.
It doesn't matter if you are fishing from the banks or on a water vessel.
Fishing from the banks or shores can seem safe, but we have heard or seen anglers slipping off to join the fish.
Top Safety designs personal floatation devices, and the inflatable manual version for adults helps to keep you safe when accidents happen on the water – and we know they happen pretty fast before you can reach, grab and put on your stowed one.
Don't be among the victims who drown because they didn't have a floatation device on.
Fly anglers on kayaks are often alone as most standard kayaks have one seat, and you can never predict an accident.
And on a kayak, you can go far without recognizing how fast the distance from the shoreline disappears.
When fishing, your life jacket isn't only a personal floatation device or life preserver, it is a portable storage gear too.
Buying this one means getting value for your money, and when fishing, you need the pockets.
This one takes a highly minimalistic design from the cut to the design and construction, and the storage system isn't as dense as most PFDs.
A zippered pocket holds your license, keys, and a small camera.
Because of how it is designed, you can easily wear it over a fishing vest or a jacket with more pockets for extra gear.
This life jacket is for anglers who need a perfect blend of safety and practicality.
It isn't too tight when worn and allows full movement freedom.
Top Safety designs this one to manually inflate when immersed in water, or you can pull the inflation handle to inflate it, making it easy to use if need be.
Averagely, it takes 3 to 5 minutes for a single inflation and a second to pull the handle.
Whether you are a recreational boater, a sailor, a kayaker, a bank or a paddling angler, you will enjoy its low and minimalistic profile.
Thanks to its cut, it guarantees safety, peace of mind, and comfort and doesn't get in your way.
Most adult fishing life jackets won't fit most teens and aren't recommended for children, but this one has an adjustable belt that can fit a youth.
Its amount of buoyancy is 150N, and fits universal adults below 330lbs.
Maintaining it is hassle-free, thanks to its material.
The manufacturer makes it from polyester, neoprene, nylon and TPU, meaning it is also reusable, convenient, washable, quick-drying and easy to repack.
One primary concern was that the product was not Coast Guard approved despite the fantastic design and features.
I am not sure how I feel about this, but if I were to carry it, I would bring along another life jacket, but I will leave that for you to decide what you would do if you bought one.
Overall, suppose you enjoy fishing in slightly deep waters but hate heavy and bulky life jackets. In that case, the Top Safety Adult Manual Inflation is a slimmer, lighter and more comfortable option that you will love.
---
Mustang Survival Dual- Buoyancy Personal Floatation Device
---
Interest in fly fishing and other water sports is steadily increasing, and floatation devices are becoming more technical and widespread.
The dual-buoyancy from Mustang Survival aims to meet the needs of fly fishers and other watersports lovers regardless of the activities they indulge in.
Otherwise known as the Khimera PFD, it is a low-profile chassis with more oversized armholes for the best freedom of movement you have never experienced before.
From afar, it appears to have a somewhat square body style, but it shouldn't fool you – you can easily adjust it to suit different body types.
It is built with a new technology that gives it more buoyancy when you need it or when the fishing intensity and conditions change.
Mustang has broken the record by designing the first dual-floatation life jacket in the market, meaning it strikes a good blend in the material construction.
It has foam and inflatable chambers filled using a carbon dioxide cartridge in the lower section of the vest.
The Khimera is rated as a type III floatation device, and you can adjust it to your needs.
You can manually or automatically inflate it by deploying the extra carbon dioxide inflation using the pull handle on your right side if you are wearing it.
It is covered with covers to avoid catching.
Manual inflation is with the tube inside the vest but on the top, then deflate it using its manual valve.
The amount of buoyancy it offers is 20 pounds distributed as follows: 12.5 pounds through the carbon dioxide floatation and 7.5 pounds via the foam floatation.
If you put it in the water, it keeps you afloat, and after a few dips, you will notice the vest's foam component drying out quickly.
The PFD doesn't need post-inflation repacking – it needs deflation using the manual tube.
If the single-use carbon dioxide cartridge was used, replace it.
Here's the good news: Even without the cartridge, it works as a type III floatation device, but you can manually re-inflate it to get more buoyancy.
The Khimera is for anglers who need less maintenance and fiddling when using a life jacket.
It is a low-profile vest that easily slips on overhead but has no belt buckle or front zipper that will get in your way when casting or paddling.
Yak anglers who have used it say it is pretty comfortable even when sitting, and it feels open to wear, and you easily forget that you have it on.
It offers a full range of motion, and while most life jackets are cut for the male body, this one is comfortable for most females too.
The PFD is comfortable in the chest, adjustable straps sit well on the torso, and isn't too wide, which is another issue with many female life jackets.
If you are a curvy angler, this is a very well-fitting and comfortable life vest that doesn't impede the range of motion.
Sale
Mustang Survival - Khimera Adult Foam PFD (One Size Fits All)
Front storage pocket and slot hold extra CO2 cylinder (extra cylinder not included)
Front shoulder attachment points for a knife, strobe, or other gear
Reflective shoulder patches enhance visibility in low light conditions
Dual flotation system blends the security of foam with the slim profile of an inflatable
Over-the-head entry provides a secure fit
It isn't designed with whitewater in mind.
Still, it works well on the flat water of up to category II, and anything beyond that will need a life jacket with more whitewater-friendly capabilities.
The interior doesn't sweat, condensate or rub against your wind layer or skin.
There is some chest pressure when using the extra inflation, but you can easily mitigate this by rea-adjusting your torso straps.
Despite all the good, it is missing a secure zippered chest pocket and a lash tab.
The pocket available is secured with Velcro, which a group of anglers dislike even though it provides quicker access.
---
Adults' L.L. Bean Angler Universal PFD
---
Accidents occur during fun sessions, and fishing doesn't count out.
Drowning is among the causes of death on the water during fishing and other water sports.
As a fly fishing enthusiast, I would advise anyone, regardless of their level of skill, to invest in the best one they can get to prevent small accidents from turning tragic.
And if you know L. L. Bean, you know they are excellent at creating outdoor safety wear.
The Angler Universal PFD is among their best releases so far.
Its material, construction, and arm cut help you remain comfortable while keeping safe from water disasters.
Bean designed this piece to keep you afloat until help arrives, and so far, so good.
It is made from 200 denier polyester and 100% PE foam for maximum comfort, easy cleaning and quick-drying capabilities.
The buckles and zipper designs allow the user to wear and remove with ease without slipping out.
You require a flex vest when fly fishing, and it is more fulfilling when you have one that gives you value for your money and even more.
It comes in one size that fits most anglers, but it is advisable to confirm with the manufacturer regarding the chest size.
Some current users advise against buying it if you are too small or bigger to avoid being overly baggy for petite buddies and too tight and uncomfortable for big guys.
Buckles and adjustable straps help you achieve a snug fit while maintaining comfort.
Because of its construction, it dries up between swims eliminating irritations that can be caused when your skin gets in contact with a cold and wet fabric.
The mesh back is designed for breathability, weight reduction and functionality when sitting on the kayak or boat seats.
Its pocket system isn't as dense as the Lixada, but what is available should be enough for the basics and your personals.
The frontal zipper pocket fits a small tackle or fly box and your fishing license.
There is a 20 millimetres webbed mole system for attaching angling necessities and ensuring easier reach without having them in your way as you cast or play fish.
The mesh shove it section can hold your tippets.
L. L. Bean has plenty of personal floatation devices for your entire family, including your pets.
So if you have been longing to spend some time out testing your new set of flies with your fur baby, I bet you will find something for them.
---
Fly Fishing Life Jacket Buying Guide
---
Accidents occur, and your safety should be a priority before the fun.
As you plan on setting out to your favourite spot, whether you will be bank fishing or casting from a vessel, you need to think about your well-being.
It is easy to get injured under any circumstance.
For instance, your vessel might collide with an incoming one from a very rare sight, or your canoe gets damaged by a huge sharp rock hidden under the water.
Or, it could be a simple slide or slip, and you are in the water.
If anything like this happens, you need to be safe hence the importance of a life vest.
Even if you can swim, there are chances of getting severely injured or losing consciousness that can make you almost immobile.
In such events, a PFD can guarantee you safety and will help you to keep afloat as you wait for help to arrive.
I have put together some crucial aspects to consider when looking for a fishing life vest as below.
---
USCG Approval
When a fishing vest is US Coast Guard approved, it means it has been tested for floatation efficiency and deemed fit for use.
But why is it a crucial consideration?
Coast guards often go into the water and have the best experience on water safety matters.
They understand the requirements of a safety vest from structure and buoyancy and need to verify this to safeguard the user in case of any emergency.
Basically, they check and vet if these vests meet all the safety standards.
All USCG approved fishing life vests are placed under deserving categories from Type I to Type V.
Most Type III vests are fantastic for angling, but a few that fall into the other categories could apply if stated by the manufacturer.
What if it isn't USCG-approved?
I have reviewed one above that isn't approved but is an excellent vest considering its structure, features and efficiency.
And from my research, it has been bought and reviewed by 15,000+ users to date and stands at 4.4 stars and above on sites I have checked.
What now?
Should you still buy it?
Well, getting one that is approved is, of course, the best option, but before dismissing the others, check why they aren't approved.
On most occasions, they are unapproved because they have been imported from specific countries with other water safety certifications.
For an acceptable reason such as this, it doesn't hurt to give it a try; however, if not, you will be safer getting approved options.
---
Colour
You might not have expected this, but colour is an essential aspect when discussing life jackets.
Visibility levels and colour are vital.
But why?
Personal safety and style are primary reasons.
Wearing a bright coloured fishing jacket makes you look like an avid chap and draw attention and be complimented, thus boosting your self-confidence.
Fly fishing is fun but can get hazardous without the right safety gear.
So how does colour come in?
Imagine you are casting from a boat, it suddenly capsizes, and you are in the water.
You will sink until the vest can bring you up and afloat.
If you aren't a great swimmer, it takes time before getting your face above the water, meaning you require external help from fellow anglers or a rescue team.
Here is the logic: It is difficult and almost impossible to spot dark coloured life jackets because they are less reflective even in water.
Do you see why you need it brighter enough?
There are a few dark coloured ones with reflective strips to improve visibility too.
---
Comfort
Comfort is crucial when talking about fly fishing wearables.
Angling needs patience, meaning you might be on the water longer and have the life vest on for a considerable amount of time.
Imagine having an uncomfortable life vest on the whole day?
Comfort features to check include foam.
If your life vest has foam panels or layers, it'll be more comfortable to wear.
The vest material determines your comfort levels.
Neoprene materials pass the test thanks to their natural stretch, but most fishing vests have nylon in different forms and are comfy though not to the level of neoprene.
The fit tells a lot about how you will feel – overly loose or tight vests are uncomfortable and not recommended.
Pick a vest with adjustable straps and the right chest size.
---
Pockets
Fishing needs you to pack all the crucial gear and equipment you will need.
You can have some in your boat, car trunk or backpack, but there are a few that you will need to carry on your body for easy access.
Swivels, hooks, baits, flies and a few personals need to be within close reach hence the need for some pockets on your fishing life vest.
I wouldn't say you need one with plenty of pockets since there are minimalistic designs with two or three pockets and an attachment point but still perform better than those jammed with 8-10 of them.
Pockets in the chest and belly area are the easiest to access.
Also, it is better to have them zippered to prevent your stash from dropping in the water with the slightest bend.
Attachment points like lash tabs, D-rings and the likes are great for holding hanging tools.
---
Buoyancy Rate
Buoyancy helps your head and part of your upper body remain on the water surface when in high waves.
It is best to select a fishing life vest with a buoyancy rate of 15.87 kilograms or 35 pounds but consider your overall weight too.
I see some pro anglers who know flats and bay areas better using some between 22 and 26 pounds, but that is because of their expertise.
The look and design will depend on your taste and preference, and for some anglers aren't a primary consideration.
If going out with kids and you need a fishing life vest for them, there are more considerations because of their size, age, comfort levels and handling (I might have this in another post as it is a broad topic).
---
FAQs – Questions about Fishing Life Jackets
---
Q) Should fishing life jackets be cleaned in the washer?
A) It is advisable to hand wash your life vest and, most importantly, clean visible stains immediately you spot them.
We recommend rinsing it after every use and drip dry before storing it in a cool and dark place.
Q) How should the life jacket fit?
A) Your life jacket needs to fit well for proper functionality, and I can term it as a snug fit that isn't tight.
It should be a comfortable snug and shouldn't ride up, nor should the shoulder straps extend over the ears when you pull them.
Q) Can I reuse an inflatable life jacket?
A) After every use and inflating the inflatable jacket with carbon dioxide from the cylinder, it needs replacement each time it is turned on or refilled with gas supply.
Q) How long can a fishing life vest last?
A) This depend on care, maintenance and handling.
With proper maintenance, it should last over a decade and if you have an inflatable one, regularly check the carbon dioxide cylinder.
Always inspect your vest for tears, rips or seam bursts as these will affect its performance on the water and longevity.
Q) Other than safety, is there another reason I need a life jacket when fishing?
A) The law – As an angler, you are advised to stick by all the rules and regulations of any fishing spot you are casting in, regardless of its location.
It is illegal not to have gone on in some areas like lakes, impoundments, the sea, and water bodies with deep water.
Q) Can a teen fit in an adult fishing life jacket?
A) It depends on its construction and size.
Ensure to get the right measurements for them and compare with the vest you have or want to buy before giving them to wear on the water.
Otherwise, some manufacturers produce fishing life jackets for kids and teens (L.L. Bean does a great job on this).
---
Conclusion
---
So, which life jacket is most sensible?
That is dependent on you and what you are looking for.
While every angler MUST own a good fishing life jacket, not all of them are ideal for the sport.
The best fishing life jacket should allow for ease of movement and at least have a storage compartment to have small gear at hand.
Besides, consider the waters you will be fishing as some are built for lake trolling while others for whitewater conditions.
An inflatable life jacket will be the best if you are a physically fit, active and confident swimmer.
Also, it is the perfect one for buddies who are okay with little routine maintenances from time to time.
You will not get a less obtrusive one, and they are effortless to throw on and use.
Older anglers and those who aren't physically fit will find more confidence in hybrid fishing jackets.
These are also excellent if you want one that has places to stash leaders, tippets, flies etc.
Regardless of your choice, remember that a life jacket helps save your life ONLY if you are wearing it.
Last update on 2023-12-08 / Affiliate links / Images from Amazon Product Advertising API
This product presentation was made with AAWP plugin.