Disclosure:
Just to be open and honest the buttons and links you click on in the website will in most cases take you to another website where you can purchase the products I am reviewing. As an Amazon Associate I earn from qualifying purchases.
August 7, 2019
NRS Chinook Fly Fishing Vest PFD Review – A Blend of Safety and Storage
''Drowning.'' The thought of it makes many tremble in fear. What if you drown and there is nothing or no one to your rescue? Death. Advancement in technology has seen a few manufacturers producing safety jackets, life jackets, and PFDs like the NRS Chinook Fishing PFD. This personal flotation device is the single most vital piece of outdoor safety gear.
Especially when fly fishing or kayaking. As this one plays a major role in safety gear, with anglers in mind it doubles as a great fishing vest. Honing in on a good fly fishing PFD that is a blend of safety and storage can be daunting with the wide variety available in the market to choose from.
It is easy to get away with any PFD of your choice as long as it fits well and has certification by the US Coast Guard. You need to know that most of the personal flotation devices are majorly for recreational boating. Their downside is that their inactiveness and limit of freedom of movement. You know you need flexibility and maneuverability to cast a rod or paddle a kayak.
Investing in the right fly fishing PFD is well worth it, it doesn't matter if you are a serious angler or not. Usually, there are five categories of PFDs and the Chinook falls under the 'TYPE III PFD'. This means that the wearer gets a full range of motion when casting or paddling.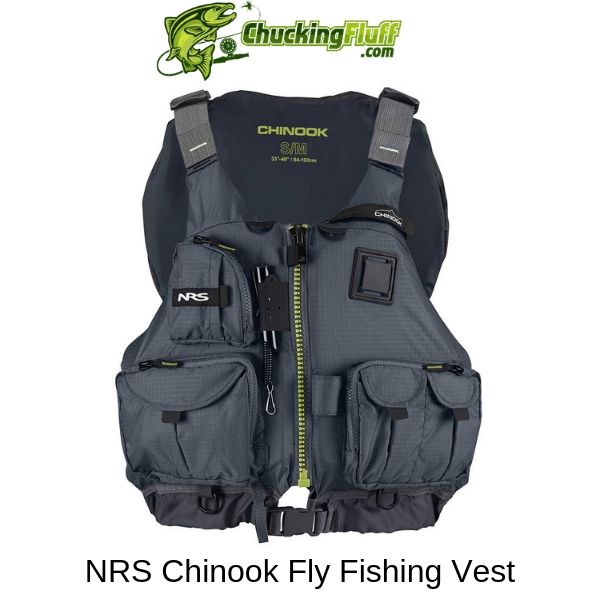 ---
Check NRS Chinook Amazon Price
---
The NRS Chinook is made from high-quality material and the life vest is very practical. Designed with anglers to be lifesaving in an emergency, this is one thing you need. Laden with all the necessary features that a superb angling vest should have, you are sure to be safe and with everything you need for a fishing tackle. There are pockets for organization and attachment points for your accessories.
So far, it is among the world's best-selling PFDs for anglers. Its design makes you very effective on water and nothing can beat the fly vest's comfort. It delivers about 16.5 pounds of floatation which is a good deal especially if you aren't a stronger swimmer. However, you need to have in mind that the more floatation or buoyancy a fly vest has, the bulkier it gets.
Comfort is made possible by the soft PlushFIT foam flotation and the high-back design that can go well with all types of kayak seats or rafts. Warmer days can get uncomfortable to go out. The heat, the sweat, and the pressure to work or have fun isn't a good combination. The lower back of the Chinook fly vest has high-grade mesh fabric for more ventilation.
The vest's bonus is in how well it zips up to ensure it secures the wearer's body. The adjustability at the shoulders gives you flexibility and allows for mobility. You can cast well and reel in a big fish. There are very many exciting features of this life fly vest that you need to know. Stick here for more.
---
Key Features of the NRS Chinook Fly Fishing Vest PFD​
Material – NRS Chinook fly vests are made from high-quality 200 Denier ripstop nylon coated with urethane. The lower back is made from mesh fabric. 200 Denier means that the nylon fabric is thicker and stronger.
Ripstop nylon is abrasion resistant, durable, thicker though lighter, and is the material currently used in most high-quality camping, angling, and hiking wear. Ripstop nylon also has water resistance features. Quite a good idea for such a kind of fabric construction.
---
Type of PFD – This one falls under the type III which is inflatable. PFD in this category are for fishing, kayaking, canoeing, and personal watercraft operation. The minimum buoyancy here is 22.5 lbs. The Chinook vest falls below the maximum mark which makes it perfect to serve you. The chances of immediate rescue when wearing this fly vest are high. The vest keeps the bulk of the floatation far from the shoulders and arms. To give a full range of mobility.
---
Floatation – Buoyancy keeps your chin and head afloat right above the water. With a floatation of 16.5 lbs., as long as all factors are constant, there is nothing to worry about. You need to know that there are other factors like lung size, body fat, and weight, state of water, and clothing that will affect floatation.
---
Pockets – There are two large front pockets, one on each size for your fly boxes or small tackle boxes. The pockets have internal organization and have two accessory pockets accessed via hook and loop closure. There is a tool holder pocket for your tools and angling gadgets. You can store everything you need if you are packing light.
---
Closure – Hook-and-loop closures are on the smaller accessory pockets while main pockets have durable zippers with pull tabs for more ease of operation. The front entry is accessed via the main zipper that has a smooth operation.
---
Attachment Points – Among the tools of attachment are a knife lash tab, a strobe attachment point and a rod holder for your magic stick. The attachment rings are very durable and made from corrosion and rust proof material for functionality and durability. Attachment points lets you customize your jacket to suit your needs.
---
Foam – This one uses soft PlushFIT foam floatation which easily conforms to the wearer's body. This is a feature you will love for added comfort. Though the panelled foam makes the life jacket bulkier, it has automatic buoyancy, more storage, and low maintenance.
---
Design – Its high back design is unique and fully functional. It makes it usable for use on any raft, kayak seat or canoe. As it adds to comfort, it sensitizes safety. The design is also adjustable at 8 different points. There are 4 adjustment points on the side, 2 on the waist, and 2 more on the shoulder.
---
Ventilation – Taking on the modern design, this fly vest has a mesh fabric construction on the lower back. This is necessary for warmer and hotter days. Air circulation enhances comfort by ensuring the wearer is dry and cool at all times.
---
Recommended Use – Quite versatile and you don't need to have a drawer full of outdoor sports vests. You can go hunting, recreation, fishing, and is perfect for kayak fishing in it.
---
Available Sizes – This charcoal Chinook fly vest is available in small, medium, large, extra-large, and double extra-large.
---
Certification– The NRS Chinook Fishing PFD has received certification from the USCG-United States Coast Guard and placed in the Type III category with regards to its construction and performance specifications. There are 4 more categories and if you need a different type, you can compare on the USCG classification chart.
---
Profile – The medium profile covers a larger part of the torso area though it has thinner panels. Not so different in properties when compared with the high profile. The major difference is in the sizes of the panels.
---
Customer Thoughts on the Chinook Fishing PFD
If you weigh almost 200 lbs., the large size will fit like a glove. The storage is ample and you easily get everything close to you. The black floatation was a great idea and it rests well on top of your kayak seat. It is convenient and durable for any angler.
Apart from the pliers' holder getting rust a little bit, everything is fine. The great thing is that it is replaceable. The foam is soft and high-grade. Zippers are fully functional and overall the fly vest fits well and it is almost difficult to notice you have it on.
Despite not having reflective material, it still performs its life-saving feature. A few friends had reflectors sewn in theirs and I think it is a good idea especially if you love fishing in the night.
The fabric construction is superb. Mesh on the lower back side allows for free air flow and if you had layered pretty much, you still feel fresh and dry as the cold air beats on your clothing.
---
Pros

– Things that shine on the NRS Chinook Fly Fishing PFD
Adjustable at 8 points to customize the fit
Comfortable for all-day use
Durable fabric construction
Excellent ventilation
Water resistant and lightweight
Enough storage space and attachment points for light packing
Comes in various sizes
Fits perfectly even when ordered online.
Cons

– Things that are not so cool!
The pliers' holder corrodes when exposed to agents of rust. It is replaceable though.
Doesn't have drop down platforms
No reflectors or reflective material on it
No pocket clips
---
---
FAQ's – Questions about the NRS Chinook Fishing Personal Floatation Device
Q) Are the zippers made of metal or nylon?
A) These ones are made from nylon to allow for use in all environments. This prevents any chances of rusting or corrosion.
Q) Can this fly vest be used on a float tube?
A) No worries. You can use it in your fishing float tube and still remain comfortable and access your tools pretty easily.
Q) Are the pockets waterproof or water resistant?
A) They are water resistant and will keep your items safe from damage for a short time. Invest in waterproof pouches for your valuables.
Q) What is the attachment pint positioned close to the heart area used for?
A) That is a knife holder but can hold any other tool or accessory with a clip.
Q) How heavy is the NRS Chinook Fishing PFD?
A) It weighs 2 lbs. 2 oz.
Q) What about female anglers who would love to get this fly vest for their sessions? Are they available in female versions?
A) The gender specification is unisex. As long as your measurements match those on the sizing chart, don't lose a chance of owning one.
---
Final Verdict on the Autumn Ridge Traders Fly Vest
It is obvious and a necessary evil that anglers carry with them lots of equipment and gear. The NRS Chinook vest is comfortable and practical. Quite a solution to the gear packing problem that most fishermen have. Type III rated PFD, this is one of the best options which offers a lot of peace of mind, especially when on water.
There are tons of pockets for gear storage and a bunch of attachment points for your tools and accessories. This is what most anglers look for in an ideal safety fly fishing vest. Fitting is not a problem because you can make adjustments at the waist shoulders and neck to ensure you remain comfortable throughout.
The overall construction and design of the Chinook is key to its safety and protection. It is made from high-density ripstop nylon which translates to its functionality and durability. With the high floatation pad and the half mesh back, you gain more comfort whether you are kayaking or casting. After going through most of the fly vest's reviews online, we discovered a lot of positivity and a few critics which can easily be worked around to ensure that the life vest suits all your storage and safety needs. If you are an excellent DIY lover, you can attest to this.
Well, there is nothing we have left out in our exclusive review. If any, drop your questions in the comment section for further engagement. Meanwhile, this fly vest falls in the category of the best PFD for the money. It might be costly if you are working with a limited budget but this shouldn't be an issue as such considering we advise our readers to invest without compromising durability and performance.
There are more fly vests in the price category of the NRS Chinook Fishing PFD. You can choose on the MAXIMUMCATCH Maxcatch Fly Vest Pack, Kylebooer Multifunctional Fly Fishing Vest, Redington First Run Fishing Vest or Anglatech Unisex Fly Fishing Vest Pack. The performance with regards to price point is unmatched and you will love it. Store, stay safe, and fish in the NRS Chinook life vest.
---
Check NRS Chinook Amazon Price
---