Disclosure:
Just to be open and honest the buttons and links you click on in the website will in most cases take you to another website where you can purchase the products I am reviewing. As an Amazon Associate I earn from qualifying purchases.
April 25, 2019
Redington VICE Fly Fishing Outfit Review – Rod and Reel Combo
Redington manufactures high-grade entry-level, mid-range and professional fly fishing reels and rods. On most rivers, streams, and lakes, there are high chances that anglers had their first fishing experience using a Redington reel or rod.
Thousands are still happily fishing with gear from the Mighty Redington. The Redington VICE Fly Fishing Outfit – Fly Rod & Reel Combo is designed to offer an exclusively great experience to beginners and intermediate fishing combo. Pros too will be appreciative of its performance when it lands in their hands.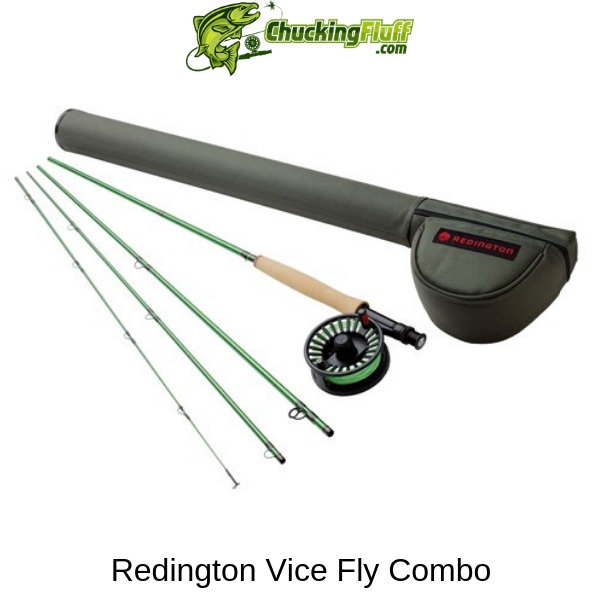 ---
Check Vice Combo Amazon Price
Check Vice Combo Web Availability
---
The Redington VICE is a symbol of class and style. With an easy-casting rod built as a fast-action, it is accessible to anglers of all levels as long as you can be a step ahead of the timing. Otherwise, you might find it above your skills. If you have a keen eye for detail, you will realize that carbon fiber makes some of the best fly fishing rods.
The blank of the VICE is made from multi-modulus carbon fiber to increase recovery levels and allows for accurate casting. You won't be able to resist this masterpiece. It features alignment dots to allow for easy setup. If you are an amateur, it becomes easy and takes a short time to prepare before getting on the water. Redington minds the safety of your fly fishing outfit and includes a Cordura rod tube in the package.
The tube's inner side is divided into four sections to allow a disintegrated rod to securely fit in the tube. You will love this attribute since it makes transportation of your gear to your fishing spot easy. More storage and protective features are in the rod and reel case. Protecting your outfit saves it from the effects of physical impact, dust, sand, water, and other inhibitors that affect the durability and performance of your outfit.
---
Main features of the VICE Fly Fishing Outfit
Redington VICE Fly Fishing Combo comes complete and ready to use. Redington is famous for reel and rod production. Despite stocking apparel and accessories, fly lines are not part of products on their manufacturing list hence pairing their combos with high-quality fly lines from renowned brands. The VICE comes with a Redington VICE fly rod Redington i.D reel that is pre-spooled with a RIO Mainstream fly line, a Cordura rod tube, a reel, and a rod case.
---
4-piece Construction – The Redington VICE Fly Rod is a four piece rod. This translates into its ease of storage in its Cordura rod tube and case and smooth and safe transportation to your fly fishing spot. Quite a great feature for backpacker travelers.
---
Alignment Dots – Featuring alignment dots, it becomes easy and quick to set up your fly rod. Unlike manual setup that requires keenness and takes much of time, you would have been on the water, this one is a gem and stress-free to use.
---
Blank – The blank of the rod in the Redington VICE Fly Fishing Outfit – Fly Rod & Reel Combo is made of multi-modulus carbon fiber to create the strongest backbone you feel when holding the VICE. It increases the levels of line recovery allowing you to cast accurately and have greater control.
---
Fast Action – Its classic fast action allows a fisherman to shoot the fly line longer distances. It is a great weapon in castability and just like a rifle that needs excellent timing skills to hit the target, so does this rod. Novices who are yet to familiarize with fast-action rods will need proper training before finding the VICE manageable.
---
Redington i.D Fly Reel Key Features
Arbor Size – All Redington i.D Fly Reels have large arbors helping you to fish with substantially great ease. The reeling with this size of arbor is lesser as the retrieve rate is higher. Bigger coils of line come off the reel allowing for easier casting and fewer tangles.
---
Drag Type – Built with a Rulon disc drag system, it is the commonest and offers the most fish stopping power. The starting power is smooth to protect lighter tippets and maintains consistent pressure in the entire battle. A disc drag system will offer a wider range of adjustments to enable an angler to meet any conditions at that time.
---
Personalization and Identification – The flat black surface accepts custom decals that will represent almost anything from your address, symbols, name or initials. It is easy to chuck the remove the decals or make swaps to update the look of your reel from time to time.
---
Die -Cast Aluminum – These type of reels are more impact resistant than plastic reels. If you are a domestic or occasional angler, cast aluminum reels will do. Exercise a lot of caution when subjecting Die-cast aluminum reels to a saline environment. Salty water corrodes this kind of aluminum quickly.
---
Rio Mainstream Fly Line Key Features
Rio Mainstream fly lines have been designed to meet the general needs of novice, intermediate and pro anglers. They optimize the performance of the fly rods that have shorter heads lengths that are slightly heavier. Its overall length is 80'. The front welded bullet-proof loop allows for fast rigging.
---
Other Aspects of the VICE Fly Fishing Combo
Main Materials – The blank of the rod is made from multi-modulus carbon fiber for greater accuracy and control. On the reel is Die-Cast Aluminum that is stronger and durable to take up any abuse while in water. Stripping guides are made of ceramic to add stability to the VICE rod.
---
Handles – The rod has a reversed Half-Wells Cork handle smaller size models and Full Wells cork handles with fighting butt on heavier and larger size rods. It is comfortable to hold for long hours and offers supreme control and grip.
---
Real Seat – The reel seat is made from laser-etched anodized machined aluminum that complements the design of the rod. Rod identification is quick since the model reference number is etched on the reel seat. Having an anodized seat allows for using the rod in any environment. The anodization process prevents corrosion and rust.
---
---
Rod Length – Redington VICE Fly Rod in this Redington VICE Fly Fishing Outfit – Fly Rod & Reel Combo review measures 9 feet and breaks down into four pieces. Although the VICE rods come in different models the lengths and weights vary. The shortest is 7'6'' and the longest is 10'.
---
Drag System – The Rulon disc drag system has been independently performing in most of its reels. Hardy too uses this type of drag system that sees greater fish-stopping power and a smooth startup and great control even as you fight the fish.
---
Capacity – The Redington VICE Fly Fishing Outfit 5 weight 9 feet 4 Piece rod has a capacity of 100yards 20lbs.
---
Weight – Redington VICE Fly Rod in this review weighs 3.1 oz. The Redington i.D Fly Reel weighs 6.0 oz. generally, it is a lightweight combo that novices and avid anglers can use.
---
Warranty – Redington issues a lifetime warranty to the original owner to cover the VICE combo. In case of defects in workmanship, you will get a replacement. For any repair needs as stated in the warranty, as long as terms and conditions are followed, the manufacturer will help.
---
Customer Thoughts on the VICE Fly Fishing Outfit
The Redington VICE fishing outfit gives excellent feedback throughout the cast and the accuracy is incomparable. Its rod matches other higher end rods in aesthetics, quality, and performance.
Accompanying the combo with the i.D reel was awesome. It looks sleek and has an amazing drag for its price. Once you have a feel of it, you will confirm that it feels crazily durable and perfectly made. Definitely didn't disappoint.
It is a great first outfit if you are new to the game. Basically, it comes with everything you need for casting and with the warranty, you won't go wrong when you need repairs or a replacement.
Everything about the setup is superb. You only need a fly on the end to make a cast. Quick to align and isn't complicated at all.
The fact that the rod has an anodized reel seat means I can use it with my machined aluminum reels for fishing in salt water. It saves a lot here.
Protective and storage cases are durable and easy to clean especially when they get mud or dust stains. You can easily pack your gear in your bag and head on.
---
Pros

– Things that shine on the Vice Combo
Fast action rod
Well-built rod
Anodized reel seat
Comes with a Cordura rod tube, rod and reel case
Large arbor reel
Pre-spooled reel meaning it comes ready to use
Rod with alignment dots for easy setup
Effective Rulon disc drag system
Line with a front welded loop for fast rigging
Cons – Things that are not so cool!
The VICE rod feels heavier and is clunky when casting shorter distances
---
FAQ'S – Questions about the VICE Fly Fishing Outfit
Q) Do you have to spool the reel before use?
A) No, the reel in the Redington VICE Fly Fishing Outfit – Fly Rod & Reel Combo comes pre-spooled with the Rio Mainstream fly line.
Q) Does the 5 weight 9 feet 4 piece combo come with a rod with a fighting butt?
A) Your specified rod falls in the category of light rods, therefore, it has no fighting butt. The heavier rods have the butt.
Q) Is the fly line a sinking line?
A) What comes with the VICE combo is a weight-forward floating line.
Q) Can you use the combo in salty water?
A) Yes, though other gear will be affected in terms of performance and durability. The rod is usable anywhere but the reel isn't anodized and that is where the problem is.
Q) Does the combo come in a right hand retrieve?
A) Most are set up as left hand retrieve but you can turn it to either the left or right hand retrieve.
Q) What is the capacity and diameter of the i.D fly reel for a 3 or 4 line weight?
A) The capacity is 75 yards 20 lbs. and the diameter is 3.10'' and 5.7 oz. for the reel specifications.
---
Final Verdict
Redington VICE's fast action means that it is stiffer in the lower part of the rod that the other action rods. This makes it a catch for intermediate and professional anglers. We aren't saying that it will be useless for those at entry level.
How fast you are at timing and sharpening your skills will make you as a novice ready to use this combo. The combo performs excellently at medium and long distances. A bit clunky at short distances and this is one of its drawbacks.
The outfit comes alive at medium and long range casts and is surprisingly accurate. It will impress you since it performs way better than most expensive combos.
For distance, it is astounding. Although it is slightly heavier in the hand, it is functional. It loads quickly and the casts that result in the end are long. It cuts the wind sharply and allows you to cast with ease. The aesthetics will make you marvel.
---
Its cork handle is epic and the laser etching allows for easy line identification. If its reel lets you down, then you must be a very demanding angler. It is never that strict like in the military. There isn't any excuse for not landing big fish.
Time to put this well-assembled outfit to test. First, preorder for your nest fly fishing session. If you are unable to find this combo in your nearest store or favorite online shop, no biggie.
You can choose any other models of the same VICE combo that will suit your fishing needs. Proper care and maintenance are vital for prolonging the lifespan of your combo. In short, the Redington VICE Fly Fishing Outfit – Fly Rod & Reel Combo is FIRE!
---
Check Vice Combo Amazon Price
Check Vice Combo Web Availability
Check Full Combo List
---