Disclosure:
Just to be open and honest the buttons and links you click on in the website will in most cases take you to another website where you can purchase the products I am reviewing. As an Amazon Associate I earn from qualifying purchases.
November 22, 2021
Wild Water Deluxe vs Orvis Encounter Fly Combo Review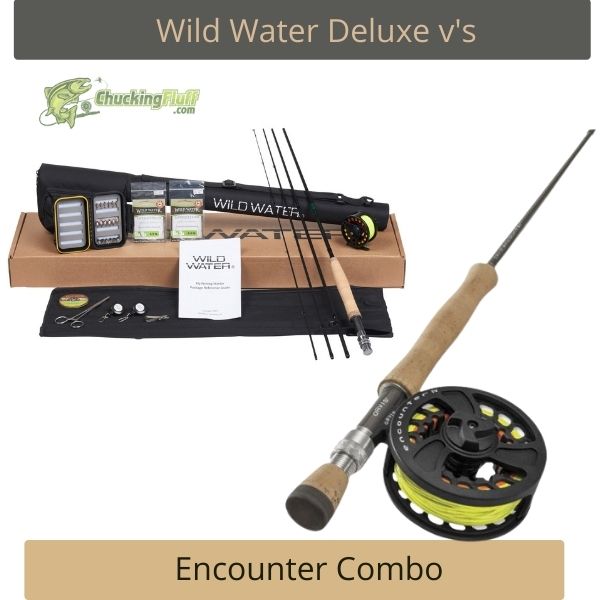 Interested in fly fishing?
Kick-starting your journey especially if you know nothing can be daunting. But, with the right channels and reference material, you will be heading towards being a pro.
It isn't a small task as it is equipment intensive. Well, you will need patience and dedication.
If the urge is unbearable, getting the best combo kit is the best thing to do. Diving in affordably is what we advise any rookie to do.
For beginner starter packs, Wild Water Deluxe 5/6 9ft Fly Fishing Combo and Orvis Encounter Fly Fishing Combo kits are among the best options to select.
The packages come with a rod, reel, and fly line and is complete, ready to use from the box. Manufacturers prefer to pre-spool these fly combos as novices are yet to learn this.
What you need is a favorite matching fly with the happening hatch and good protective gear to hook a buddy.
Why Combo Packs?
Anything combo in the market comes at a very subsidized price.
If you were to separately purchase the reel, line, and rod that would have been enough to get two excellent budget-friendly rod and reel outfits.
Brands strive to skive the huge spectrum of the cost of these items individually. And for sure, it is a punch for your buck.
Wild water and Orvis among other brands are doing this and no doubt, they witness more sales of combos by new anglers.
As a learner, you need to hone your casting skills. Fish catching will come later once you are sharper at throwing your fly to target pockets.
Casting has its dynamics and any hopeful pro should learn while still new in the game.
As a rookie gaining experience with the basic equipment is a vital step towards the professional level.
We aren't discouraging you from purchasing high-end rods and reels. It is very awesome to cast with them but as a beginner, that isn't a necessity.
What if you don't find the sport interesting?
What Now?
We recommend starting with a slow or moderate action rod. Some enthusiastic newcomers take the challenges by their horns and pick fast action rods-still great!
However, fast action rod combos are stiffer and meant for wind-breaking and battling monster fish.
Slow and medium actions have more flex and will work well in close ranges.
They work well with nymphs and dry flies.
If you'd like to get a feel of what it is to fish a slow or medium rod and a fast rod at the same time, there are medium-fast action rods that allow you to change fishing styles and techniques at will depending on the situation.
The rods in this review fall in the slow and moderate category and for the majority of novices, this is what you should be looking for.
The reel isn't a primary component when learning how to fish with a fly. Your reel's crucial job is holding the fly line.
If you are in pursuit of powerful species, getting a good-quality drag will be ideal. As a novice, spending so much on a reel isn't worth it.
Your rod and line have everything to do with learning how to fly fish. As you shop around for the best combo kit for angling, know that the rod and line should be key.
---
Wild Water Deluxe 5/6 9ft Fly Fishing Combo Review
We love how super-inclusive this assortment of gears is. They set you up for a water session without needing many more supplies.
The package comes with retractable zingers, nippers, tippets, forceps, a fly box, and flies. Isn't this a ton of gear?
There is a fly rod backed by a very impressive lifetime warranty. Considering how cheap the combo is, the warranty is such a bonus.
The rod might not be like the other expensive options but is excellent value for the much it goes for.
The rod is a slow action with mid flex and made from IM8 graphite and will feel a little different than the moderate action or medium-fast rods.
For very new anglers, this flex index isn't bad for learning especially with nymphs and dry flies.
When you break down the cumulative amount of the gear, the rod alone costs much but buying everything as a pack is a relief to your pocket.
It is one of the solid buys that can toss you into the fly fishing world without feeling bankrupt.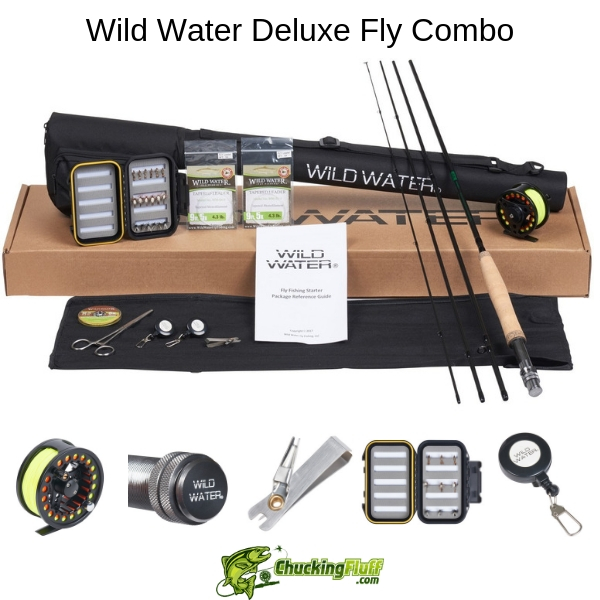 ---
Key Features of the Wild Water Deluxe 5/6 9ft Fly Fishing Outfit
Rod Action – We recommend a slow action rod for anglers who would love to go step by step in learning how to cast and fish various techniques. This one allows you to focus on one and advance to the next with a moderate action rod.
Reel Seat – Wild Waters makes the reel seat from machined aluminum and adds a sliding ring to secure the reel hood and prevent it from dropping in the water. Also, its construction allows for use in saltwater areas.
Storage – The rod is a four-piece and disintegrates into equal parts. It comes with a durable rod sock to allow the rod pieces to fit in well.
Arbor Size – Large arbors are excellent for improving the line retrieve that allows for less reeling. Bigger coils of the line come out of the reel making you cast perfectly with minimal tangles.
Conversions – The reel comes programmed for the left hand retrieve. However, you can change to either side. This is ideal for people using the left or right hand to fish.
Construction – The reel is from Die-Cast Aluminum which is delicate and will need you to be cautious as you handle it. It has a disc drag system that has more stopping power. Also, it starts up smoothly to prevent lighter tippets from breaking.
Fly Line – Wild Water spools the reel with a weight-forward floating fly line that you can easily see from far. We attribute this to the brighter chartreuse color. You don't need to struggle to detect the strikes and monitoring your flies. The taper is weight forward to give more heft to the fly line and ensure easier casting. At 90 feet, the distance is recommended for new anglers.
---
Pros – What Shines!
Complete package with extra tools
Very affordable and subsidized
Easy to use for beginners
Warranty on the rod
Cons – Concerns
Amateurs and pros will not find it at par with their skills
The reel grinds a little
---
As a renowned angling outfitter, Orvis minds new anglers hence releasing this entry-level fly fishing combo.
Having been in the year for over a century, no one would imagine that the company would still be this considerate.
If you are looking for an outfit that is built by a trusted brand, this one will not fail. The tag is reasonable and there are no counterfeits of the Orvis products in the market.
As you invest your money, carry along the trust as Legit is Orvis' second name.
Featuring a mid-fast action rod, a daring new caster who'd like to take the challenge and see how different casts feel would love this one.
It teaches you timing skills and allows you to practice various techniques with one fly rod. It delicately presents nymphs and dry flies and the versatility is what you will love.
Although it is in the entry-level category, the fly line feels and looks like a high-end setup. The handle is of the right size to grip and made from pure cork.
The reel is from composite material and features a stainless steel disc drag system that you can convert to any side.
It comes pre-spools with a weight forward line and backing. Also, Orvis includes a leader. We love the quality of its fly line as it is what gives the difference when casting.
You are sure of long-term line use as the company designs nothing less than good quality.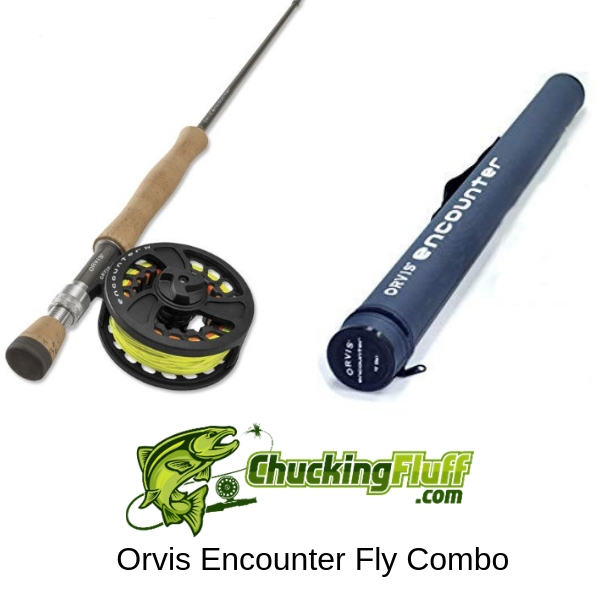 ---
Main Features of the Wild Water Orvis Encounter Fly Fishing Outfit
Rod Action – A moderate fast rod action is versatile in terms of styles and techniques. A new angler who chooses this invests in a fly rod that they can carry forth to their next level of expertise which is a good thing to do.
Arbor Size – Another one with a large arbor, such rods give you an easy time to retrieve your fly line as it takes a short time and the action is smooth. This ensures that your line is in good condition to save you the detangling time.
Drag System – The disc drag system is the commonest in the market and so far the best compared to others like the click and pawl drags. It is powerful and gives enough power to stop a fish. If you are drifting from a boat, such a system is what you need.
Construction – Orvis designs the fly rod from high-grade graphite for durability and functionality. There is more flex in the tip making it ideal for use with various types of flies.
Retrieve – You get this combo as a left hand retrieve style. However, Orvis has directions on how you can alter the sides on their site.
Fly Line – To complete the rod and reel set up, the Encounter weight forward line is what the manufacturer spools on the reel. It is easier to load the rod ad you can cast larger lies and work in the wind without any problem.
---
Pros – The Good!
Affordable combo
Comes as a complete set
Easy to use and maintain
Cons – Concerns!
Composite reels are very delicate
---
Similarities between the Wild Water Deluxe and Orvis Encounter Fly Fishing Combo's
Both packages come with rods, and pre-spooled fly reels.
The reels in the Orvis and Wild Water setups both have large arbors.
These two rods are made from graphite material for functionality and durability.
Both manufacturers include protective storage areas for the rods for easier storage, portability, and transit.
Retrieves of both outfits are programmed for the left-hand side but you can change to the right and back at will.
Fly rods in both packages have four pieces and are 9 feet long.
For the fly reels, Orvis and Wild Waters use weight-forward fly lines to give you a floating experience when throwing your flies.
Disc drag systems are present in both reels.
The reel seats are made from anodized aluminum to make the rods usable in any environment.
You can spot cork grips on the handles of the combos
Differences between the Wild Water Deluxe 5/6 9ft Fly Fishing Outfit and Orvis Encounter Fly Fishing Outfit
ASPECT
WILD WATER DELUXE COMBO
ORVIS ENCOUNTER COMBO

Package Content

Wild Water Fly Rod, cloth rod sock,

protective case, small fly box, fly assortment  

Die-cast reel, 3 monofilament leaders,  reference guide, forceps, tippet nipper, retractable zinger, weight forward fly line

Encounter fly rod, Encounter 

fly reel, weight-forward fly line, backing and leader

 

Warranty

Lifetime on the rod                                                                          

Limited Warranty on

Workmanship defects

Reels

Die-Cast Aluminum

Composite

Storage

32'' hard rod tube case with a reel pouch a

nd storage side zippered pouch, rod bag

Cordura rod case

Spare Leader

Inclusive of the package

No spare leader
Conclusion
Fly fishing has been and is still the most rapidly growing water sport in the world. It isn't like bait-casting or other freshwater techniques that need different skills.
It needs a lot of planning and thought. It isn't by accident that you will catch a fish with a fly rod but through more practice and the right gear. This is where combos like the Wild Water Deluxe 5/6 9ft Fly Fishing Combo or the Orvis Encounter Fly Fishing Combo come into play.
As you prepare to purchase a beginner fly combo, we advise that you start here.