Disclosure:
Just to be open and honest the buttons and links you click on in the website will in most cases take you to another website where you can purchase the products I am reviewing. As an Amazon Associate I earn from qualifying purchases.
October 1, 2020
Redington Vice Combo V's Orvis Clearwater Combo Review
Redington Vice Combo V's Orvis Clearwater Combo Review
Redington is a renowned brand and manufacturer of excellent entry-level and mid-range fly reels and rods. Randomly asking a set of anglers, perhaps half or more commenced their journeys with gear from this brand.
The Redington VICE Fly Fishing Combo is meant to work for anyone in the entry-level category. Also, it doubles as a good backup plan for intermediate anglers looking for a cheaper option in case your main buddy fails you.
Orvis 2019 Clearwater Fly Fishing Combo is also an entry-level setup. The Clearwater, just like the Encounter and Hydros have been the best-sellers for this company.
The Clearwater is the oldest of them all and since its launch, the reel and rod have seen several upgrades to what they are now. For every revamp, anglers' feedback has proven that a few improvements here and there can better your fly fishing experience.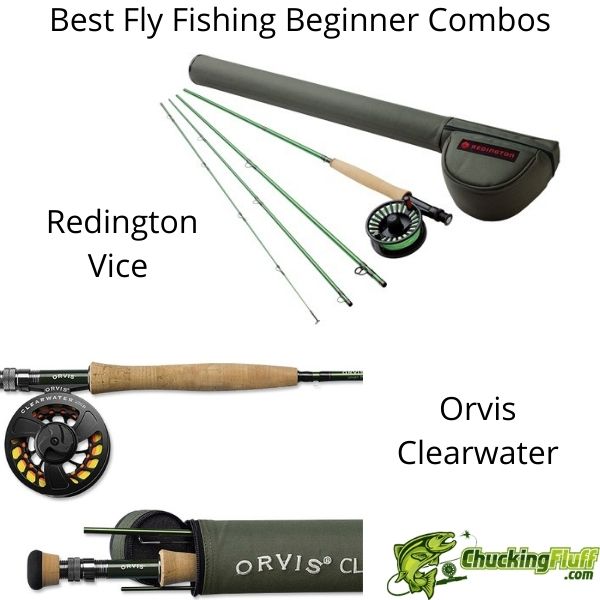 What makes these outfits stand out from the others?
The VICE and Clearwater rods are too angling as DeWalt and Milwaukee are too power tools. We know that selecting the best entry-level fly rods is next to taking on a Harbor Freight.
The Clearwater combo is very light yet feels so good when in action. It is a moderate-fast action fly rod while the VICE is fast action.
The Clearwater remains crisper than relaxed and has a very forgiving action that any novice caster will love.
Medium action rods bend more when casting for short distances making them ideal for shorter to medium casting distances.
Its tip is softer and you will not expect it to do what it does when it comes to tippet protection.
The fast-action VICE rod is stiffer from the lower three-quarter section of the rod and will perform admirably when casting for medium to longer distances.
In good weather conditions and with the right technique, an angler who has a little skill can cast over 75 feet with the VICE.
It comes alive with most mid-range casts and feels surprisingly good and accurate. You will be astounded when going farther if you are a first-timer.
The combo is slightly heavy in the hand but performs exceedingly for distance than the Clearwater.
What's are the Fit and Finish like?
An aspect of the VICE that strikes us first is the blank. The bright green looks stunning in the sun. You will love how nice the cork handle feels.
More goodies are the laser etching that you find in the back area of your black reel seat, alignment dots for quick rod assembly, and the smooth drag.
As a novice angler, you will be demanding so much for this outfit to be a total let down.
There have been pro anglers who have landed monsters with this outfit so there is nothing that a rookie can't do with it.
The new Clearwater might have retained its previous price but have in mind that the build quality isn't a joke. The Master does his thing with the Nickel aluminum reel seat which makes it look classy.
Have you thought about its hidden function? Superb! As a lighter fly rod, it features the common Full Wells Cork handle that adds to its lightweight while offering more comfort to any angler fishing for minutes or hours.
---
Orvis 2019 Clearwater Fly Fishing Combo Review
Dark grey thread wraps hold the chrome snake guides in position and the cork of this combo is a top-drawer thing and better than what you will come across on most of the budget-friendly fly rods.
We love how nice the black chrome rod blank looks in the sun. To date, it doesn't absorb any scratches.
It will be an understatement to say that we aren't impressed with the Clearwater reel and rod combo. Orvis gives it a Rulon to Stainless disc drag in the Die-cast aluminum large arbor reel.
The whole setup is damn closer to being bombproof. You will love how surprising the pickup is. Very smooth! It adjusts pretty well mid-fight and it exceeds the value that you expect from a reel outfit kit.
In its category, there are rods like the Aetos and Fenwick but Orvis outshined itself in packaging a fantastic kit that a novice would love.
Something boldly designed and fine-tuned to meet the angling needs of a learner. It throws streamers, handles dries well, and can couple up as a nymphing stick.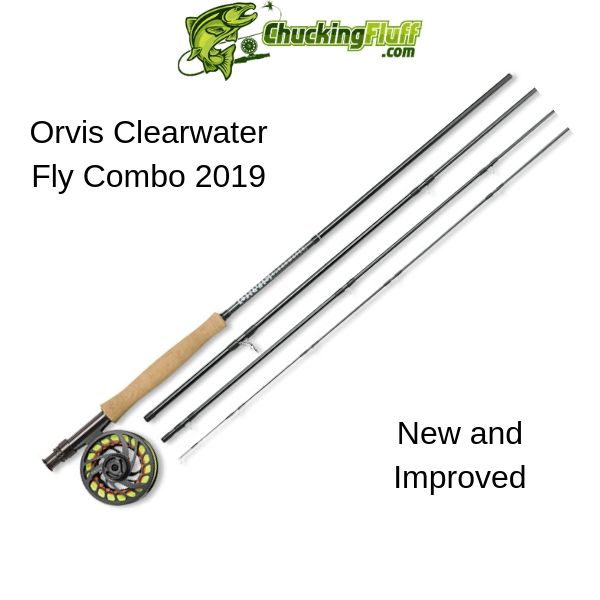 Check Clearwater Combo Web Availability
---
Main Features of the Orvis 2019 Clearwater Fly Fishing Outfit
Rod Action – Being a moderate action fly rod, we love how fast it loads. You can cast it for shorter to mid-range distances without a problem.
Also, the fact that it does well with any type of fly is a bonus. It is a forgiving action that allows you to learn and master your technique before you can advance to a fast action rod.
Handle – Orvis designs this one with a Full Wells Cork handles which is a slight modification of the standard full wells cork handle. It gives a grip style that you will love. It tries to increase the connection between the rod and the angler.
Reel Seat – Aesthetically, the reel seat is proving to win especially when you compare it to the others in its category. The manufacture uses Nickel Aluminum to make it lighter and ensure that it is the bomb for trout, bass, and other fish species. It is resistant to rust and will do well in any environment.
Conversions – Orvis programs the Clearwater II and IV reels for the left-hand retrieve. However, you can make conversions to either side if need be with the help of your spool. Orvis has the instructions up on their site for new users to check out.
Drag System – Rulon to stainless stacked disc drag system is what we are talking about here. Its stopping power is a gem and you can battle and pin a monster about to bolt to a refuge spot. The drag settings allow you to make adjustments to suit your needs at the moment. You will love how smooth it is and the consistency isn't something to disapprove.
Arbor Size –The reel features a large-arbor to improve the retrieve rate and ensure that you can fish effortlessly as big chunks of the line get off the reel reducing the chances of tangling. Also, the size of your arbor will directly influence the consistency of your drags.
Fly Line – The manufacturer participates in numerous environmental programs and we can see this in the new packaging from craft paper and cardboard that are recyclable. The line features the Orvis ID for quick identification. It is a braided core line for use in any environment. The welded loop is for faster rigging and turnover.
Application of the Clearwater Combo
The construction of the Clearwater fly reel and Clearwater fly rod allows for use in freshwater. The manufacturer adds a few features and finishes to try and keep rust and agents of corrosion at bay. We recommend that you give this buddy a quick rinse after each use to prolong its lifespan. 
---
Pros – What Shines in the Clearwater Combo
Easy to use
Affordable entry-level option
For use in any environment
25 year Orvis guarantee
Complete package
Cons – Concerns with the package
For the months it has been in the market, we can't spot anything off with its construction, material, or performance. Stick around for updates.
Be careful with the Die-cast reel.
---
Redington VICE Fly Fishing Combo Review
We promise you that you will sad and long for the next session when it is time to pack up this combo after the first use. At this point, you will notice that you have a big problem that is worth noting.
The root and solution to the issue is fly fishing which is slowly becoming an obsession. Slowly, the obsession will be controlling your lifestyle, thoughts, and finances.
Take the VICE. It will be your VICE chancellor every time you want to try a few flies and see if they can do it right.
Redington has an amusing and clever logo design on this rod. Forget your daily cans of Copenhagen. This one is another bomb. The visual design is just but entertainment value.
Its performance is masterful and you will love how it is on the water. From the versatile fast action to how it feels in the hand, even a pro will agree that it can walk with you in this journey from scratch to break.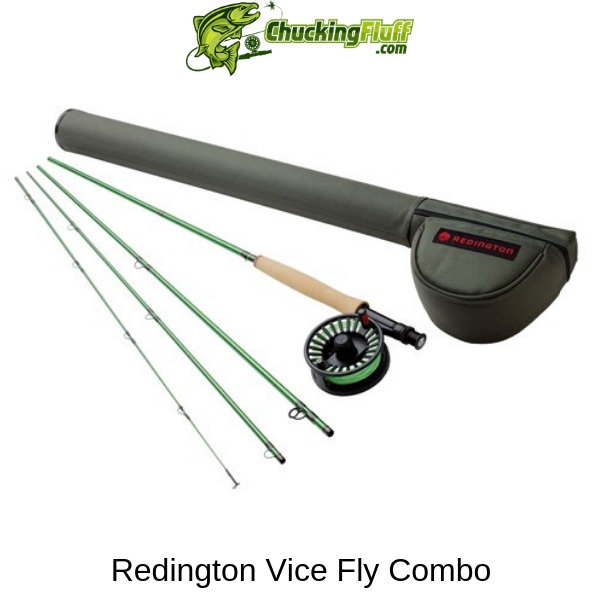 Check Vice Combo Web Availability
---
Main Features of the Redington VICE Fly Fishing Outfit
Rod Action – The fly rod is designed as a fast action that keeps you alert all the time. While at it, you will need to learn and master your timing skills. The action makes it perfect for fishing in the wind as it is a great cutter. For anglers looking for combs that you can use with various techniques, this one is to die for.
Alignment Dots – Sometimes, even an angler waking up on the wrong side of the bed needs help with setting up their fly rods. Redington considers novices, amateurs, and pros wanting to fish on such days by having alignment dots.
Drag System – Here's yet another Rulon disc drag system with the best start-up inertial levels. They are minimal to ensure that it offers smooth drag and protects your tippets from breaking. While you battle large fish, the stopping power does what it should do to ensure that you get that chap into your net real quick.
Arbor Size – This one is large and a norm of all Redington i.D fly reels. Large arbors are the best as they ensure lesser reeling while greatly improving the retrieve. It saves you a lot of time as tangling isn't something to expect. If so, then very few.
Reel Construction – To match the price that it goes for, Redington makes it a Die-cast reel. These reels are cheaper and need a lot of caution as they are very delicate.
Fly Line – The famous RIO completes the setup with the Mainstream fly line that cuts across all skill levels. The line measures 80 feet and is slightly shorter than the recommended length. It comes with a front welded loop for easier rigging.
---
Application of the Redington VICE Fly Fishing Combo
Most anglers would like to try out new things anywhere. Go slow on the Redington VICE combo as you might ruin it if not careful.
The reel construction is delicate and the Die-cast state is prone to rust and corrosion. Avoid using it in saltwater. If you do, give it a thorough rinse and treat it to prevent damage from occurring.
---
Pros – The Good of the Redington Vice Combo
For various techniques
Comes with a rod tube and warranty
Easy to assemble
Powerful drag system
Budget-friendly option
Cons – Concerns about the outfit
The combo is slightly heavy than most in its category.
Exercise a little caution on the reel. Die-cast reels are very delicate
---
Similarities of the Orvis Clearwater and Redington VICE Outfits
Both reels have large arbors.
The two come with Rulon to stainless stacked disc drag systems
Handles are made from quality cork material
The rods are four-piece rods and come ready to use.
Manufacturers back their products with warranties and include rod tubes in the packages.
Orvis and Redington use ID technology on the combos for quick identification.
Lines in the combos are weight-forward floating lines, have front welded loops, and are 80 feet.
---
Differences between the Orvis Clearwater and Redington VICE Outfits
We decide to tabulate the differences between the two fly fishing outfits in the comparison review above for ease of reading and precision. Our primary considerations are in the combo construction.
---
| | | |
| --- | --- | --- |
| ASPECT | CLEARWATER COMBO | VICE COMBO |
| Rod action | Moderate | Fast |
| Package | Orvis warranty, rod tube, Dacron backing, Orvis Clearwater WF fly line, Orvis 2019 Clearwater Fly Reel, Orvis Clearwater Fly rod | Redington VICE fly rod, Redington i.D fly reel, RIO Mainstream Fly line, Cordura rod tube, rod case |
| Warranty | 25 years | Limited |
| Reel Seat | Nickel aluminum | Laser-etched machined aluminum |
---
Conclusion
There is everything good with the VICE and Clearwater combos. The fact that the combos come with warranties makes it even exciting for an avid angler.
These pieces of equipment are prone to damage, especially with mishandling. Sometimes, parts fall off and you need to replace them. It will cost you and might be heavy than the initial price. A warranty will come in handy during such times.
Despite every gold aspect, you need to be very cautious with how you use the fly reels. They aren't substandard but are a cheaper option for anglers who can't afford 6061 machined aluminum reels.
The Die-cast reels are very fragile because of the easy manufacturing process which isn't costly. Have a reel case and bag. Give your combo a proper rinse for longevity.
Check Clearwater Combo Web Availability
Check Vice Combo Web Availability