Disclosure:
Just to be open and honest the buttons and links you click on in the website will in most cases take you to another website where you can purchase the products I am reviewing. As an Amazon Associate I earn from qualifying purchases.
October 8, 2019
Simms Outdry Shell Fly Fishing Glove Review
Simms has one of the largest collections of foul-weather gloves in the fishing tackle industry. You must have seen their Simms Outdry Shell Glove.
It has its sister the Simms Outdry Insulated Glove that has a few features like the Shell Glove.
Simms has a unique choice of material for different gloves ranging from fleece, wool, Gore-Tex to Windstopper and neoprene.
Along with several options like the fold-over mitt and a wide range of sizes, there is a guarantee of continuous warmth, comfort and dryness even as you fish through Mother Nature's worst elements.
Different weather conditions need different fishing gear. Gloves are a necessity in almost all seasons but are a MUST have in cold weather.
Cool days go well with wool half-finger designs. As the storms hit in the early months of the year, neoprene gloves will save the days as you row and handle a big musky.
Windy and cold days can be unbearable if you go out unprotected. The Gore-Tex and Windstopper are the perfect choices for such days.
Fleece keeps your hands warm when damp especially where wool won't.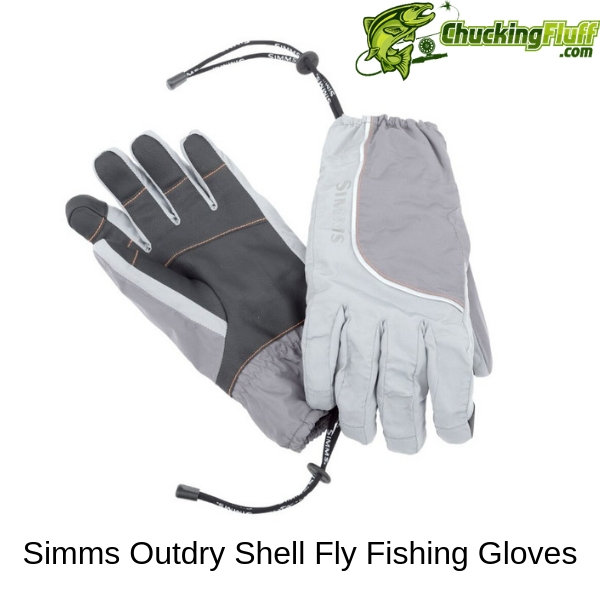 ---
---
Let's be very honest- not even pros like fishing in gloves. Regardless of how thin, they remain restrictive and distractive and slightly reduce feel and dexterity.
What would you do with bare hands on the water on a freezing morning? Sometimes you have no option. It is evident that cold weather fishing can get grueling at times.
The first thing anyone would notice is the price tag. Well, not cheap! This is expected from a reputable manufacturer and retailer like Simms.
Simms is synonymous with making some of the best outdoor gear. It is true to every product from Simms that you get what you pay for.
The materials feel very great in hand and the steel color looks good. If you try them on in your nearest store, they feel warm, very comfortable and have good flexibility and dexterity that is very important when fly fishing.
The inner fabric construction is excellent and provides you with enough warmth.
The underside of these gloves has a very thin layer of flexible fabric. Simms did this to allow the gloves to fit over liner gloves.
With the thin layer, the wearer remains in full contact and control of their fly rod. It gives a good amount of feel as you fish. It is still decent even if not as your bare skin would.
Another thing you will notice almost immediately is the long leash at the wrist area.
Unlike other manufacturers who have most of their gloves with Velcro Straps and buckles or elastic bands, Simms has more of its pairs with glove leashes.
It becomes a breeze to wear and remove the gloves.
The leash is adjustable and ensures the gloves stay put at all times. The last touch that will strike your eyes is the Simms brand name on the top side of the gloves.
It has a reflective coating and was a good idea of the manufacturer with regards to safety consciousness. You are easily seen in the dark if you wear them.
Simms Outdry Shell Glove is designed with fishermen in mind. They can also work well for other outdoor activities like shooting, camping, photography, and sports that need flexibility and dexterity.
The gloves are excellent performers on the water once in a while your hands will still get cold.
This happens when temperatures drop drastically but are better than having no gloves at all. You will lose a little feel and contact with your rod.
It gets better in a very short time. There are more great features of these gloves that you can read below.
---
Key Features of the Outdry Shell Gloves by Simms
Material – A close look at the gloves gives an impression that Simms uses a similar material like that on it its wading jackets to make these gloves. Despite having a very light fabric construction, the gloves remain functional and durable with proper use, care, and maintenance.
Waterproofness – Simms in the product details assures every buyer of 100% waterproofness. This is certain from the few reviews we have gathered from users because of the laminated membrane. It could be among the reasons why the gloves have a relatively high price tag. You can be sure to remain dry and warm for a long time. This is one of the best pair of gloves that an avid angler needs to get.
Breathability – Still at it, there is no doubt about how breathable the Outdry Shell Glove is. 100% to be precise. As the gloves ensure insulation is at the right levels, different bodies will respond differently to warmth. Body processes like perspiration are normal during cold days. The inner layer of the fabric has moisture-wicking properties to ensure it draws all the moisture from the skin to the exterior surface of the gloves and doesn't prevent the entry of moisture from the outside.
Design – A full-fingered design like the G4 and Skeena gloves. This ensures heat retention is at the maximum and safety from injuries is assured. If you'd like other designs still from Simms, you can check out their ExStream Fold over Mitt design or the Half Finger Gloves. The fit is pre-curved to increase flexibility and dexterity. Its design is patterned to allow them to fit over liner gloves easily if you need to layer.
Heat Packs – There are those extremely cold days that you feel like you can conquer. Simms designed these gloves with heat pack pockets for optimal warmth on such days. They are on the wrist area and are convenient when the weather gets worse.
Leash – The gloves have a glove leash to allow for easier removal and wearing. The leash has a tab to secure you're the drawn leash and keep the gloves put for as long as you want them on. The leash is of a good length and doesn't get into your way as you fish.
Technology – A tech finger design makes it easier to operate any gadget without having to remove the gloves. Feel free to use your GS tracker, smartphone, smartwatch or any gadget that needs finger sensitivity to operate.
Size – Simms has these gloves in Small, Medium, Large, and Extra-large sizes. There is a sizing chart on the manufacturer's website to help you determine your size.
Maintenance – There is nothing complicated here. Simms gloves have been designed with the sole purpose of safety. It is important to give the gloves the simplest wash by hand or machine with a mild detergent. Avoid using fabric softeners, bleaches or ironing the gloves.
---
Customer Thoughts on the Simms Outdry Shell Glove
There are very few fully waterproof gloves in the market. Most manufacturers purport to produce 100% waterproof gloves but they actually are water repellent or resistant.
This one is the real deal when it comes to waterproofing. Five-star performance!
Very lightweight but fully functional. The construction to allow for layering is a good idea.
However, you will only need to layer if you have cold-related health issues or when temperatures extremely drop.
Dexterity and flexibility is one feature that all anglers look for in gloves. This one through the pre-curved fit makes it stand out from many gloves in the market.
Maneuverability is not a big deal.
If you have reusable heat packs, you can have this pair of gloves for use in all outdoor sports even in the snow or winter.
You simply need to get a few packs in your wading jacket or chest pack to use when you feel you need more warmth.
It is exciting to operate all your gadgets with gloves on. Very few allow for this. It could be another reason why its price is quite high.
It saves you a lot of time too. The convenience is something that makes these gloves popular.
---
---
Pros

– Things that shine on the Outdry Shell Glove
Lightweight
100% breathable and waterproof
Allows for layering when it gets colder
High flexibility and dexterity
Convenient glove leash
Tech finger capabilities
Heat pockets for increased warmth
Cons

– Things that are not so cool!
Despite being totally weatherproof, it doesn't guarantee total safety from injurious like cuts and piercing from fins, gills, and hooks.
---
FAQ's – Questions about the Simms Outdry Shell Fishing Gloves

Q) Can the XL size of this pair fit someone who often wears XXL?
A) Not unless you confirm your hand measurements alongside those on the sizing chart on the manufacturer's website, we can't be sure enough.
Q) Are these gloves available in any other color apart from steel?
A) Not at the moment. You can only find them in steel. Am not sure if they can be dyed.
Q) Is there a design of the same for female anglers or sportswomen?
A) No. Simms designed this pair for men but you can get a pair if they fit you well. As long as they serve their purpose well, why not?
Q) I have been looking for a Simms pair that is fully weatherproof and well insulated because of a few health issues. Is this Simms Outdry Shell Glove right?
A) If you don't want to layer the gloves, you can go for the Outdry Insulated Glove from Simms to be on the safer side. PrimaLoft Insulation Technology does its job perfectly
Q) Do the gloves hold well?
A) They do. The weatherproofing is at 100% and so far it fits well as long as you use and care for it well.
---
Final Verdict on the Simms Outdry Shell Gloves

If you've used these gloves for a few years then they must be an essential bit in your kit during winter, fall, and spring mornings.
As you go trout fishing on very frigid days when winds are strong and cold especially in winter, even if you have a 4-layer glove on, a wading jacket and waders, you lose so much body heat through the hands.
Once your hands get cold, there is no doubt that it is very difficult to get warm again. When you go fishing in these gloves, your hands hardly get numb.
They work well even in a storm because of the laminate membrane which is part of the fabric construction.
These gloves hold up well even after several years of using them. There are no notable bits of puncturing or wear and tear.
The Simms logo remains intact even with frequent use and the palm area doesn't bleed when the gloves get wet. Truly, you get what you pay for. So far, there are no quality or performance issues.
Since it is a lightweight glove and doesn't offer absolute protection from piercings or cuts from very sharp fish fins, gills and scales, you need to exercise a lot of caution when holding your catch and releasing the fish back in the water. If you have to fillet your fish, find heavy-duty gloves for this.
If you often find yourself on water struggling with dexterity and finding fell in the hands, it is time to say no to torture. Invest in a serious pair of fly fishing cold weather gloves.
The Simms Outdry Shell Glove is certainly what you need.
If you miss them in the stores or online shops, Simms Outdry Insulated Glove, Simms Guide Windbloc Flex Glove, Simms Warming Hut Glove, Simms Kispiox Glove, and Patagonia R1 Gloves are great options.
Their quality, durability, performance, and versatility is unspeakable.
Have seamless fun with Simms Gloves.
---
---