Disclosure:
Just to be open and honest the buttons and links you click on in the website will in most cases take you to another website where you can purchase the products I am reviewing. As an Amazon Associate I earn from qualifying purchases.
August 4, 2023
Should Neoprene Waders Be Tight? Plan for Comfort.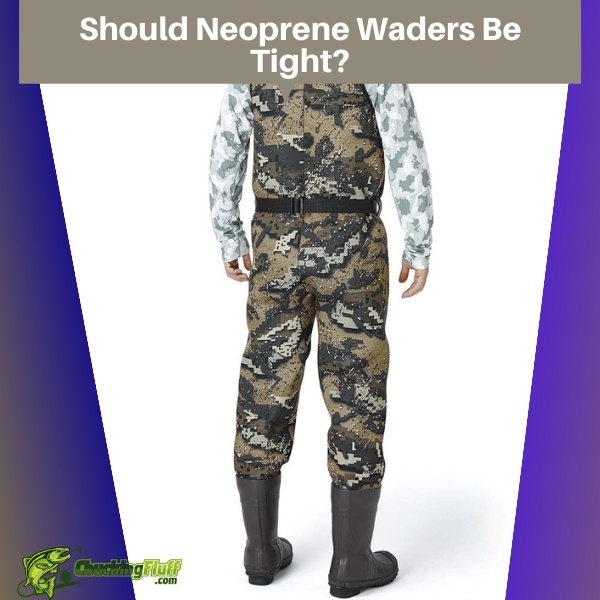 Neoprene waders were the real deal ages before Gore-Tex and breathable options hit the market.
Does that mean that they are nonexistent today?
No! There is a bunch of anglers who swear by this material and own several pairs either bought or handed down by their elders.
While wearing them, should neoprene waders be tight?
No, neoprene waders shouldn't be tight but fit just right.
Waders are part of the outwear on an angler's list of apparel and these are meant to keep the wearer dry.
You can have underneath layers first like t-shirts and pants depending on the temperatures.
It means that your neoprene gear should allow for such underneath layers.
If it is too tight, it means that layering will be a problem and if you are to force things, you risk bursting your seams which is a primary cause for wader leakage.
Tight neoprenes won't accommodate these layers; meaning, if you go out in winter without underneath warmers, you risk freezing and suffering from cold-related illnesses.
---
Should Neoprene Waders Be Tight?
---
Besides, room for movement is crucial.
You aren't watching a movie, you will be moving up and down river bankings.
Fly fishing is a rigorous sport that will need bending, squatting, kneeling, climbing, sitting, and running to some extent.
Your gear has to be roomy enough to allow for such movements.
Otherwise, your seams are at risk.
Let's learn how to get the right fit for neoprene waders.
---
Practical Tests with Underneath Layers
---
Fly fishing is a rapidly growing sport and gear stores are now open in most towns.
Waders fit anglers differently and walking into such shops to physically fit one to get the right size is one of the best options if you always fail at shopping online.
Carry your underneath layers and request to fit a neoprene wader with them on to know the right size to buy.
You want to be sure about this, especially if you'll be casting in winter when you need all the warmth.
Make all the reasonable movements you can once fully layered up to know the overstretched areas and see if you'd need to fit another pair.
Angler forums exist and for online shoppers, you can ask around for fly fishers with neoprene waders about your size to see if you can fit before making an online purchase.
---
Check for Return Policies
---
Returns often apply to online buyers unlike in-store purchases because, for the latter, you can walk in, check for quality, and test for the fit before paying.
The former needs you to tread with more keenness.
Different sellers have different terms, conditions, and return policies.
Know if they accept returns and whoever pays for the costs (if any).
Besides, know if refunds apply in case the next size that would have fit is unavailable.
Companies that allow returns with no issues show signs of being reputable.
You can go through customer reviews to learn about previous buyers' experiences with returns.
In case you spot a series of negative comments, opt for another brand – the same applies if the reviews are mixed.
---
Customer Reviews Can Save the Day
---
When buying neoprene waders, check the manufacturer's sizing chart to see the measurements and see how they match with yours.
Check to confirm if the sizing is inclusive of layering space.
You don't want an oversize or tight pair of gear because functionality will be affected.
Even after checking the brand's information, scout for reviews on YouTube, Google, and different social media platforms.
Go through content comments to read what other buyers are saying about the fit.
Doing this allows you to learn more about how the neoprene waders perform, their durability, repairs, adjustments if any are needed, possible alternatives, care, and maintenance.
If everything looks good with your sizing, add it to cart.
If not, step back and check other product options following the same tips until you get neoprene waders that fit the best without being too tight.
---
Should Neoprene Waders Be Tight? – FAQs
---
Here are some questions anglers have on neoprene waders and whether they should be tight.
See their answers and know how to get the best size.
---
Q) Should Boots for Neoprene Waders Be Tight?
A) No, boot feet for neoprene waders should be a size bigger than your regular pair.
You'll be wearing thick socks underneath your waders and extra space can accommodate such layers without constricting your toes.
If your boot feet are too tight, blood circulation in the feet will be hindered making them cold and numb which is uncomfortable and wrong for winter fishing.
---
Q) Should Neoprene Waders Be Oversize?
A) Oversize neoprene waders generally aren't functional and could tear from excess material hanging and folding around you.
such waders can pull apart and water easily seeps in making you cold and risking related illnesses.
Extra space in oversize neoprene waders lets in a lot of cold air making it hard to stay warm.
A wading belt could help reduce these effects.
---
Q) Are Neoprene Waders Waterproof?
A) Neoprene waders are waterproof because of their synthetic rubber material.
The only time they lack waterproofness is if punctured.
---
Conclusion
---
Should Neoprene Waders Be Tight?
No! Although considered old-fashioned by some anglers, neoprene waders are a great investment, especially for winter fly fishing.
The material is thick and quite robust.
Fervent anglers who've owned these for decades can swear by them because of their performance in low temperatures, durability, and ease of maintenance.
There is no one-size-fits-all rule when buying neoprene waders.
You need to know your body measurements to get the right size when checking manufacturers sizing charts.
Even if you do, always check for buyer reviews online to know what users are saying about the fit and other wader features.
This step can save you losses if you spot more negative comments on the fit.
And if you have a gear store near you or can get angler clubs with members owning neoprene waders, physically test these gear.
Wear underneath layers first and make all the movements you can to be cocksure about how the waders fit before committing to a purchase.