Disclosure:
Just to be open and honest the buttons and links you click on in the website will in most cases take you to another website where you can purchase the products I am reviewing. As an Amazon Associate I earn from qualifying purchases.
June 7, 2023
What Can I Use Instead of Waders? Alternative Thinking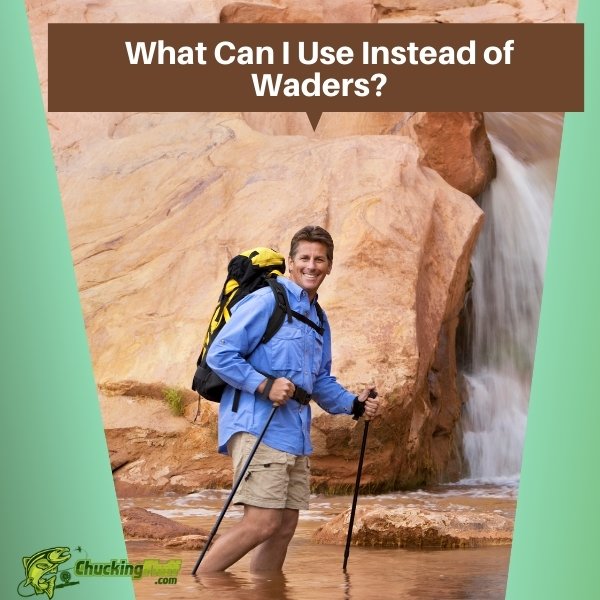 I often check comments under each post on my site because angler queries there are eye-opening, challenging, and the experiences shared will make you long for the waters more than before.
'What can I use instead of waders?' I was asked this in a comment under one of the ChuckingFluff posts and thought it wise to share more details here.
If this has crossed your mind before, you are probably asking because you are a novice and getting all the required gear and tackle for fly fishing can be overwhelming, or you are looking to take a break from waders but still want to enjoy the sport.
You can wear a pair of quick-drying shirts and shorts and on your feet, simple wading socks and boots if you'll be fishing along the shores or beaches.
There is hardly a substitute for waders in case you'll be wet wading or casting in colder water.
---
What Can I Use Instead of Waders?
---
The weather highly dictates your fly fishing inner and outer wear.
Cold days will need you to be in waders to prevent risks of hypothermia, frostbites, and other cold-related illnesses.
Basically, your skin needs to be fully covered in the right fabric for warmth, dryness, and comfort as you fish.
Summer and warmer days allow you to be in other lighter gear unless you are adventuring the forest and mountain areas where temperatures aren't as high.
Let's see what you can wear instead of waders.
---
Quick-Drying Gear
---
Summer wading
Some anglers brave the cold and indulge in wet wading; however, the choice of gear is different to suit lower temperatures.
Most anglers do it when the weather is hotter and flows quite low.
Water levels hardly reach above your knees at this time and thanks to the favorable digits, you can be in pants, hats, shorts, t-shirts, or shirts and fish without issues.
Manufacturers like Orvis and Simms have a wide range of fast-drying gear redesigned with softer and more breathable fabric.
The drying time is estimated to be 25% quicker than waders allowing you more time on the water.
If you are lucky enough to get a brand that offers such gear with sun protection capabilities, go for it because you want a boost to your sunscreen coverage.
You'll be sweating under the hot sun and you wouldn't want perspiration on your skin making you uncomfortable.
The fabric used to make quick-drying gear has moisture-wicking properties to expel moisture from your skin through clothing fibers keeping you cool in the end.
Once moisture-wicking is complete, quick-drying properties swing into action to quickly evaporate the moisture.
The action enhances dryness and comfort.
Most fast-drying outerwear is designed from 4-way stretch fabric because fishing isn't possible without motion.
As you stretch to perform the basics of angling, the fabric stretches, rebounds in a jiffy and retains its shape.
---
Colder climate or winter fishing
While fishing in winter has its own set of rules for keeping warm most will use proper wading gear with warm layers to trap air and keep you warm.
Some adventurous anglers now opt for neoprene trousers, underlayers, bibs and kagools to brave the winter water usually while saltwater shore fishing.
These act like wetsuits in that water does get in but heats up against the skin and drys off quickly when out of the water again.
There have been many advancements made in kayak paddleboard and shore sports apparel over the last few years that's it's worth investigating.
Breathable waders don't take much punishment while shore angling as rocks can be very abrasive so the neoprene route may be the way to go.
---
Wading Socks and Boots
---
After purchasing the perfect quick-dry gear, pair this with comfortable wet-wading socks and boots.
Wet wading in summer will need you to be in wading boots for more ankle support, especially if the river has a rocky ground.
The boot's treads should be on point and while at it, bring wading socks designed for angling.
It could sound too much to a novice, but there is nothing that can ruin an exceptional summer fishing day like a twisted or broken ankle.
You will be lucky if your appendage doesn't snap.
Never gamble with comfort and function when wet wading in slippery or rocky rivers with current swirls because you want to look good in fancy flip-flops.
Toe crunching is as painful as a heartbreak.
An alternative to boots is wet wading shoes which are easily available and more affordable to serve the function of feet protection.
Here's the caveat: You can only use this if you aren't crawling or walking over dead logs, uneven terrain, slick boulders, and dandy.
---
Fishing Sandals
---
Summer can get blisteringly hot and the only thing you want is to crawl outta your wading boots and into a great pair of fishing sandals or flip-flops.
But before you buy any of the two, know where you will use them.
If you hope to use them for shallow wading or beach fishing, get a pair with toe protection.
Feet scars are common among anglers who carelessly go out on the water in open sandals.
But you can get an open and free pair for when you need to air out your toes and get them free from athletes' foot.
For the sole, always go for the best traction that offers more surface grip while being forgiving to your feet.
You want to be protected from thorns, flies and hooks that could be on the ground.
---
What Can I Use Instead of Waders? – FAQs
---
You can agree that you can't be on the water wearing anything random.
Here is a brief QNA section to help you learn about wader alternatives.
---
Q) What Are the Available Types of Fishing Sandals in the Market?
A) There are closed-toe sandals, slides, and flip-flops.
Closed toe-sandals offer more toe protection while flip-flops are open-toed and airier.
Slides are a special flip-flop you can secure to the top section of your foot using hook and loop closure or Velcro.
---
Q) Do I Need Quick-Dry Gear If I Already Have Waders?
A) You need several pairs of fast-drying gear for days when you need to layer more, especially when winter fishing.
These are made from high-quality breathable and moisture-wicking material.
Comfort and warmth levels are higher because of their quick drying capabilities.
---
Q) Are Waders Dangerous?
A) Waders if used correctly with the right layers and accessories like belts and PFDs aren't dangerous.
They become part of a dangerous situation if they are leaking or are disposed wrongly.
Wade leakage is a potential cause of drowning and cold-related illnesses while wrong disposal is hazardous to the environment.
---
Conclusion
---
What can I use instead of waders?
You can use performance quick-drying shirts, t-shirts, shorts, or pants.
For footwear, a great pair of wading boots and socks for wet wading are ideal.
Fishing from the banks allows you to enjoy the comfort of wading sandals, but you still need to be cautious when wearing them, especially if you are in flip-flops or slides.
NOTE: It is best to pack a pair of waders and a few underneath layers in case the weather is unpredictable or the weatherman hints of lower temperatures later in the day.