Disclosure:
Just to be open and honest the buttons and links you click on in the website will in most cases take you to another website where you can purchase the products I am reviewing. As an Amazon Associate I earn from qualifying purchases.
May 10, 2023
Can You Use Any Boot for Waders – Choose correctly for you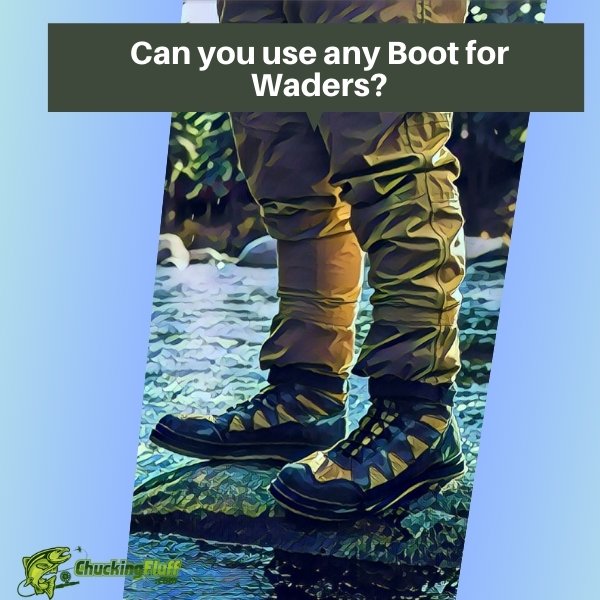 Anglers are adventurous and experimental both with fishing tackle and apparel.
You will see a fly fisher with a fishing jacket with hi-vis straps that didn't come with it.
Yes, these are really helpful if casting in foggy, misty and weather that inhibits vision.
We've seen some modifications on fly fishing footwear but one question always pops up, can you use any boot for waders?
It isn't really recommended to use other boots with waders.
Only the specialized design for this sport is ideal for safety, comfort, and functionality when involved in the activity.
Here, we are primarily talking about Stockingfoot and hip waders which come without attached boots.
Bootfoot waders already have these pre-installed and you are good to go as long as you choose the correct size while allowing space for underneath layering when the temperatures drop to single digits.
Can You Use Any Boot for Waders?
You'll probably be tempted to carry your army-style boots gumboots, or other fancy options in your closet.
Leave them for casual meet-ups and farm work.
Fishing is more of functionality than style even though most modern manufacturers are trying to blend the two in every pair which we highly welcome.
Let's learn the special types of wading boots you can wear with your waders and a bonus option that you should consider.
Check here for a more in-depth article on wading boots
---
Rubber Sole Wading Boots
---
Gen Z's have found rubber sole wading shoes ten times better than they were half a century ago.
Our forefathers disliked these because of poor traction and the rubber often fell off the other part of the boot with time.
Ask around about Simms, Frogg Toggs, Orvis, Redington, and Patagonia wading boots and the feedback will amaze you.
We have seen a commendable change in how rubber sole wading boots are being manufactured.
As long as you are getting your pair from a reputable brand, the traction is superior, exterior and interior both well-made and the durability is for years, maybe decades if you are an occasional angler.
Even with the redesigns, the boots are lightweight to ensure you are comfortable and not fatigued if you need to trek a distance to or from your fishing sport.
These work perfectly on land and water unlike their cousins the felt sole wading boots.
Unless there is a new invention, rubber sole angling boots are here to stay regardless of the state you are in because we've seen their cousins being outlawed in some waters because of carrying invasive species that threaten the life of other fish in guarded waters.
---
Felt Sole Wading Boots
---
The oldies say there are two sides to a coin, well, the same applies to felt sole wading boots and their use.
There wasn't much of information before until scientists researched on the effects of these soles on the aqua ecosystem.
Findings led to banning of the same in Maryland, Alaska, Missouri, Nebraska, Rhode Island, South Dakota, and Yellowstone National Park among other areas.
Other states are in the discussions, but anglers feel the ban number is likely to increase, so be on the lookout for this information to ensure you aren't breaking any rules.
But, here's the other side of the coin:
Felt sole wading boots offer the best traction on wet, slimy grounds though modern rubber sole wading boots offer almost the same amount of grip.
Slimy rocks and wet leaves can be terrible to walk on and these need superior traction from these boots.
But the caveat is when you have been walking for hours on such surfaces and now need to face dry trunks, gravel, and dirt.
These as earlier said, aren't great for trekking.
The felt sole is also known to wear out quicker than their cousins if you constantly use them outside the river.
You can replace the felt sole but you'll face the issue our oldies did – dis-attachment of the sole from the boot.
---
BONUS: Water Sandals
---
Water sandals are now a thing and you can use them for shore fishing or when standing in very shallow water.
These aren't ideal for serious wading even though they offer good traction on wet, slippery ground.
Some guides say you can use them with considerable safety when wading in specific conditions, but you'd rather be safe than sorry.
You can have extra neoprene booties over your stocking feet waders for more warmth because these are open.
Overall, these need to fit you snugly if you'll be standing in water.
Any movement or squirming by them on your feet is like welcoming problems.
The toe area should be closed to prevent stubbing toenails peeling off because of collisions with submerged stumps and rocks.
---
Can You Use Any Boot for Waders? – FAQs
---
As an angler who loves looking sharp any time I step out, this was crucial for me to know to ensure I am safe and comfortable when I am on the water.
Check out answers to questions below:
Q) What Size Wading Boots Should I Buy?
A) If you are new to interpreting wading boot sizes, pick one full size larger than your usual street shoe size for males.
The same applies for women but in case you are a female eyeing men's wading boots, pick a full size smaller than your normal street shoe size.
---
Q) Are There Kids Wading Boots?
A) Yes, there are kids and teens wading boots too.
First, you want to check if your brand has a sizing chart and produces smaller boots.
Otherwise, consider Simms, Frogg Toggs, and Redington for variety
---
Q) Should Wading Boots Fit Tight?
A) The fit shouldn't be tight.
Instead, a snug fit is what you should focus on if you want comfort, some layering space, toe wiggle room, and overall performance.
Ensure not to have your fit slipping around because stability is key when on the water.
---
Wrap Up
---
Can You Use Any Boot for Waders?
No, don't follow the masses if you've seen fellow anglers with different boots because we haven't seen a new innovation on footwear by any brand.
Keep to wading boots and ensure to check with your fishing spots to know the right sole to carry.
Some states have banned felt sole wading boots because of their tendency to carry ANS/ invasive species.
Also, check your rubber sole wading boots for traction and tears, and if the laces work properly.